This website uses cookies to ensure you get the best experience while browsing it. By clicking 'Got It' you're accepting these terms.
Carrie Golden believes the only reason she's diabetes free is because she has access to fresh, locally grown food.
A few years after the Boston resident was diagnosed with prediabetes, she was referred to Boston Medical Center's Preventative Food Pantry as someone who is food insecure. The food pantry is a free food resource for low-income patients.
A new report has found that U.S. land for organic farming reached 4.1 million acres in 2016, a new record and an 11 percent increase compared to 2014.
As of June 2016, the number of certified organic farms in the U.S. reached 14,979, a 6.2 percent increase of 1,000 farms compared to 2014 survey data.
The Mercaris Organic Acreage Report found that the top five states in organic cropland are California, Montana, Wisconsin, New York and North Dakota. California leads the U.S. with 688,000 acres. However, Montana has seen a 30 percent increase in organic farmland, reaching 417,000 acres in 2016, an increase of 100,000 acres since 2014 and adding 50 new organic farms.
The report also estimates that North Dakota, Colorado and New York all increased their organic farming acres by more than 40,000 since 2014. North Dakota has surpassed Oregon as the fifth leading state in organic acreage. Oregon is sixth followed by Colorado and Texas.
Scott Shander, an economist at Mercaris, attributes the increase in organic acres to farm economics and consumer demand for organic foods.
"The organic industry is growing and with lower commodity grain prices, and farmers are looking to add value and meet consumer demands," he said.

According to Alex Heilman, a sales associate at Mercaris, the number of organic acres is likely to continue increasing, especially with larger companies such as General Mills and Ardent Mills launching programs to increase organic acres.
"I think we will see more of an impact of those programs in the next few years as more farmers start the transition process (to organic)," he said.
Organic alfalfa/hay was the leading organic crop grown with more than 800,000 acres in 2016. This was followed by organic wheat, corn and soybeans with 482,000, 292,000, and 150,000 acres respectively. Organic oats reached a record level of 109,000 acres in 2016. Organic wheat showed the greatest increase with nearly 150,000 more acres since 2014 and a 44 percent increase since 2011. Plantings of organic corn increased by 58,000 acres since 2014.

The percentage of acres planted to organic crops such as wheat, corn, soybeans and oats remains small compared to conventional crops in the U.S. Organic corn accounts for only 0.31 percent of total corn acres; organic wheat was 0.9 percent of total wheat acres; organic soybeans were 0.2 percent of total soybean acres. Organic oats account for the highest percentage of an organic crop with 3.6 percent of total oat acres.
Acreage of both organic corn and soybeans has seen small increases as a percentage of total acres for both crops in the past few years, according to the report. This may be due to the fact that the U.S. is importing large amounts of organic corn and soybeans, which is depressing the U.S. market and prices for both crops. According Shander, 25 percent of organic corn and 75 percent of organic soybeans used in the U.S. are imported.

"It's a global market that is dictating U.S. prices," he said. "Demand for organic corn and soybeans is still growing strongly, but production in the U.S. is not growing as fast so more of the production will be international."
EcoWatch Daily Newsletter
A new report and scorecard grades 20 of the largest food retailers in the U.S on their policies and practices regarding pollinator protection, organic offerings and pesticide reduction.
Of the top food retailers, 17 received an "F" for failing to have a publicly available policy to reduce or eliminate pesticide use to protect pollinators. Only Aldi, Costco and Whole Foods received passing grades in this category.
Four of the top food retailers—Albertsons, Costco, Target and Whole Foods—have adopted a publicly available company commitment to increase offerings of certified organic food or to disclose data on the current percentage of organic offerings or organic sales.Friends of the Earth
"U.S. food retailers must take responsibility for how the products they sell are contributing to the bee crisis," said Tiffany Finck-Haynes, food futures campaigner with Friends of the Earth. "The majority of the food sold at top U.S. food retailers is produced with pollinator-toxic pesticides. We urge all major retailers to work with their suppliers to eliminate pollinator-toxic pesticides and to expand domestic organic offerings that protect pollinators, people and the planet."

Today's report, Swarming the Aisles: Rating Top Retailers on Bee-Friendly and Organic Food, comes amid mounting consumer pressure on food retailers to adopt more environmentally-friendly sourcing policies.
A coalition led by Friends of the Earth and more than 50 farmer, beekeeper, farmworker, environmental and public interest organizations sent a letter urging the food retailers to eliminate pollinator-toxic pesticides and increase the U.S. Department of Agriculture certified organic food and beverages to 15 percent of overall offerings by 2025, prioritizing domestic, regional and local producers. This effort follows a campaign by Friends of the Earth and allies that convinced more than 65 garden retailers, including Lowe's and Home Depot, to commit to eliminate bee-toxic neonicotinoid pesticides.
Bees and other pollinators are essential for one in three bites of food we eat and without them grocery stores would run short of strawberries, almonds, apples, broccoli and more. A growing body of science points to the world's most widely-used insecticides, neonicotinoids, as a leading factor in pollinator declines and glyphosate, the most widely-used herbicide worldwide, as a key culprit in monarch butterfly declines.

New data from a YouGov Poll released today by Friends of the Earth and SumOfUs found that 80 percent of Americans believe it is important to eliminate neonicotinoids from agriculture. Among Americans who grocery shop for their household, 65 percent would be more likely to shop at a grocery store that has formally committed to eliminating neonicotinoids. The poll also revealed that 59 percent of American grocery shoppers believe it is important for grocery stores to sell organic food and 43 percent would be more likely to shop at a grocery store that sells more organic food than their current grocery store. The full poll results are available on request.

"Over 750,000 SumOfUs members have spoken out advocating that U.S. Hardware stores take action to protect our pollinators. And after years of pressure, Home Depot and Lowe's have finally enacted more bee-friendly policies," said Angus Wong, lead campaign strategist at SumOfUs, a consumer watchdog with ten million members. "And the findings of this poll show that a vast majority of consumers want to eliminate neonicotinoids from their grocery stores too. This is why food retailers must commit policies that protect our bees immediately."
The report found that while consumer demand for organic and pesticide-free food continues to show double-digit growth, only four of the top food retailers—Albertsons, Costco, Target and Whole Foods—have adopted a publicly available company commitment to increase offerings of certified organic food or to disclose data on the current percentage of organic offerings or organic sales. In addition to these retailers, Aldi, Food Lion, part of the Delhaize Group and Kroger disclosed data on the current percentage of organic offerings or organic sales. None of the retailers have made a publicly available commitment to source organic from American farmers.
"To protect pollinators, we must eliminate pollinator-toxic pesticides from our farming systems and expand pollinator-friendly organic agriculture," said Dr. Kendra Klein, staff scientist at Friends of the Earth. "Organic farms support 50 percent more pollinator species than conventional farms. This is a huge opportunity for American farmers. Less than one percent of total U.S. farmland is in organic production—farmers need the support of food retailers to help them transition dramatically more acreage to organic."

Sixteen of the top 20 food retailers were predominately unresponsive to Friends of the Earth's requests for information via surveys, calls and letters. Primary sources of information for this scorecard include publicly available information, including company websites, company annual reports, U.S. Securities and Exchange Commission filings, corporate social responsibility and sustainability reports, press coverage and industry analyses.
When the organic industry gathers in central Texas next week sparks are predicted to fly when farmers and consumer activists face off with government regulators who they have accused of a "power grab," significantly eroding a unique public and private partnership that Congress created in the governance of organic food and agriculture.
At issue is the unilateral reversal of 20 years of precedent in the congressionally-mandated National Organic Standards Board (NOSB) effectively deciding the working definition of "organic" as a food production system and what, if any, synthetics are safe to include in organic food. The NOSB, a 15-member panel of organic stakeholders, representing farmer, consumer, environmental, retail, scientific and food processors, will begin its Spring 2014 meeting on April 29.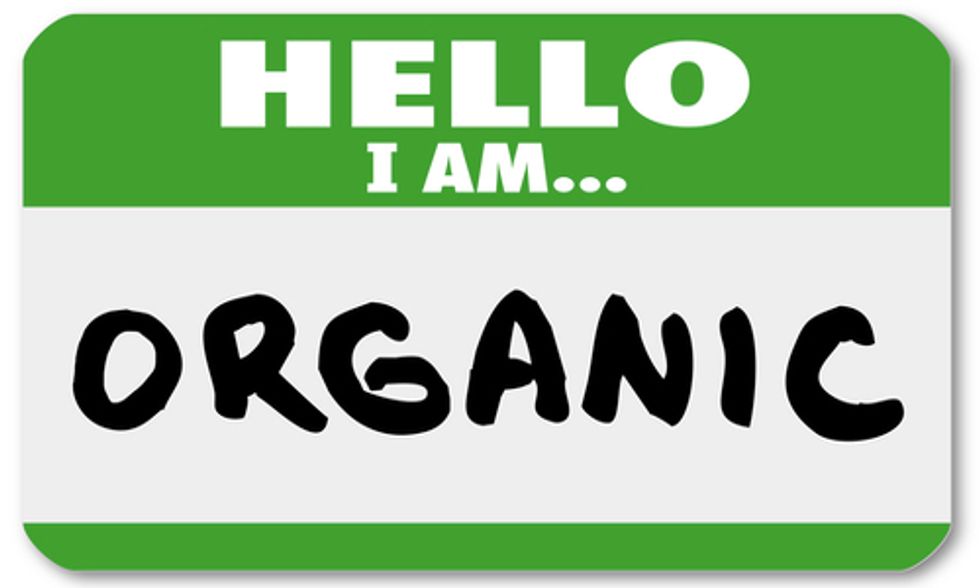 Photo courtesy of Shutterstock
"Corporate interests, including the industry lobby group the Organic Trade Association, have been gaming the system for years with the help of the USDA," alleges Mark A. Kastel, codirector of The Cornucopia Institute. "What has changed recently, as a result of the NOSB refusing to go along with agribusiness in approving gimmicky synthetics and nutraceuticals in organic food, is that they have now had their minions at the USDA change the rules in the middle of the game."
In Sept. 2013, Deputy Administrator of the Agricultural Marketing Service at the USDA, Miles McEvoy, issued a controversial memorandum overturning two decades of precedents in terms of the NOSB's self-governance.
The NOSB was created by Congress to be an industry advisory group with a number of specific statutory responsibilities, something that is unusual for a federal panel of this nature. The body now faces a loss of control over the setting its own work plans, agendas and policies.
The Organic Foods Production Act of 1990 (OFPA), specifically states that the NOSB must approve any synthetic used in organics and must re-review these materials when they "sunset" every five years.
"I see a clear disconnect between the successes gained by powerful economic interests in the $30 billion plus organic industry and the family-scale farmers who get their hands dirty for a living," said Kevin Engelbert, a New York dairy farmer and past member of the NOSB.
Engelbert's statement references corporate interests that are focusing their lobbying prowess on the USDA's National Organic Program and facilitating a shift to factory farm production of milk and eggs, along with an exponential increase in the importation of organic commodities from developing countries, principally China.
"We seem to be headed for an organic marketplace with two distinct branches, which will force consumers to make an extra effort to ensure that the organic brands they purchase are truly high-integrity," Engelbert added.
The Cornucopia Institute has issued a number of research reports and associated scorecards ranking organic dairy, egg, soy food cereal and other brands based on their ethical approach to meeting organic standards.
Many groups at the San Antonio meeting, besides Cornucopia, are expected to articulate equally grave concerns about the USDA's circumvention of "congressional intent" when it comes to organic governance including the Organic Consumer Association, the National Organic Coalition and Consumers Union (publisher of Consumer Reports magazine).
Alexis Baden, a Washington-based attorney and chief political strategist for the Organic Consumers Association, will be among organic community leaders publicly condemning the USDA for "selling-out" the interest of consumers.
"There's a lot at stake at this meeting," Baden said. "The new rules will make it very hard for citizens to influence board decisions on sunsetting materials."
"One hot button issue that will be addressed by the NOSB in San Antonio is the continued use of the antibiotic streptomycin. All public interest groups representing consumers and farmers oppose its use based on human health and environmental concerns."
Although antibiotics are banned in organic livestock production, a temporary provision allow them to be sprayed on apple and pear trees to control the bacterial infection known as fireblight.
The Cornucopia Institute has spent the past few months collaborating with other groups and its legal team in determining which changes by the USDA appear to either directly violate OFPA and/or the transparent process that governs this and other federal panels.
"It's a shame that citizens and public interest groups, instead of being able to rely on USDA to do the right thing, need to go to the expense of lawyering-up to defend the rights of organic consumers, and ethical business participants," said Gary Cox, an experienced litigator who has sued the USDA twice (once on behalf of Cornucopia) is once again assisting the organization in its dispute with regulators.
"We have not quit trying to diplomatically approach the leadership at the USDA, and the Obama Administration, suggesting that they have erred in undermining the powers of the NOSB to review materials for use in organic production and processing," stated Jim Riddle, an organic food producer from Minnesota who served five-years on the National Organic Standards Board, including one year as its chairman. "The new sunset policy turns existing NOSB procedures upside down."
Riddle (NOSB chairman 2005), along with other former NOSB chairman, Jeff Moyer (2009) and Barry Flamm (2012), recently sent a letter to USDA Secretary Tom Vilsack appealing to him to intervene to restore the power that Congress vested in the NOSB.
"The best battle is the one you don't have to fight," observed Cornucopia's Kastel. "At this juncture we hope that Secretary Vilsack will be proactive and pull back their arbitrary and capricious changes rather than being forced to face off in court."
Background
Although not new during the Obama Administration, the USDA has squandered thousands of hours of time—both for NOSB members and many engaged organic farmers, consumers, retailers and processors—by ignoring recommendations from the board after they have been developed through numerous public meetings and formal public comment sessions (both written and verbal).
"The broad-based members of the NOSB, along with some of the most experienced and knowledgeable individuals and organizations in this industry, have always worked earnestly to transparently develop policy," added Riddle. "It's highly disrespectful to ignore the powers given to the Board, by law."
To illustrate the divide in the organic industry, subsequent to a news release by four respected public interest groups (Consumers Union, Food and Water Watch, Beyond Pesticides and Center for Food Safety) decrying the edicts by the USDA's Miles McEvoy, turning back 20 years of precedent in citizen governance of the organic program, Melody Meyer, vice president of policy and industry relations (lobbyist) for United Natural Foods Incorporated (UNFI) stated in her blog: "Stop the lies and get behind your national organic program."
Dismissing the concerns of these four organizations, that had been involved in and participating in the NOSB process for many years, calling their concerns "bogus," was even more poignant in that Meyer had just been elected board president of the Organic Trade Association. UNFI, a multibillion-dollar publicly-traded corporation, is the largest distributor of organic food in the U.S.
"This is not surprising because prominent OTA members, who have employees serving on the NOSB (Driscoll's, Whole Foods, Organic Valley, CCOF, Zirkle Fruit Company, WhiteWave/Earthbound Farms) consistently vote as a 'corporate block' carrying the water of the OTA and agribusiness during critical debates on the NOSB," Kastel added.
Here, view the independent analysis, by The Cornucopia Institute, of all synthetic materials and policy questions that will come before the NOSB at their upcoming meeting in San Antonio, Texas April 29 through May 2.
The Cornucopia Institute also compiled an objective recap of all public comments, both pro and con, from individual citizens (consumers and farmers), public interest groups, business/trade organizations and food processors.
--------
YOU ALSO MIGHT LIKE
How Organic Farming Can Reverse Climate Change
USDA Policy Fails to Address GMO Contamination of Organic Crops
Study Finds Organic Milk More Nutritious Than Conventional Milk 
--------
A public education campaign was launched this week to highlight the benefits of organic food and to help consumers understand the difference between products labeled organic and those that are labeled as "natural."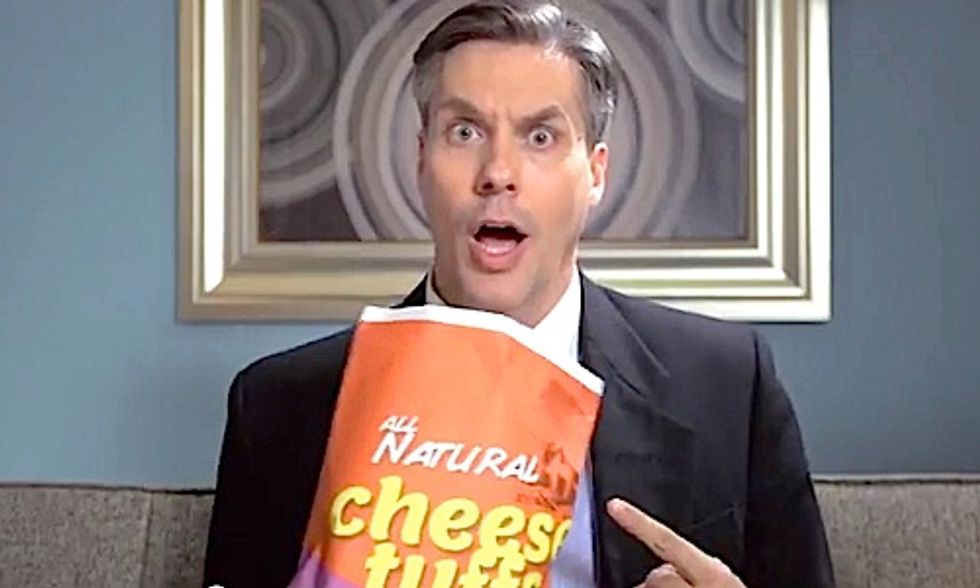 "Foods made with the use of toxic persistent pesticides and even genetically engineered (GE) ingredients are being labeled as natural," said Gary Hirshberg, chairman of Stonyfield Farm. "Only organic guarantees that food is produced without the use of toxic persistent pesticides, hormones, antibiotics or genetically engineered ingredients. Only organic gives you complete piece of mind."
The public education campaign will include videos to help consumers understand the how the "natural" label can be used to confuse shoppers. The videos were developed by the recently launched agency Humanaut with help from advertising icon Alex Bogusky.
Organic foods are subject to stringent environment and animal welfare standards enforced by U.S. Department of Agriculture (USDA). While the U.S. Food and Drug Administration (FDA) and USDA discourage companies from including "natural" claims on processed foods containing synthetic or artificial ingredients, there is no official definition of "natural" and little enforcement of misleading claims.
"Only organic is produced in a way that Mother Nature would recognize as natural," said Sarah Bird, chief marketing officer for Annie's, Inc. "Many products that claim to be 'natural' are made with ingredients you couldn't find in nature—including artificial flavors or colors, synthetic preservatives, high fructose corn syrup and genetically engineered ingredients." 
Natural claims have been added to everything from cooking oils made from genetically engineered crops to ice cream made from cows pumped full of growth hormones.
"Many consumers mistakenly believe that foods labeled as 'natural' are better than food that has been certified as organic," said Lewis Goldstein, vice president of brand marketing at Organic Valley. "Organic food starts with organic farming, from the ground up. Only organic is subject to tough, enforceable standards created by the USDA designed to insure that our families can count on their food being produced in ways that protect their health, the environment and the welfare of farm animals."
The public education campaign is being launched by Organic Voices, and is supported by organic companies and other companies, including AllergyKids, Annie's, Earthbound, Happy Family, INFRA, Late July, Nature's Path, NCGA, Organic Valley, Rudi's, and Stonyfield.
"Many products carry the 'natural' claim when there is nothing natural about them," said Darren Mahaffy, vice president of marketing at Nature's Path Foods. "As a result, many consumers are buying products they think are the same—or even better—for their families and the environment than organic."
A recent survey found that consumers commonly believe that "natural" foods do not contain artificial ingredients.
"The public needs new tools to understand the benefits of organic and to be able to distinguish between organic foods and all other unverified claims," said Laura Batcha, executive director of the Organic Trade Association.
Visit EcoWatch's FOOD and GMO pages for more related news on these topics.

Corporate giants who were anonymously opposing the Washington state measure to mandate labeling of genetically modified ingredients through the Grocery Manufacturers Association were outed recently after the state attorney general filed a suit claiming violation of election disclosure laws. 
Funneling money through a lobbying group is not the only way that Big Food can hide from consumers. A chart created by Phil Howard, a Michigan State University assistant professor, shows how large corporations gobbled up or allied with the organic food sector around the time the U.S. Department of Agriculture adopted standards for certified organic.
Very few of these large companies identify their ownership ties on product labels, noted Howard, who teaches in the university's Department of Community Sustainability program.

Here is Howard's chart, which was updated in May.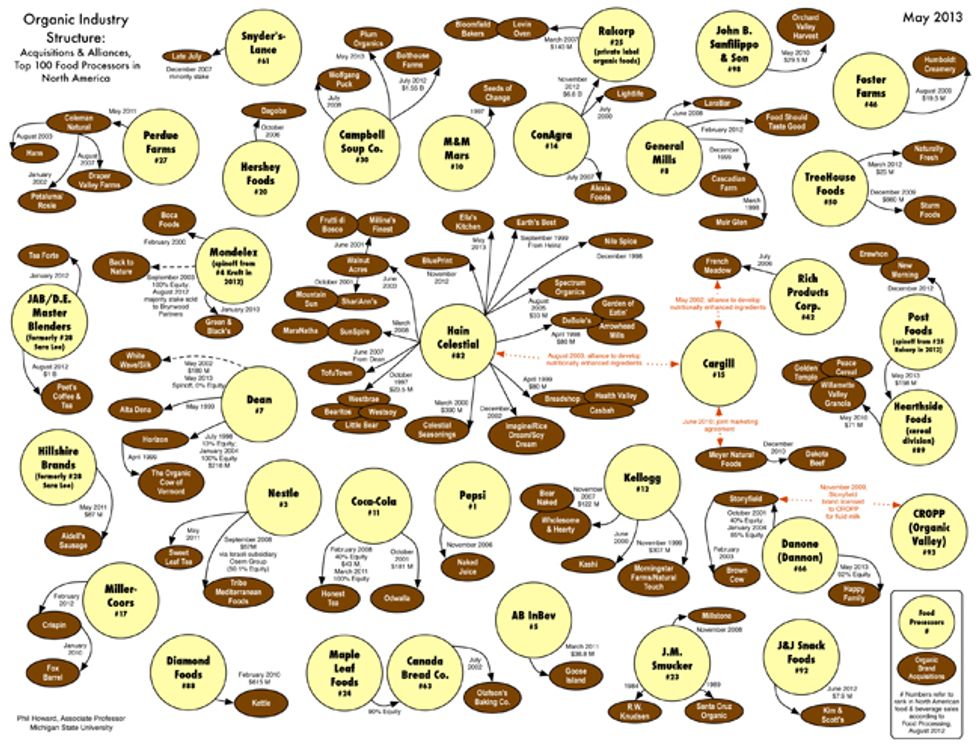 Visit EcoWatch's FOOD page for more related news on this topic.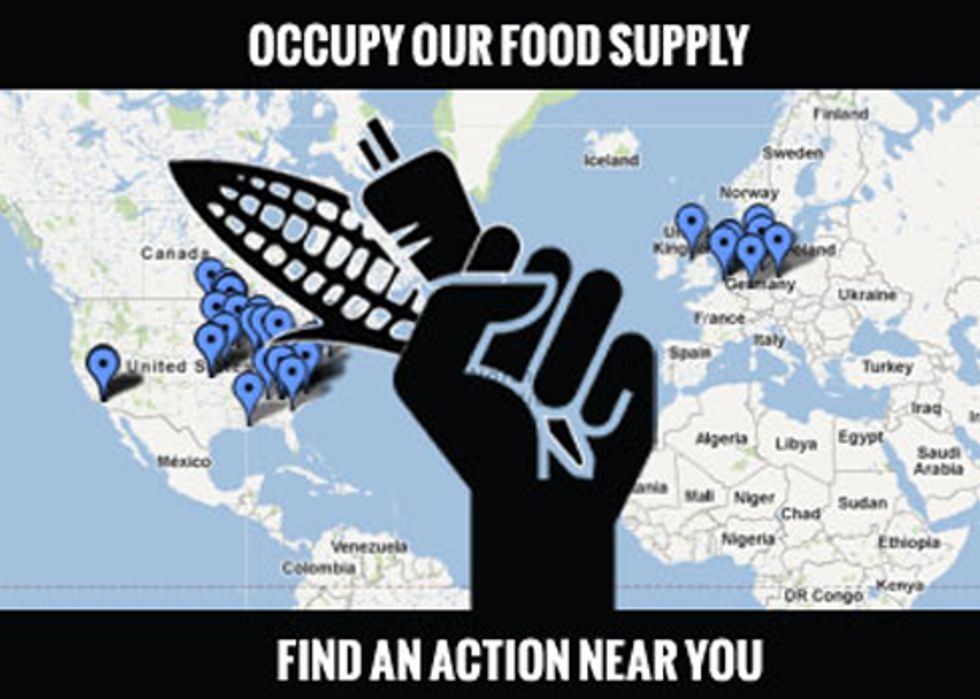 On Feb. 27, an unprecedented alliance of more than 60 Occupy groups and 30 environmental, food and corporate accountability organizations will join together for Occupy our Food Supply, a global day of action resisting the corporate control of food systems.
The call to Occupy our Food Supply, facilitated by Rainforest Action Network, is being echoed by prominent thought leaders, authors, farmers and activists including the Indian environmentalist Vandana Shiva, Food Inc.'s Robert Kenner, music legend Willie Nelson, actor Woody Harrelson, and authors Michael Pollan, Raj Patel, Anna Lappe, Gary Paul Nabhan, and Marion Nestle, among others. (See quotes in release below). The central theme uniting this diverse coalition is a shared sense of urgency to resist the corporate consolidation of food systems and create socially and environmentally just local solutions.
"Nothing is more important than the food we eat and the family farmers who grow it," said Willie Nelson, founder and president of Farm Aid. "Corporate control of our food system has led to the loss of millions of family farmers, destruction of our soil, pollution of our water and health epidemics of obesity and diabetes. We simply cannot afford it. Our food system belongs in the hands of many family farmers, not under the control of a handful of corporations."
From Brazil, Hungary, Ireland, and Argentina to dozens of states in the U.S., thousands of people will be participating in the Feb. 27 global day of action.  Participants will be reclaiming unused bank-owned lots to create community gardens; hosting seed exchanges in front of stock exchanges; labeling products on grocery store shelves that have genetically engineered ingredients; building community alliances to support locally owned grocery stores and resist Walmart megastores; and protesting food giants Monsanto and Cargill.
"Occupy our Food Supply is a day to reclaim our most basic life support system—our food—from corporate control. It is an unprecedented day of solidarity to create local, just solutions that steer our society away from the stranglehold of industrial food giants like Cargill and Monsanto," said Ashley Schaeffer, Rainforest Agribusiness campaigner with Rainforest Action Network (RAN).
Never have so few corporations been responsible for more of our food chain. Of the 40,000 food items in a typical U.S. grocery store, more than half are now brought to us by just 10 corporations. Today, three companies process more than 70 percent of all U.S. beef—Tyson, Cargill and JBS. More than 90 percent of soybean seeds and 80 percent of corn seeds used in the U.S. are sold by just one company—Monsanto. Four companies are responsible for up to 90 percent of the global trade in grain. And one in four food dollars is spent at Walmart.
The overwhelming support for Occupy our Food Supply underscores the unity between farmers, parents, health care professionals, human rights activists, food justice advocates and food lovers around the world who are increasingly viewing their concerns as different manifestations of the same underlying problem—a food system structured for short term profit instead of the long term health of people and the planet.
Supporting groups include—Bay Localize, Berkeley Association for Animal Advocacy, Biosafety Alliance, California Food and Justice Coalition, Chiapas Support Committee, Family Farm Defenders, Food Democracy Now, Food First, National Family Farms Coalition, PAN (Pesticide Action Network), Pesticide Watch, Planting Justice, Organic Consumers Association, Occupy Big Food, Occupy Claremont, Occupy Cargill, Occupy DC, Occupy Delaware, Occupy Denver, Occupy Farms, Occupy for Animal Rights, Occupy Fort Lauderdale, Occupy Food, Occupy Gardens Toronto, Occupy Jacksonville, Occupy Maine, Occupy MN/Seeds of Change, Occupy Monsanto, Occupy Philly (Occupy Vacant Lots), Occupy Portland, OWS-Food Justice, OWS Puppets, OWS Sustainability, Occupy Santa Cruz, Occupy SF Environmental Justice Working Group, and Occupy the Food System- Oakland, among many others.
For the full list of supporters and more information on the events planned for Occupy our Food Supply, click here.
Vandana Shiva, Indian physicist and internationally renowned activist, adds—"Our food system has been hijacked by corporate giants from the seed to the table. Seeds controlled by Monsanto, agribusiness trade controlled by Cargill, processing controlled by Pepsi and Philip Morris, retail controlled by Walmart—is a recipe for Food Dictatorship. We must Occupy the Food system to create Food Democracy."
Raj Patel, activist, academic and author of The Value of Nothing, reflects—"It's hard for us to imagine life without food corporations because they've made our world theirs. Although we think food companies make food for us, in almost every way that matters, we—and our planet—are being transformed to suit food companies. From their marketing to children and exploitation of workers to environmental destruction in search of profit, the food industry represents one of the most profound threats to sustainability we face today."
Occupy Wall Street's Sustainability and Food Justice Committees issued this statement in support of #F27—"On Monday, February 27th, 2012, OWS Food Justice, OWS Sustainability, Oakland Food Justice & the worldwide Occupy Movement invite you to join the Global Day of Action to Occupy the Food Supply. We challenge the corporate food regime that has prioritized profit over health and sustainability. We seek to create healthy local food systems. We stand in Solidarity with Indigenous communities, and communities around the world, that are struggling with hunger, exploitation, and unfair labor practices." 
"On this day, in New York City, community gardeners, activists, labor unions, farmers, food workers, and citizens of the NYC metro area, will gather at Zuccotti Park at noon, for a Seed Exchange, to raise awareness about the corporate control of our food system and celebrate the local food communities in the metro area." 
Marion Nestle, professor and author of What to Eat and Food Politics: How the Food Industry Influences Nutrition and Health, said—"While the food industry digs in to fight public health regulations, the food movement will continue to attract support from those willing to promote a healthier and more sustainable food system. Watch for more young people going into farming and more farmers' markets, farm-to-school programs, school meal initiatives, and grassroots community efforts to implement food programs and legislate local reforms. There is plenty of hope for the future in local efforts to improve school meals, reduce childhood obesity, and make healthier food more available and affordable for all."
Rukaiya Rofiq, director of the human rights organization Yayasan SETARA Jambi in Indonesia, said—"It is encouraging to see Americans connecting the dots between the food choices they make at a grocery store and the serious impacts those choices have here in Southeast Asia. When an additive like palm oil is used to make cheap crackers and cookies it gives companies a green light to expand palm plantations at all costs which is why we see community member homes bulldozed when they fight expansion, Indigenous land rights ignored, and natural rainforests completely decimated. Invisible companies like Cargill, who are profiting off the backs of Indonesians, must be held accountable in the countries they call home." 
Michael Ableman, farmer and founder of the Center for Urban Agriculture in Goleta, California, said—"We are focusing on what we are for, as much as what we are against. We are re-occupying our soils with life and fertility and our communities with good food. We are working to rebuild the real economy, one based on soil and seeds and sunlight and individuals and communities growing together."
For more information, click here.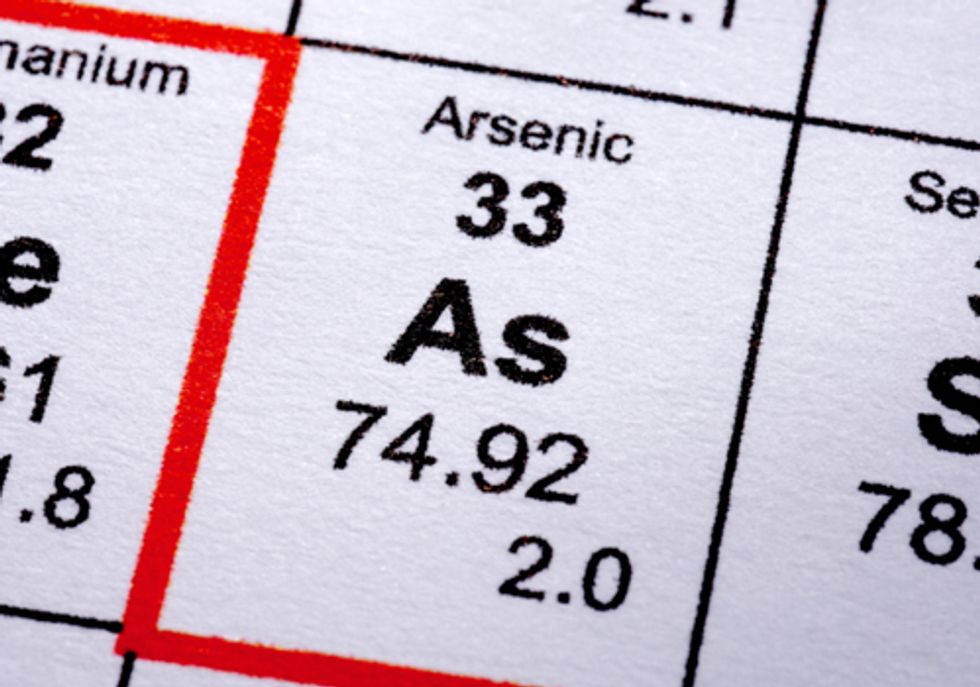 A recently published study by researchers at Dartmouth College has called into question the presence of arsenic in some organic products. While the study itself focused on infant formula, health bars and high energy foods, the resulting interpretation of the findings failed to address the arsenic issue as a serious concern for all food production, the Organic Trade Association (OTA) points out.
"In fact, organic production practices are part of the solution to reducing the application of arsenic-laden herbicides, as well as toxic and persistent pesticides known to create health problems," said Christine Bushway, OTA's executive director and CEO. She added, "These applications are prohibited in organic agriculture. Moreover, this is verified through third-party inspection and strict regulations."
Arsenic is a natural element that can contaminate soil, as well as groundwater used for drinking and irrigation. Legacy residues from decades of routine use of arsenic-based herbicides and insecticides pose a real threat to all food production, organic and conventional. Regardless of how it is raised, rice plants growing in soils still contaminated with arsenic will extract the element from the soil, and some will be present in the grain harvested from those plants.
Past research has also confirmed the presence of hot-spots for arsenic soil contamination, as well as areas free, or nearly free of arsenic residues in soil. Any rice product destined for baby food or children's food should come only from regions known to have arsenic-free soils. Prevention is a core principle of organic farming and food processing, and will drive the response to this new challenge across the organic food industry.
"The levels of exposure and risk from arsenic in certain infant food products documented in this new paper published Feb. 16 in Environmental Health Perspectives online are serious and warrant government action. However, it is not uncommon in the food supply nor unique to rice or arsenic," said Charles Benbrook, chief scientist at The Organic Center.
He added, "Every day, millions of servings of fresh fruits and vegetables, and less frequently fruit juices expose children to pesticide residues and risk above EPA-set safe levels, and sometimes at levels several-fold above what EPA regards as acceptable. A significant share of these high-exposure food servings contains residues of neurotoxic organophosphate (OP) insecticides. Some imported fresh fruits and vegetables pose risks several-fold higher than domestically grown produce, and also deserve more attention by regulators. In the interim, consumption of organic fruit and vegetables is the surest way to avoid high-risk pesticide exposures."
Future arsenic exposures, Benbrook said, can be essentially eliminated by the food industry by mapping arsenic contaminated soils and groundwater resources, as well as areas largely free of arsenic. The crops known to extract arsenic from the soil or irrigation water should be limited to arsenic-free areas.
Agreeing with researchers that it is time for the U.S. Food and Drug Administration and U.S. Environmental Protection Agency to work together to set and enforce regulatory limits on arsenic in our food supply, Bushway said OTA, for its part, will put together a task force to proactively work on solutions to address this issue within the organic industry.
For more information, click here.
—————

The Organic Trade Association (OTA) is the membership-based business association for organic agriculture and products in North America. OTA is the leading voice for the organic trade in the United States, representing over 6,500 organic businesses across 49 states. Its members include growers, shippers, processors, certifiers, farmers' associations, distributors, importers, exporters, consultants, retailers and others. OTA's Board of Directors is democratically elected by its members. OTA's mission is to promote and protect the growth of organic trade to benefit the environment, farmers, the public and the economy.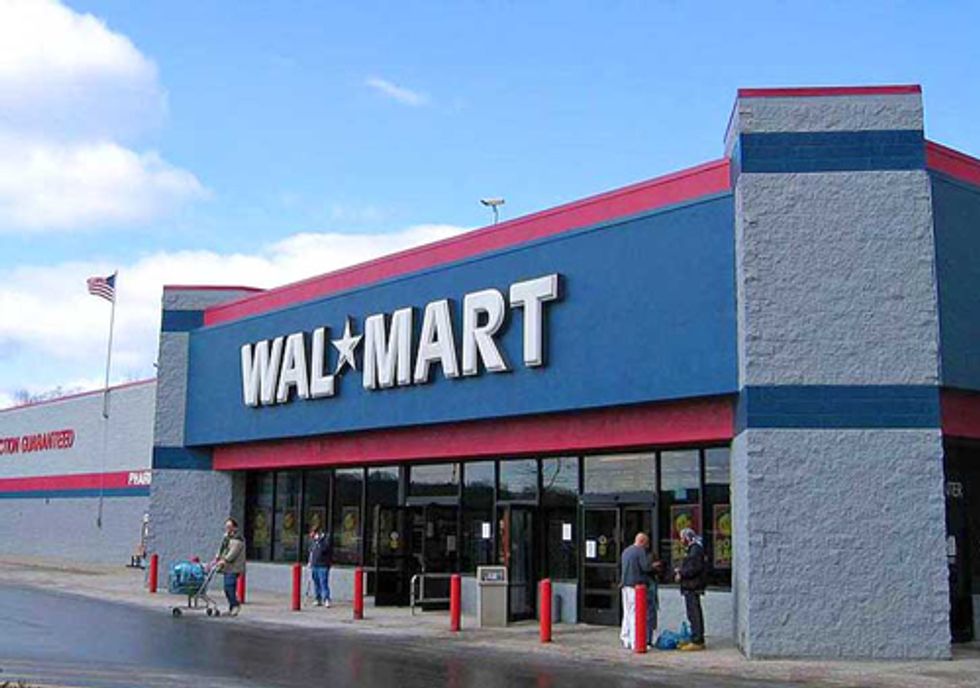 As Walmart releases its fourth quarter earnings on Feb. 21, Food & Water Watch released a report analyzing the rift between Walmart's marketing claims and the true impact the company has on the food system. Why Walmart Can't Fix the Food System finds that Walmart's recent high-profile initiatives to bring healthier fare to food deserts, expand healthy food offerings including local and organic food, and be environmentally sustainable are merely window dressing to divert attention away from the company's business model, which squeezes farmers, workers and processors, and drives food production to become more consolidated and industrialized.
"From press conferences with the First Lady, to promises to buy local produce, to the 'Great For You' healthy labeling scheme they just announced, Walmart's PR machine has been on overdrive for the past couple years as it tries to polish its tarnished image," said Wenonah Hauter, executive director of Food & Water Watch. "The truth is, Walmart is still the retail giant that exploits its workers and suppliers to undercut all other competition, which leaves consumers with a lot less choice. Unless it changes its business model, Walmart cannot help us move towards a more sustainable food system."
Walmart is the biggest company in the U.S. with 2010 sales of $419 billion, a little over half of that coming from grocery sales. In the past 12 years since it began selling food alongside other retail products, Walmart has become the largest food retailer in the U.S. One out of every three dollars spent on groceries in the U.S. goes to Walmart.
Food isn't just good business for Walmart—it's the cornerstone of the company's public relations offensive. The report analyzes Walmart's ambitious campaign to convince skeptical local governments and communities that the company can alleviate the problem of food deserts—low-income areas with little access to fresh food. Contrary to the company's claims, report explains that Walmart's motivation is to break through the strong community opposition that has successfully blocked Walmart from many urban markets including New York, Los Angeles, and until 2006, Chicago.  
"Plunking down a big-box store in the middle of a community with a lack of access to healthy food will not solve this complicated problem," said Hauter. "Selling fruit and vegetables is one step, but all communities, especially those that are struggling financially, will be better served for the long term by local businesses that put money back into the community by paying livable wages and buying from local and regional suppliers and farmers whenever possible."
Walmart's other good food pledges such as buying local, offering more organic foods and being environmentally responsible are probed in the report, which describes Walmart's business model of driving down costs at every step in the supply chain without consideration for the costs to employees, food producers and the environment.
To conclude, the report advises local governments to seek better solutions to increase communities' access to healthy food and encourages the federal government to investigate Walmart's anticompetitive practices and its impact on the food chain—and adapt food and farm policy that strengthens regional food systems and food assistance programs that will provide healthy, affordable food to all communities.
On Thursday, Feb. 23, a press conference will be held on the steps of City Hall in New York City in conjunction with the Walmart-Free NYC campaign. Food & Water Watch's Executive Director Wenonah Hauter will speak alongside national and local community and labor leaders who will also be available for interviews.
To read the full report, click here.
For more information, click here.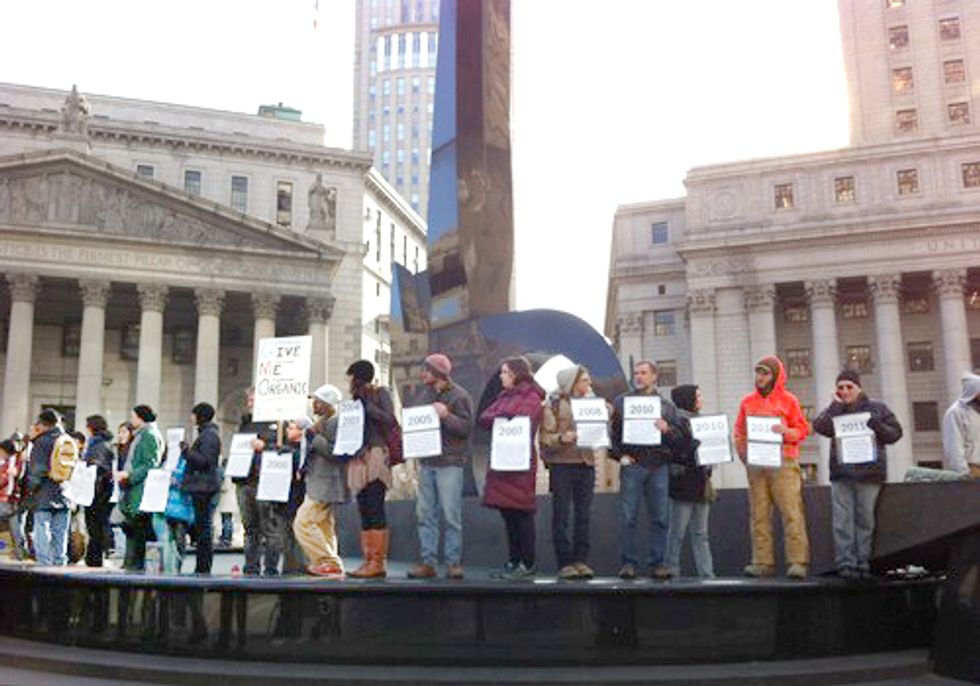 It was standing room only as family farmers from around North America filled Federal Court Judge Naomi Buchwald's courtroom in Manhattan on Tuesday, Jan. 31. The topic was the landmark organic community lawsuit Organic Seed Growers and Trade Association (OSGATA) et al v. Monsanto and the oral argument from Monsanto's pre-trial motion to dismiss, which it filed last July. Plaintiffs from at least 21 States and provinces were in the courtroom including Oregon, California, New Mexico, Colorado, Kansas, Nebraska, South Dakota, Saskatchewan, Missouri, Iowa, Ohio, Florida, North Carolina, Virginia, New Jersey, Pennsylvania, New York, Connecticut, Massachusetts, Vermont and Maine.
Meanwhile, outside the courthouse in Foley Square, hundreds turned out for the citizen's assembly of support for family farmers, an action organized by several groups including Occupy Food Justice. A depiction of Monsanto's infamous 100 year history including Agent Orange, dioxin, PCBs and now gene-spliced food was presented. Speakers addressed topics ranging from sustainable agriculture to risks associated with genetically modified organisms (GMOs) to issues of good food and food justice. After the conclusion of the courtroom oral argument, the plaintiff farmers and their legal team from the Public Patent Foundation provided details and comments on the courtroom proceedings, to supporters at the citizens' assembly.
"We were very pleased that the court granted our request to have oral argument regarding Monsanto's motion to dismiss our case today," said Daniel Ravicher of the Public Patent Foundation, lead lawyer for the plaintiffs. "The judge graciously permitted both parties to raise all the points they wished in a session that lasted over an hour. While Monsanto's attorney attempted to portray the risk organic farmers face from being contaminated and then accused of patent infringement as hypothetical and abstract, we rebutted those arguments with the concrete proof of the harm being suffered by our clients in their attempts to avoid such accusations. The judge indicated she will issue her ruling within two months. We expect she will deny the motion and the case will then proceed forward. If she should happen to grant the motion, we will most likely appeal to the Court of Appeals who will review her decision without deference."
The large group of 83 Plaintiffs in OSGATA v. Monsanto is comprised of individual family farmers, independent seed companies and agricultural organizations. The total number of members within the plaintiff group exceeds 300,000 and includes many thousands of certified organic farmers. The plaintiffs are not seeking any monetary compensation. Instead, the farmers are pre-emptively suing Monsanto and seeking court protection under the Declaratory Judgment Act, from Monsanto-initiated patent infringement lawsuits.
President and lead Plaintiff for Organic Seed Growers and Trade Association—Maine organic seed farmer Jim Gerritsen—was in the courtroom and witnessed the oral argument. Gerritsen had this to say, "Our lawyer did a good job explaining the current injustice farmers face. We have a right to be secure on our farms and to be free from Monsanto's GMO trespass. If we become contaminated by Monsanto, not only is the value of our organic seed crop extinguished but we could also be sued by Monsanto for patent infringement because their contamination results in our 'possession' of their GMO technology. We have farmers who have stopped growing organic corn, organic canola and organic soybeans because they can't risk being sued by Monsanto. It's not fair and it's not right. Family farmers need justice and we deserve the protection of the court."
Early on in the legal process, Monsanto was asked by lawyers for the plaintiffs to provide a binding legal covenant not to sue. Monsanto refused this request and in doing so made clear that it would not give up its option to sue contaminated innocent family farmers who want nothing to do with Monsanto's GMO technology.
In a remarkable demonstration of solid support by American citizens for family farmers, co-plaintiff Food Democracy Now! has collected more than 100,000 signatures on it's petition supporting the rights of family farmers against Monsanto. "For the past 12,000 years farmers have saved the best seeds each year to increase yields and improve traits for the food we eat," said Dave Murphy, founder and executive director of Food Democracy Now! "In 1996, when Monsanto sold its first patented genetically modified (GMO) seed to farmers, this radically changed the idea of how farmers planted and saved seed. Less than two decades later, Monsanto's aggressive patent infringement lawsuits have created a climate of fear in rural America among farmers. It's time for that to end. Farmers should not have to live in fear because they are growing our food."
For more information, click here.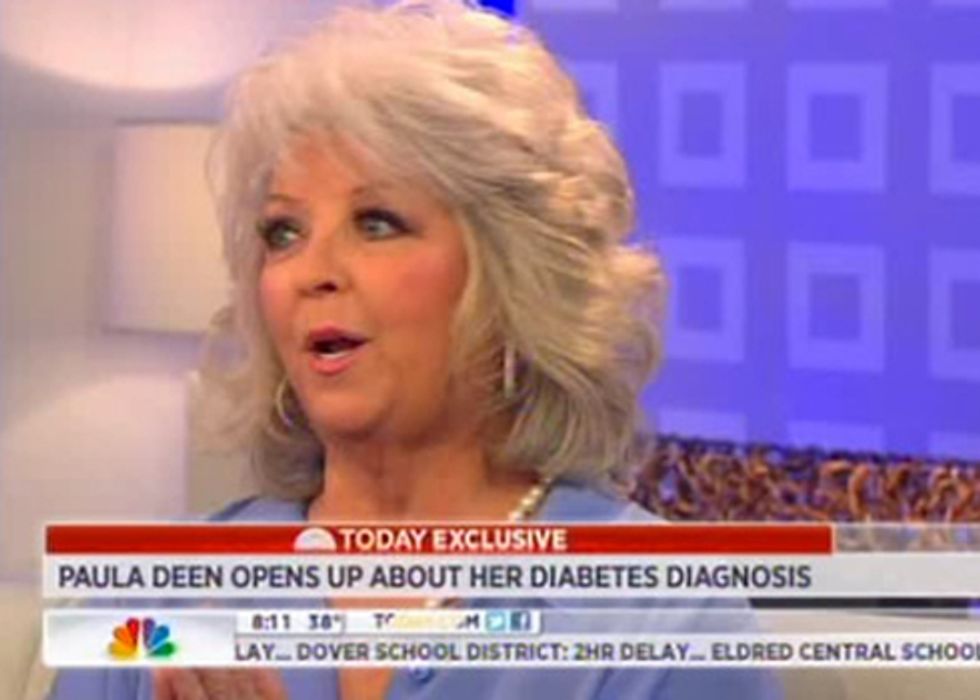 By Kristin Wartman
Paula Deen's public admission that she has Type 2 diabetes and her follow-up announcement that she is also a paid spokesperson for the pharmaceutical company Novo Nordisk, and its diabetes drug, Victoza, has sparked an interesting debate about the deeper issues surrounding our food system—especially the impact it has on the many people diagnosed with diabetes. And according to Deen's comments on the Today show, she implies to her millions of fans, that the primary ways to deal with this largely diet-related disease are through personal responsibility and pharmaceuticals.
Indeed, when Al Roker, asks her if she is going to change the way she eats and the foods she cooks, Deen says, "Honey, I'm your cook, I'm not your doctor. You are going to have to be responsible for yourself." Evading the question, Deen puts the onus back on the individual to decide what foods to eat or not, despite the fact that she promotes unhealthful and processed foods on TV. The one comment she does make about food choice is "moderation," one of the most meaningless and confusing bits of nutrition advice. In fact, this is what the industry giants often use as their defense for harmful, unhealthful foods.
Personal responsibility and consumer choice are solutions heralded by conservatives and liberals alike—the idea being that ultimately good health comes down to what we choose to buy and eat. But it's not that simple.
There are three main issues when it comes to the myth of personal responsibility about food choice and they get at the root of our nation's health crisis—The public's confusion about nutrition, the lack of time and knowledge about real home cooking, and the promotion of quick fixes like drugs, diet foods, and fads in lieu of addressing underlying causes. The Paula Deen diabetes story manages to hit on every single one of these issues.
Americans suffer from nutrition confusion, thanks to an array of conflicting and often inaccurate public health messages, misleading labels and claims on packaging, and a lack of nutrition knowledge by many doctors, dietitians, and other health care providers.
Deen's cooking, and now her public diabetes announcement, only adds to this confusion. During the Today show interview she repeatedly mentions the amount of fat in her recipes, as do many in the media reporting on the story. "For 10 years, wielding slabs of cream cheese and mounds of mayonnaise," a New York Times article begins, "Paula Deen has become television's self-crowned queen of Southern cuisine."
But real, unprocessed cream cheese and mayonnaise are not the problem. The issue that mainstream media has largely overlooked is that Deen uses the processed, packaged versions of these foods, which are full of chemicals, additives and trans-fats. Actual home cooking would require whipping these foods up herself in her kitchen using real ingredients. And that is the real story behind Deen's diabetes diagnosis—Her health problems are largely due to her reliance on packaged, processed foods that are the foundation for many of her recipes.
Even though her cooking show is called Paula's Home Cooking, there's a lot going on in her kitchen that is as far removed from home cooking as you can get. Many of her recipes include "ingredients" like Krispy Kreme doughnuts, biscuit mixes, cans of mushroom soup, and sour-cream-and-onion flavored potato chips. This is processed food cooking, not home cooking.
Heaping the blame on all the "fat" she cooks with only serves to confuse the public further. A New York Daily News article also cites fat as one of the main culprits in Deen's cooking and her diet. But the most recent research indicates that when it comes to diabetes, fat is not the problem. The problem foods are sugar, refined white flour, chemical additives, artificial sweeteners and flavors, trans-fats, and the various other chemicals and additives found in the processed foods that abound in Deen's recipes.
Now Deen is pushing the idea that taking medicine is the real solution to diabetes. On the Today show, she says, "Here's what I want to get across to people, I want them to first start by going to their doctor and asking to be tested for diabetes. Get on a program that works for you. I'm amazed at the people out there that are aware they're diabetic but they're not taking their medicine."
According to Deen, the reason she waited three years to go public with her diagnosis was because she didn't have anything to give her fans. "I could have walked out and said, 'Hey ya'll, I have been diagnosed with Type 2 diabetes.' I had nothing to give to my fellow friends out there. I wanted to bring something to the table when I came forward." So what is she bringing to the table? A sales pitch for a diabetes drug that costs $500 per month and has some seriously troubling side effects, including thyroid cancer, as Tom Philpott reports.
Just think of the kind of influence she could have wielded had she come out with a new cooking show that focused on using fresh, real food ingredients that cut way back on sugar and refined carbohydrates. In fact, if she had done so and eaten this way for the past three years she might have reversed her own diabetes diagnosis, which is entirely possible given the right diet.
But instead, Deen is getting paid to leave that task to a drug company. This isn't her first corporate sponsorship (here she peddles Smithfield ham) and I doubt it will be her last. Diabetic and diet foods can't be far behind in products she'll attach to her name.
Alas, we can't fairly discuss personal responsibility without taking into account the under-regulated advertising industry that pushes cheap, convenient, and processed foods on an overworked and cash-strapped population. Add to this the diminishing knowledge on how to shop for, cook, and prepare foods from scratch and we have a serious problem.
As Paula Deen now joins the 25.8 million other Americans suffering with diabetes, she "brings to the table" the ideas of moderation (an essentially meaningless and confusing bit of nutrition advice), personal responsibility, and the drug Victoza as the solutions. She could do so much more with all the power she wields.
Anthony Bourdain put it squarely when he said of Deen, "If I were on at seven at night and loved by millions of people at every age, I would think twice before telling an already obese nation that it's OK to eat food that is killing us." And this was before her diabetes announcement. Bourdain has also said that Deen is the "worst, most dangerous person to America." He might have a point.
For more information, click here.
—————
Kristin Wartman is a food writer living in Brooklyn. She has a Masters in Literature from UC Santa Cruz and is a Certified Nutrition Educator. She is interested in the intersections of food, health, politics, and culture. You can follow her on Twitter and read more of her writing at kristinwartman.wordpress.com.