This website uses cookies to ensure you get the best experience while browsing it. By clicking 'Got It' you're accepting these terms.
Can the Everglades Be Restored?
Dec. 23, 2014 01:45PM EST
Sunny Zhang is a sophomore at Duke University studying Environmental Science and Public Policy. She enjoys roadtrips, reading about nature, and upcycling.
I grew up in the Everglades, riding airboats, canoeing through mangrove waterways, catching shade from gumbo-limbo trees and going alligator sighting—I've always loved the Everglades. It is a beautiful set of interconnected ecosystems in south Florida, composed of vast areas of marshland, cypress tree swamps and mangrove estuaries. The Everglades is a refuge to the critically endangered Florida panther and has plains of sawgrass as far as the eye can see, not to mention it's the only place in the world where you can find both alligators and crocodiles.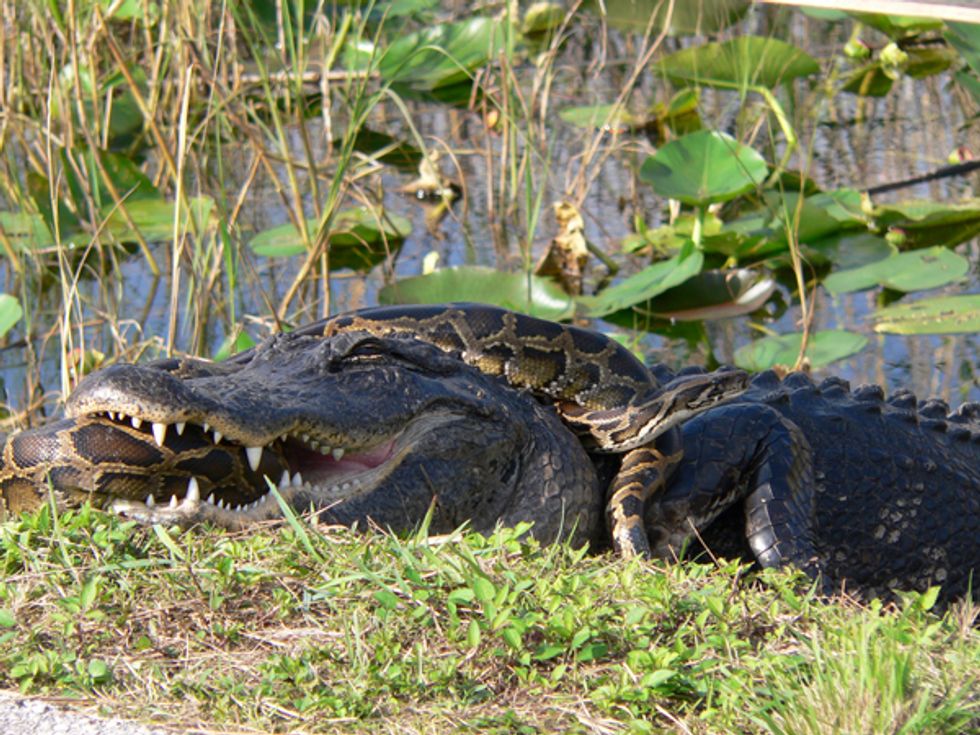 So when I first learned about novel ecosystems, I immediately denied the fact that the Everglades classified as one.
A novel ecosystem is defined as an ecosystem that differs in composition, structure or function from present and past systems as the result of human altercation. These ecosystems are hybrids of original, historic ecosystems and often contain invasive species that dominate the area at the expense of native species.
The idea of novel ecosystems has been controversial in conservation circles. Not everyone agrees that labeling ecosystems as "novel" is productive, and some argue that the term encourages negligence and apathy towards returning the ecosystems to their historic ways. Advocates, however, believe that novel ecosystems are better at providing natural services and stability than historic ecosystems, and are cheaper to maintain. Still other advocates believe that novel ecosystems are simply ecosystems undergoing their inevitable change.
Somehow, to me, labeling the Everglades as a novel ecosystem seemed to strip it of its legitimacy and value. In my mind, labeling the Everglades as a novel ecosystem would mean giving up on it, and letting it be degraded with Burmese pythons, Green Iguanas, Giant African Snails and Melaluca trees, all human-introduced, invasive species.
Ultimately, the Everglades qualifies as a novel ecosystem. About 50 percent of the original Everglades remains. With more than 25 percent of its fauna being non-native species, and housing the highest number of exotic plant species in the world, the Everglades is probably the best example (and worst case) of a novel ecosystem. The 1,392 exotic plant species actually outnumber the 1,301 plant species considered native to South Florida. Human effects on water flow have caused the alligator population within the Everglades to drop drastically. Dig a little deeper and you'll discover that even the waterways have been artificially manipulated. It's nearly impossible to restore the Everglades as it was before, the "River of Grass" undisturbed by human exploitation, pollution, agricultural development, and suburban expansion. It is strange to know that a considerable amount of what you see out in the Everglades doesn't actually belong there.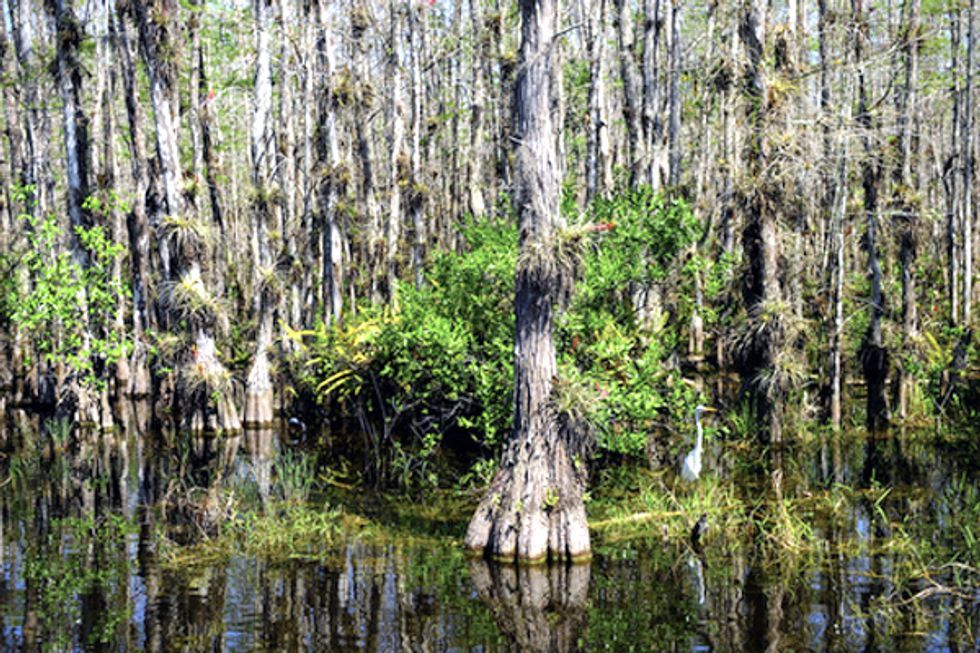 Photo credit: Shutterstock
We spend $500 million every year simply trying to control invasive species. Should we care to maintain the Everglades if it is "novel?"
Economic factors aside, the Everglades has intrinsic values—aesthetic and cultural. We don't just preserve the Everglades because it improves water quality or prevents flooding. We preserve it because we value the biodiversity it brings us, and the unique regional commonality it provides. The Everglades is integrated into the Florida school curriculums, displayed at photo galleries, and is a vital part in sustaining the local tourism economy. The slow moving pace of the 'River of Grass' also shows us that there is more to life than the hustle and bustle you find in Miami and other cities. Being in the Everglades is humbling. It reminds urban and suburban South Floridians that all of the resources and land we use comes from somewhere. It shows us that different ecosystems are interconnected. The Everglades reminds us of nature's wonders.
Though there are species that do not belong in the Everglades, they should not tarnish the value of the ones that do. Labeling the Everglades as a novel ecosystem should not change our mindsets and sentiments toward protection and restoration.
Many people (including myself) have misconceived the term "novel ecosystem." Admitting the Everglades is a novel ecosystem doesn't mean that we have given up on preservation efforts. Admitting the Everglades is a dynamic, novel ecosystem should not diminish its intrinsic value. It does not mean we will throw traditional conservation and restoration approaches out the window, forget about historical ecosystem structures, and encourage novel ones in their place.
Even though they might not seem "natural," studying novel ecosystems can tell us more about the progression of nature. Calling the Everglades a novel ecosystem will help develop a better management framework to address the rapid changes occurring within it. It conveys the clearer realities we must face—the alterations we've made to the Everglades are almost irreversible.
Sometimes when you love something, it's easy to pretend its flaws don't exist. I love the Everglades, and I'm learning how to love the Everglades even though it isn't pristine.
YOU MIGHT ALSO LIKE
Will New Relations With Cuba Impact Its Pristine Ocean Environment?
6 Ways to Deepen Your Spiritual Relationship to Nature
EcoWatch Daily Newsletter
"It would be great to see all the candidates join Elizabeth Warren in taking the No Big Ag Money Pledge," said Citizens Regeneration Lobby's Alexis Baden-Mayer.
Peter Blanchard
/ Flickr / ric (CC BY 2.0)
Food system justice and environmental advocates on Wednesday urged all Democratic presidential hopefuls to follow in the footsteps of Sen. Elizabeth Warren in signing a pledge rejecting campaign cash from food and agribusiness corporations.
A new study shows the impact Native Americans had on landscapes was "small" compared to what followed by Europeans. The findings provide important takeaway for
conservation
in New England today, seen above in a view of areas surrounding Rangeley Lakes in Maine. Cappi Thompson / Moment / Getty Images
There's a theory going around that Native Americans actively managed the land the lived on, using controlled burns to clear forests. It turns out that theory is wrong. New research shows that Native Americans barely altered the landscape at all. It was the Europeans who did that, as ZME Science reported.
Loggers operate in an area of lodgepole pine trees killed by the mountain pine beetle in the Beaverhead-Deerlodge National Forest on Sept. 13, 2019 in Montana. As climate change makes summers hotter and drier in the Northern Rockies, forests are threatened with increasing wildfire activity, deadly pathogens and insect infestations, including the mountain pine beetle outbreak. The insects have killed more than six million acres of forest across Montana since 2000. Chip Somodevilla / Getty Images
Wild rice flatbread is one of many Native recipes found in Indigikitchen.
Indigikitchen
The online cooking show Indigikitchen is providing a platform to help disseminate Indigenous food recipes — while helping eaters recognize their impact on the planet and Native communities.
On the Solomon Islands, rats and poachers are the two major threats to critically endangered sea turtles. A group of local women have joined forces to help save the animals from extinction.