This website uses cookies to ensure you get the best experience while browsing it. By clicking 'Got It' you're accepting these terms.


The best of EcoWatch, right in your inbox. Sign up for our email newsletter!
Can Cuba Supply America's Growing Appetite for Organic Food?
Apr. 05, 2016 08:19AM EST
Food
The evolving relationship between the U.S. and Cuba could open up new avenues for the booming organic market in the states.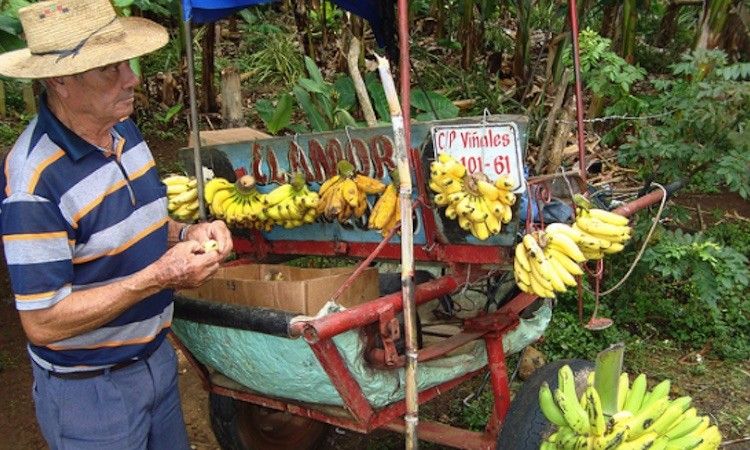 A banana vendor near Viñales, Cuba. Photo credit: Adam Jones, Ph.D. / Global Photo Archive / Flickr
American organic food producers and advocates, including the CEO of the Organic Trade Association and executives from Honest Tea, Stonyfield Farm and Global Organics, will be traveling to Cuba in May to take a closer look at the country's unique, pesticide-free agricultural system and developing Cuba's organic industry for export, POLITICO reported.
The trip will be organized by Rep. Chellie Pingree (D) of Maine. Star chef Tom Colicchio, Pingree's friend and outspoken proponent of sustainable agriculture, will also attend.
The five-day trip is sponsored by the Center for Democracy in the Americas, which promotes a U.S. policy toward Cuba based on engagement and recognition of Cuba's sovereignty.
"We're interested in getting a foot in the door," Pingree, who is also an organic farmer, told the Portland Press Herald. "And making sure that they know there are opportunities there." Pingree also noted that Cuba has successfully produced essentially organic food for the last 25 years.
Following the collapse of the Soviet Union, Cuba lost their main supplier of fuel, fertilizers and pesticides and was forced into its Peak Oil crisis. The country basically had to learn how to grow their own food out of necessity. In 1993, the Cuban government eliminated the majority of state-owned farms and turned them over to the workers instead. According to the United Nations Environment Programme:
"While ensuring national food security under a trade embargo, Cuba's transition to organic agriculture has also had a positive impact on people's livelihoods by guaranteeing a steady income for a significant proportion of the population. Moreover, the lack of pesticides for agricultural production is likely to have a positive long-term impact on Cubans' wellbeing since such chemicals are often associated with various negative health implications such as certain forms of cancer."
The story was captured in the 2006 film, The Power of Community, and the movement is largely viewed as a shining example of sustainable farming.
Agriculture Secretary Tom Vilsack is a proponent of Cuban exports to the U.S. if or when the trade embargo ends.
"I think they have an incredible opportunity in the future to be a major supplier of value-added organic products, simply because they have not utilized modern agricultural processes, have not used chemicals and pesticides and so forth that have been used in other parts of the world, including the U.S.," Vilsack told Modern Farmer after his November visit to the island nation.
POLITICO reported that the move could be a win-win for both countries:
"U.S. food producers are already relying on imports from South America, Europe and Asia to keep up with Americans' demand for organic produce, dairy, meat and packaged foods. Meanwhile, Cuban farmers have had to work their land without chemical fertilizers and pesticides since the early 1990s when the Soviet Union collapsed. If Congress lifted the Cuban embargo, they would have easy access to a market willing to pay top prices for their goods."
Americans have an increasing appetite for naturally grown foods. Sales from organic farms across the country have boomed in recent years, with consumer spending up 72 percent since 2008, according to the U.S. Department of Agriculture's 2014 Organic Survey.
POLITICO wrote that Cuba's tropical climate is ideal for growing organic products that are in demand in the U.S. such as coffee, bananas and mangoes—which represent more than $600 million worth of imports to the U.S. in 2013 combined. Cuban farmers could also grow organic varieties of other high-demand crops for animal feed such as corn and soybeans, the report said.
Cuba's worker-owned urban organic farms, known as organopónicos, churn out 90 percent of Cuba's fruit and vegetables. However, the country's agricultural system hasn't covered all the bases and trade with the U.S. could prove beneficial. As an article in Sustainable Food Trust explained, the nation still needs to import significant quantities of staple items including meat and wheat.
Oh, and it also lacks "reliable internet connections, modern transport and, crucially, freedom of speech," the Trust noted.
"Ultimately," the Trust concluded, "to get access to a more varied selection of commodities, trade with the U.S. could be the answer. Some observers have predicted that if the U.S. embargo is relaxed, sales of goods to Cuba could rise to as much as $6 billion a year."
YOU MIGHT ALSO LIKE
Food Not Bullets: Hunger Pangs of Starving Farmers Met by a Barrage of Bullets
Is Growing Your Own Food the Only Way to Truly Be Vegetarian or Vegan?
USDA Deregulates Two Lines of Genetically Engineered Corn From Monsanto, Syngenta
5 Million Nigerians Oppose Monsanto's Plans to Introduce GMO Cotton and Corn
EcoWatch Daily Newsletter
Mark Wilson / Getty Images News
Ethics investigations have been opened into the conduct of senior Trump appointees at the nation's top environmental agencies.
The two investigations focus on Environmental Protection Agency (EPA) Administrator Andrew Wheeler and six high-ranking officials in the Department of Interior (DOI), The Hill reported Tuesday. Both of them involve the officials' former clients or employers.
"This is demonstrative of the failures at the very top of this administration to set an ethical tone," Campaign Legal Center Ethics Counsel Delaney Marsco told The Washington Post of the DOI investigation. "When people come to work for government, they're supposed to work on behalf of the public. It's a betrayal of the public trust when senior political appointees seem to give privileged access to their former employers or former clients."
Cigarette butt litter. Tavallai / CC BY-ND 2.0
By Dipika Kadaba
We've known for more than 50 years that smoking cigarettes comes with health hazards, but it turns out those discarded butts are harmful for the environment, too. Filtered cigarette butts, although small, contain dozens of chemicals, including arsenic and benzene. These toxins can leach into the ground or water, creating a potentially deadly situation for nearby birds, fish and other wildlife.
Thanasis Zovoilis / DigitalVision / Getty Images
Infants less than a year old should not be exposed to electronic screens, the World Health Organization (WHO) said on Wednesday.
Bill Pugliano / Getty Images
By Wenonah Hauter
Five years ago this week, an emergency manager appointed by then-Michigan Gov. Rick Snyder made the devastating decision to save money by switching Flint's water supply over from Detroit's water system to the Flint River. Seen as a temporary fix, the new water supply was not properly treated. High levels of lead leached from the old pipes, poisoning a generation of Flint's children, and bacteria responsible for an outbreak of Legionnaires' Disease killed more than a dozen residents.
Los Angeles-Long Beach, California is listed as the nation's smoggiest city. Pixabay
Kissing bug. Pavel Kirillov / Flickr / CC BY-SA 2.0
The Centers for Disease Control and Prevention (CDC) confirmed that the kissing bug, which can transmit a potentially deadly parasite, has spread to Delaware, ABC News reported Wednesday.
Did you know that more than a third of food is wasted or thrown away every year? And that only 25 percent of it would be enough to feed the 795 million undernourished people in the world? That's why today is Stop Food Waste Day, a chance to reflect on what you can do to waste less of the food you buy.
Stop Food Waste Day is an initiative of food service company Compass Group. It was launched first in the U.S, in 2017 and went global the year after, making today it's second worldwide celebration.