Can Cuba Supply America's Growing Appetite for Organic Food?
The evolving relationship between the U.S. and Cuba could open up new avenues for the booming organic market in the states.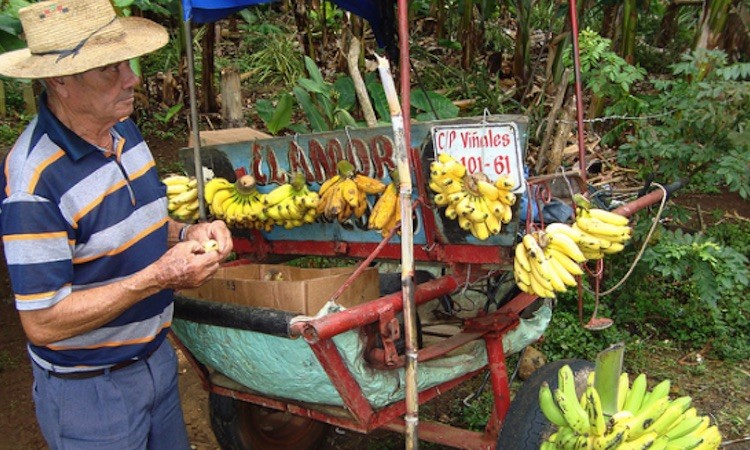 A banana vendor near Viñales, Cuba. Photo credit: Adam Jones, Ph.D. / Global Photo Archive / Flickr
American organic food producers and advocates, including the CEO of the Organic Trade Association and executives from Honest Tea, Stonyfield Farm and Global Organics, will be traveling to Cuba in May to take a closer look at the country's unique, pesticide-free agricultural system and developing Cuba's organic industry for export, POLITICO reported.
The trip will be organized by Rep. Chellie Pingree (D) of Maine. Star chef Tom Colicchio, Pingree's friend and outspoken proponent of sustainable agriculture, will also attend.
The five-day trip is sponsored by the Center for Democracy in the Americas, which promotes a U.S. policy toward Cuba based on engagement and recognition of Cuba's sovereignty.
"We're interested in getting a foot in the door," Pingree, who is also an organic farmer, told the Portland Press Herald. "And making sure that they know there are opportunities there." Pingree also noted that Cuba has successfully produced essentially organic food for the last 25 years.
Following the collapse of the Soviet Union, Cuba lost their main supplier of fuel, fertilizers and pesticides and was forced into its Peak Oil crisis. The country basically had to learn how to grow their own food out of necessity. In 1993, the Cuban government eliminated the majority of state-owned farms and turned them over to the workers instead. According to the United Nations Environment Programme:
"While ensuring national food security under a trade embargo, Cuba's transition to organic agriculture has also had a positive impact on people's livelihoods by guaranteeing a steady income for a significant proportion of the population. Moreover, the lack of pesticides for agricultural production is likely to have a positive long-term impact on Cubans' wellbeing since such chemicals are often associated with various negative health implications such as certain forms of cancer."
The story was captured in the 2006 film, The Power of Community, and the movement is largely viewed as a shining example of sustainable farming.
Agriculture Secretary Tom Vilsack is a proponent of Cuban exports to the U.S. if or when the trade embargo ends.
"I think they have an incredible opportunity in the future to be a major supplier of value-added organic products, simply because they have not utilized modern agricultural processes, have not used chemicals and pesticides and so forth that have been used in other parts of the world, including the U.S.," Vilsack told Modern Farmer after his November visit to the island nation.
POLITICO reported that the move could be a win-win for both countries:
"U.S. food producers are already relying on imports from South America, Europe and Asia to keep up with Americans' demand for organic produce, dairy, meat and packaged foods. Meanwhile, Cuban farmers have had to work their land without chemical fertilizers and pesticides since the early 1990s when the Soviet Union collapsed. If Congress lifted the Cuban embargo, they would have easy access to a market willing to pay top prices for their goods."
Americans have an increasing appetite for naturally grown foods. Sales from organic farms across the country have boomed in recent years, with consumer spending up 72 percent since 2008, according to the U.S. Department of Agriculture's 2014 Organic Survey.
POLITICO wrote that Cuba's tropical climate is ideal for growing organic products that are in demand in the U.S. such as coffee, bananas and mangoes—which represent more than $600 million worth of imports to the U.S. in 2013 combined. Cuban farmers could also grow organic varieties of other high-demand crops for animal feed such as corn and soybeans, the report said.
Cuba's worker-owned urban organic farms, known as organopónicos, churn out 90 percent of Cuba's fruit and vegetables. However, the country's agricultural system hasn't covered all the bases and trade with the U.S. could prove beneficial. As an article in Sustainable Food Trust explained, the nation still needs to import significant quantities of staple items including meat and wheat.
Oh, and it also lacks "reliable internet connections, modern transport and, crucially, freedom of speech," the Trust noted.
"Ultimately," the Trust concluded, "to get access to a more varied selection of commodities, trade with the U.S. could be the answer. Some observers have predicted that if the U.S. embargo is relaxed, sales of goods to Cuba could rise to as much as $6 billion a year."
YOU MIGHT ALSO LIKE
Food Not Bullets: Hunger Pangs of Starving Farmers Met by a Barrage of Bullets
Is Growing Your Own Food the Only Way to Truly Be Vegetarian or Vegan?
USDA Deregulates Two Lines of Genetically Engineered Corn From Monsanto, Syngenta
5 Million Nigerians Oppose Monsanto's Plans to Introduce GMO Cotton and Corn
As the Trump administration moves full speed ahead on boosting the oil and fossil fuel industry, opposition to increased pipeline construction is cropping up in different communities around the country.
Keep reading...
Show less
Minke whale stranding near Havergate Island in Suffolk. MCGA.
By Simon Evans
Last Saturday, two dead whales washed up on the coast of Suffolk, in eastern England, and a third was spotted floating at sea.
What happened next illustrates how news can spread and evolve into misinformation, when reported by journalists rushing to publish before confirming basic facts or sourcing their own quotes.
Keep reading...
Show less
By Monica Amarelo and Paul Pestano
Sun safety is a crucial part of any outdoor activity for kids, and sunscreen can help protect children's skin from harmful ultraviolet rays. Kids often get sunburned when they're outside unprotected for longer than expected. Parents need to plan ahead and keep sun protection handy in their cars or bags.
Keep reading...
Show less
By Joe McCarthy
A lot of people take part in community clean-up efforts—spending a Saturday morning picking up litter in a park, mowing an overgrown field or painting a fence.
Keep reading...
Show less
Rink Glacier in western Greenland, with a meltwater lake visible center. NASA/OIB
Scientists have had their eyes on Greenland as its iconic glaciers have begun disappearing due to a warming climate. But, what they didn't expect to see was a whole new type of melting.
Keep reading...
Show less
A coalition of conservation groups and others announced Thursday that a historic number of comments and petitions of support have been submitted to the U.S. Department of the Interior in support of Bears Ears National Monument. Despite the entirely inadequate 15-day comment period ending on May 26, more than 685,000 comments in support of Bears Ears National Monument have been collected.
Keep reading...
Show less
Mountain View Fire
By Lena Moffitt
An oil tanker in Mead, Colorado exploded, killing one and injuring three on Thursday. Authorities are continuing to investigate the cause of the explosion.
Keep reading...
Show less
May. 26, 2017 01:27PM EST
Banner created by Alliance for Climate Education
Keep reading...
Show less