Campaign for Safe Cosmetics Results in Decline in Toxic Phthalates Exposure
Exposure to certain toxic phthalates has substantially decreased in the American population according to a study led by researchers at UC San Francisco and published yesterday in the journal Environmental Health Perspectives. Study authors suggest that the decrease may be due to a federal ban on phthalates in toys, as well as cosmetics companies moving away from the use of these chemicals in response to advocacy efforts led by the Campaign for Safe Cosmetics. Levels of some "regrettable substitution" phthalates are on the rise, however, including one that was recently added to California's Proposition 65 list of chemicals known to cause cancer, birth defects or reproductive toxicity.
"Kudos to the millions of conscientious consumers whose concerns about phthalates in kids' toys and cosmetics are now being credited with helping to decrease the levels of phthalates in people," said Janet Nudelman, policy director at the Breast Cancer Fund and co-founder of the Campaign for Safe Cosmetics, which was established in 2004 out of concerns about the presence of phthalates in personal care products.
Phthalates are industrial chemicals, which soften plastics that are used to make common consumer products including fragrances, cosmetics, plastics and building materials. Phthalates are endocrine-disrupting chemicals; exposure has been linked to early puberty, a risk factor for later-life breast cancer; reproductive harm in males; DNA damage to sperm and decreased sperm counts; and asthma.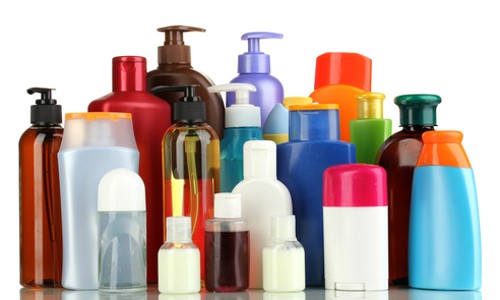 Photo courtesy of Shutterstock
Due to their ubiquity in common consumer products and potential to harm reproduction, phthalates have long been a target of state and federal legislative and market-based advocacy campaigns. In 2008, the Breast Cancer Fund led a national campaign that resulted in a Congressional ban on six phthalates in children's toys. The law permanently banned three phthalates: DEHP, DnBP (also abbreviated as DBP) and BBzP. According to the study, the levels of all three have gone down in people. Three other phthalates—DnOP, DiDP, and DiNP—were provisionally banned pending further study. Exposures to these phthalates have increased. Of particular note is exposure to DiNP, which increased nearly 150 percent. DiNP, which was recently added to California's Proposition 65 list of carcinogens, is widely used to replace DEHP in plastics.
"Trading one toxic chemical for another in an endless and costly parade of regrettable substitutions is unacceptable," said Cindy Luppi of Clean Water Action, a co-founder of the Campaign for Safe Cosmetics. "It's time for strong laws and corporate policies that make safe products the industry standard."
Consumer pressure has led more than 1,000 cosmetics and personal care companies to remove some dangerous chemicals, including phthalates, from their products. A 2008 report by the Campaign for Safe Cosmetics found a marked decline in the use of DEHP and DnBP by the cosmetics industry, compared to the findings of a 2002 Campaign study, which reported 72 percent of shampoos, deodorants, fragrances and other products contained these and other phthalates. Not surprisingly, the study also found a drop in levels of DEHP and DnBP in people.
"Women have historically had higher levels of phthalates in their bodies than men, so the steep decline of certain toxic phthalates in women is a good sign," said Alexandra Scranton, director of science and research at Women's Voices for the Earth. "However, we remain concerned that manufacturers may be swapping out high profile toxic phthalates for less well-known phthalates, meaning the potential for harm remains real and more research must be done to protect public health."
The study, Temporal Trends in Exposure to Phthalates: Findings from the National Health and Nutrition Examination Survey 2001-2010, published online yesterday in Environmental Health Perspectives, reports on trends from 2001 to 2010, noting exposure to eight phthalates among 11,000 people who took part in the National Health and Nutrition Examination Survey conducted by the U.S. Centers Disease Control and Prevention.
"We commend the researchers for this excellent study, which reinforces the important role policy and market decisions can have on reducing the levels of unsafe chemicals in people and protecting public health," said Nudelman. "Our campaigns to encourage companies to make safer products and to convince the government to pass health-protective laws have clearly paid off."
Visit EcoWatch's HEALTH page for more related news on this topic.

A coalition of conservation groups and others announced Thursday that a historic number of comments and petitions of support have been submitted to the U.S. Department of the Interior in support of Bears Ears National Monument. Despite the entirely inadequate 15-day comment period ending on May 26, more than 685,000 comments in support of Bears Ears National Monument have been collected.
Keep reading...
Show less
Rink Glacier in western Greenland, with a meltwater lake visible center. NASA/OIB
Scientists have had their eyes on Greenland as its iconic glaciers have begun disappearing due to a warming climate. But, what they didn't expect to see was a whole new type of melting.
Keep reading...
Show less
Mountain View Fire
By Lena Moffitt
An oil tanker in Mead, Colorado exploded, killing one and injuring three on Thursday. Authorities are continuing to investigate the cause of the explosion.
Keep reading...
Show less
Banner created by Alliance for Climate Education
Keep reading...
Show less
Twenty-two GOP senators sent a letter Thursday urging Donald Trump to pull out of the Paris agreement. They argued remaining in the deal could "upend" the administration's ability "to fulfill its goal of rescinding the Clean Power Plan."
Keep reading...
Show less
By Cheryl Johncox
The Federal Energy Regulatory Commission (FERC) rejected on Thursday Energy Transfer Partners' request to resume horizontal directional drilling at two sites for its Rover fracked gas pipeline. This rejection comes after numerous leaks into Ohio's wetlands, and Clean Air and Clean Water act violations. FERC has halted the process at only eight locations of the 32 where drilling is taking place under Ohio's wetlands and streams.
Keep reading...
Show less
By Nadia Prupis
A majority of people in eight countries say they are ready to change their lifestyles if it would prevent climate catastrophe, a survey on global threats released Wednesday found.
Keep reading...
Show less
May. 25, 2017 01:55PM EST
Bill Maher is sick of billionaires' obsession with Mars, more like "Mars-a-Lago," he said.
In a new animation produced by ATTN:, the popular talk show host of Real Time, discusses the perils of our planet, including how "climate change is killing us."
Keep reading...
Show less