This website uses cookies to ensure you get the best experience while browsing it. By clicking 'Got It' you're accepting these terms.
Campaign for Safe Cosmetics Results in Decline in Toxic Phthalates Exposure
Jan. 16, 2014 08:33AM EST
Health + Wellness
Exposure to certain toxic phthalates has substantially decreased in the American population according to a study led by researchers at UC San Francisco and published yesterday in the journal Environmental Health Perspectives. Study authors suggest that the decrease may be due to a federal ban on phthalates in toys, as well as cosmetics companies moving away from the use of these chemicals in response to advocacy efforts led by the Campaign for Safe Cosmetics. Levels of some "regrettable substitution" phthalates are on the rise, however, including one that was recently added to California's Proposition 65 list of chemicals known to cause cancer, birth defects or reproductive toxicity.
"Kudos to the millions of conscientious consumers whose concerns about phthalates in kids' toys and cosmetics are now being credited with helping to decrease the levels of phthalates in people," said Janet Nudelman, policy director at the Breast Cancer Fund and co-founder of the Campaign for Safe Cosmetics, which was established in 2004 out of concerns about the presence of phthalates in personal care products.
Phthalates are industrial chemicals, which soften plastics that are used to make common consumer products including fragrances, cosmetics, plastics and building materials. Phthalates are endocrine-disrupting chemicals; exposure has been linked to early puberty, a risk factor for later-life breast cancer; reproductive harm in males; DNA damage to sperm and decreased sperm counts; and asthma.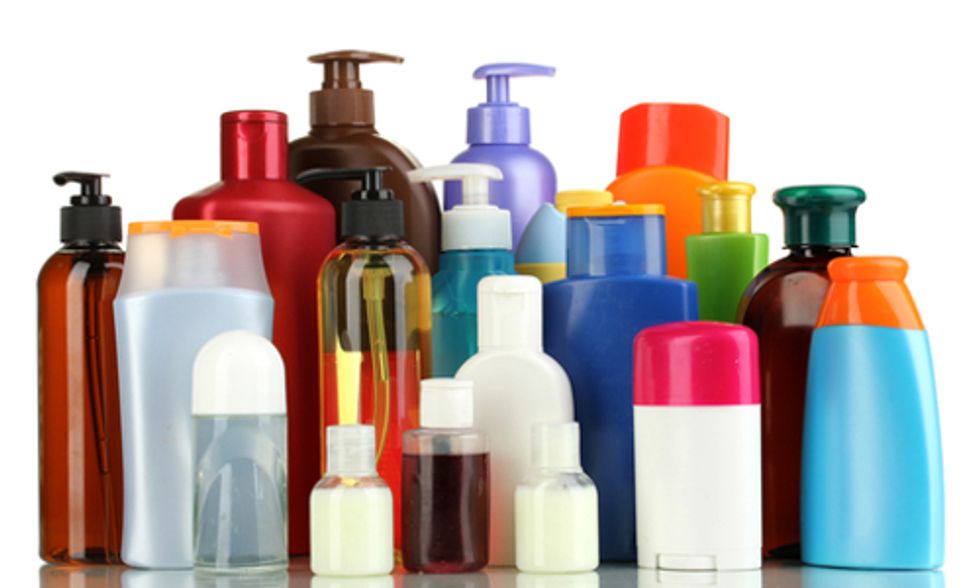 Photo courtesy of Shutterstock
Due to their ubiquity in common consumer products and potential to harm reproduction, phthalates have long been a target of state and federal legislative and market-based advocacy campaigns. In 2008, the Breast Cancer Fund led a national campaign that resulted in a Congressional ban on six phthalates in children's toys. The law permanently banned three phthalates: DEHP, DnBP (also abbreviated as DBP) and BBzP. According to the study, the levels of all three have gone down in people. Three other phthalates—DnOP, DiDP, and DiNP—were provisionally banned pending further study. Exposures to these phthalates have increased. Of particular note is exposure to DiNP, which increased nearly 150 percent. DiNP, which was recently added to California's Proposition 65 list of carcinogens, is widely used to replace DEHP in plastics.
"Trading one toxic chemical for another in an endless and costly parade of regrettable substitutions is unacceptable," said Cindy Luppi of Clean Water Action, a co-founder of the Campaign for Safe Cosmetics. "It's time for strong laws and corporate policies that make safe products the industry standard."
Consumer pressure has led more than 1,000 cosmetics and personal care companies to remove some dangerous chemicals, including phthalates, from their products. A 2008 report by the Campaign for Safe Cosmetics found a marked decline in the use of DEHP and DnBP by the cosmetics industry, compared to the findings of a 2002 Campaign study, which reported 72 percent of shampoos, deodorants, fragrances and other products contained these and other phthalates. Not surprisingly, the study also found a drop in levels of DEHP and DnBP in people.
"Women have historically had higher levels of phthalates in their bodies than men, so the steep decline of certain toxic phthalates in women is a good sign," said Alexandra Scranton, director of science and research at Women's Voices for the Earth. "However, we remain concerned that manufacturers may be swapping out high profile toxic phthalates for less well-known phthalates, meaning the potential for harm remains real and more research must be done to protect public health."
The study, Temporal Trends in Exposure to Phthalates: Findings from the National Health and Nutrition Examination Survey 2001-2010, published online yesterday in Environmental Health Perspectives, reports on trends from 2001 to 2010, noting exposure to eight phthalates among 11,000 people who took part in the National Health and Nutrition Examination Survey conducted by the U.S. Centers Disease Control and Prevention.
"We commend the researchers for this excellent study, which reinforces the important role policy and market decisions can have on reducing the levels of unsafe chemicals in people and protecting public health," said Nudelman. "Our campaigns to encourage companies to make safer products and to convince the government to pass health-protective laws have clearly paid off."
Visit EcoWatch's HEALTH page for more related news on this topic.

EcoWatch Daily Newsletter
A Starbucks barista prepares a drink at a Starbucks Coffee Shop location in New York. Ramin Talaie / Corbis via Getty Images
By Cathy Cassata
Are you getting your fill of Starbucks' new Almondmilk Honey Flat White, Oatmilk Honey Latte, and Coconutmilk Latte, but wondering just how healthy they are?
By Sharon Kelly
Back in April last year, the Trump administration's Environmental Protection Agency decided it was "not necessary" to update the rules for toxic waste from oil and gas wells. Torrents of wastewater flow daily from the nation's 1.5 million active oil and gas wells and the agency's own research has warned it may pose risks to the country's drinking water supplies.
Swedish climate activist Greta Thunberg takes part in a "Friday for Future" youth demonstration in a street of Davos on Jan. 24, 2020 on the sideline of the World Economic Forum annual meeting. FABRICE COFFRINI / AFP via Getty Images
Treasury Secretary Steven Mnuchin pretended not to know who Greta Thunberg is, and then he told her to get a degree in economics before giving world leaders advice, as The Guardian reported.
The Visible Infrared Imaging Radiometer Suite on the Suomi NPP satellite acquired this image of forest fire smoke hovering over North America on Aug. 15, 2018. NASA Earth Observatory
New York City isn't known for having the cleanest air, but researchers traced recent air pollution spikes there to two surprising sources — fires hundreds of miles away in Canada and the southeastern U.S.
If temperatures continue to rise, the world is at risk from global
sea-level rise
, which will flood many coastal cities as seen above in Bangladesh. NurPhoto / Contributor / Getty Images
The mounting climate emergency may spur the next global financial crisis and the world's central banks are woefully ill equipped to handle the consequences, according to a new book-length report by the Bank for International Settlements (BIS), as S&P Global reported. Located in Basel, Switzerland, the BIS is an umbrella organization for the world's central banks.