This website uses cookies to ensure you get the best experience while browsing it. By clicking 'Got It' you're accepting these terms.
Beluga Whales Obstruct TransCanada's Energy East Pipeline Port
Dec. 02, 2014 05:24PM EST
Energy
TransCanada's hopes of pushing through its proposed Energy East pipeline quickly, before opposition similar to that which has delayed its Keystone XL pipeline for six years could gather force, have hit yet another snag. The pipeline, which would carry tar sands crude oil from the Alberta oil fields east across continental Canada to ports in Quebec and New Brunswick for export, would be longer than Keystone XL and have a larger capacity. It also potentially disturbs the habitat of Beluga whales in the St. Lawrence seaway—and there's the rub.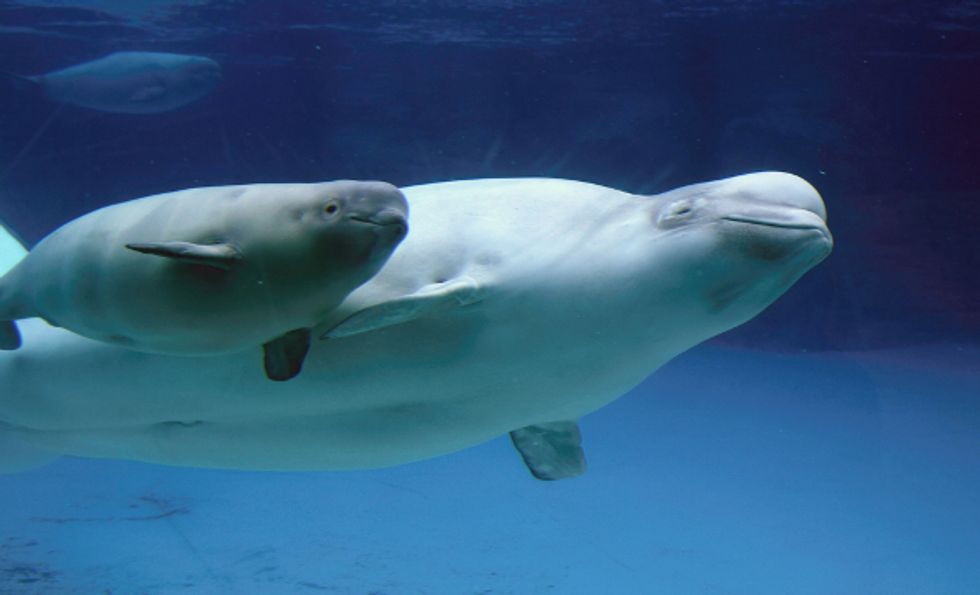 Photo credit: Shutterstock
Anticipating a report released yesterday declaring the status of the animals moved from "threatened" to "endangered" with full habitat protection, TransCanada announced this weekend it was suspending work on its Cacouna oil export terminal in Quebec, pending its assessment of the report. In a statement TransCanada said, "We are standing down on any further work at Cacouna, in order to analyze the recommendation, assess any impacts from Energy East and review all viable options as we look ahead." The company also cancelled a public information meeting scheduled for this Thursday.
But today, Canada's national newspaper The Globe and Mail reported, "Alberta Premier Jim Prentice and Quebec's Philippe Couillard all but put an end Tuesday to the Energy East proposal to build an oil export terminal in Cacouna, Quebec, saying it's time for the company to go back to the drawing board for a key portion of its $12 billion pipeline and port proposal."
The report, issued by The Committee on the Status of Endangered Wildlife in Canada (COSEWIC), whose member provincial, territorial and federal wildlife agencies and non-governmental advisers assess threats to Canadian wildlife, said that the Beluga population in the St. Lawrence estuary has been reduced to 1,000 animals from a one-time high of 10,000.
"This majestic whale has become a conservation icon for the province of Québec and a major draw for tourists," said the report. "Today, St. Lawrence Estuary Beluga face a new suite of mounting threats, including toxic algal blooms, pollution, noise disturbance and industrial developments. There are worrying signs of recent declines and unexplained deaths of calves. This small population is now at considerably greater risk of extinction than when it was assessed as Threatened by COSEWIC 10 years ago. Without protection of its critical habitat, this population is expected to shrink further. The St. Lawrence Estuary Beluga was assessed as Endangered."
In a joint press conference today with Prentice, who is a pipeline proponent and is currently traveling around Canada promoting pipelines to move the Alberta tar sands to ports, Couillard said, "It's a very significant piece of information. It's not my role to speak for the promoter [TransCanada], but it seems very difficult to me to continue to see a petroleum terminal on that site with information like that. Now it's up to the promoter to find alternative sites. It's not for me to do, it's for them to do."
Despite TransCanada's efforts, opposition to the pipeline is growing. Polls such as a recent one by the Université de Montréal found that few Quebeckers support it, and many elected officials are speaking out against it as well. They include Montreal mayor Denis Coderre, who called it "risky" and said, "Tell me what kind of benefits there are. Because so far, according to our fiscal specialists and economists in Montreal, the benefits are very minimal."
YOU MIGHT ALSO LIKE
Energy East Pipeline: TransCanada's Keystone XL on Steroids
Activist/Author Generates $300,000+ in Fight Against TransCanada's Energy East Pipeline
EcoWatch Daily Newsletter
A new report spotlights a U.N. estimate that at least 275 million people rely on healthy coral reefs. A sea turtle near the Heron Island in the Great Barrier Reef is seen above. THE OCEAN AGENCY / XL CATLIN SEAVIEW SURVEY
In a new report about how the world's coral reefs face "the combined threats of climate change, pollution, and overfishing" — endangering the future of marine biodiversity — a London-based nonprofit calls for greater global efforts to end the climate crisis and ensure the survival of these vital underwater ecosystems.
Half of the extracted resources used were sand, clay, gravel and cement, seen above, for building, along with the other minerals that produce fertilizer. Cavan Images / Cavan / Getty Images
The world is using up more and more resources and global recycling is falling. That's the grim takeaway from a new report by the Circle Economy think tank, which found that the world used up more than 110 billion tons, or 100.6 billion metric tons, of natural resources, as Agence France-Presse (AFP) reported.
By Gero Rueter
Heating with coal, oil and natural gas accounts for around a quarter of global greenhouse gas emissions. But that's something we can change, says Wolfgang Feist, founder of the Passive House Institute in the western German city of Darmstadt.

By George Citroner
Recent research finds that official government figures may be underestimating drug deaths by half.
Researchers estimate that 142,000 people died due to drug use in 2016.
Drug use decreases life expectancy after age 15 by 1.4 years for men and by just under 1 year for women, on average.
Government records may be severely underreporting how many Americans die from drug use, according to a new study by researchers from the University of Pennsylvania and Georgetown University.
Water coolers in front of shut-off water fountains at Center School in Stow, MA on Sept. 4, 2019 after elevated levels of PFAS were found in the water. David L. Ryan / The Boston Globe via Getty Images
In a new nationwide assessment of drinking water systems, the Environmental Working Group found that toxic fluorinated chemicals known as PFAS are far more prevalent than previously thought.