This website uses cookies to ensure you get the best experience while browsing it. By clicking 'Got It' you're accepting these terms.


The best of EcoWatch, right in your inbox. Sign up for our email newsletter!
Battle Heats Up Over Stanford Watering Golf Course Instead of Protecting Endangered Steelhead During Extreme Drought
Jul. 21, 2014 01:21PM EST
A battle is heating up between Stanford University and environmentalists over the increasingly controversial Searsville Dam.
This 65-foot, 122-year-old structure, owned and operated by the university, is located on Stanford's Jasper Ridge Biological Preserve, an area that provides "a refuge to native plants and animals." Yet, the dam blocks the migration of threatened native steelhead trout that are protected under the Endangered Species Act. Earlier this year, the national river conservation group, American Rivers, named the downstream portion of San Francisquito Creek the "fifth most endangered river in the United States," citing Searsville Dam as the culprit. Learn more in the following American Rivers video:
Stanford touts itself as being a leader in global sustainability, yet they have regularly diverted water from this endangered species habitat to water their golf course and other campus landscaping, and often run afoul of environmental regulatory agencies regarding their habitat protection efforts. And despite a temporary halt in diversions from Searsville Dam due to historically low water levels, the university's land and buildings department has plans to expand its use of water from local creeks to irrigate the lawns of faculty housing.
Searsville Dam and its downstream water diversions, exacerbated by the extreme drought conditions, have dramatically reduced flows in San Francisquito Creek and its tributaries, harming fish by impeding upstream migration, reducing habitat area, causing excessive warming of the creek waters and blocking the flow of gravels and natural woody debris needed to create steelhead habitat. During this year's rainy season, the creek below Searsville Dam was bone dry because the reservoir never reached its spillover capacity, which represents a potentially catastrophic situation for the migrating fish.
Right now there are two pending lawsuits related to the environmental impact of Searsville Dam on the creek and its tributaries. The first, in the discovery phase, was filed against Stanford in January 2013 by two Northern California-based environmental organizations, Our Children's Earth and the Ecological Rights Foundation. The suit alleges that the dam prevents steelhead from migrating up San Francisquito Creek, while Stanford's use of water from the reservoir degrades habitat downstream by reducing water levels. The plaintiffs want Stanford to curb its use of water and implement a plan to allow the fish to get past the dam, either by creating a bypass or removing the structure altogether.
The second lawsuit was filed in March by the same plaintiffs, this time against the National Marine Fisheries Service for failing to enforce the Endangered Species Act. According to Christopher Sproul, the lead attorney in the case, "Stanford should no longer be authorized to take water out of these two diversions, particularly in the face of the worst drought in California's history. The critical ecological function of steelhead habitat for a quarter-mile below the dam has been crushed, and habitat farther down the creek degraded, placing the local population of steelhead at great risk."
Increasing evidence of Stanford's violations is surfacing, as more information related to the lawsuits comes to light. A timeline demonstrating the university's lack of reporting to the Army Corps of Engineers, the National Marine Fisheries Service and the California State Water Resources Control Board can be found here.
In the meantime, a coalition of environmental groups and a growing group of Stanford alumni are calling for the university to remove Searsville Dam as soon as possible, while addressing other obsolete fish barriers and infrastructure in order to restore critical habitat and reclaim miles of historic spawning ground for threatened steelhead trout.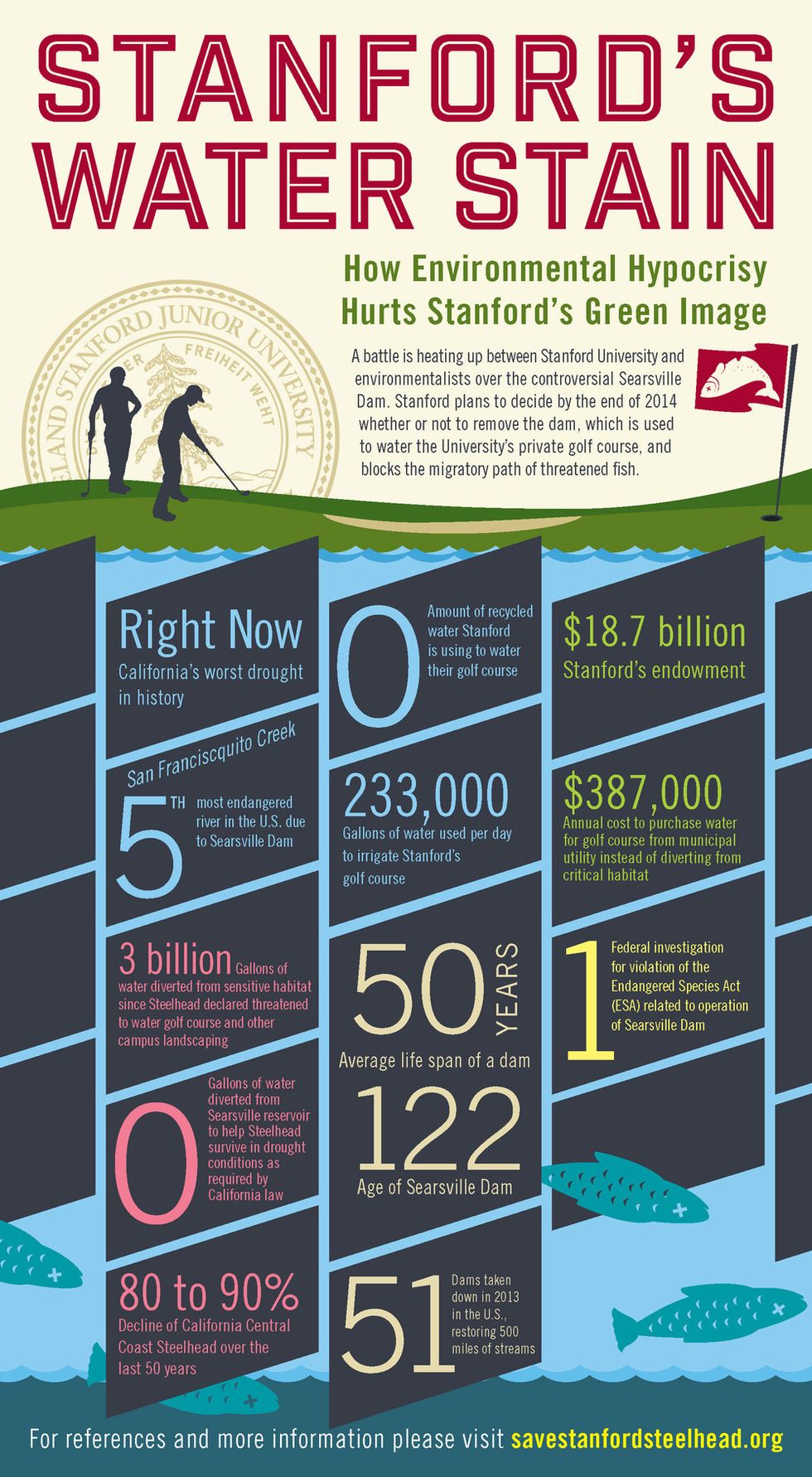 The university is currently conducting a study to assess its management options, and plans to make a decision on the removal of Searsville Dam sometime later this year.
In the end, that choice will offer a clear lens on what Stanford values.
Protecting threatened steelhead?
Or green lawns?
EcoWatch Daily Newsletter
BLM drill seeders work to restore native grasses after wildfire on the Bowden Hills Wilderness Study Area in southeast Oregon, Dec. 14, 2018. Marcus Johnson / BLM / CC BY 2.0
By Tara Lohan
In 2017 the Thomas fire raged through 281,893 acres in Ventura and Santa Barbara counties, California, leaving in its wake a blackened expanse of land, burned vegetation, and more than 1,000 destroyed buildings.
Brogues Cozens-Mcneelance / EyeEm / Getty Images
Fruit juice is generally perceived as healthy and far superior to sugary soda.
Pexels
By Danielle Nierenberg and Katherine Walla
As the holiday season ramps up for many across the world, Food Tank is highlighting 15 children's books that will introduce young eaters, growers and innovators to the world of food and agriculture. Authors and organizations are working to show children the importance — and fun — of eating healthy, nutritious and delicious food, growing their own produce, and giving food to others in need.
Pixabay
Purple cabbage, also referred to as red cabbage, belongs to the Brassica genus of plants. This group includes nutrient-dense vegetables, such as broccoli, Brussels sprouts, and kale.
Pexels
By Lauren Wolahan
For the first time ever, the UN is building out a roadmap for curbing carbon pollution from agriculture. To take part in that process, a coalition of U.S. farmers traveled to the UN climate conference in Madrid, Spain this month to make the case for the role that large-scale farming operations, long criticized for their outsized emissions, can play in addressing climate change.