This website uses cookies to ensure you get the best experience while browsing it. By clicking 'Got It' you're accepting these terms.
Are You Eating Hormone Disruptors in Your Favorite Snacks?
Apr. 08, 2015 09:53AM EST
Food
In case you needed more reasons to read product labels carefully ... Propyl paraben—a widely used chemical preservative in cosmetics and pharmaceutical products—could also be in your pastry.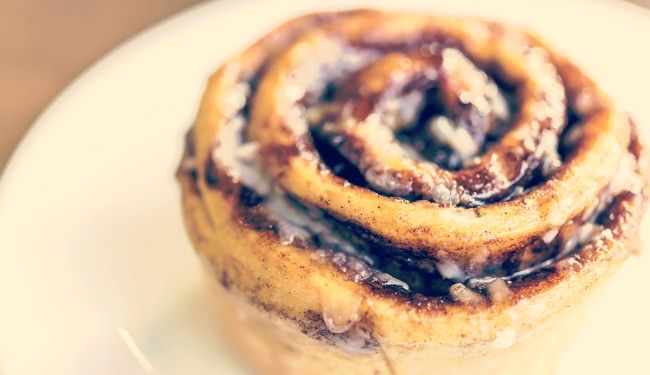 Photo credit: Shutterstock
A new analysis from the Environmental Working Group (EWG) found that the preservative is in nearly 50 different snack foods, including Sara Lee cinnamon rolls, Weight Watchers cakes, Cafe Valley muffins and La Banderita corn tortillas.
Here's the full EWG list of snack foods that contain propyl paraben:
Amport Foods Chocolate & Nut Trail Mix

Archer Farms Gourmet Dessert Cookies

Arizona Snack Company Canyon Runner II Trail

Arizona Snack Company Sweet Energy Trail

Cafe Valley Apple Spice Mini Muffins Apple Spice

Cafe Valley Banana Nut Mini Muffins

Cafe Valley Blueberry Mini Muffins

Cafe Valley Cake Pumpkin Cream Cheese

Cafe Valley Chocolate Chips Mini Muffins

Cafe Valley Corn Mini Muffins

Cafe Valley Lemon Poppyseed Mini Muffins

Cafe Valley Orange Cranberry Mini Muffins

Cafe Valley Pumpkin Chocolate Chip Mini Muffins

Creative Occasions Old Fashioned Carrot Cream Cheese Cake

Elizabeth's Naturals Psychedelic Sunday Mix

Emerald Breakfast On The Go Peanut Butter Chocolate Banana Nut & Granola Mix

Energy Club Fancy Mojo Mix

Energy Club Nuts N Chocolate Blend

Entenmann's Coconut Crunch Donuts

Essential Everyday Classic Trail Mix

Island Snacks Fancy Chocolate Mix

La Banderita White Corn Tortillas

La Banderita Yellow Corn Tortillas

Little Debbie Pecan Spinwheels

Newton's Naturals Get The Munchies Trail Mix

Nuevo Leon Tortillas

Oh Yeah! Candies Chocolate Caramel

Ole Mexican Foods Corn Tortillas

Patissa Pumpkin Pie Cream Puffs

Premium Orchard Rainbow Trail Mix

Private Selection Strawberry Rhubarb Pie

Quality Club Deluxe Moxxi Mix

Roundy's Cranberry Trail Mix

Roundy's Pak O Snax

Sara Lee Cinnamon Rolls

Sara Lee Honey Glazed Buns

Setton Farms Hiker's Trail Mix

Superior Chocolate Nut Trail Mix

Superior Mini Chocolate Eclairs

Sweet P's Bake Shop Black & White Cookies

Tropical Corn Tortillas, Traditional Style

Turano Brat & Sausage Rolls

Weight Watchers Carrot Crème Cake

Weight Watchers Chocolate Crème Cake

Weight Watchers Golden Sponge Cake

Weight Watchers Lemon Creme Cake

Weight Watchers Red Velvet Creme Cake

Weis Cross'n Country

Weis Milk Chocolate Candies
To determine which foods contain propyl paraben, analysts used EWG Food Scores: Rate Your Plate database, which contains rating information on 82,000 foods and 5,000 ingredients.
A great deal of attention has been placed on parabens as endocrine disruptors, which have been linked to a whole host of negative health impacts. According to BreastCancer.org, parabens can penetrate the skin and act like a very weak estrogen in the body, which could switch on the growth of hormone-receptor-positive breast cancers. Also, as the EWG pointed out, a study from the Harvard School of Public Health suggested that exposure to the chemical might be associated with diminished fertility, while another study found that it led to decreased sperm counts in rats.
While, the federal Food and Drug Administration categorizes propyl paraben use in food "Generally Recognized As Safe," the EWG has called on the agency to reassess its safety status as a preservative in light of recent research.
"It is of great concern to us that the use of an endocrine-disrupting chemical in our food is considered safe by our own government," said Johanna Congleton, Ph.D., M.S.P.H., a senior scientist at EWG. "Studies show that chemicals that disrupt hormone signaling can lead to developmental and reproductive problems."
Interestingly, propyl paraben is not allowed in food sold in the European Union after researchers found that the preservative affected sex hormones and sperm counts in young rats.
"The U.S. regulatory process is failing to protect us and our food supply," Congleton said. "European Union regulators do not permit propyl paraben in food. So why do we?"
Cosmetics and personal care companies such as Revlon and Johnson & Johnson have since taken steps to cut out some parabens from their products due to outcries from consumers and public health advocates.
"Companies that still add parabens to their products need to hear from us loud and clear," said Renee Sharp, EWG's director of research. "Ingredients that can disrupt hormone signaling should not be in any product we eat or put on our bodies."
"It is clear that some companies have figured out a way to make their products without this unnecessary and potentially harmful chemical," Sharp said. "It is time for the rest of them to catch on and go 'paraben free.'"
Last year, EWG turned the spotlight on propyl paraben in food in its Dirty Dozen Guide To Food Additives. They have launched a social media campaign and online petition to pressure manufacturers who use propyl paraben in food to remove it from their products.
EWG recommends that consumers read product labels to avoid products that contain parabens, especially the long-chained varieties—propyl paraben, isopropyl paraben, butyl paraben and isobutyl paraben.
The organization also suggests using their Skin Deep mobile app while shopping for cosmetics and personal care products, as well as their Food Scores app for cleaner food options.
YOU MIGHT ALSO LIKE
Jon Stewart: Going Vegan Is the Solution to So Many of the World's Problems
Vitter-Udall Chemical Bill a 'Wolf in Sheep's Clothing,' Say Advocacy Groups
Eating Pesticide-Laden Fruits and Vegetables Linked to Low Sperm Count
EcoWatch Daily Newsletter
ThitareeSarmkasat / iStock / Getty Images
Every fruit lover has their go-to favorites. Bananas, apples, and melons are popular choices worldwide and can be purchased almost anywhere.
belchonock / iStock / Getty Images Plus
Wesley Martinez Da Costa / EyeEm / Getty Images
By David R. Montgomery
Would it sound too good to be true if I was to say that there was a simple, profitable and underused agricultural method to help feed everybody, cool the planet, and revitalize rural America? I used to think so, until I started visiting farmers who are restoring fertility to their land, stashing a lot of carbon in their soil, and returning healthy profitability to family farms. Now I've come to see how restoring soil health would prove as good for farmers and rural economies as it would for the environment.
skaman306 / Moment / Getty Images
Radish (Raphanus sativus) is a cruciferous vegetable that originated in Asia and Europe (1Trusted Source).
The Centers for Disease Control (CDC) released new numbers that show vaping-related lung illnesses are continuing to grow across the country, as the number of fatalities has climbed to 33 and hospitalizations have reached 1,479 cases, according to a CDC update.
During the summer, the Arctic tundra is usually a thriving habitat for mammals such as the Arctic fox. Education Images / Universal Images Group via Getty Images
Reports of extreme snowfall in the Arctic might seem encouraging, given that the region is rapidly warming due to human-driven climate change. According to a new study, however, the snow could actually pose a major threat to the normal reproductive cycles of Arctic wildlife.