Fireworks over Portland Oregon.
jose1983 /
iStock / Getty Images Plus
By Krystal Vasquez
Before you head out to see your local fireworks display this 4th of July, you might want to consider closing your windows, replacing your HVAC filter, and running your air purifier on full blast.
While most of us know that fireworks can cause outdoor air quality to reach hazardous levels, few are aware that this pollution can affect our indoor air quality as well.
According to a recent study in Science of the Total Environment, 4th of July firework celebrations can cause concentrations of fine particulate matter (PM 2.5) to rise to unhealthy levels in nearby buildings — an observation also noted by a separate set of researchers during the Chinese Spring Festival back in 2014.
These findings were made as a part of a longer, year-long study in which the researchers set up air monitoring equipment in a commercial building located outside of Salt Lake City, Utah. They wanted to determine how different forms of outdoor pollution affected indoor air quality. In the case of fireworks, the effects were noticeable "almost immediately," the researchers wrote.
In addition, both studies found this indoor pollution could remain elevated for hours after the firework displays ended. Considering that even short-term exposures to PM 2.5 can result in lung irritation, shortness of breath, and even the aggravation of medical conditions such as asthma and heart disease, this implies that this beloved holiday tradition could end up significantly impacting our health. The tiny airborne particles can also become even more toxic when mixing with pollution in our home.
Picking Up Extra Toxics in the Home
The PM 2.5 produced by fireworks can be uniquely dangerous. It usually contains toxic compounds such as copper and lead, which are often added as coloring agents. Scientists also point out that these particles can end up accumulating even more harmful substances once they enter our homes, which adds to the health consequences associated with inhaling them.

"If it's a really hot evening, but you had the air conditioning on in your house... then when that particle comes in, it might pick up some phthalates — those little plasticizer molecules in your vinyl and your linoleum flooring," Delphine Farmer, an atmospheric chemist and professor at Colorado State University who was not involved with the above studies, told EHN. Phthalates are known endocrine disruptors that are linked with the development of medical conditions, such as asthma and fertility issues. And by hitching a ride on the particle, Farmer said, "you have some small probability of breathing that particle in."
Alternatively, it can also "hit one of these many surfaces [in your home] and just get stuck," she said. However, Farmer points out that this doesn't mean the danger is over: "[These particles] will live to see another day" when they are eventually released back into the air.
This is something that scientists have seen with cigarette smoke. "Things like thirdhand smoke are a really good example of where you can see effects certainly months and years later," Farmer said.
Protecting Yourself From Polluted Indoor Air
There are ways we can enjoy the holiday and protect ourselves. "Consider reducing outdoor air — so closing windows, running any fan… [and] getting as good a filter into your HVAC system as your system can handle and you can afford," Farmer said.
And if you're in an area currently experiencing a heat wave in an area where AC is rare and need to keep your windows open at night, don't worry. There's a solution for you, too.
"Consider box fans with filters attached to them. They turn out to be incredibly effective in terms of filtering air, and you can just set one of those up for about $10 or $20," Farmer said.
Reposted with permission from Environmental Health News.
From Your Site Articles
Related Articles Around the Web
EcoWatch Daily Newsletter
By Cameron Oglesby
As North Carolina heads into another hurricane season, some residents and organizations fear the stormy season will again flood communities with hog waste.
The state's hog waste management works by funneling feces, urine, and blood from hog farms into massive open waste lagoons, which let off foul odors and methane gas. When the lagoons become full, the waste water is often sprayed onto fields as nutrients for crops. The waste, which contains harmful bacteria like E. coli or salmonella, can wash off into local waterways and cause groundwater contamination and fish kills.
Hurricanes hasten this pollution. In 1999, Hurricane Floyd swept through the region, causing significant damage to swine operations and flooding waste lagoons.
In 2018, Hurricane Florence hit, leading to damage or flooding in at least 110 lagoons and putting the problem of hog waste on full display once again.
"There is nothing outdated about the lagoon and sprayfield system," said CEO of the North Carolina Pork Producers Council, Roy Lee Lindsey in a statement to EHN. "It remains the most sustainable manner for us to manage our farms."
But the state, environmental advocates, and community members disagree. And Will Hendrick, environmental justice advocate for the North Carolina Conservation Network and staff attorney with the Waterkeeper Alliance's Pure Farms program, told EHN the industry has not made "meaningful changes" in response to increasingly frequent and severe storms.
Meanwhile, the National Oceanic and Atmospheric Administration is predicting a higher than average hurricane season for North Carolina in 2021. On the Atlantic coast the agency estimates 16 to 20 major named storms, seven to 10 hurricanes, and three to five major hurricanes.
As climate change threatens to create more intense storms in the years to come, and with concerns over the location of hog farms in flood prone parts of the state coupled with lax regulatory oversight, how is the hog industry preparing for these increasingly devastating events?
Hog Farms in North Carolina's 100-year Flood Plain
In 2018, Hurricane Florence hit, leading to damage or flooding in at least 110 lagoons.
Waterkeeper Alliance Inc. / Flickr
Compared to other states in the southeast U.S., North Carolina's concentration of industrial animal agriculture in the coastal plain makes it uniquely vulnerable to storms. The region is number one for poultry farms and number two for swine in the U.S., and the majority of these farms are located in the southeast part of the state. There are roughly 2,400 hog farms in the state, many of which are family operations that work for corporate giants like Smithfield or Tyson Foods.

"This industry has concentrated in the most vulnerable part of North Carolina [for] these increasingly frequent and severe storms," Hendrick said.
The NC Pork Producers Council acknowledged this problem.
"Over the past two decades we've partnered with the State of North Carolina and closed lagoons located in 100-year flood plains," Lindsey said. Lindsey is referring to the voluntary North Carolina Floodplain Buyout Program, which has led to the permanent closure of 43 hog farms and around 103 waste lagoons from 2000 after Hurricane Floyd to summer 2020.
More North Carolina hog farmers would participate in the buyout program if there was more funding, Lindsey added. "This is a place where our industry and our critics could work together to secure additional funding and continue our efforts to reduce operations in 100-year flood plains."
In 2018, in the aftermath of Hurricane Florence, Governor Roy Cooper included in his recovery recommendations funding for "either buyout industrial animal operations in the 500-year flood plain or to help them convert to better technology." From that recommendation, the legislature committed $5 million to expand the Floodplain Buyout Program. Data on these additional buyouts is not yet available.
But Hendrick said that funding for these buyout programs relies on taxpayers dollars, raising the question of whether North Carolinians should have to foot the bill for corporate mismanagement.
Communications director for the NC Pork Council Jen Kendrick told EHN that the hog industry has been "very proactive in what [it does] to prepare for hurricanes ever since Hurricane Floyd in 1999," providing an article, written by the Pork Council, outlining how the media and environmental nonprofits blew the impacts of Hurricane Florence on hog lagoon flooding out of proportion. The report said 98 percent of hog lagoons "performed as intended" during the 2018 hurricane and that state agency reports confirmed that hog farms were not a lasting source of environmental damage. Neither Kendrick, Lindsey, nor the article elaborated on what "performed as intended" means.

Hendrick said the report focuses on impacts to lagoons and overlooks "the significant pollution resulting from the runoff of their land applied waste." In North Carolina, Hurricane Floyd, Hurricane Matthew in 2016, and Hurricane Florence led to the failure of hundreds of waste lagoons, resulting in the contamination of waterways such as the South River and tributaries of the Cape Fear, Neuse and Tar rivers. This is not inclusive of runoff of waste from sprayfields, which can occur anytime there is a heavy rain.
According to a 2016 analysis by the Environmental Working Group and Waterkeeper Alliance, of the roughly 4,000 hog farms in the state, about 306 are located within the 100-year flood plain or within a half mile of a public well, the majority concentrated around predominantly Black and low-income communities in Duplin and Sampson County.
Hendrick pointed out that in an attempt to mitigate waste runoff, in 2019 the NC Department of Environmental Quality (NC DEQ) edited the swine waste management system general permit to increase the amount of time from four hours to 12 hours after a National Weather Service storm warning that a farmer is required to stop any spraying of waste onto fields.
"We see consistently, the farm operators are concerned about the accumulation of rainwater in their lagoons, so they begin land applying as furiously and fast as they can in advance of a storm," Hendrick said. "It's making it even more likely that the waste that they just land-applied is going to end up in our rivers, lakes, and streams."
In 2018, EHN witnessed seven hog operations illegally spraying waste onto fields prior to Florence's landfall.
EHN reached out to Smithfield Foods, the largest producer of pork in the country and a major North Carolina producer, for comment on their strategy to adapt to heavier storms in North Carolina. They declined to comment.
Hog Death During Storms
Sherri White-Williamson, Environmental Justice Director for the NC Conservation Network and a resident of Duplin County, a North Carolina hog farm hotspot, highlighted the additional problem of hog mortality and disposal during these storms.
"They don't get picked up on a regular basis... by the time they pick them up decomposition has already started and you can see the fluid from that decomposition dripping from the trucks on the road," she told EHN.

She said when these animals are collected, the flies, the odor, and other disease carrying vectors have already settled and create additional health concerns for nearby communities and for water quality.
The issue of hog mortality around concentrated animal feeding operations (CAFOs) first came up in 2014 when the Porcine Epidemic Diarrhea Virus (PEDv) rocked the pork industry in the U.S. and Canada, leading to the death of millions of pigs. At the time, the Waterkeeper Alliance called out the haphazard handling of the dead hogs — which were disposed of in mass graves in what was often the 100-year flood plain — and brought forward concerns over groundwater contamination from the decomposing bodies.
Lindsey said that since Hurricane Floyd, storm-caused hog mortality has gone down. "Farmers and their partner companies work hard in preparation for storms to make sure our animals are cared for during a storm," he said, "Barns that are in flood-prone areas are cleared before a storm and the animals moved to higher ground. The results speak for themselves. We have very little animal mortality during storms."
However, during Hurricane Matthew in 2016, the Department of Agriculture estimated around 2,800 hogs died during the storm. Florence was worse, killing an estimated 5,500 hogs, along with more than 3.4 million chickens.
Hendrick also said that when it comes to the handling of animal mortality, it is once again the taxpayer who is "footing the bill" through the expansion of tax dollars to the Department of Agriculture to help with mortality management services.
North Carolina Hog Farming Regulation
Hendrick, and Communications Director for the NC Conservation Network, Brian Powell, pointed out that one of the reasons that the handling of these waste management systems has been so lax is because the DEQ's regional offices are less capable of responding to issues as a result of "draconian budget cuts" specifically targeting those offices.

"For instance, the DEQ Wilmington Regional Office, which would be responding to breaches or impacts in Duplin County, has seen a significant decrease in staffing as a result of decisions by the legislature," said Hendrick. In 2019, the nonpartisan environmental accountability nonprofit the Environmental Integrity Project found the DEQ lost 34 percent of its funding for pollution control programs between 2008 and 2018, resulting in a loss of more than 370 staff positions over the same period and making it one of the states with the largest budget cuts alongside New York, Texas, Arizona, and Louisiana. Adjusting for inflation, if the DEQ's budget had remained consistent over the years, it should have received $136 million in 2018 alone. It only received $80 million for fiscal year 2020.
Hog farms are required by law to get an annual inspection from the DEQ. But Hendrick said that because of staff cuts, the DEQ has trouble meeting that quota, oftentimes resulting in infrequent visits that last "less than 20 minutes," which is a fact that one of the DEQ's top officials in the inspection of North Carolina hog operations, Christine Lawson, admitted in the recent Artis v. Murphy-Brown nuisance suit brought against members of the hog industry. These annual inspections are separate from visits scheduled around specific community complaints, which Hendrick said consist of meetings where "operators are pre-notified and often scramble to demonstrate compliance."
EHN reached out to the North Carolina Department of Environmental Quality's Division of Water Infrastructure that handles information on swine operation, but they didn't respond.
New Hog Farming Waste Technology
"The lagoon and sprayfield system was developed by experts at North Carolina State University specifically for the soil and water characteristics of North Carolina," said Lindsey. "It is the model for swine farms across the country. While we continuously look for ways to improve the system, it remains the best available option for our farms."
But Hendrick, Powell, and White-Williamson said that the only thing stopping the industry from dropping what the state considers an outdated system is their unwillingness to invest in superior technology.
"It's just a matter of acknowledging the recent history, and preparing for its continuation, instead of pretending like there's nothing to see here, there's no problem with the status quo, and as long as we continue to manage this waste in the way we have, there won't be any problems," Hendrick said.
Environmental advocates and residents in the state have been calling for a dismantling of the lagoon and sprayfield system, in favor of "environmentally superior technologies," such as a system called Terra Blue, which would replace open cesspools with closed tanks and reduce ammonia through the introduction of nitrogen consuming bacteria. Lindsey said that this technology was not economically feasible, despite its passing of all government and industry technical, operational, and environmental standards.
Others have pointed to Advanced Nitrification/Denitrification (AND) like major pork producer Smithfield uses in its Missouri operations to reduce the amount of ammonia coming off of cesspools. The industry has also looked to biogas investment as an economically viable alternative, though that comes with its own set of community and environmental health concerns.
Powell added that for increasingly intense hurricanes specifically, the issue also depends on the development of statewide storm and flood resilience programs. As North Carolina comes up on another hurricane season in June, groups like the Eastern NC Recovery and Resilience Alliance, a coalition of local governments created to better prepare the region for extreme weather events, have been calling for legislative moves that would fund a statewide flood blueprint, which would better position governments to address the technical aspects of flood mitigation, including predictive hydrologic modeling.
In March, the North Carolina Coastal Federation also came out with a blueprint for how communities could use nature-based flood solutions, including backyard rain gardens, watershed restoration, and strategies that limit impermeable surfaces like concrete or asphalt, to combat the projected increase in rainfall.
"To the extent that we begin implementing some of those solutions and coming up with a statewide flood management strategy, there probably will be beneficial impacts to agricultural facilities in addition to communities," Powell said.
Reposted with permission from Environmental Health News.
RoschetzkyIstockPhoto / iStock / Getty Images
By installing solar panels, homeowners can curb their dependence on traditional utilities, reducing their monthly electric bills while also minimizing their environmental impact. Of course, solar energy is more viable in some places than in others; it's best suited for homeowners who live in areas that get ample sun exposure. And the Lone Star State is certainly on that list.
In fact, a report from the Solar Energy Industries Association, or SEIA, shows that Texas installed the second-most solar in 2020 and the most in the first quarter of 2021. And some municipalities have gone especially heavy on solar power. So, what are the top cities for solar in Texas? Let's find out if your city made our top 10 list.
Top 10 Cities for Solar in Texas
To rank the top cities for solar in Texas, the EcoWatch team took into account reports furnished by the SEIA, the National Renewable Energy Laboratory's solar irradiance maps, and Environment America's most recent Shining Cities report among other data points.
Based on our findings, these we've determined the following cities to be Texas' top 10 solar energy hubs:
San Antonio
Austin
El Paso
Houston
Fort Worth
Dallas
Plano
Round Rock
Bruceville-Eddy
Tyler
San Antonio

San Antonio is a sun-soaked city, so it makes sense that local home and business owners have invested heavily in harnessing the sun's power. We rate San Antonio as No. 1 among the top cities for solar in Texas, and there's plenty of evidence to back that up. In terms of total installed solar capacity, San Antonio ranks first in the state and fifth in the nation, according to Environment America. (First in the nation? Los Angeles.) It also boasts more than 50 watts of solar energy per person, one of just 38 cities in the nation to earn this distinction.
Austin
The Austin community is well-known for environmental activism and advocacy, and with residents' investments in solar energy, they're really putting their money where their mouth is. Like San Antonio, Austin boasts more than 50 watts of solar energy per person.
El Paso
Thanks to its average of 302 days of sunshine annually, El Paso is nicknamed the "Sun City" — and it's taking advantage of its weather with over 54 MW of solar capacity installed. A lot of this comes down to significant solar installations built into the city's municipal infrastructure, including solar arrays on the main library and other government buildings.
Houston
A sprawling metropolitan area with ample exposure to sunlight, Houston has an impressive commitment to solar power. In terms of total installed solar energy capacity, the city is in the top 20 for the entire nation, falling just behind New Orleans and just in front of Boston in Environment America's latest Shining Cities report.
Fort Worth
Fort Worth is home to some of the state's top solar companies, making it easy and relatively affordable for local homeowners to make the jump to solar power. The general Dallas-Fort Worth area tends to be a standout solar power hub, both at state and national levels.
Dallas
Likewise, Dallas boasts an impressive level of solar investment. In the Shining Cities report of the nation's most prolific solar builders, Dallas ranks at No. 43 in the nation, just behind Cincinnati.
Plano
Located north of Dallas, Plano is in prime "Sun Belt" position. The city boasts a solid (and growing) solar infrastructure, earning it a place on our list. According to NREL's solar irradiance maps, Plano has some of the highest potential for residential roof-mounted solar power generation in the state.
Round Rock
This central Texas town just north of Austin is one of the fastest-growing cities in the nation. As the population expands, so does its commitment to clean, renewable energy. NREL maps show Round Rock is located in a part of the state with above-average annual solar power generation potential and a high number of buildings suitable for solar installation.
Bruceville-Eddy
Though it's not as sizable as some of the other municipalities on our list, Bruceville-Eddy has a surprisingly robust solar infrastructure, allowing homeowners to harness the renewable energy of the sun. In fact, in the latest Shining Cities report, Bruceville-Eddy was reported as No. 1 in the state for per capita photovoltaic solar installation.
Tyler
Rounding out our list is Tyler, located east of Dallas near the Texas-Louisiana border. Homes in Tyler represent a not-insignificant portion of the state's solar energy potential, according to NREL. The area has a high number of solar-suitable buildings and high roof-mounted solar potential in terms of both capacity and generation.
Where Solar Panels Work Best
There are a few different factors that can make a city particularly well-suited for solar energy. One is exposure to sunlight; consistent, year-round solar exposure is common throughout Texas, which explains why the Lone Star State has so many major solar-producing and solar-ready hubs.
Average Texas Electricity Costs
Another factor to consider? High energy costs. As a general rule, when local electrical costs are higher, the value of solar power increases. By contrast, if electrical costs are already low, the benefits of going solar tend to be more modest.
In 2019, the average monthly electric bill in Texas was just over $134, according to the EIA. This is considerably higher than surrounding states, including Louisiana, Arkansas, and Oklahoma. The relatively high cost of electrical power makes Texas well-positioned for maximum solar benefits. Also note that the average monthly electric consumption was 1,140 kWh; again, this is higher than in neighboring states.
Texas Solar Tax Incentives
One reason some cities stand out over others for solar installations is that local utility companies offer rebates to help with the cost of solar panels. In addition to the federal tax rebate, which we'll explain in a moment, Texas homeowners should to aware of the following incentives:
| Solar Energy Incentive | Details |
| --- | --- |
| Statewide Property Tax Incentive | State law includes a property tax exemption for solar installations. Basically, this means installing solar panels increases the value of a home without increasing property taxes. |
| City-Specific Utility Incentives | Local utilities offer additional savings opportunities to residents of many cities across the state. |
Net Metering in Texas
Net metering programs allow solar users to take any excess energy their panels produce and sell it back to a local utility company. Currently, there is no statewide net-metering program in Texas, though some municipalities offer it to local utility users.
Homeowners are encouraged to check with their utility companies to see if they can get energy credits for any surplus solar energy they feed back into the electrical grid. Most of the best solar companies in Texas will also help you identify and apply for any tax breaks and rebates you're eligible for.
Federal Solar Tax Credits
As for federal programs, there is currently a 26% tax credit available for homeowners who install solar panels before 2023. In 2023, that incentive is set to lower to 22%, and it is scheduled to drop off completely in 2024.
Texas Solar Regulations
Statewide regulations also play a part in how and where Texans can install residential solar panel systems.
One regulation relevant to solar installation is Texas HB-362, which states that homeowners associations cannot ban solar panels within their community outright. However, homeowners must still go through their HOA's normal architecture review approvals process.
The Texas Property Code gives HOAs some specific grounds on which they can prohibit homeowners from installing solar panels, including:
Instances where the solar installation is a threat to health or safety
Installations that impede on public property or common areas
Installations that extend higher than the roofline
Installations that are ground-mounted but extend above the fence line
Final Thoughts: Top Cities for Solar in Texas
Did your city make our list of the 10 top cities for solar energy in Texas? If you want to raise your area's solar profile, one of the best ways is to install a solar panel system on your roof. You can also contact your local and state legislators to urge for ambitious city- and statewide renewable energy goals that will drive Texas toward more solar power in the future.
View of the Lusk fracking facility in Scenery Hill, Pennsylvania, on October 22, 2020. NICHOLAS KAMM / AFP via Getty Images
By Kristina Marusic
Living among fracking wells is linked to higher rates of hospitalizations and deaths due to heart attacks, according to a new study.
The study, published in the Journal of Environmental Research, compared heart attack rates in Pennsylvania counties with fracking to demographically similar counties in New York where fracking is banned.
"There's a large body of literature linking air pollution with poor cardiovascular health and heart attacks, but this is really the first study to look at this from a population level related to fracking," Elaine Hill, a researcher at the University of Rochester Medical Center and one of the study's co-authors, told EHN.
Hill and her colleagues looked at hospitalization and mortality records in 47 counties in New York and Pennsylvania from 2005-2014 (the most recent data available at the time the study was initiated) and found that heart attack hospitalization rates were higher on the Pennsylvania side of the border by 1.4–2.8 percent, depending on the average age and density of fracking wells in a given county. Living near a higher density of wells translated to a greater risk of heart attacks.
They also found that middle-aged men living on the Pennsylvania side of the border were 5.4 percent more likely to die of a heart attack than their counterparts in New York. The authors speculate that this link may be stronger in middle-aged men because they're more likely to work in the industry and have higher levels of exposure as a result.
The researchers were not able to control for lifestyle factors like smoking and drinking due to a lack of data, but they did assess demographics at the county-level to ensure they were looking at communities with similar economic and racial makeups on both sides of the border. They analyzed different age groups separately across the counties, and also adjusted for coal production in each county (another factor that can increase heart attack risk) and for rates of access to health insurance, which may influence whether people go to the hospital when having a heart attack.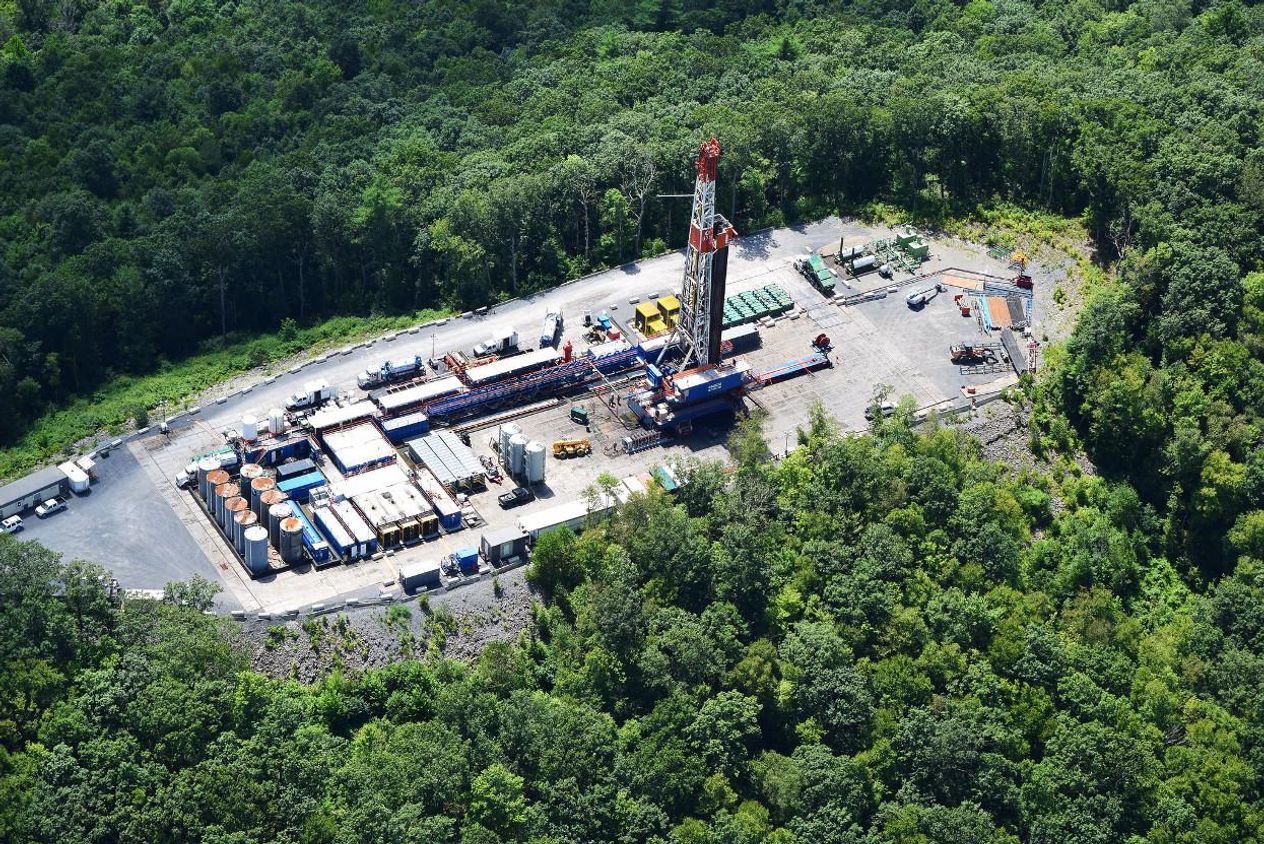 Drilling rig in PotterCounty, PA. Ted Auch / FracTracker Alliance, 2019
While numerous studies have compared economic differences between the two states, this is the first to use this "natural experiment" to compare human health outcomes on both sides of the border. A 2020 study conducted by veterinarians similarly found that horses raised near fracking wells on the Pennsylvania side of the border had higher rates of a rare birth defect than horses raised by the same farmer on the New York side.
Fracking and the increased truck traffic created by the industry raise levels of air pollution significantly, and exposure to air pollution raises heart attack risk. Living near fracking wells is also linked to heightened stress levels, which is another contributor to cardiovascular disease.
Alina Denham, the study's lead author, said their findings are in line with previous research. She pointed to a 2019 paper that found higher levels of physical markers associated with heart attack risk in people who live near fracking. Still she said, "Additional research is needed to figure out exactly how exposure to fracking wells leads to increased heart attack risk."
Fracking is more concentrated in rural communities, many of which lack health care access. The study's authors speculated that this could also contribute to worse cardiovascular health outcomes. Hill said she hopes policymakers will use their findings to create oil and gas policies that protect public health.
"I'm aware that my previous work influenced the ban in New York," Hill said. "I think there are also other policy decisions that can let the industry continue to thrive and let people continue to have these jobs while also ensuring that everybody is more protected. Things like mitigating emissions, recycling waste water—even using electric vehicles instead of diesel to transport materials. There's much room for improvement."
Reposted with permission from the Environmental Health News.
From Your Site Articles
Related Articles Around the Web
Food dyes in products such as breakfast cereals, juice and soft drinks, frozen dairy desserts, candies, and icings were linked to adverse neurobehavioral outcomes in children including inattentiveness, hyperactivity, and restlessness. bhofack2 / Getty Images
By Nate Seltenrich
Synthetic dyes used as colorants in many common foods and drinks can negatively affect attention and activity in children, according to a comprehensive review of existing evidence published this month by the California Office of Environmental Health Hazard Assessment (OEHHA).
Funded by the California legislature in 2018, the new report involved a literature review, scientific symposium for experts, peer review process, and public comment period. Its conclusions about the behavioral effects of food dyes are grounded in the results of 27 clinical trials in children performed on four continents over the last 45 years, as well as animal studies and research into the mechanisms through which dyes exert their behavioral effects.
Food dyes in products such as breakfast cereals, juice and soft drinks, frozen dairy desserts, candies, and icings were linked to adverse neurobehavioral outcomes in children including inattentiveness, hyperactivity, and restlessness. Animal studies also revealed effects on activity, memory, and learning.
The report is the most rigorous assessment of the behavioral effects of food dyes ever conducted, said Lisa Lefferts, a senior scientist with the Washington, D.C.-based nonprofit Center for Science in the Public Interest. (Editor's note: Lefferts previously worked as an editor at EHN).
Lefferts has been tracking the issue for years and through the Center published her own report on the link between synthetic food dyes and behavioral problems in children in 2016. In it she called for the U.S. Food and Drug Administration (FDA) to either revoke approvals for all food dyes or institute a federal labeling rule.
The European Union enacted such a law in 2010 that requires most dyed foods to bear a label warning consumers that food colorings "may have an adverse effect on activity and attention in children." In response, many food manufacturers reformulated their products for the European market to avoid the dyes, and thus the label.
But many left the dyes in their products for the U.S. market, where awareness of the issue has remained low, said Lefferts. "In our experience, most consumers have no idea that something that is allowed in the food supply by the FDA could trigger adverse behaviors," she told EHN.
A California State Senate bill introduced in February and backed by the new report would require a similar warning label on foods sold in the state. But it was abruptly withdrawn from the Senate Health Committee on April 28, the day of its scheduled hearing, by sponsor Senator Bob Wieckowski (D-Fremont).
In a press release, Wieckowski said he pulled the bill "to take additional time to brief other senators and make sure they understand the science in the OEHHA report" given that it had been published only 12 days earlier. The bill, which Lefferts said she sees as a wedge for widespread reformulation of dyed foods in the U.S, is now slated to be heard in January 2022.
Widespread Food Dye Exposure
An example of food dyes. jessica / flickr
The FDA last formally reviewed the issue in 2011, when it concluded that a causal link between children's consumption of synthetic color additives and behavioral effects had not been established. At the time the agency also commissioned an exposure assessment of all seven color additives approved for use in food in the U.S.: FD&C Blue No. 1, Blue No. 2, Green No. 3, Red No. 3, Red No. 40, Yellow No. 5, and Yellow No. 6.
The results of this study, later presented in 2014, revealed that between 2007 and 2010, some dyes were consumed on an almost daily basis by up to 98 percent of 2-to-5-year-olds, 95 percent of teenage boys aged 13-18, and 94 percent of the entire U.S. population aged 2 and up.
"Exposure in children affects attention and behavior across the whole spectrum of the population, and it's a widely distributed exposure," Mark Miller, a public health medical officer with OEHHA and one of 13 authors of the report, told EHN. "Overall it means that the impact is subject to being fairly large."
Mechanistic studies reviewed by Miller and the report's other authors reveal that food dyes may impact behavior through a variety of pathways including neurotransmitters, hormones, and oxidative stress. More research is needed on how dyes are absorbed, distributed, and metabolized in the body, they note.
An FDA spokesperson said that the agency had received and was reviewing the report. "The FDA will continue to engage in the scientific and regulatory review of color additives to evaluate their potential impact on various populations, including children, and act when necessary to ensure that the products marketed to consumers are safe and properly labeled," the statement read.
"Parents who wish to limit synthetic color additives in their children's diet may check the food ingredient list on labels, where they are required to be listed."
Reposted with permission from Environmental Health News.

By Quinn McVeigh
About 2.3 million Americans are exposed to high natural strontium levels in their drinking water, a metal that can harm bone health in children, according to a United States Geological Survey study.
The study, published in Applied Geochemistry, found that almost every groundwater sample across 32 U.S. aquifers had detectable strontium levels, while 2.3 percent exceeded 4 milligrams per liter (mg/L), the maximum amount that people should consume routinely, according to the U.S. Environmental Protection Agency (EPA). The public and private wells extending from these aquifers provide drinking water for 2.3 million people.
While low amounts of natural strontium are safe and even beneficial for the human body, these high concentrations can stunt bone growth in children who lack adequate calcium intake. Strontium can replace calcium in bones, weakening them and limiting development, according to Sarah Yang, the Wisconsin Department of Health Services' groundwater toxicologist.
"We're more worried about infants and children because their bones are actively growing," Yang told EHN. "Generally infants and children can absorb more strontium in their intestines, and adults can't."
High strontium in drinking water is linked to rickets in children, an extremely rare skeletal condition causing soft, sometimes deformed, bones.
Strontium, a soft metal that originates from minerals like celestine, makes its way into drinking water naturally. Aquifers with high strontium concentrations are often surrounded by carbonate rock containing limestone and dolomite.
In the USGS study, author MaryLynn Musgrove, a research physical scientist, found that 86 percent of people exposed to high strontium levels drink water supplied by carbonate rock aquifers. More than half of them are using Florida's underground reservoirs, where some freshwater has been blending with limestone and dolomite for 26,000 years.
Texas' carbonate aquifers also stood out.The Edwards-Trinity aquifer system, a sandstone and carbonate formation spanning from Oklahoma to western Texas, had the most frequent occurrence of high strontium concentrations in its corresponding wells.
Dolomite is abundant in the bedrock of eastern Wisconsin, where strontium levels are among the highest of U.S. drinking water supplies.
While the USGS study mainly looked at areas exceeding 4 mg/L of strontium in samples, some communities living atop these dolomite layers drink water with more than 25 mg/L, the one-day health advisory limit for children.
"We have a lot of communities that have values above 20, 30, 50 mg/L," John Luczaj, a professor of geosciences at University of Wisconsin, Green Bay, told EHN.
Removal of Strontium From Drinking Water
While its radioactive sibling, strontium-90, is regulated, natural strontium contamination is unregulated by the EPA.

The major dilemma, according to Victor Rivera-Diaz, a writer and researcher for Save the Water, is that it is still a "public health mystery." While some research has conclusively linked strontium to bone degradation, a lack of data has kept the EPA from regulating it under the Safe Drinking Water Act.
"It is a problem," Rivera-Diaz told EHN. "It definitely requires more attention, even more so in the areas that are prone to high contamination."
But this is easier said than done, Rivera-Diaz explained.
Strontium cannot be removed with conventional water treatment technology. Thus, communities would have to look to other systems, such as point-of-entry reverse osmosis.
"Some of these technologies can be quite costly, so that might be a barrier for lower-income communities," Rivera-Diaz said.
Reverse osmosis systems and water softeners are incredibly effective in removing strontium concentrations.
"If it was up to me, I would, in the short term, figure out a way to subsidize technologies that are proven to filter out strontium, especially in those communities where those levels are well above 4 mg/L," Rivera-Diaz said.
Reposted with permission from Environmental Health News.
From Your Site Articles
Related Articles Around the Web
By Cameron Oglesby
Since 1960, about 21 percent of global agriculture production, including livestock, tree farming, and traditional crops such as corn and soybeans, has been negatively impacted by climate change, according to a new study.
In the research published Thursday in Nature Climate Change, agriculture production is defined not just as crop yields or the amount of food or livestock grown, but the overarching energy and input it takes to produce food. This includes manual labor, fertilizers, water, and land. Unsurprisingly, agriculture production worldwide has grown over the last 60 years as a result of improved technologies and greater efficiency, primarily in higher income countries.
But the new study provides the latest evidence that climate change — and the subsequent increase in droughts, flooding, and extreme heat — has held back agricultural gains and impeded global food security efforts.
"People don't yet realize that the climate has already changed," Ariel Ortiz-Bobea, a Cornell economist and lead author of the new study, told EHN. "That's not something that we often talk about, just about what the impacts will be 50 years from now."
Climate Change Wipes Out Improvements
Using models similar to those created by climatologists to predict future climate trends, Ortiz-Bobea and his team charted climate data between 1960 and 2020, and compared it to a model where human-caused climate change never occurred.
They compared the "total factor productivity" between models: how does actual agricultural productivity over time compare to what it could have been without climate change?
"Climate change has basically wiped out about seven years of improvements in agricultural productivity over the past 60 years," Ortiz-Bobea said in a statement.
In other words, if the world were to wave a magic wand and halt the planetary changes associated with greenhouse gas emissions and a warming climate, global agricultural production would have reached the level it is today back in 2013, said Ortiz-Bobea.
Ortiz-Bobea compared the situation to someone running with a strong wind at their front: As a runner attempts to make their way to the finish line, the wind is constantly pushing them back. They're making progress but it's slow compared to a windless day. In this scenario, climate change is the strong wind and the runner's progress is farm production growth.
He noted that if climate change gets worse, a growing possibility as countries fail to set commitments that meet Paris agreement targets, it's only a matter of time until agriculture production stalls. "[Climate change has] been happening for years, and as the magnitude keeps rising and rising it's going to get harder to ignore," he said
Ortiz-Bobea wasn't expecting such a significant difference in farm production between models with and without climate change. "I didn't even think that the result would be statistically significant," he said. "I was expecting something much smaller, something almost imperceptible. But no matter how we sliced the data or looked at different variations of the econometric model, it was pretty consistent that it's a substantial negative effect."
Developing Countries Suffer
The greatest climate impacts are seen in countries that are historically warmer such as those in Africa, Latin America, and Asia. As developing regions are often without the same technological advancement or management systems for agriculture, they face the greatest losses as unpredictable weather and warming events threaten crops and livestock. Ortiz-Bobea noted that this issue is as much an equity issue as it is an economic one.

The agriculture sector faces a unique problem in the way of climate change. Historically, the industry has relied on unsustainable practices that further greenhouse gas emissions. One example is in Brazil, where massive Amazon deforestation has taken place in an attempt to grow the country's economy around cattle and soybean farming. The transformation of forests, a crucial carbon sink, into crop lands also contributes to rises in atmospheric carbon levels.
In addition, increased global meat consumption and subsequent cattle production is a common source of methane emissions, a greenhouse gas about 86 times more potent than carbon dioxide.
So what is the best way to produce more food without contributing to a cycle of climate change?
Ortiz-Bobea said that the solution is in a mix of mitigation and adaptation. "Despite all the new, very exciting technologies that we are coming up with like CRISPR, they will still take decades to have an impact," she said. CRISPR is an increasingly popular technology that allows geneticists to modify DNA sequences and gene functions. Often touted as the solution to harmful birth defects in human genomes, conversations have arisen around the use of gene editing to increase food production for a rapidly growing population.
Ortiz-Bobea also highlighted the potential for soil-based strategies. "There are ways to increase soil health that allow soils to improve their water holding capacity, for example," he said. "And so that improves the crop yields and allows farmers to weather the storm, no pun intended there, while at the same time it helps capture carbon from the atmosphere."
Reposted with permission from Environmental Health News.
From Your Site Articles
Related Articles Around the Web
One type of algae in the Great Lakes, Cladophora, readily tangles up with plastic microfiber. Brenda Lafrancois / National Park Service
By Andrew Blok
Great Lakes algae is catching huge amounts of microplastics.
Researchers found that one type of algae, which has greatly expanded its range within the Great Lakes and is one of the most abundant algae by weight there, could catch up to one trillion pieces of microplastic in the Great Lakes.
"It's just a massive amount of these microscopic particle pollutants that are now part of our environment," Julie Peller, a professor of chemistry at Valparaiso University whose recent research revealed the microplastics-algae dynamic, told EHN.
Peller and colleagues say the study may offer insight into how we can stop the microplastic pollution — any plastic debris less than five millimeters long — from getting into the lakes. However, in the meantime, algae are often used as shelter for freshwater species at the bottom of the food chain, so the findings suggest that these microplastic hiding spots could be contaminating Great Lakes fish — and the people that eat them.
The Hiding Spots for Great Lakes Plastic
There are a lot of microplastics in the Great Lakes, one of the world's largest freshwater ecosystems and the drinking water source for 30 million people. While less well understood than ocean plastics, the tiny bits of plastic are pretty much ubiquitous throughout the five lakes. Research shows they're in tap water and beer brewed with water from the Great Lakes. Surface water samples show huge numbers of microplastics, but statistical models always predict more microplastics are in the lakes than are found by sampling.
Finding them in algae helps close some of that gap.
"I think that we found one of those reservoirs where some of the microplastics have been, for lack of a better word, hiding," said Peller, whose recently published study in Environmental Pollution documented the close interactions between algae and microplastics.
This study examined the most abundant group of algae in the Great Lakes: Cladophora. Cladophora, which looks a bit like green hair, readily tangles up with plastic microfibers, which are shed from synthetic clothing, carpets, and other cloth.
Nearly every penny-sized sample of Cladophora collected from the lakes contained at least one microfiber, Peller said. Even samples from apparently pristine locations, like near Sleeping Bear Dunes National Lakeshore in the northwest corner of Michigan's Lower Peninsula, contained microplastics.
Peller's team also took clean, living Cladophora samples and added plastic microfibers to them. Plastic microfibers quickly adhered to the algae in a process called adsorption, in which two substances stick together because of a molecular attraction.
"The affinity between microplastics and Cladophora may offer insights for removing microplastic pollution," Peller and colleagues wrote in the study. In fact, adsorption already plays a major role in stopping microplastic pollution.
Attracted to Sludge
Synthetic fabrics shed microfibers when washed, so microfibers are often most abundant near populous areas where they enter the environment through treated wastewater.

Even without special plastic screening technology, removing 90 percent of plastics is not only possible, but probable, Heng Zhang, the assistant director of monitoring and research at Metropolitan Water Reclamation District of Greater Chicago, told EHN. Studies of wastewater treatment plants around the world put the removal rate as high as 98 percent.
A main goal of wastewater treatment is removing particles of organic waste by screening and settling out waste into a sludge. Because microplastics tend to attach to these particles, like they do to algae, a lot of it is captured by processes designed before microplastic pollution started gaining attention.
"I have to admit, it wasn't designed. It just happened by chance or by nature or the characteristics of the stuff," Zhang said.
Removal rates of 90 percent or higher still leave a lot of microplastics in the Great Lakes. Some researchers estimate 10,000 metric tons (or about 11,000 tons) of plastic pollution enters the Great Lakes each year.
But regulation will likely dictate when new microplastic removal technology is developed.
"I don't see any EPA guidelines that says we need to start looking at the technology to remove that," Zhang said. "It looks like microplastics is down to the very end of the priority list."
Until then, wastewater treatment plants are likely to focus on other areas, Zhang said.
Pollutants like metals, nutrients and emerging contaminants like improperly disposed pharmaceuticals take precedence now.
If or when microplastics become a focus of wastewater treatment it makes sense to "start with what has worked," Zhang wrote in a follow-up email. There would still be questions to answer about efficacy, cost and consequences — such as safe disposal after microplastic is collected.
Plastics at the Base of the Food Web
Cladophora is a genus of freshwater algae that has increased in the Great Lakes with the arrival of invasive mussels. Filter-feeding zebra and quagga mussels have spread throughout the Great Lakes basin, sucking light-blocking algae and plankton out of the water. As the water cleared and sunlight could reach greater depths, Cladophora expanded its range to deeper waters.

Cladophora is different from the toxic blue-green algae that has caused problems for some Great Lakes water supplies. But there's so much of it now it's become a nuisance, Meredith Nevers, a research ecologist for the U.S. Geological Survey and a co-author of the new study, told EHN.
The sheer amount of long, stringy Cladophora in the lakes — up to 129,000 tons, according to one estimate — means it's likely playing a significant role in microplastic's fate in the Great Lakes.
"If there are microfibers and microplastics in the lake, there's no question they're going to get tangled up in filaments of algae," Nevers said.
Great Lakes fish don't eat Cladophora, but it provides shelter for zooplankton and other invertebrates, which are a major food source for some prey fish. The mingling of microplastics with natural fish food could be one entry point for microplastics into the food chain. Further, by catching microplastics, algae may be keeping them suspended in the water for longer where they're more likely to be eaten.
"It wouldn't surprise me to have microplastics enter food webs through the invertebrates that live in and graze on Cladophora," Eric Hellquist wrote in an email to EHN. Hellquist is a professor of biological sciences at State University of New York Oswego.
Once microplastics enter a food chain, they can make their way up to fish species that humans eat, research shows.
Hellquist and his students surveyed prey fish — such as alewife, sculpin, and invasive round gobies — in Lake Ontario and found that 97 percent of 330 fish had microfibers in their digestive tracts. The majority of microplastics found were microfibers, he said.
Higher up the food chain, microplastics were present in most animals, too. In 40 chinook salmon, Hellquist found that 92 percent had microplastics in their digestive tract. Of 33 coho salmon, 82 percent had ingested microplastics. Hellquist's students found, on average, 3.5 to 4 pieces of plastic in each salmon.
Research is beginning to show harmful effects on fish from microplastics. Microplastics are often found in their gills and digestive systems, but also within muscle tissue. When ingested they've been found to have harmful effects on fish digestion, metabolism, growth and brain function. They've also been associated with higher levels of toxic substances in fish.
Research suggests that fish consumption could be one way that microplastics get into people.
'It's Just So Huge'
The study of microplastics in the Great Lakes is still a relatively young field and a lot of questions need to be answered.

One thing is clear: the amount of microplastics in the Great Lakes is huge.
"It's hard to think about because it's so large," Peller said.
However, Peller thinks the stickiness of algae might inspire better removal technology.
"I think that a lot of times when we look for solutions to problems that we as humans have created, we often find a lot of insight into nature's natural mechanism for cleansing itself," she said.
Reposted with permission from Environmental Health News.
LumiNola / E+ / Getty Images
By Gwen Ranniger
Fertility issues are on the rise, and new literature points to ways that your environment may be part of the problem. We've rounded up some changes you can make in your life to promote a healthy reproductive system.
Infertility and Environmental Health: The Facts
Sperm count is declining steeply, significantly, and continuously in Western countries, with no signs of tapering off. Erectile dysfunction is on the rise, and women are facing increasing rates of miscarriage and difficulty conceiving.
Why? A huge factor is our environmental health. Hormones (particularly testosterone and estrogen) are what make reproductive function possible, and our hormones are increasingly being negatively affected by harmful, endocrine-disrupting chemicals commonplace in the modern world—in our homes, foods, and lifestyles.
What You Can Do About It
It should be noted that infertility can be caused by any number of factors, including medical conditions that cannot be solved with a simple change at home.
If you or a loved one are struggling with infertility, our hearts and sympathies are with you. Your pain is validated and we hope you receive answers to your struggles.
Read on to discover our tips to restore or improve reproductive health by removing harmful habits and chemicals from your environment.
Edit Your Health
If you smoke, quit! Smoking is toxic, period. If someone in your household smokes, urge them to quit or institute a no-smoking ban in the house. It is just as important to avoid secondhand smoke.
Maintain a healthy weight. Make sure your caloric intake is right for your body and strive for moderate exercise.
Eat cleanly! Focus on whole foods and less processed meals and snacks. Studies have found that eating a Mediterranean-style diet is linked to increased fertility.
Minimize negative/constant stress—or find ways to manage it. Hobbies such as meditation or yoga that encourage practiced breathing are great options to reduce the physical toll of stress.
Edit Your Home
We spend a lot of time in our homes—and care that what we bring into them will not harm us. You may not be aware that many commonly found household items are sources of harmful, endocrine-disrupting compounds. Read on to find steps you can take—and replacements you should make—in your home.
In the Kitchen
Buy organic, fresh, unprocessed foods whenever possible. Read our grocery shopping guide for more tips about food.
Switch to glass, ceramics, or stainless steel for food storage: plastics often contain endocrine-disrupting chemicals that affect fertility. Learn more about the dangers of plastic here.
Ban plastic from the microwave. If you have a plastic splatter cover, use paper towel, parchment paper, or an upside-down plate instead.
Upgrade your cookware: non-stick may make life easier, but it is made with unsafe chemical compounds that seep into your food. Cast-iron and stainless steel are great alternatives.
Filter tap water. Glass filter pitchers are an inexpensive solution; if you want to invest you may opt for an under-the-sink filter.
Check your cleaning products—many mainstream products are full of unsafe chemicals. Check out our guide to safe cleaning products for more info.
In the Bathroom
Check the labels on your bathroom products: fragrance-free, paraben-free, phthalate-free and organic labels are all great signs. You can also scan the ingredients lists for red-flag chemicals such as: triclosan, parabens, and dibutyl phthalate. Use the EWG Skin Deep database to vet your personal products.
Ditch the vinyl shower curtain—that new shower curtain smell is chemical-off gassing. Choose a cotton or linen based curtain instead.
Banish air fresheners—use natural fresheners (an open window, baking soda, essential oils) instead.
Everywhere Else
Remove wall-to-wall carpet. If you've been considering wood or tile, here's your sign: many synthetic carpets can emit harmful chemicals for years. If you want a rug, choose wool or plant materials such as jute or sisal.
Prevent dust build-up. Dust can absorb chemicals in the air and keep them lingering in your home. Vacuum rugs and wipe furniture, trim, windowsills, fans, TVs, etc. Make sure to have a window open while you're cleaning!
Leave shoes at the door! When you wear your shoes throughout the house, you're tracking in all kinds of chemicals. If you like wearing shoes inside, consider a dedicated pair of "indoor shoes" or slippers.
Clean out your closet—use cedar chips or lavender sachets instead of mothballs, and use "green" dry-cleaning services over traditional methods. If that isn't possible, let the clothes air out outside or in your garage for a day before putting them back in your closet.
Say no to plastic bags!
We asked 22 endocrinologists what products they use - and steer clear of—in their homes. Check out their responses here.
Learn More
For more information and action steps, be sure to check out Count Down: How Our Modern World Is Threatening Sperm Counts, Altering Male and Female Reproductive Development, and Imperiling the Future of the Human Race by EHS adjunct scientist Shanna Swan, PhD: available for purchase here.
Sign up for our Above the Fold Newsletter to stay up to date about impacts on the environment and your health.
Reposted with permission from Environmental Health News.
From Your Site Articles
Related Articles Around the Web
Steve Carrara, head custodian for Dr. Philip O. Coakley Middle School in Norwood, cleans school buses with disinfectant as a precaution against the coronavirus on March 8, 2020 in Norwood, MA. Jessica Rinaldi / The Boston Globe / Getty Images
By Casey Crownhart
Disinfectant use has exploded during the coronavirus pandemic as people try to keep their hands and surfaces clean. But one family of cleaning chemicals is receiving scrutiny for potential health concerns.
Quats, or quaternary ammonium compounds, are charged molecules that can kill bacteria, fungi, and viruses. Quats are effective disinfectants, but some researchers are raising alarm given recent research on the compounds' possible human health and environmental effects, including fertility issues, endocrine disruption, occupational asthma, marine toxicity, and potential to spur antibiotic-resistant bacteria.
And, while industry defends quats as safe, some states are taking notice and looking into regulations.
Despite the COVID-19 pandemic and California businesses shutdown, the state's farmers continue to harvest, in this case, cilantro, as viewed along Santa Rosa Road in Santa Barbara County on June 13, 2020, near Lompoc, California. George Rose / Getty Images
COVID-19 has pulled back the veil on the strikingly poor workplace conditions of these essential workers, built by decades of insufficient farmworker health and safety policy, poor immigration policy, and limited health care access. As a consequence, at least 86,900 food workers have tested positive for COVID-19 – but with uneven data collection, exacerbated by businesses' lack of transparency over workplace outbreaks and workers' avoidance of testing due to fear of losing income, the figures we have are likely an underestimate.
A new analysis does note that each additional percentage point of farmworkers per overall population in a county was associated with 5.79 more deaths from COVID-19 – but did not contribute to more deaths per 100,000 residents. The researchers concluded, "farmworkers may face unique risks of COVID-19 beyond issues of language, insurance, or economics."
The Biden Administration must issue a federal standard to protect workers from COVID-19 that includes farmworkers. But beyond COVID-specific actions for farmworkers, the Biden Administration also needs to urgently address the underlying health and workplace conditions that pre-dated COVID.
A Dangerous Regulatory Rollback 
One key way the Biden Administration can start to correct the course is by enforcing and safeguarding the Worker Protection Standard (WPS), the main federal regulation that protects workers from pesticide exposure. Pesticide exposure weakens the respiratory, immune, and nervous systems — exacerbating farmworkers' COVID-19 risks.
Unfortunately, the Environmental Protection Agency (EPA) under the Trump Administration made various efforts to weaken or eliminate key provisions of the WPS, which had been revised and improved at the end of the Obama Administration. The WPS is an outlier in occupational health standards – because pesticides, although they are a workplace hazard, are regulated by the EPA, instead of by the Occupational Safety and Health Administration (OSHA), which covers occupational health in every other industry. This is just one example of how farmworkers are exempted from basic protections afforded to other workers.
Many of the Trump Administration's efforts to weaken the WPS were thwarted by advocacy and litigation by environmental and farmworker groups. However, one of the Trump Administration's proposed rollbacks of the WPS remains: the gutting of the Application Exclusion Zone (AEZ), which required pesticide handlers to stop applying pesticides if someone is near the area being sprayed. If the final Trump AEZ rule goes into effect, farmworkers in neighboring fields, children in school playgrounds or in their backyards, and rural residents going about their day may be in close proximity to where pesticides are being sprayed, as long as they're not on the same property, without any requirement that the applicator suspend spraying. More than 1 billion pounds of pesticides, designed to kill insects, weeds, and other pests, are applied to U.S. agricultural fields every year. In addition to acute poisonings, pesticides are also associated with long-term health harms including various cancers, developmental and reproductive harm, and neurological damage, for both farmworkers and community members who are chronically exposed to pesticides.
In December 2020, Farmworker Justice and Earthjustice, acting on behalf of a coalition of groups including Migrant Clinicians Network, sued the EPA to stop these changes. An injunction is currently in place preventing the changes from being implemented as the case proceeds – but the Biden Administration has a responsibility to protect these workers, rather than rely on courts. And the issue of pesticide drift on nearby properties is just one of the many challenges that farmworkers face when it comes to pesticide exposure.
An Opportunity to Right Wrongs
Pesticide spray in Utah. Pesticide exposure is associated with various cancers, developmental and reproductive harm, and neurological damage. Aqua Mechanical / Flickr
These hard-working farmworkers, upon whom we all depend for the food we eat, deserve immediate and effective protections. The new Administration has a unique opportunity to take advantage of renewed public understanding of the exploitation of farmworkers, to provide long-overdue workplace protections to keep essential workers safe, and to transform our food systems to ensure healthy workplaces, neighborhoods, and the environment, by:
Rejecting the Trump Administration's attempt to weaken the Application Exclusion Zone requirements;
Increasing the monitoring and enforcement of the WPS, including, but not limited to, provisions such as the minimum age of 18 for applying pesticides, adequate training for workers in a language that they understand, and worker access to information about pesticides being applied;
Requiring drift protections on pesticide labels for drift-prone pesticides, to better protect workers, bystanders, and communities;
Requiring that all pesticide label instructions be written in Spanish and/or other languages spoken by workers so they have the information they need to protect themselves and their families;
Banning highly toxic pesticides such as chlorpyrifos;
Using accurate scientific methods for determining pesticide risk, including taking into account farmworkers' potential long-term exposure, when making determinations about pesticide safety and the registration of pesticide products;
Including farmworkers and farmworker-serving organizations as key stakeholders at EPA, with a focus on environmental justice.
These are just some of the essential steps the new administration can take to protect farmworkers from the extreme hazards of their workplaces. Much more needs to be done about the myriad factors that negatively impact farmworker health, like poverty, immigration status, language barriers, and fear of retaliation.
COVID-19 has shown that a strong public health system and a functional food system require basic health and human rights for all of our neighbors, especially those typically left out. The Biden Administration has a duty and an opportunity to improve our systems – and consequently improve our nation's health and well-being.
Amy K. Liebman is Director of Environmental and Occupational Health for Migrant Clinicians Network, a nonprofit focused on creating practical solutions at the intersection of vulnerability, migration, and health.
Iris Figueroa is the Director of Economic and Environmental Justice for Farmworker Justice, a nonprofit that seeks to empower migrant and seasonal farmworkers to improve their living and working conditions, immigration status, health, occupational safety, and access to justice.
Reposted with permission from Environmental Health News.
A new study invites parents of cancer patients to answer questions about their environment. FatCamera / Getty Images
By Jennifer Sass, Nsedu Obot Witherspoon, Dr. Philip J. Landrigan and Simon Strong
"Prevention is the cure for child/teen cancer." This is the welcoming statement on a website called 'TheReasonsWhy.Us', where families affected by childhood cancers can sign up for a landmark new study into the potential environmental causes.
The study is a joint project between Texas Children's Hospital, part of the world's largest medical center, and The Oliver Foundation, founded by the parents of a 12-year-old boy who died 36 hours after he was diagnosed with acute myeloid leukemia, one week after the onset of headaches.
After signing up, participants are contacted by the hospital's medical school, Baylor College of Medicine, to fill out a questionnaire about their environment going back from pre-conception through pregnancy and childhood, to identify chemical contaminants in the places that they live, learn, work and play, to the point where they developed cancer.
Dr. Michael Scheurer, director of the childhood cancer epidemiology and prevention program at Texas Children's Hospital, the nation's largest pediatric cancer center, is quoted in The Guardian saying: "[This research] … will allow families who might not live near one of the existing study centers to participate as they are comfortable. In the end, if we see that several kinds of cancers share some risk factors that's important information, but we want to start with a very homogeneous group of cancers and start looking into these patients first. Signposts will pop up along the way."
When Oliver died in 2015, his parents Simon and Vilma Strong struggled to understand what may have led to their son's cancer, and whether it could have been prevented. They agonized over having used Roundup – the herbicide containing glyphosate, which is linked to leukemia – to kill weeds in their yard and garden. Or could it have been the crumb rubber artificial turf athletic fields, made with toxic petrochemicals, where their goalkeeper son had played soccer?
In addition to cancer, exposures to harmful chemicals can lead to learning and behavioral impairments, developmental delays, reproductive harm, and chronic diseases including autoimmune disease, asthma, and obesity. The important work of preventing these health harms can only be done if we increase our efforts to identify the causes— including industrial and environmental pollutants— and reduce or replace them to prevent harmful exposures.
Sadly, as the 2020 Childhood Cancer Prevention Report confirms, childhood cancer incidence rates, the number of new cases per 1,000 children, have steadily increased over the last few decades across all racial/ethnic groups. Cancer is now responsible for more than half of all childhood and teenage deaths, making this study all the more urgent.
Oliver's family may never know exactly what led to the cancer that took his life. But the study they've helped to launch can identify the environmental contributors to cancer and other diseases – and that knowledge can inform policies and practices to better protect families from toxic products and pollution.
Reposted with permission from Environmental Health News.
The FDA has consistently reviewed individual chemicals without regard to the cumulative effect on chronic disease. LauriPatterson / Getty Images
By Maricel V. Maffini and Thomas G. Neltner
The U.S. Food and Drug Administration's (FDA) failure on food chemical safety has left consumers at risk of chronic diseases.
The agency is required to review the safety of classes of chemicals rather than individual chemicals. Using the class approach, multiple chemicals adversely affecting the same organ or system (such as the immune, endocrine, or nervous systems) are evaluated together and a safe consumption level is determined for the class. This approach prevents the intentional new or expanded uses of chemical additives that increase chronic disease and, when coupled with a systematic review of prior decisions, results in health risk reduction. Instead, the agency has consistently reviewed individual chemicals without regard to the cumulative effect on chronic disease.
In the last 60 years, innovations in processing, preserving, and packaging have made food more affordable, convenient, and available. To accomplish this transformation, industry, with the FDA's approval, has brought thousands of chemicals into the food system, resulting in diets increasingly composed of ultra-processed foods without regard for the cumulative effect of these additives and their long-term chronic health consequences.
When Congress passed the Food Additive Amendment in 1958 in response to a rapidly changing food system and rising public and scientific concerns about the potential health risks of new chemical additives, it included a health-protective requirement: the cumulative effect of chemically and pharmacologically related substances in the diet must be taken into account when assessing the safety of new additives. That means, additives with similar toxic effects, either because they look alike or affect similar body functions, must be evaluated together to prevent exposures above an amount that would cause harm.
However, food manufacturers and regulators have neglected to consider this cumulative effect, failing to harness changes in food technology and use advances in scientific knowledge to protect the public from dietary chemical exposures. Medical associations and a group of health, environmental and consumer organizations have jointly challenged the FDA to change its practice of not accounting for the cumulative health effect of chemicals in the diet as required by law.
We Are Sick
A lot of us are affected by chronic health conditions. Diabetes in children and adults; attention, learning and memory disorders; obesity in children and adults; thyroid dysfunction; and the list goes on. Experts call them non-communicable diseases because, unlike pathogens like bacteria and viruses, we do not pass them from one person to another. Global public health experts linked tobacco use, physical inactivity, alcohol abuse, and unhealthy diets to increases in the risk of non-communicable diseases.
Unhealthy diets are usually associated with calorie-dense nutrient-poor foods, often called ultra-processed foods, due to their ingredients resulting from a series of industrial processes, many requiring sophisticated equipment and technology (sweet and savory snacks, reconstituted meats). In addition to industrially produced ingredients (high-fructose corn syrup, protein isolates, hydrogenated oil), such food also contains numerous additives including dyes, flavors, emulsifiers, thickeners, and artificial sweeteners. Further, industrial chemicals used in packaging manufacturing and food processing equipment —such as bisphenol A (BPA), phthalates, PFAS, perchlorate— are also found in these foods.
These intentional uses of chemical additives number in the thousands, and many have been linked to endocrine disruption, neurological and behavioral problems, cancer, and heart and liver disease.
Congress Added Guardrails Against Chronic Health Effects
In the U.S., approximately 10,000 chemicals can be purposely added to food or enter the food supply through processing equipment and packaging, and 60 percent of the calories ingested are from ultra-processed foods. In 1958, Congress gave the FDA authority to regulate chemicals intentionally added to food or to food contact materials, commonly known as food additives, to ensure their use is safe. Safe means the potential toxic health effects of a new additive that becomes part of the diet must be assessed in combination with other substances already present and are expected to have similar health effects. Thus, the cumulative assessment of health effects by a class of related substances prevents the addition of intentional new or expanded uses of chemical additives that would increase chronic disease. Moreover, this approach, together with systematic review of prior safety decisions results in health risk reduction.
FDA Neglected Its Responsibility to Follow the Law
We wanted to investigate whether and how food manufacturers and the FDA had implemented the cumulative effect requirement. To do that, we downloaded and reviewed all 877 safety determinations contained in the Generally Recognized as Safe (GRAS) notifications inventory. These notices were voluntarily submitted by food manufacturers to the FDA between 1997, when GRAS notification program began, and March 24, 2020. We looked at GRAS notices because they are publicly available and FDA rules require that food manufacturers include in the notice an explanation of how they considered the cumulative health effect of a new additive. Unfortunately, our investigation showed that both the FDA and the food manufacturers appeared to have ignored this crucial safety requirement.
We searched the documents for terms "cumulative effect" and "pharmacological" presuming that any analysis of the cumulative effect of chemical or pharmacologically related substances would include those terms. We evaluated every positive finding for context and reviewed the document more closely when warranted. We found that in only one of 877 GRAS notices did a food manufacturer consider the cumulative effect requirement in a meaningful way. Notably, that one notice stopped short of establishing a safe exposure for the class as required by regulation. And we found no evidence that the agency either recognized this single attempt to follow the law or had objected to the omissions in the 876 other notices.
To better understand how these blatant omissions happened, we also reviewed the FDA's relevant guidance for industry documents to determine if they contain information to help industry understand how to consider the cumulative effect of the substance as required by law and regulations. We used the agency's online research tool and identified 21 documents related to food chemicals. For each document, we searched for key terms including "cumulative effect", "chemically related", "pharmacological effects", and "pharmacologically related". We also searched for references to key regulations or statutory provisions directly related to the cumulative effect requirement. We found next to nothing and what information was there was either incomplete or confusing.
Ten documents did not mention the legal requirement and two simply restated it. Four documents created confusion by using terms such as 'cumulative exposure' or 'cumulative intake.' Five documents provided incomplete and potentially misleading information. For example, excluding the requirement from the definition of safety or paraphrasing the safety requirement in a manner that limited the assessment to a single chemical instead of related substances in the diet.
The Unknown Cost of FDA's Six Decades of Failure
This is an obvious failure by the FDA and food manufacturers that has significant consequences for public health, particularly for communities already facing significant health and socio-economic disparities and for children, who are uniquely susceptible to dietary exposures to multiple chemicals. It is known that fetal and early life exposures have been associated with long-term diseases or disorders that usually manifest later in life. Development of neurological, immune, reproductive, and endocrine systems have been shown to be particularly susceptible to chemical exposures. For example, several food additives and contaminants in common foods – including nitrates, perchlorate, thiocyanate, BPA, phthalates, potassium bromate, synthetic dyes – all harm the thyroid's ability to produce a hormone essential to brain development. The common-sense preventative measure to reduce exposures is to treat chemicals in the diet with related health effects as a class – as Congress mandated in 1958.
The healthcare costs of long-lasting health conditions, especially when they arise during childhood, as well as the economic benefits of preventing exposures to substances that disrupt the normal function of the endocrine system have been documented.
How can this be remedied?
Solutions
First, the FDA needs to add definitions of key terms such as "cumulative effect", "chemically related", "pharmacologically related" and "pharmacological effect." This should not be a heavy lift. For instance, the agency's own Center for Drug Evaluation and Research has already established definitions for pharmacologically related substances and pharmacological effects; food additive regulators could also implement this. We are not implying that additives be regulated as drugs; rather, that the body does not identify whether a chemical that binds to a hormone receptor is a pharmaceutical or a food additive. But it certainly may have a similar biological response with potentially different health consequences depending on the dose, duration of exposure and life-stage of the individual.
Second, the FDA should review the requirement for all forms industry must complete when submitting petitions or notifications to the agency for review of their products' safety assessment. FDA should provide clear and specific guidance to industry on what it is expected and how to accomplish it. And, of course, the agency needs to ensure compliance with the law.
Medical and scientific societies together with health and environmental organizations have formally submitted a petition to the FDA to revise its food and color additive regulations and associated guidance to ensure compliance with the requirements in law. Safe food is fundamental to protect the health and well-being of all Americans. Putting into action the protections already available in the law and regulations would also restore the confidence in the FDA's mission to protect the public health by assuring the safety of our nation's food supply.
Lastly, these efforts should be conducted without delay so we begin to curb the epidemic of chronic diseases that continue to inflict personal and financial pain in so many families and worsen an already strained healthcare system.
Reposted with permission from Environmental Health News.