This website uses cookies to ensure you get the best experience while browsing it. By clicking 'Got It' you're accepting these terms.
84-Year-Old Grandmother's Crusade to Ban Bottled Water
Dec. 15, 2014 02:12PM EST
"I'm going to keep on going because I'm too mean to die." These are the words of Jean Hill, resident of Concord, Massachusetts and star of a new documentary, Divide In Concord, which follows the entertaining tale of Hill and fellow activists' campaign to ban bottled water in their small town.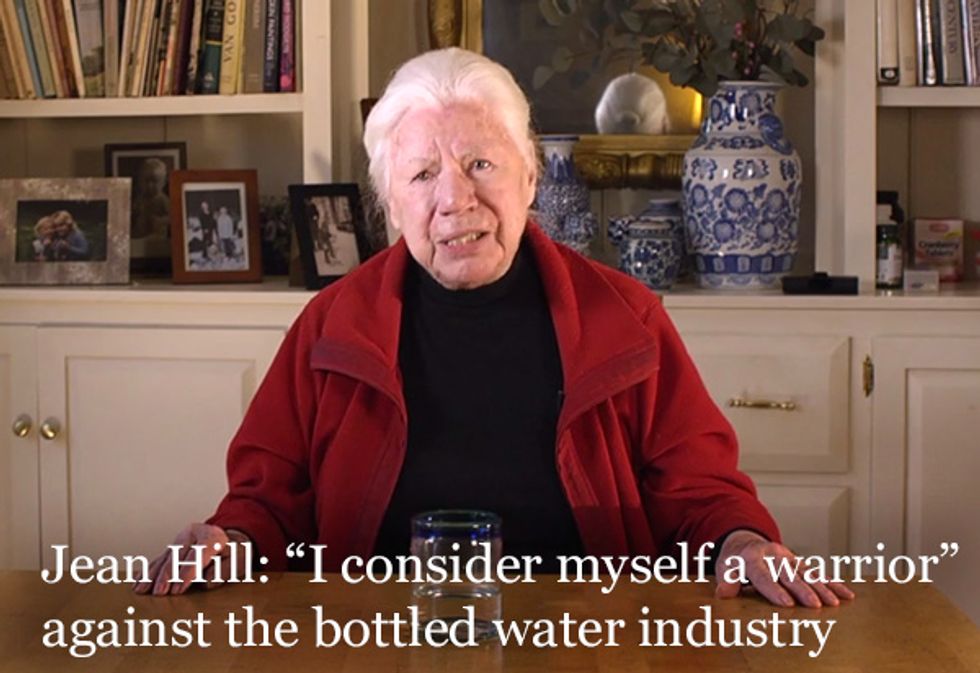 Concord, birthplace of the American Revolution and Henry David Thoreau, is the perfect place for a 21st century environmental battle, and this saga has all of the elements of a good fight.
Hill, a fiery 84-year-old grandmother, was inspired to propose a bylaw to ban the sale of single-serve plastic bottles after her grandson told her about the disastrous environmental impacts of plastic bottles. Of course, the proposed bylaw has some ardent opponents. Leading the charge against the ban is Adriana Cohen, a model and celebrity publicist, who calls the ban "an attack on freedom" (you can't make this up).
On the one side you have residents like Jill Appel who say, "This is a perfect way to respond at a community level to the power of corporations." And on the other side you have local merchants like Jim Crosby who argue that "this could cause some serious damage to the local businesses in Concord."
The documentary even draws upon a Thoreau scholar, Tom Blanding, to provide an important historical context: "Sometimes we think of Thoreau as being very radical in his thought, but he's calling for a balance between civilization and nature. So if he seems extreme in his position, its because we've become so extreme in ours." I think we know where Thoreau would stand on the bottled water issue.
Just as it looks as if Hill has the support for the ban, the bottled water industry gets involved and the fight drags on. "The town is abuzz as Patriot's Day celebrations begin. War re-enactors take the field, cannons fire at dawn and the parades commence. April's Town Meeting provides the stage for Concord's latest battle."
Watch the trailer to see how one community can spark a revolution:
YOU MIGHT ALSO LIKE
Viral Video Shows the Insanity of Bottled Water
Watch: Baby Sea Turtles at Risk from Plastic Pollution
Saving My Tomorrow: Youth-Focused HBO Documentary Premiers Tonight
EcoWatch Daily Newsletter
The Visible Infrared Imaging Radiometer Suite on the Suomi NPP satellite acquired this image of forest fire smoke hovering over North America on Aug. 15, 2018. NASA Earth Observatory
New York City isn't known for having the cleanest air, but researchers traced recent air pollution spikes there to two surprising sources — fires hundreds of miles away in Canada and the southeastern U.S.
If temperatures continue to rise, the world is at risk from global
sea-level rise
, which will flood many coastal cities as seen above in Bangladesh. NurPhoto / Contributor / Getty Images
The mounting climate emergency may spur the next global financial crisis and the world's central banks are woefully ill equipped to handle the consequences, according to a new book-length report by the Bank for International Settlements (BIS), as S&P Global reported. Located in Basel, Switzerland, the BIS is an umbrella organization for the world's central banks.
Two ice fishers with a truck cut a hole in the ice near an ice fishing hut on frozen Lake Winnebago.
Richard Hamilton Smith / Corbis NX / Getty Images
By Susan Cosier
Come February in Wisconsin, almost everything will be covered in ice and snow. In little shanties on frozen Lake Winnebago, a 30-by-13-mile lake in the eastern part of the state, fishers will keep watch over rectangular holes cut into the ice with a chainsaw. When they spot a fin passing below, they'll jab their spears down deep. The lucky ones will earn themselves a lake sturgeon, a species that has prowled the earth's waters for more than 150 million years.
Fresno, California, seen above, is receiving $66 million for walking trails, sidewalks, bike lanes, and more. DenisTangneyJr / iStock / Getty Images
Grecia Elenes grew up in Fresno, California. She says some parts of the city have been neglected for decades. When she moved back after college she realized nothing has changed.
People are seen embracing at Numeralla Rural Fire Brigade near the scene of a water tanker plane crash on Jan. 23 in Cooma, Australia. Three American firefighters have have died after their C-130 water tanker plane crashed while battling a bushfire near Cooma in southern NSW this afternoon. Jenny Evans / Getty Images
Three U.S. firefighters gave their lives battling Australia's historic wildfires Thursday when their airborne water tanker crashed.