This website uses cookies to ensure you get the best experience while browsing it. By clicking 'Got It' you're accepting these terms.
Wind farm with solar panels in southern California. 4kodiak / E+ / Getty Images
By Jeff Deyette
Despite the Trump administration's ongoing attempts to prop up coal and undermine renewables—at FERC, EPA and through tariffs and the budget process—2018 should instead be remembered for the surge in momentum toward a clean energy economy. Here are nine storylines that caught my attention this past year and help illustrate the unstoppable advancement of renewable energy and other modern grid technologies.
Seismic airgun blasting has been proposed within the same main range of imperiled North Atlantic right whales. NOAA
A coalition of attorneys general from nine states added their clout to a South Carolina-based lawsuit against the Trump administration to block seismic airgun blasting off the Atlantic coast.
Democratic attorneys general from Maryland, Virginia, North Carolina, South Carolina, Massachusetts, Delaware, Connecticut, New Jersey and New York filed a motion on Thursday to intervene in a lawsuit filed earlier this month by several conservation groups and South Carolina coastal communities.
EcoWatch Daily Newsletter
An oil spill on Massachusetts' Charles River drew a major emergency response Wednesday night, as several fire trucks and emergency vehicles, including a hazmat team, raced to help with the cleanup, 7 News Boston WHDH reported.

The spill was detected in Waltham, a town about 12 miles west of Boston. Authorities were alerted by a report of the smell of fuel coming from a patch of river behind Shaw's Supermarket, state police said.
View of the damage caused by Hurricane Michael in Mexico Beach, Florida, on Oct. 13. HECTOR RETAMAL / AFP / Getty Images
By Abigail Dillen
This column originally appeared in USA Today.
The world's leading panel of climate experts sounded the alarm this week that we are running out of time to get rising temperatures under control. Its latest report calls for "rapid, far-reaching and unprecedented" steps to avoid the worst impacts of climate change, from worsening wildfires and extreme drought to rising sea levels and more powerful storms. It also reminds us what is at stake if we fail to act: our health, our food and water security, our environment and our economy.
A flag on a Cape Cod beach warns of possible shark attacks. Jena Ardell / Getty Images
A Massachusetts man died Saturday after what is believed to be the first deadly shark attack in that state since 1936, CNN reported Sunday.
The death comes as the population of great white sharks off Cape Cod has increased in recent years following the rebounding of the seal population there.
Seal #108, left, and a small pup named "Premie" swim up to the edge of their pool for their 3 p.m. feeding at the Marine Mammals of Maine rehabilitation center on Aug. 14. Brianna Soukup / Portland Press Herald via Getty Images
By John Rogers
Autumn makes me think of leaves colored orange and amber and red, of the smell of cinnamon and nutmeg wafting from a range of desserts … and of states vying for top honors in the annual state ranking of energy efficiency policies and progress.
The leaves are mostly done, and the desserts are in my belly. But the latest ranking from the American Council for an Energy-Efficient Economy is out and available, and ready for sampling. It's always a beautiful sight and a tasty treat.
By Itai Vardi
Massachusetts environmental officials allowed Spectra Energy to quietly review and edit a draft approval of an air pollution permit the state plans to grant the company for its Atlantic Bridge gas project.
Lawmakers in California and Massachusetts have recently introduced bills that would require their respective states to get all of its electricity from renewable energy sources.
California Senate leader Kevin de León (D-Los Angeles), who introduced SB 584 last Friday, would require the Golden State to have a carbon-free grid by 2045. It would also accelerate the state's current goal of hitting 50 percent renewables by 2030 to 2025.
De León actually helped pushed through the initial 50 percent by 2030 law two years ago, but as he told the Los Angeles Times the legislation did not go far enough.
"We probably should have shot for the stars," he said.
As InsideClimate News noted, California is already well on its way:
"The California Energy Commission says the state got about 27 percent of its electricity from renewables last year, slightly better than the 25 percent required by law. Capacity has more than doubled over the past decade. California's largest utilities have also said they are ahead of schedule for meeting their 2020 goal."
Massachusetts legislators have also announced similar clean energy efforts. HD.3357 and SD.1932 was introduced in the House of Representatives by Rep. Sean Garballey and Marjorie Decker and in the Senate by Sen. Jamie Eldridge.
The measure would require Massachusetts to get all of its electricity from renewable sources by 2035. All of its energy needs, including heating and transportation, would have to come from renewable sources by 2050.
So far, the only state that has an official 100 percent renewable energy standard is Hawaii. Hawaii's aggressive clean energy mandate—requiring the state's electricity to come from renewable sources no later than 2045—was enacted back in 2015.

Many renewable-energy loving states—as well as town and city governments—are ramping up their clean energy goals in spite of the federal government's favoritism of fossil fuels and indifference towards fighting climate change.
This month, Nevada assemblyman Chris Brook introduced a bill to ramp up the state's renewable portfolio standard to 80 percent by 2040. Nevada's current standard calls for 25 percent by 2025.
Transitioning to 100 percent clean energy is not as far-fetched as it seems.

Dr. Mark Z. Jacobson, a Stanford University professor and cofounder of The Solutions Project, has created a state-by-state roadmap to convert the country to 100 percent renewable energy by 2050.
Last year, The Solutions Project team published a study explaining how each state can replace fossil fuels by tapping into renewable resources available in each state such as wind, solar, geothermal, hydroelectric, and even small amounts of tidal and wave power.
The Solutions Project
The authors found that converting the nation's energy infrastructure into renewables is ideal because it helps fight climate change, saves lives by eliminating air pollution, creates jobs in the rapidly booming renewable energy sector and also stabilizes energy prices.

"It is now established that such a transition is possible state by state and country by country," Jacobson commented to EcoWatch in December.
Also, as USA TODAY pointed out from a University of Texas at Austin study, wind turbines and big solar farms are the cheapest sources of new electricity generation across much of the U.S. Certainly in sun-soaked California, where solar is the cheapest form of energy in much of the state.
I had the chance to take a deeper dive with Jacobson via email on Wednesday. He took the time to answer these following questions:
What do you say to the critics who say it is not feasible for California, Massachusetts (or any other state) to get to 100 percent clean energy?
Jacobson: They speak without having every studied the issue or examined the numbers, including the ability to keep the grid stable or the costs of energy.
What are some of the specific benefits for California and Massachusetts if they transition to clean energy?
Jacobson: Create more net long-term jobs than lost, stabilize energy prices because the fuel costs of wind and solar are zero, reduce the costs of energy since onshore wind and large-scale solar are the least expensive forms of new energy in the U.S. today, eliminate 13,000 air pollution deaths and hundreds of thousands of illnesses in California alone saving 3 percent of the GDP, reduce terrorism and catastrophic risk because of the more distributed nature of the grid and reduce dependence on foreign energy.
What are some of the biggest obstacles (i.e. technology, politics, fossil fuel industry) for states to get to 100 percent clean energy?
Jacobson: Lack of information and people with a financial interest in the current infrastructure. Once people have full information about the transition and its benefits, most are likely to support the transition. Ninety percent of the blockade to faster progress is due to individuals and companies that have a financial interest in the current infrastructure thus profit over it not happening.
Are you working with any of the legislators who have proposed these 100 percent clean energy bills? If so, who? And, what role is The Solutions Project playing in helping states advance renewable energy policies?
Jacobson: We provide information to all parties who request it, thus our goal is not partisan. It is purely to help facilitate the healthiest and cleanest future for Americans and the world.
How do you feel about President Trump and his administration's pro-fossil fuel agenda? Does it make the push to 100 percent clean energy harder?
Jacobson: The transition will occur regardless of what President Trump wants or does because costs are favorable and most people want healthy air and lower energy prices, and see all the benefits in terms of jobs, price stability, health and security that clean, renewable energy provides.
Clean energy supporters in Massachusetts announced legislation Monday, backed by more than a quarter of the state legislature, committing Massachusetts to get 100 percent of its energy needs from clean and renewable sources by mid-century.

The legislation, introduced in the House of Representatives by Rep. Sean Garballey and Marjorie Decker and in the Senate by Sen. Jamie Eldridge, establishes targets for Massachusetts to meet its electricity needs from renewable energy by 2035 and all of its energy needs, including heating and transportation, from renewable sources by 2050.
"The supporters of this bill have joined the growing number of stakeholders and leaders who recognize the need for rapid transition to clean, renewable energy to tackle our environmental challenges," Rob Sargent said. "With a can-do attitude, powering our state entirely with clean, renewable energy is as feasible as it is necessary."

A combination of environmental concerns and declining costs for renewable energy have made it the "go-to" option for many communities and businesses, in part because it is pollution-free, but also because it requires no fuel costs. As a result, dozens of major corporations from Google to General Motors to Walmart have already committed to a complete shift to renewable energy. Similarly, dozens of local governments including San Diego, California, St. Petersburg, Florida and Georgetown, Texas, have plans to go 100 percent renewable.
"The federal government is moving backwards on clean energy. So, the states must lead," said S. David Freeman, a long-time utility executive at Los Angeles Department of Water and Power, the New York Power Authority and the Tennessee Valley Authority. "Massachusetts can show the way by enacting the 100 percent renewable bills and by so doing save consumers millions of dollars in the future with a free fuel energy supply."

Given the considerable resistance renewables are likely to face in Congress and the Trump administration, clean energy proponents are looking to state and local governments, businesses and institutions to ensure continued progress. In addition to the campaign in Massachusetts, Environment America and its partners are planning campaigns to get other states to go 100 percent renewable. And, today they will launch an effort to persuade America's colleges and universities to make similar commitments.
"Despite tremendous progress on renewable energy in the past decade, we've got much more to do and leaders in Washington who want to take us backward," Sargent said. "That's why we're counting on our local and state governments, along with businesses, colleges and universities and other institutions to lead the way by setting their sights on 100 percent renewable energy."
"I'm going to keep on going because I'm too mean to die." These are the words of Jean Hill, resident of Concord, Massachusetts and star of a new documentary, Divide In Concord, which follows the entertaining tale of Hill and fellow activists' campaign to ban bottled water in their small town.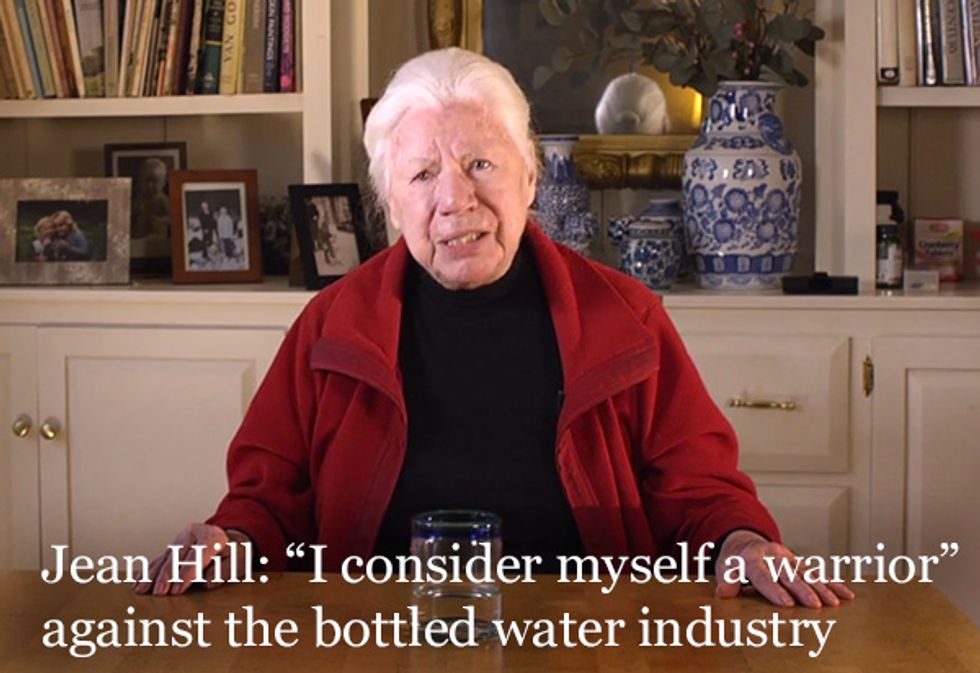 Concord, birthplace of the American Revolution and Henry David Thoreau, is the perfect place for a 21st century environmental battle, and this saga has all of the elements of a good fight.
Hill, a fiery 84-year-old grandmother, was inspired to propose a bylaw to ban the sale of single-serve plastic bottles after her grandson told her about the disastrous environmental impacts of plastic bottles. Of course, the proposed bylaw has some ardent opponents. Leading the charge against the ban is Adriana Cohen, a model and celebrity publicist, who calls the ban "an attack on freedom" (you can't make this up).
On the one side you have residents like Jill Appel who say, "This is a perfect way to respond at a community level to the power of corporations." And on the other side you have local merchants like Jim Crosby who argue that "this could cause some serious damage to the local businesses in Concord."
The documentary even draws upon a Thoreau scholar, Tom Blanding, to provide an important historical context: "Sometimes we think of Thoreau as being very radical in his thought, but he's calling for a balance between civilization and nature. So if he seems extreme in his position, its because we've become so extreme in ours." I think we know where Thoreau would stand on the bottled water issue.
Just as it looks as if Hill has the support for the ban, the bottled water industry gets involved and the fight drags on. "The town is abuzz as Patriot's Day celebrations begin. War re-enactors take the field, cannons fire at dawn and the parades commence. April's Town Meeting provides the stage for Concord's latest battle."
Watch the trailer to see how one community can spark a revolution:
YOU MIGHT ALSO LIKE
Viral Video Shows the Insanity of Bottled Water
Watch: Baby Sea Turtles at Risk from Plastic Pollution
Saving My Tomorrow: Youth-Focused HBO Documentary Premiers Tonight