8 Reasons to Go Nutty Over Pistachios
Almonds, walnuts, pecans, Brazil nuts, pistachios… I love them all. Besides their distinctly enjoyable flavors—whether eaten as a midday snack or added to a dish, from salads to a main course to dessert—turns out there are many ways that nuts are a healthful addition to a diet.
Nuts are a great source of plant-based protein as well as many nutrients and healthy fat. As the Mayo Clinic explains, eating nuts helps your heart. Most nuts contain at least some of these heart-healthy substances:
Unsaturated fats
Omega-3 fatty acids
Fiber
Vitamin E
Plant sterols
L-arginine
Nuts also can be beneficial to teeth and gums because they contain powerful teeth-healthy micronutrients such as phosphorous, magnesium, potassium, zinc and calcium.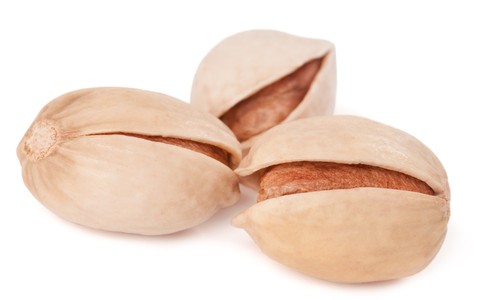 Photo courtesy of Shutterstock
Need more reasons to celebrate nuts? Well, turns out National Pistachio Day was this week. Did you mark the occasion? I will have to do so retroactively with a scoop of my favorite gelato from Sweet Spot.
Yes, gelato might be a guilty pleasure, but pistachios do not have to be. As Green Diva Gina of The Green Divas outlines, here are eight reasons it's okay to go nutty for pistachios:
1. Heart Health
Pistachios have been proven to reduce LDL, or "bad," cholesterol, and increase HDL, or "good," cholesterol after only a very brief period of chowing down. They are high in antioxidants, like vitamin A and vitamin E. They also fight inflammation, protect blood vessels and ultimately decrease the risk of heart disease. Even a very small intake of these nuts have been linked to increase lutein levels.
2. Diabetes Prevention
Consuming pistachios may aid in the prevention of type II diabetes. This is because 60 percent of the recommended daily value of the mineral phosphorus is contained in just one cup of pistachios. Not only does phosphorus break down proteins into amino acids, it also aids glucose tolerance.
3. Healthy Blood
Pistachios are a very rich source of vitamin B6. Vitamin B6 is essential to make hemoglobin, the protein responsible for bringing oxygen through the blood stream to cells, and is also shown to increase the amount of oxygen carried.
4. Healthy Nervous System
Vitamin B6, so prevalent in pistachios, has many effects on the nervous system. Messaging molecules called amines require amino acids to develop, which in turn rely on vitamin B6 for their creation. That being said, B6 plays a critical role in the creation of myelin, the insulating sheath around nerve fibers that allows optimal messaging between nerves. Furthermore, vitamin B6 contributes to the synthesis of serotonin, melatonin, epinephrine and gamma-aminobutyric acid, or GABA, an amino acid that calms the transmission of nerve impulses throughout the nervous system. Basically, if you want a nervous system that's in tip-top shape, eat pistachios.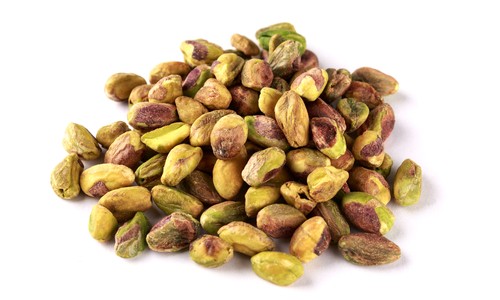 Photo courtesy of Shutterstock
5. Healthy Eyes
Pistachios contain two carotenoids not found in most nuts, lutein and zeaxanthin. These guys function as protective antioxidants by defending tissues from damage from free radicals. They have been associated with a decrease in the risk for developing age-related macular degeneration, which is the leading cause of visual impairments and acquired blindness in the nation.
6. Immune System Boost
Vitamin B6 is essential for a healthy immune system and pistachios have a lot of it. Vitamin B6 found in pistachios also helps the body make healthy red blood cells, and helps maintain the health of lymphoid glands, such as the thymus, spleen and lymph nodes, ensuring the production of white blood cells that protect the body from infections.
7. Glowing Skin
Pistachios are an amazing source of vitamin E, a powerful fat-soluble antioxidant, imperative for maintaining the integrity of cell membranes and often recommended for healthy and beautiful skin. Vitamin E does an excellent job protecting the skin from UV damage, providing daily defense against premature aging and skin cancer. Get lovely skin from the inside out by eating pistachios.
8. Extra Protein
Pistachios contain a higher amount of protein in comparison with other nuts such as almonds, cashews, hazelnuts, macadamias, pecans and walnuts. The amount of protein found in pistachios is 6 g per 1 ounce, which is the highest in comparison to other nuts. The fat content in pistachios is also the lowest compared to other nuts. Statistics collected by Thomas and Gebhardt show that the fat content in pistachios is 13 g per 1 ounce. Why not add them to a salad or your next baked-good?
Got a sudden hankering for something delicious and nutty? Try tossing some chopped pistachios in this chocolate superfood recipe for a healthy bark to snack on.
Not sure how many servings of nuts to eat in a day? Check out the new and improved vegetarian food pyramid for guidelines.
Laurie Woolever
By James O'Hare
There are 20 million people in the world facing famine in South Sudan, Somalia, Nigeria and Yemen. In developed nations, too, people go hungry. Venezuela, for instance, is enduring food insecurity on a national level as a result of economic crisis and political corruption. In the U.S., the land of supposed excess, 12.7 percent of households were food insecure in 2015, meaning they didn't know where their next meal would come from.
Keep reading...
Show less
Shutterstock
By Rachael Link
Though commonly thought to be a vegetable, cucumber is actually a fruit.
Keep reading...
Show less
Melwater, Greenland ice sheet. Diane Tuft
Artists are taking the climate crisis into frame and the results are emotional, beautiful and stirring.
So you've seen the best climate change cartoons and shared them with your friends. You've showed your family the infographics on climate change and health, infographics on how the grid works and infographics about clean, renewable energy. You've even forwarded these official National Oceanic and Atmospheric Administration graphs that explain the 10 clear indicators of climate change to your colleagues at the office.
Keep reading...
Show less
May. 27, 2017 01:11PM EST
As the Trump administration moves full speed ahead on boosting the oil and fossil fuel industry, opposition to increased pipeline construction is cropping up in different communities around the country.
Keep reading...
Show less
May. 27, 2017 01:02PM EST
Minke whale stranding near Havergate Island in Suffolk. MCGA.
By Simon Evans
Last Saturday, two dead whales washed up on the coast of Suffolk, in eastern England, and a third was spotted floating at sea.
What happened next illustrates how news can spread and evolve into misinformation, when reported by journalists rushing to publish before confirming basic facts or sourcing their own quotes.
Keep reading...
Show less
May. 27, 2017 01:22PM EST
By Monica Amarelo and Paul Pestano
Sun safety is a crucial part of any outdoor activity for kids, and sunscreen can help protect children's skin from harmful ultraviolet rays. Kids often get sunburned when they're outside unprotected for longer than expected. Parents need to plan ahead and keep sun protection handy in their cars or bags.
Keep reading...
Show less
May. 27, 2017 01:02PM EST
By Joe McCarthy
A lot of people take part in community clean-up efforts—spending a Saturday morning picking up litter in a park, mowing an overgrown field or painting a fence.
Keep reading...
Show less
May. 26, 2017 03:22PM EST
Rink Glacier in western Greenland, with a meltwater lake visible center. NASA/OIB
Scientists have had their eyes on Greenland as its iconic glaciers have begun disappearing due to a warming climate. But, what they didn't expect to see was a whole new type of melting.
Keep reading...
Show less


Get EcoWatch in your inbox