This website uses cookies to ensure you get the best experience while browsing it. By clicking 'Got It' you're accepting these terms.
8 Reasons to Go Nutty Over Pistachios
Feb. 28, 2014 11:55AM EST
Almonds, walnuts, pecans, Brazil nuts, pistachios… I love them all. Besides their distinctly enjoyable flavors—whether eaten as a midday snack or added to a dish, from salads to a main course to dessert—turns out there are many ways that nuts are a healthful addition to a diet.
Nuts are a great source of plant-based protein as well as many nutrients and healthy fat. As the Mayo Clinic explains, eating nuts helps your heart. Most nuts contain at least some of these heart-healthy substances:
Unsaturated fats
Omega-3 fatty acids
Fiber
Vitamin E
Plant sterols
L-arginine
Nuts also can be beneficial to teeth and gums because they contain powerful teeth-healthy micronutrients such as phosphorous, magnesium, potassium, zinc and calcium.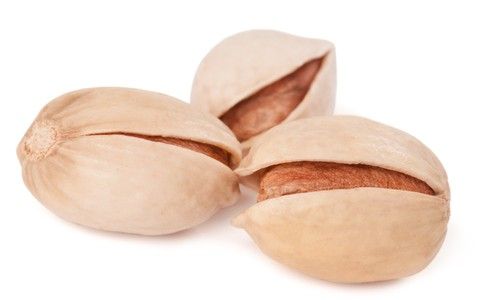 Photo courtesy of Shutterstock
Need more reasons to celebrate nuts? Well, turns out National Pistachio Day was this week. Did you mark the occasion? I will have to do so retroactively with a scoop of my favorite gelato from Sweet Spot.
Yes, gelato might be a guilty pleasure, but pistachios do not have to be. As Green Diva Gina of The Green Divas outlines, here are eight reasons it's okay to go nutty for pistachios:
1. Heart Health
Pistachios have been proven to reduce LDL, or "bad," cholesterol, and increase HDL, or "good," cholesterol after only a very brief period of chowing down. They are high in antioxidants, like vitamin A and vitamin E. They also fight inflammation, protect blood vessels and ultimately decrease the risk of heart disease. Even a very small intake of these nuts have been linked to increase lutein levels.
2. Diabetes Prevention
Consuming pistachios may aid in the prevention of type II diabetes. This is because 60 percent of the recommended daily value of the mineral phosphorus is contained in just one cup of pistachios. Not only does phosphorus break down proteins into amino acids, it also aids glucose tolerance.
3. Healthy Blood
Pistachios are a very rich source of vitamin B6. Vitamin B6 is essential to make hemoglobin, the protein responsible for bringing oxygen through the blood stream to cells, and is also shown to increase the amount of oxygen carried.
4. Healthy Nervous System
Vitamin B6, so prevalent in pistachios, has many effects on the nervous system. Messaging molecules called amines require amino acids to develop, which in turn rely on vitamin B6 for their creation. That being said, B6 plays a critical role in the creation of myelin, the insulating sheath around nerve fibers that allows optimal messaging between nerves. Furthermore, vitamin B6 contributes to the synthesis of serotonin, melatonin, epinephrine and gamma-aminobutyric acid, or GABA, an amino acid that calms the transmission of nerve impulses throughout the nervous system. Basically, if you want a nervous system that's in tip-top shape, eat pistachios.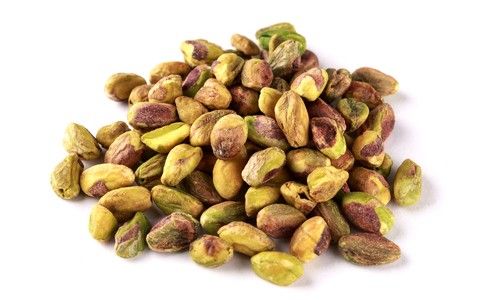 Photo courtesy of Shutterstock
5. Healthy Eyes
Pistachios contain two carotenoids not found in most nuts, lutein and zeaxanthin. These guys function as protective antioxidants by defending tissues from damage from free radicals. They have been associated with a decrease in the risk for developing age-related macular degeneration, which is the leading cause of visual impairments and acquired blindness in the nation.
6. Immune System Boost
Vitamin B6 is essential for a healthy immune system and pistachios have a lot of it. Vitamin B6 found in pistachios also helps the body make healthy red blood cells, and helps maintain the health of lymphoid glands, such as the thymus, spleen and lymph nodes, ensuring the production of white blood cells that protect the body from infections.
7. Glowing Skin
Pistachios are an amazing source of vitamin E, a powerful fat-soluble antioxidant, imperative for maintaining the integrity of cell membranes and often recommended for healthy and beautiful skin. Vitamin E does an excellent job protecting the skin from UV damage, providing daily defense against premature aging and skin cancer. Get lovely skin from the inside out by eating pistachios.
8. Extra Protein
Pistachios contain a higher amount of protein in comparison with other nuts such as almonds, cashews, hazelnuts, macadamias, pecans and walnuts. The amount of protein found in pistachios is 6 g per 1 ounce, which is the highest in comparison to other nuts. The fat content in pistachios is also the lowest compared to other nuts. Statistics collected by Thomas and Gebhardt show that the fat content in pistachios is 13 g per 1 ounce. Why not add them to a salad or your next baked-good?
Got a sudden hankering for something delicious and nutty? Try tossing some chopped pistachios in this chocolate superfood recipe for a healthy bark to snack on.
Not sure how many servings of nuts to eat in a day? Check out the new and improved vegetarian food pyramid for guidelines.
EcoWatch Daily Newsletter
Artist's conception of solar islands in the open ocean. PNAS
Millions of solar panels clustered together to form an island could convert carbon dioxide in seawater into methanol, which can fuel airplanes and trucks, according to new research from Norway and Switzerland and published in the Proceedings of the National Academy of Sciences journal, PNAS, as NBC News reported. The floating islands could drastically reduce greenhouse gas emissions and dependence on fossil fuels.
Marcos Alves / Moment Open / Getty Images
More than 40 percent of insects could go extinct globally in the next few decades. So why did the U.S. Environmental Protection Agency (EPA) last week ok the 'emergency' use of the bee-killing pesticide sulfoxaflor on 13.9 million acres?
EcoWatch teamed up with Center for Biological Diversity via EcoWatch Live on Facebook to find out why. Environmental Health Director and Senior Attorney Lori Ann Burd explained how there is a loophole in the The Federal Insecticide, Fungicide, and Rodenticide Act under section 18, "that allows for entities and states to request emergency exemptions to spraying pesticides where they otherwise wouldn't be allowed to spray."
Simple swaps that cut down on kitchen trash.
Sponsored
By Kayla Robbins
Along with the bathroom, the kitchen is one of the most daunting areas to try and make zero waste.
View of downtown Miami, Florida from Hobie Island on Feb. 2, 2019.
Michael Muraz / Flickr
The Democratic candidates for president descended upon Miami for a two-night debate on Wednesday and Thursday. Any candidate hoping to carry the state will have to make the climate crisis central to their campaign, as The New York Times reported.
By Sharon Kelly
On Monday, the Wall Street Journal featured a profile of Scott Sheffield, CEO of Pioneer Natural Resources, whose company is known among investors for its emphasis on drawing oil and gas from the Permian basin in Texas using horizontal drilling and hydraulic fracturing, or fracking.
Pexels
By Craig K. Chandler
The federal government has available to it, should it choose to use them, a wide range of potential climate change management tools, going well beyond the traditional pollution control regulatory options. And, in some cases (not all), without new legislative authorization.
Denis Poroy / Getty Images
By Dan Gray
Processed foods, in their many delicious forms, are an American favorite.
But new research shows that despite increasing evidence on just how unhealthy processed foods are, Americans have continued to eat the products at the same rate.
By Sarah Steffen
With a profound understanding of their environmental surroundings, indigenous communities around the world are often cited as being pivotal to tackling climate change.