This website uses cookies to ensure you get the best experience while browsing it. By clicking 'Got It' you're accepting these terms.
7 Chemicals in Cosmetics You Should Avoid
Jan. 07, 2014 09:51AM EST
Health + Wellness
Thanks to the Environmental Working Group (EWG) for sharing their New Year's resolution for cosmetic manufacturers: Shed bad actor ingredients in cosmetics that disrupt the hormone system, cause allergies and may accelerate skin cancer.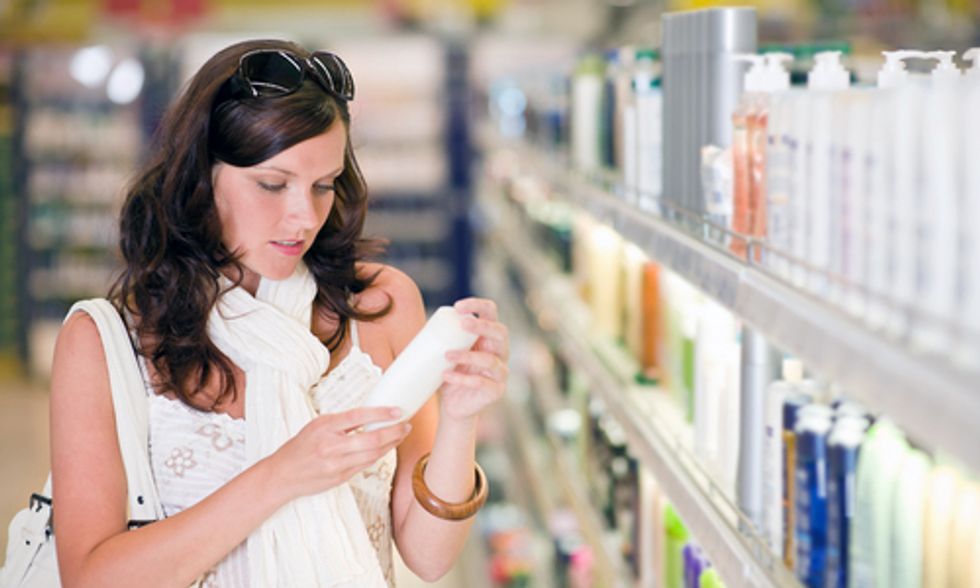 Photo courtesy of Shutterstock
1. Phthalates 
Scientific studies link phthalate exposure to reproductive abnormalities in baby boys, reduced testosterone and sperm quality in men and early puberty in girls. Animal experiments underscore their toxicity to the reproductive system. Where might you encounter these pernicious chemicals? In some cosmetics fragrance mixtures. Since the law doesn't require full disclosure, you have no way to know when phthalates lurk in that bottle of lotion. To be on the safe side, buy unscented personal care products.
2. Formaldehyde releasers
Some cosmetics chemicals are designed to react with water in the bottle to generate a little formaldehyde, a preservative, to keep the product from growing mold and bacteria. But formaldehyde is a potent allergen which the U.S. Department of Health and Human Services and the World Health Organization consider carcinogenic. Formaldehyde releasers include DMDM hydantoin, imidazolidinyl urea, diazolidinyl urea, and quaternium-15. Where do you find them? Shampoos, conditioners, bubble bath and other personal care products—even those intended for children. A 2010 study found that nearly one fifth of cosmetic products contained a formaldehyde releaser. Johnson & Johnson, a personal care products giant, is phasing out formaldehyde releasers under pressure from health advocates. We hope other cosmetics makers will follow Johnson & Johnson's lead.
3. Parabens
Parabens are used as preservatives in some cosmetic products, but so-called "long-chained" parabens can act as estrogens and disrupt hormone signaling. A recent study by scientists at the Harvard School of Public Health linked one type of paraben to impaired fertility in women.  Johnson & Johnson agreed to stop using most parabens in 2012, but they can still be found in numerous cosmetics. Read the labels carefully to spot products that contain parabens, especially the long-chained varieties—propylparaben, isopropylparaben, butylparaben and isobutylparaben.
4. Triclosan and triclocarban
Triclosan is a bacteria-killing chemical used in Colgate Total toothpastes (to prevent gingivitis), liquid hand soaps, body washes, clothing, cutting boards and other household goods. It has been shown to interfere with thyroid signaling and male and female sex hormone signaling. Triclocarban is the active ingredient in some antibacterial bar soaps. Researchers have linked it to reproductive abnormalities in laboratory animals. Last month, the federal Food and Drug Administration (FDA) announced that these chemicals should not be considered safe or effective in antibacterial soaps and body washes and gave manufacturers time to substantiate their claims or phase them out of the market. Already, Johnson & Johnson and Proctor & Gamble have pledged to rid their personal care products of triclosan. We hope to see other companies do the same.
5. Retinyl palmitate and retinoic acid
Retinoic acid is used in anti-aging skin creams. Retinyl palmitate, a related chemical, is added to roughly one-quarter of the sunscreens in EWG's Guide to Sunscreens database. U.S. government scientists have found that these chemicals speed the development of cancerous lesions on sun-exposed skin. The results suggest that people who go out in the sun while wearing retinyl palmitate creams and sunscreens may be at an increased risk for skin cancer. Instead of restricting these chemicals immediately, the FDA has ordered additional testing. EWG recommends that you avoid products containing retinoic acid and retinyl palmitate.
6. Hair straighteners with formaldehyde or formaldehyde-like chemicals
Some hair straighteners can contain as much as 10 percent pure formaldehyde. The cosmetic industry's own scientific advisory board has warned against formaldehyde-based hair straighteners. The federal Occupational Safety and Health Administration has issued warnings and fines to numerous salons that use them, exposing their workers to intense, and potentially cancer-causing, formaldehyde fumes.  Some nations ban formaldehyde-based hair straighteners. Yet some small companies persist in making and selling them to unwitting consumers, and the FDA has failed to take punitive action. People who want to straighten their hair or undergo a "smoothing" treatment should find out if the salon uses a product containing formaldehyde, also called methylene glycol. If it does, avoid it.
Lead acetate in men's hair dye 
Lead acetate in some men's hair dyes, such as "Grecian Formula" products, can increase the body's lead level. Because lead is a potent neurotoxin, lead acetate has been banned in Canada and the European Union. The FDA should restrict lead acetate in hair dyes. In the meantime, consumers can use EWG's Skin Deep database to find lead-free hair dyes.
One more New Year's resolution: the FDA and Congress should develop tougher requirements for proving cosmetic chemicals are safe before coming to market. All too often, products are on the market for years before scientists catch up with possible hazards in their formulations. Once hazards are suspected, the FDA moves at a snail's pace in regulating potentially harmful ingredients. Responsible manufacturers can voluntarily remove these ingredients and we hope they will. Ultimately, it's up to consumers to read labels, vote with their pocketbooks and force the market to change for the better.
Visit EcoWatch's HEALTH page for more related news on this topic.

EcoWatch Daily Newsletter
A verdant and productive urban garden in Havana. Susanne Bollinger / Wikimedia Commons
By Paul Brown
When countries run short of food, they need to find solutions fast, and one answer can be urban farming.
Trevor Noah appears on set during a taping of "The Daily Show with Trevor Noah" in New York on Nov. 26, 2018.
The Daily Show With Trevor Noah / YouTube screenshot
Rebecca Burgess came up with the idea of a fibersheds project to develop an eco-friendly, locally sourced wardrobe.
Nicolás Boullosa / CC BY 2.0
By Tara Lohan
If I were to open my refrigerator, the origins of most of the food wouldn't be too much of a mystery — the milk, cheese and produce all come from relatively nearby farms. I can tell from the labels on other packaged goods if they're fair trade, non-GMO or organic.
A television crew reports on Hurricane Dorian while waves crash against the Banana River sea wall. Paul Hennessy / SOPA Images / LightRocket / Getty Images
By Mark Hertsgaard and Kyle Pope
Some good news, for a change, about climate change: When hundreds of newsrooms focus their attention on the climate crisis, all at the same time, the public conversation about the problem gets better: more prominent, more informative, more urgent.
U.S. Senators Chris Coons (D-Del.) and Mike Braun (R-Ind.) met with Bill Gates on Nov. 7 to discuss climate change and ways to address the challenge.
Senator Chris Coons
The U.S. Senate's bipartisan climate caucus started with just two members, a Republican from Indiana and a Democrat from Delaware. Now it's up to eight members after two Democrats, one Independent and three more Republicans joined the caucus last week, as The Hill reported.
A timelapse video shows synthetic material and baby fish collected from a plankton sample from a surface slick taken off Hawaii's coast.
Honolulu Star-Advertiser / YouTube screenshot