6 Tips to Green Your Camping Trip
Parks and day hikes are well and good, but if you really want to reconnect with Mother Nature this summer, you've got to go camping.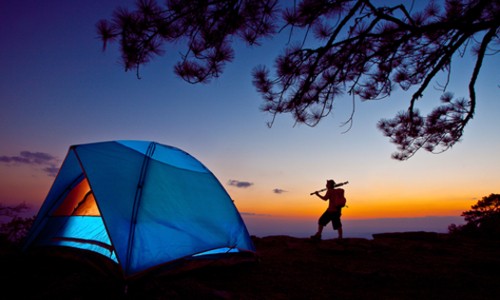 Photo courtesy of Shutterstock
For some, camping is a refreshing change: A chance to reset the mind and soul by roughin' it for a few days. For others, the idea of living outside the realm of wifi and indoor plumbing is a terrifying prospect. Regardless of which end of the spectrum you identify with, it's important to realize that wandering around in the wilderness can be dangerous … for the wilderness, that is.
Just like when planning a low-impact summer BBQ, it's important to realize that most "camping stuff" you see in Big Box Stores is just low-quality junk designed to make camping feel like another day at home. This both defeats the purpose (it's supposed to feel like nature, not home) and threatens the vitality of wilderness areas.
Whether you're planning a weekend stay in a national park or setting out on a week-long backpacking trip, keep these tips for greener camping in mind:
1. Reusables Rule
Pitching a tent is no reason to throw all your eco-friendly habits out the window. Just because you're going camping doesn't mean you should spend a small fortune on disposable plates, cups, cutlery or napkins/towels. Pack unbreakable-but-washable versions of each, and bring along a) a small basin/bucket, sponge and biodegradable soap; and b) a breathable bag in which to toss cloth napkins and towels that are too dirty to reuse.
2. Non-Toxic Sunscreen and Bug Spray
Camping is awesome, but throw in a sunburn and a swarm of biting insects and it quickly becomes a nightmare. Venturing far from home might make you want to reach for the strong chemicals—but don't! They're toxic to the air, water and animals you'll be visiting, as well as your own health. Instead try safer alternatives like Goddess Garden Sunscreen or make your own natural sunscreen and bring along one of these eight natural mosquito repellents.
3. Solar Lantern and Chargers
One of the first things novice campers usually notice is how much darker rural areas are at night. You could stock up on AA and D batteries to power your headlamps, flashlights and lanterns, or you could invest a little more in a lighting option that runs off solar power—like the LuminAID light. This solar powered, inflatable lamp packs flat and inflates to create a lightweight, waterproof lantern. You might also want to bring along a solar charger to keep your emergency phone and/or GPS powered up (i.e., your essentials, not a DVD player and mini-fridge).
4. Bulk Water and Refillable Water Bottles
I can't tell you how many times I've seen people unload a case (or two!) of bottled water at their camp site. This is not only silly and wasteful, it also creates more work since most parks require campers to pack out their trash. Instead, fill a large container (like those used for water coolers) or buy a couple of gallons from which you can refill your water bottle during the trip.
5. Know How to Go
What happens when nature calls on a camping trip? It's important to know where and how to dispose of human waste on the trail. If you're in an established campground, there's likely an outhouse or composting toilet nearby. Use that. If you're deeper into the wilderness, it's not quite so easy. First, you'll need to bring your own toilet paper. Second, you'll need to find a secluded spot that's at least 200 feet away from any other campsites or water sources. Third, you'll need to dig a hole that's at least 6 inches deep. After you're done doing the deed, cover it back up. Lastly, bring along a paper bag in which to deposit the soiled toilet paper until you can find a proper receptacle. Do NOT leave it in the woods.
6. Leave Only Footprints, Take Only Pictures
The core of "Leave No Trace Camping" is the idea that no one should know you've been there after you've gone. This means no litter, no smoldering fire pits, no ripped up grass, crushed bushes or re-positioned boulders. It also means staying on the marked trail, never picking plants, flowers or berries, and never harming or disturbing wildlife–endangered or not. Learn more about the
7 principles of Leave No Trace
.
——–
YOU MIGHT ALSO LIKE
The #1 Way to Improve Your Life? Nature
Award-Winning Books That Deepen Our Connection to the Natural World
Doctors Prescribe Spending Time In Parks
——–
Disturbing footage of a snake in Goa, India vomiting an empty soft drink bottle highlights the world's mounting plastic pollution crisis.
Keep reading...
Show less
By Melissa Hellmann
When her eldest son was in elementary school in the Oakland Unified School District, Ruth Woodruff became alarmed by the meals he was being served at school. A lot of it was frozen, processed foods, packed with preservatives. At home, she was feeding her children locally sourced, organic foods.
Keep reading...
Show less
May. 28, 2017 01:33PM EST
Laurie Woolever
By James O'Hare
There are 20 million people in the world facing famine in South Sudan, Somalia, Nigeria and Yemen. In developed nations, too, people go hungry. Venezuela, for instance, is enduring food insecurity on a national level as a result of economic crisis and political corruption. In the U.S., the land of supposed excess, 12.7 percent of households were food insecure in 2015, meaning they didn't know where their next meal would come from.
Keep reading...
Show less
May. 28, 2017 01:22PM EST
Melwater, Greenland ice sheet. Diane Tuft
Artists are taking the climate crisis into frame and the results are emotional, beautiful and stirring.
So you've seen the best climate change cartoons and shared them with your friends. You've showed your family the infographics on climate change and health, infographics on how the grid works and infographics about clean, renewable energy. You've even forwarded these official National Oceanic and Atmospheric Administration graphs that explain the 10 clear indicators of climate change to your colleagues at the office.
Keep reading...
Show less
May. 27, 2017 01:11PM EST
As the Trump administration moves full speed ahead on boosting the oil and fossil fuel industry, opposition to increased pipeline construction is cropping up in different communities around the country.
Keep reading...
Show less
May. 27, 2017 01:02PM EST
Minke whale stranding near Havergate Island in Suffolk. MCGA.
By Simon Evans
Last Saturday, two dead whales washed up on the coast of Suffolk, in eastern England, and a third was spotted floating at sea.
What happened next illustrates how news can spread and evolve into misinformation, when reported by journalists rushing to publish before confirming basic facts or sourcing their own quotes.
Keep reading...
Show less
May. 27, 2017 01:22PM EST
By Monica Amarelo and Paul Pestano
Sun safety is a crucial part of any outdoor activity for kids, and sunscreen can help protect children's skin from harmful ultraviolet rays. Kids often get sunburned when they're outside unprotected for longer than expected. Parents need to plan ahead and keep sun protection handy in their cars or bags.
Keep reading...
Show less
May. 27, 2017 01:02PM EST
By Joe McCarthy
A lot of people take part in community clean-up efforts—spending a Saturday morning picking up litter in a park, mowing an overgrown field or painting a fence.
Keep reading...
Show less


Get EcoWatch in your inbox