This website uses cookies to ensure you get the best experience while browsing it. By clicking 'Got It' you're accepting these terms.


The best of EcoWatch, right in your inbox. Sign up for our email newsletter!
California Yosemite River Scene.
Mobilus In Mobili / Flickr /
CC BY-SA 2.0
An advisory panel appointed by Trump's first Secretary of the Interior, Ryan Zinke, has recommended privatizing National Parks campgrounds, allowing food trucks in and setting up WiFi at campgrounds while also reducing benefits to seniors, according to the panel's memo.
Grand Teton National Park, Wyoming. Carol M. Highsmith Archive / Library of Congress
By Jillian Mackenzie
If you've visited the wilderness recently, you may have noticed something: people. People with walking sticks, people with selfie sticks, people with more people in tow. Surging numbers of visitors are hiking, camping, and all-around loving the outdoors. A whopping 330,882,751 of them spent 1.44 billion hours in our national parks in 2017—up 19 million hours from 2016. Great news, except that all this wilderness enthusiasm does come with a downside. "We're seeing record numbers of people connecting to nature, and that's a good thing," said Dana Watts, executive director of the Leave No Trace Center for Outdoor Ethics. "But with that comes an increase in the impact to the land."
EcoWatch Daily Newsletter
Brett Ryder
By Jordan Davidson
We often talk about leaving the world a better place for our children. But our kids are not standing idly by while we wonder how to clean up the mess we've made. Energetic, adept with technology and enthusiastic to create change, kids already have the tools to become stewards of the planet's ecological health. And they are ready to start now.
By Rachel Walker
Ahhhh, car camping—the traveler's embodiment of the "think global, act local" mantra. Unlike journeying to exotic destinations, which tend to require significant expense and loads of greenhouse gases, car camping is simple. Whether you're traveling five or 500 miles, all you need to do is throw your gear in the car, pick a destination on the map, and go.
By Connor McGuigan
"What good is the warmth of summer, without the cold of winter to give it sweetness?" wrote John Steinbeck. Point taken, but there's also a certain sweetness to the cold of winter. Cold-weather camping is a great way to savor those tranquil moments and settings only winter can provide—untouched snow-covered landscapes, early nights and early mornings, a warm fire—yet even some experienced campers balk at the prospect.
I'm looking up at the final ascent to Angels Landing in Utah's Zion National Park, trying to work up my courage to scale the Dr. Seuss–like series of sheer climbs and even sheerer drops, the canyon 1,500 feet below me on either side. My biggest fear isn't a misstep—though the highly eroded trail is coated with slippery dust—but being bumped by one of the thick crowd of hikers impatiently waiting their turn at each knife-edge passing.
Turns out I'm not the only one worried about the risks posed by crowds and erosion to Zion's famed peaks and canyons. Concerns about visitor health and safety have become so acute that the National Park Service has unveiled a proposed management action plan that includes such draconian measures as limiting the number of visitors in Zion Canyon at any one time and requiring permits for the most popular hikes.
"It doesn't take many people to wear sandstone back down into sand and we've seen a surge in degradation due to people disrespecting the fragile ecosystem," said Alyssa Baltrus, chief of interpretation and visitor services for Zion National Park. Among the biggest problems is "social trailing"—people making their own bypass trails when popular routes get too crowded—and cars pulling off the road into non-designated parking areas.

Zion's overcrowding crisis has been a long time coming; visitor numbers have risen year over year for decades. But for the past six years, it's been one boom year after another, with 2015 seeing a jump of more than 450,000 visitors during 2014 to a record 3.7 million. Although visitor numbers for 2016 aren't in yet, the expectation is that they'll top 4 million.
While Zion used to be popular primarily from late spring to early fall, those seasons now extend further each year. For instance, take March, traditionally quiet because of cold and snow. This year, March visitation jumped 112 percent during 2015.
If you've been to Zion in recent years, you know the result. Parking lots fill up by 8:30 a.m., with street parking extending farther and farther back down the highway through the highly congested town of Springdale and beyond. While there's a well-run shuttle system designed to handle the overflow, the buses also fill up, with long wait times to get on and people packed together, like the subway at rush hour. Even once visitors disperse among the various park highlights, the crush of people snapping selfies at must-see spots such as the Emerald Pools can be oppressive.
The most common subject of complaints from visitors? "Other visitors," said Baltrus. Some of the most vociferous griping has been about Angels Landing and the Narrows, a spectacular hike up a slot canyon, much of which takes place while wading knee-deep in the Virgin River.
Permits are required for the 16-mile "top down" hike, but anyone can venture up the lower five-mile stretch of the Narrows from the Temple of Sinawava—and they do; it's common during the high season to slosh your way upriver behind large (and often loud) groups in matching gear rented from local outfitters.
To deal with the problems, the park service has taken a series of actions over the years, from closing Zion Canyon to cars and instituting the shuttle system to adding portable toilets in the parking lots, scheduling extra end-of-day buses and expanding overflow parking.
But those are stopgap measures at best. Some strategies resulted in additional unforeseen problems. For example, in an effort to stop Angels Landing hikers from availing themselves of the natural facilities, the park service installed evaporative toilets at Scout Lookout, the final rest stop. But it miscalculated the need.
"Because of the increase in use at Scout's Lookout, the toilets quickly fill with liquid and stop effectively evaporating waste," said Baltrus. That waste must be removed by helicopter, which proved much harder to do than planned. The result: roped-off Porta-Johns reeking a few feet from picnickers. "Over the past two years, we have been asking visitors to use the restrooms at the bottom of the trail instead and only use the ones at Scout's Lookout for emergencies, but our efforts have not been very successful," she said.
In other words, the real problem remains the sheer number of people in what is a relatively small park and for that, the only solution is visitor limits. The National Park Service seems to be serious about taking what could be a first-ever step.
"A key component of this proposed action would be to directly manage visitor use levels in the park through establishment of visitor capacities," reads the Visitor Use Management Plan newsletter. "Visitor capacities, which could vary by season and/or specific areas of the park, would be established, along with implementation techniques that would directly manage the amount and time of visitor access."
More specifically, the Visitor Use Management Plan includes options such as:
Using a timed-entry system to access the shuttle system to regulate the flow of visitors up the canyon throughout the day.
Instituting an online advance reservation system for visitor passes.
Requiring reservations for all campsites and eliminating the remaining first-come, first-served sites.
Redesigning the south entrance area to prevent traffic jams, including adding a kiosk station and an express lane for those who prepaid.
Streamlining the process to come into the canyon on foot or with a bicycle.
Constructing a multimodal trail to encourage visitors to walk between major canyon attractions rather than take the shuttle.
Exploring technology to prepay entrance fees prior to arrival and an automated gate pass system to facilitate entrance.
In other words, so much for spontaneity; you'll need to plan ahead if you want to see the glories of Zion Canyon between May and October.
It's not just in the canyon that crowds are a problem. Ask anyone who's sat in the snaking line of cars waiting to check out the window views from the historic Zion-Mount Carmel Tunnel. Every summer the lines get longer, in large part because of the need to stop two-way traffic to allow oversize vehicles like RVs to pass. One option on the table is to add an automated traffic signal; another is to restrict passage of oversize vehicles to certain times of day.
Needless to say, the more draconian options are being met with resounding no's, at least in some quarters. But regular visitors hope the changes will bring back their beloved Zion of the past. In Springfield, where residents are trapped from getting into and out of town at some times of day, change is long overdue.
The initial public comment period closed on Nov. 23 and now the difficult work of deciding among the various possible scenarios begins. But not to worry if you haven't had your say yet. In the spring, the National Park Service will unveil its recommendations and then invite further comments.
"The potential actions are all possibilities that came from the initial community meetings and they're there to generate further discussion and to inspire people to think of other ideas," said Baltrus. "The more input and ideas we get at this point in the process, the better the alternatives will be."
Got your own idea for how to save Zion from being loved to death? Get ready to speak up.
Reposted with permission from our media associate TakePart.
Two little kids I know were introduced to camping (or its components) this past weekend. A little, yellow tent was set up in the backyard for my two-year-old niece. While it's a fine hide-and-seek spot right now, it's also her first exposure to an outdoor tent, something with which she will grow increasingly comfortable for its continuous presence throughout the summer.
At the same time, my friend and her boyfriend took his six-year-old nephew on a much-hyped, much-enjoyed first camping trip, where he got to sleep in a tent, carry his own canteen and keep on the lookout for frogs and a variety of insects.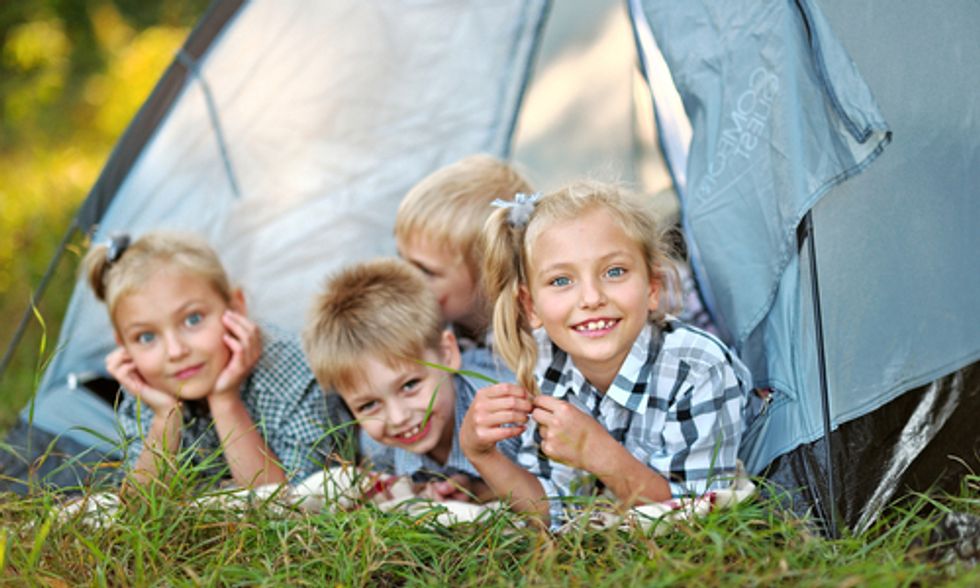 Photo courtesy of Shutterstock
Turns out these adventures were a fitting precursor to the 10th annual Great American Backyard Campout.
The campout, held the fourth Saturday of June in support of Great Outdoors Month, is part of National Wildlife Federation (NWF)'s  campaign to get 10 million children to spend time outdoors to connect with nature. (After all, research recently found that the number one way to improve your life is time in nature.)
Why not join thousands of people across the U.S. on June 28 and introduce the kids in your life to camping, or have some quality time with the neighbors? You can also search for public events near you.
As NWF sums up: "you can enjoy a fun-filled evening under the stars AND help make a difference for wildlife."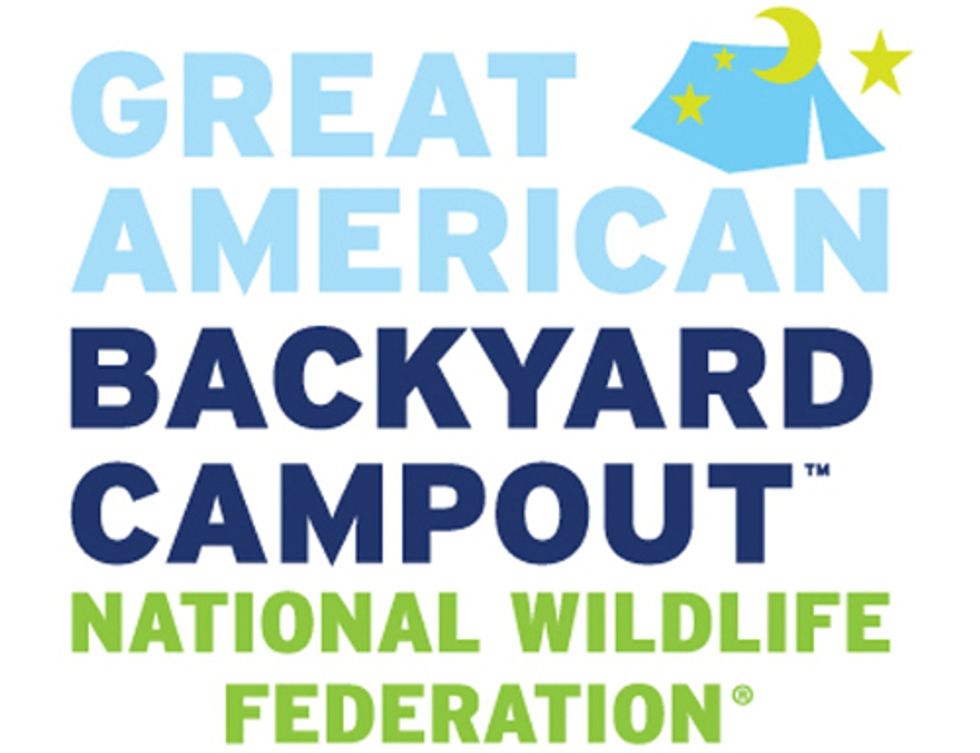 You can take NWF's pledge to campout for wildlife and explore a number of camping tips, from campfire songs to recipes and games.
Happy camping.
Parks and day hikes are well and good, but if you really want to reconnect with Mother Nature this summer, you've got to go camping.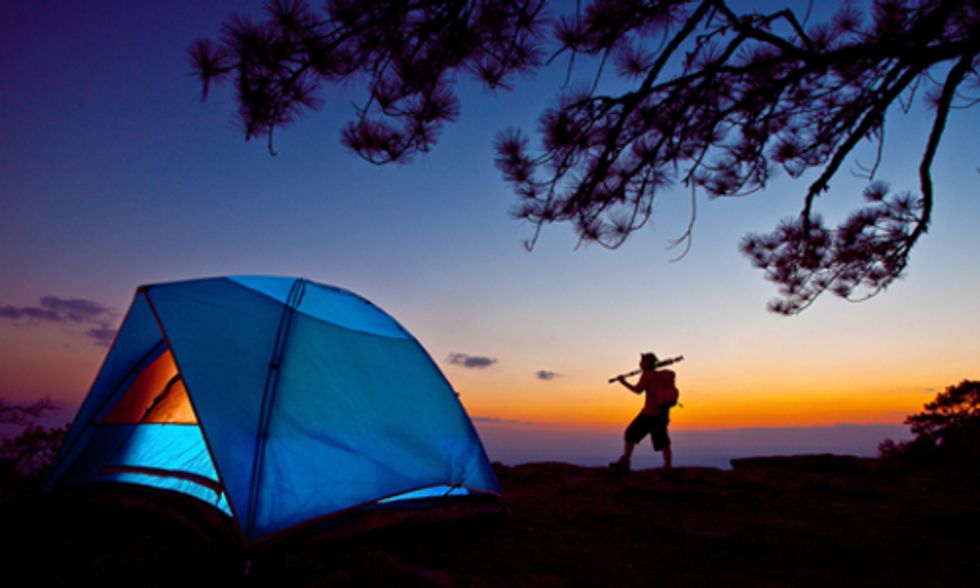 Photo courtesy of Shutterstock
For some, camping is a refreshing change: A chance to reset the mind and soul by roughin' it for a few days. For others, the idea of living outside the realm of wifi and indoor plumbing is a terrifying prospect. Regardless of which end of the spectrum you identify with, it's important to realize that wandering around in the wilderness can be dangerous … for the wilderness, that is.
Just like when planning a low-impact summer BBQ, it's important to realize that most "camping stuff" you see in Big Box Stores is just low-quality junk designed to make camping feel like another day at home. This both defeats the purpose (it's supposed to feel like nature, not home) and threatens the vitality of wilderness areas.
Whether you're planning a weekend stay in a national park or setting out on a week-long backpacking trip, keep these tips for greener camping in mind:
1. Reusables Rule
Pitching a tent is no reason to throw all your eco-friendly habits out the window. Just because you're going camping doesn't mean you should spend a small fortune on disposable plates, cups, cutlery or napkins/towels. Pack unbreakable-but-washable versions of each, and bring along a) a small basin/bucket, sponge and biodegradable soap; and b) a breathable bag in which to toss cloth napkins and towels that are too dirty to reuse.
2. Non-Toxic Sunscreen and Bug Spray
Camping is awesome, but throw in a sunburn and a swarm of biting insects and it quickly becomes a nightmare. Venturing far from home might make you want to reach for the strong chemicals—but don't! They're toxic to the air, water and animals you'll be visiting, as well as your own health. Instead try safer alternatives like Goddess Garden Sunscreen or make your own natural sunscreen and bring along one of these eight natural mosquito repellents.
3. Solar Lantern and Chargers
One of the first things novice campers usually notice is how much darker rural areas are at night. You could stock up on AA and D batteries to power your headlamps, flashlights and lanterns, or you could invest a little more in a lighting option that runs off solar power—like the LuminAID light. This solar powered, inflatable lamp packs flat and inflates to create a lightweight, waterproof lantern. You might also want to bring along a solar charger to keep your emergency phone and/or GPS powered up (i.e., your essentials, not a DVD player and mini-fridge).
4. Bulk Water and Refillable Water Bottles
I can't tell you how many times I've seen people unload a case (or two!) of bottled water at their camp site. This is not only silly and wasteful, it also creates more work since most parks require campers to pack out their trash. Instead, fill a large container (like those used for water coolers) or buy a couple of gallons from which you can refill your water bottle during the trip.
5. Know How to Go
What happens when nature calls on a camping trip? It's important to know where and how to dispose of human waste on the trail. If you're in an established campground, there's likely an outhouse or composting toilet nearby. Use that. If you're deeper into the wilderness, it's not quite so easy. First, you'll need to bring your own toilet paper. Second, you'll need to find a secluded spot that's at least 200 feet away from any other campsites or water sources. Third, you'll need to dig a hole that's at least 6 inches deep. After you're done doing the deed, cover it back up. Lastly, bring along a paper bag in which to deposit the soiled toilet paper until you can find a proper receptacle. Do NOT leave it in the woods.
6. Leave Only Footprints, Take Only Pictures
The core of "Leave No Trace Camping" is the idea that no one should know you've been there after you've gone. This means no litter, no smoldering fire pits, no ripped up grass, crushed bushes or re-positioned boulders. It also means staying on the marked trail, never picking plants, flowers or berries, and never harming or disturbing wildlife–endangered or not. Learn more about the
7 principles of Leave No Trace
.
——–
YOU MIGHT ALSO LIKE
The #1 Way to Improve Your Life? Nature
Award-Winning Books That Deepen Our Connection to the Natural World
Doctors Prescribe Spending Time In Parks
——–