5 Invasive Insects That Wreak Havoc
By James Rogers
These five tiny invasive species are hard to spot, unless you look for the devastation they bring with them. Between eradicating hemlock forests, decimating fruit productions, stealing away in in imported foods and even ruining electrical equipment, these invaders are worth watching out for.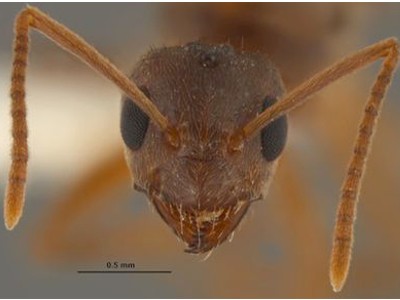 1. The Tawny Crazy Ant (Nylanderia fulva)
Ant populations in the South are rapidly being pushed out by a "crazy" invasive-cousin called the Tawny Crazy Ant.
This ant, named for its seemingly random and erratic movements, is only an one-eighth of an inch long, but it comes in the millions, and the ant populations can completely cover landscapes. Once established, these ants can attack cattle around the nose and eyes and have even asphyxiated chickens.
But the Tawny Crazy Ants do not stop there. They are not just a threat to wildlife populations in Southern states like Texas, Louisiana and Florida, but they also threaten electronic equipment. These little crazies will make their way inside anything from a computer to a TV because they are attracted to the warmth given off by the appliance. Once inside, the ants can cause short circuits, ruining expensive equipment. On top of that, when the ants die, they emit a sort of distress signal which can attract even more of the little pests.
Tawny Crazy Ant populations are spreading in areas with warm climates, so watch out for this invader.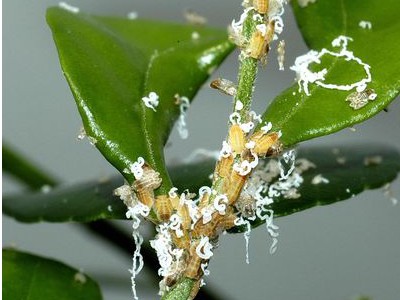 2. The Asian Citrus Psyllid (Diaphorina citri)
As its name suggests, the Asian Citrus Psyllid likes its citrus fruits. The only problem is so does Huanglongbing, or "the greening disease," which the Psyllid hosts.
The greening disease causes citrus trees to grow underdeveloped, partially green fruit and has been the ruin of entire citrus industries in Africa and Asia.
On top of this disease, the Psyllid itself also produces a toxin which can inhibit the growth of the trees and wilt leaves.
Since the late 1990's, the Psyllid has spread across the U.S., affecting many major citrus producers. It is now present in Florida, Arizona, California, Hawaii, many of the U.S. territories and more. Many of these areas are now under quarantine and restrictions have been put on their citrus plant exports.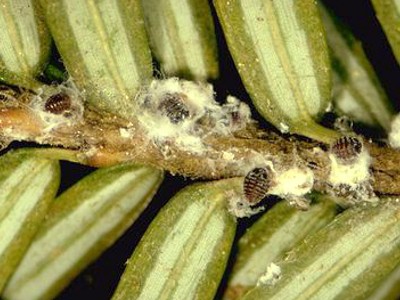 3. The Hemlock Woolly Adelgid (Adelges tsugae)
Eastern Hemlock trees, also called the "redwoods of the east," are taking a beating from a tiny aphid-like invader known as the Hemlock Woolly Adelgid.
At Great Smoky Mountains National Park, the Adelgid has started its assault on 800 acres of old-growth hemlocks, some of which are more than 500 years old, and 90,000 acres of surrounding hemlock forest, which is one of the last primeval forests of the East Coast.
Originally from East Asia, the Hemlock Woolly Adelgid can be easily identified by the small cotton-ball-like growths it produces at the base of hemlock needles, where they feed on the sap produced by the tree, eventually killing the needles and in turn, the tree. The Blue Ridge Parkway and Shenandoah National Park have already lost 80 percent of their Hemlock populations due to Adelgid infestations.
Officials at The Great Smoky Mountains National Park are attempting to protect their old-growth forests by introducing predatory beetles and spraying insecticides, but the long-term results of these measures will not be known for some time.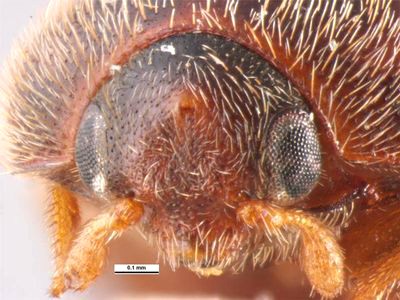 4. The Khapra Beetle (Trogoderma granarium)
One of the scariest things about the Khapra Beetle is its diet.
It can survive on basically any dried food or grain, including seeds, flour, nuts, beans, fruits, pastas and more. At the same time, the beetle itself needs very little food and very little moisture to live comfortably. Once the Khapra is established, it breeds rapidly, contaminating entire stores of the food it calls home. Infestations of the Khapra Beetle have crippled entire economies by resulting in trade restrictions.
Luckily, since the 1950's, the Khapra Beetle has never successfully made its home in the U.S., and all potential major infestations have been quarantined and eradicated.
However, future infestations are always something to fear.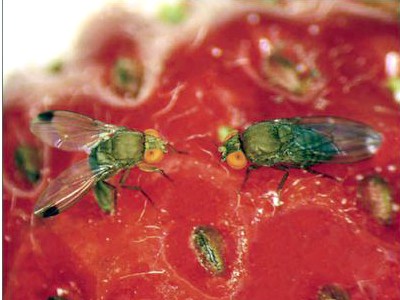 5. The Spotted Wing Drosophila (Drosophila suzukii)

The Spotted Wing Drosophila would look to many like a common fruit fly, but it definitely is not.
This Japanese native differs mainly in its propensity for wreaking havoc on soft fruits. Since 2008, when it arrived in California, this pest has spread across the U.S. and has even made its home in parts of Europe.
The female of the species has a serrated appendage that allows it to penetrate the skin of the fruit to lay its eggs. After the larval Drosophila hatch, they eat their way out of the fruit, causing rot and ruining its commercial value.
Since its arrival, the tiny winged menace has targeted all types of soft-skinned fruit, including plums, blackberries, blueberries, cherries, strawberries, nectarines and more.
Visit EcoWatch's BIODIVERSITY page for more related news on this topic.
——–

Laurie Woolever
By James O'Hare
There are 20 million people in the world facing famine in South Sudan, Somalia, Nigeria and Yemen. In developed nations, too, people go hungry. Venezuela, for instance, is enduring food insecurity on a national level as a result of economic crisis and political corruption. In the U.S., the land of supposed excess, 12.7 percent of households were food insecure in 2015, meaning they didn't know where their next meal would come from.
Keep reading...
Show less
Shutterstock
By Rachael Link
Though commonly thought to be a vegetable, cucumber is actually a fruit.
Keep reading...
Show less
Melwater, Greenland ice sheet. Diane Tuft
Artists are taking the climate crisis into frame and the results are emotional, beautiful and stirring.
So you've seen the best climate change cartoons and shared them with your friends. You've showed your family the infographics on climate change and health, infographics on how the grid works and infographics about clean, renewable energy. You've even forwarded these official National Oceanic and Atmospheric Administration graphs that explain the 10 clear indicators of climate change to your colleagues at the office.
Keep reading...
Show less
May. 27, 2017 01:11PM EST
As the Trump administration moves full speed ahead on boosting the oil and fossil fuel industry, opposition to increased pipeline construction is cropping up in different communities around the country.
Keep reading...
Show less
May. 27, 2017 01:02PM EST
Minke whale stranding near Havergate Island in Suffolk. MCGA.
By Simon Evans
Last Saturday, two dead whales washed up on the coast of Suffolk, in eastern England, and a third was spotted floating at sea.
What happened next illustrates how news can spread and evolve into misinformation, when reported by journalists rushing to publish before confirming basic facts or sourcing their own quotes.
Keep reading...
Show less
May. 27, 2017 01:22PM EST
By Monica Amarelo and Paul Pestano
Sun safety is a crucial part of any outdoor activity for kids, and sunscreen can help protect children's skin from harmful ultraviolet rays. Kids often get sunburned when they're outside unprotected for longer than expected. Parents need to plan ahead and keep sun protection handy in their cars or bags.
Keep reading...
Show less
May. 27, 2017 01:02PM EST
By Joe McCarthy
A lot of people take part in community clean-up efforts—spending a Saturday morning picking up litter in a park, mowing an overgrown field or painting a fence.
Keep reading...
Show less
May. 26, 2017 03:22PM EST
Rink Glacier in western Greenland, with a meltwater lake visible center. NASA/OIB
Scientists have had their eyes on Greenland as its iconic glaciers have begun disappearing due to a warming climate. But, what they didn't expect to see was a whole new type of melting.
Keep reading...
Show less


Get EcoWatch in your inbox