This website uses cookies to ensure you get the best experience while browsing it. By clicking 'Got It' you're accepting these terms.
5 Health Benefits of the Nordic Diet
May. 24, 2015 09:10AM EST
Popular
By Joe Leech
The latest "diet" to appear in the media is called the Nordic diet.
Proponents of this diet claim that you can improve your health by eating "Nordic" foods.
These are the traditional foods commonly eaten by people in the Nordic countries.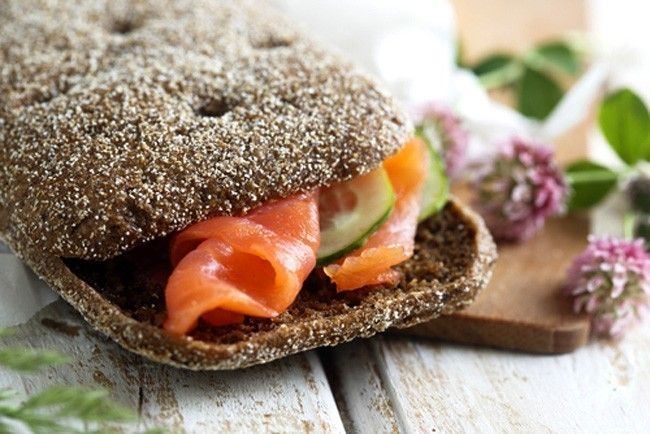 Photo credit: Shutterstock
Several studies have shown that the Nordic diet can cause weight loss and improve health markers, at least in the short-term (1, 2).
This eating pattern is also supported by the fact that obesity rates in the Nordic countries are much lower than in the U.S. (3).
This article explains everything you need to know about the Nordic diet. What to eat, what to avoid, health benefits, a research review and numerous tips.
What is The Nordic Diet?
As the name suggests, the Nordic diet is a way of eating that focuses on the traditional foods of the Nordic countries (Norway, Denmark, Sweden, Finland and Iceland).
The Nordic diet was created in 2004 by a group of nutritionists, scientists and chefs, in order to address growing obesity rates and unsustainable farming practices in the Nordic countries.
Compared with an average Western diet, it contains less sugar, less fat, twice the fiber, and twice the fish and seafood (4).
Foods to Eat and Avoid
The Nordic diet emphasizes locally grown and sustainable food sources, with a heavy focus on foods considered healthy according to "mainstream" nutrition science.
The Nordic diet is actually very similar to the Mediterranean diet. The biggest difference is that it emphasizes canola/rapeseed oil instead of extra virgin olive oil.
As many critics correctly point out, many of the foods on the "Nordic" diet were actually never eaten in the Nordic countries back in the day.
These include low-fat dairy and canola oil, which are modern foods. Fruit also does not grow well in the north, except perhaps for some berries.
Bottom Line: The Nordic diet emphasizes the traditional foods of the Nordic countries. It is similar to the Mediterranean diet in many ways, and heavily emphasizes plant foods and sea foods.
The Nordic Diet and Weight Loss
Several studies have assessed the weight loss effects of the Nordic diet.
In one study of 147 obese men and women, those eating a Nordic diet lost 10.4 lbs (4.7 kg), while those eating a typical Danish diet lost only 3.3 lbs (1.5 kg) (1).
This is fairly impressive, especially considering that people were not instructed to restrict calories.
However, in a follow-up study a year later, the Nordic diet participants had gained most of the weight back (5).
These results are actually very typical for long-term studies on weight loss. People lose weight in the beginning, but then it gradually returns over a period of one to two years.
Another study supports the weight-reducing effects of the Nordic diet. In this six-week long study, the Nordic diet group lost four percent of body weight, significantly more than those who followed a standard diet (6).
Bottom Line: The Nordic diet appears to be effective for short-term weight loss, even when people are not asked to restrict their calorie intake.
Health Benefits of The Nordic Diet
Healthy eating goes way beyond just weight loss.
It can also lead to significant improvements in metabolic health, and lower the risk of all sorts of chronic diseases.
Several studies have examined the effects of the Nordic diet on health markers.
Blood Pressure
In a six-month study on obese participants, a Nordic diet reduced systolic and diastolic blood pressure by 5.1 and 3.2 mmHg, respectively, compared to a control diet (1).
Another 12-week study found a significant reduction in diastolic blood pressure in participants with the metabolic syndrome (7).
Cholesterol and Triglycerides
Even though the Nordic diet is high in many heart-healthy foods, its effects on cholesterol and triglycerides are inconsistent.
Some studies, but not all, have found a reduction in triglycerides, but the effects on LDL and HDL cholesterol appear to be so small that they are not statistically significant (1, 2).
However, one study found a mild reduction in the LDL-c/HDL-c ratio and the Apo B/Apo A1 ratio, as well as non-HDL cholesterol, which are all strong risk factors for heart disease (2).
Blood Sugar Control
The Nordic diet does not appear to be very effective at lowering blood sugar levels, but one study found a small reduction in fasting blood sugar (1, 2).
Inflammation
Chronic inflammation is a major driver of many serious diseases.
Studies on the Nordic diet and inflammation have given mixed results. One study found a reduction in the inflammatory marker CRP, while others have found no statistically significant effects (1, 2).
Another study found that the Nordic diet reduced the expression of genes related to inflammation in the body's fat tissues (8).
Bottom Line: The Nordic diet appears to be effective for lowering blood pressure. The effects on cholesterol, blood triglycerides, blood sugar levels and inflammatory markers are weak and inconsistent.
Environmental Aspect of The Nordic Diet
The Nordic diet may be a good choice from an environmental perspective. It emphasizes foods that are locally grown and sustainably farmed.
Some proponents of the diet also recommend consuming organic foods.
Take Home Message
The evidence behind the Nordic diet is not particularly impressive.
It does cause short-term weight loss, and some reduction in blood pressure and inflammatory markers, but the results appear to be weak and inconsistent.
At the end of the day, any diet that emphasizes real food instead of standard Western junk food is likely to lead to weight loss and health improvements.
This has been demonstrated, time and time again, in hundreds of studies on various different diets.
However, there is nothing magical about "Nordic" foods, or "eating like a viking."
The diet works because it replaces processed foods with whole, single-ingredient foods. That's it.
This article was reposted from our media associate Authority Nutrition.
YOU MIGHT ALSO LIKE
What Sunscreen Should I Use? This Guide Tells You Products You Can (and Can't) Trust
Could Earthworms Save the Climate?
If GMOs Are Safe, Why Not Label Them? (64 Other Countries Do)
EcoWatch Daily Newsletter
Ryan Hagerty / USFWS
It's become a familiar story with the Trump administration: Scientists write a report that shows the administration's policies will cause environmental damage, then the administration buries the report and fires the scientists.
A coalition of some of the largest environmental groups in the country joined forces to file a lawsuit in federal court challenging the Trump administration's maneuver to weaken the Endangered Species Act.
beyond foto / Getty Images
By Kimberly Holland
Children who eat a lot of gluten in their earliest years may have an increased risk of developing celiac disease and gluten intolerance, according to a new study published in JAMATrusted Source.
Joe Raedle / Getty Images
By Jake Johnson
Calling the global climate crisis both the greatest threat facing the U.S. and the greatest opportunity for transformative change, Sen. Bernie Sanders unveiled today a comprehensive Green New Deal proposal that would transition the U.S. economy to 100 percent renewable energy and create 20 million well-paying union jobs over a decade.
The Parties to CITES agreed to list giraffes on Appendix II of the Convention on International Trade in Endangered Species (CITES) today at the World Wildlife Conference or CoP18 in Geneva. Such protections will ensure that all giraffe parts trade were legally acquired and not sourced from the poached giraffes trade and will require countries to make non-detriment findings before allowing giraffe exports. The listing will also enable the collection of international trade data for giraffes that might justify greater protections at both CITES and other venues in the future.

The WHO stressed that more research is needed on the potential health risks of microplastic ingestion. luchschen / iStock / Getty Images Plus
The UN's health agency on Thursday said that microplastics contained in drinking water posed a "low" risk at their current levels.
However, the World Health Organization (WHO) — in its first report on the potential health risks of microplastic ingestion — also stressed more research was needed to reassure consumers.
Brazil's right-wing President Jair Bolsonaro is giving President Trump a run for his money in the alternative facts department.
Washington Gov. Jay Inslee, who made solving the climate crisis the center of his presidential campaign, is dropping out of the 2020 Democratic primary race.