This website uses cookies to ensure you get the best experience while browsing it. By clicking 'Got It' you're accepting these terms.


The best of EcoWatch, right in your inbox. Sign up for our email newsletter!
5 Floating Solar Farms Helping Power the World
May. 24, 2016 01:25PM EST
Business
Floating solar projects are popping up in all corners of the world, from Japan, the UK, Brazil, the U.S. and Australia.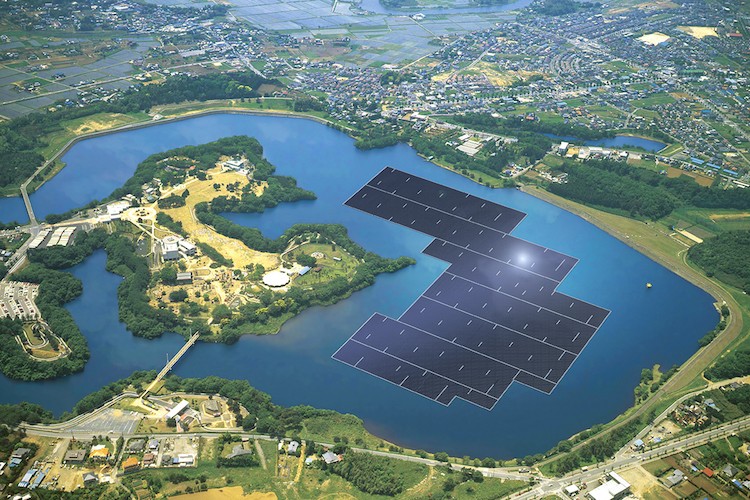 A rendering of the 13.7 megawatt plant on the Yamakura Dam reservoir in Japan, which will be the largest floating solar plant in the world once construction is complete. Photo credit: Kyocera
There are a number of benefits to floating solar plants, aka "floatovoltaics." Compared to mounted panels, floating systems are naturally cooled by the bodies of water they sit on, therefore boosting power production efficiency. Many floating PV developers point out that the floatovoltaics shade the water, which reduces water evaporation and slow algae blooms.
"The efficiencies are what motivated us to look at this," Rajesh Nellore, the chief executive of Infratech Industries, told the New York Times.
The Sydney-based company erected a floating solar system in Jamestown, South Australia that claims to generate 57 percent more energy than rooftop panels.
The plant floats on a wastewater facility in Jamestown and is the first part of a larger system that will cover five basins, the company says on its website. The system consists of raft supporting standard photovoltaic panels, which are specially coated to prevent corrosion, due to their close proximity to water.
Another plus of floating arrays is how it makes use of unused space. In the UK, a 6.3 megawatt floating solar project consisting of 23,000 solar panels sits on Walton-on-Thames' Queen Elizabeth II reservoir, an area that isn't used for any other purpose, The Guardian reported. The £6 million (about $8 million) project will help power local water treatment plants that provide clean drinking water to London and south-east England's 10 million residents.
At roughly the size of eight soccer stadiums, the Thames Water floating solar array will briefly hold the title of world's largest floating solar facility before Japan's mega-solar farm finishes in 2018, which will have a capacity of 13.7 megawatts. The New York Times noted that if everything goes as planned in the next two years, the 50,904 panels that will float atop the Yamakura Dam reservoir in Japan will generate an estimated 16,170 megawatt hours annually or enough electricity to power almost 5,000 homes.
The company behind Japan's massive solar plant, Kyocera TCL Solar, started construction in January this year and explained why floatovoltaics are ideal.
"With the decrease in tracts of land suitable for utility-scale solar power plants in Japan due to the rapid implementation of solar power, Kyocera TCL Solar has been developing floating solar power plants since 2014, which utilize Japan's abundant water surfaces of reservoirs for agricultural and flood-control purposes," the company said in a press release.
Solar is also an increasingly attractive option for regions or countries that are going through drought. With Brazil's historic drought drying up its hydroelectric plants, the South American country is turning to solar power to diversify its energy mix to stave off a potential power crisis.
As EcoWatch reported last year, below-average rainfall in recent years have depleted the country's reservoirs, thus gutting the country's formerly plentiful supply of hydropower, which supplies more than three-quarters of Brazil's electricity, the U.S. Energy Information Administration states.
The nation announced last year it would commence pilot tests of a 350 megawatt floating solar farm located atop the Balbina hydroelectric plant in the Amazon.
"We are adding technological innovation, more transmission lines, diversifying our energy generation source, introducing solar energy in a more vigorous manner and combining solar energy with hydroelectric energy," Mines and Energy Minister Eduardo Braga said last year.
According to PV Magazine, Brazil switched on the first 10 megawatt stage of its floating Ballina plant in March.
Another advantage of floating solar systems is that they can be hidden from public view, which is a factor that led the California nonprofit Sonoma Clean Power to pursue the technology, the New York Times reported.
"Sonoma County boasts some of the most beautiful rolling hills, and people don't want to see them covered by solar panels," Rebecca Simonson, a senior power analyst for the renewable energy developer, told the publication.
The Times reported that the company has signed purchasing agreements for floating solar arrays to be built on six treated water ponds in the county. The solar panels, Simonson said, would not be visible from the road.
YOU MIGHT ALSO LIKE
Faced by Falling Oil Prices and Plunging Profits, Big Oil Invests in Renewables
100% Clean Energy Economy Is Much Closer Than You Think
Portugal Sets Record, Runs on Renewables for 107-Hours Straight
EcoWatch Daily Newsletter
PhotoAlto / Laurence Mouton / Getty Images
By Ana Reisdorf, MS, RD
You've probably heard the buzz around collagen supplements and your skin by now. But is the hype really that promising? After all, research has pointed to both the benefits and downsides of collagen supplements — and for many beauty-conscious folk, collagen isn't vegan.
Pixabay
By Marlene Cimons
Neil Pederson's introduction to tree rings came from a "sweet and kindly" college instructor, who nevertheless was "one of the most boring professors I'd ever experienced," Pederson said. "I swore tree rings off then and there." But they kept coming back to haunt him.
Aerial view of the explosion site of a chemical factory on March 22 in Yancheng, Jiangsu Province of China. Caixin Media / VCG / Getty Images)
At least 47 people have died in an explosion at a plant in Yancheng, China Thursday run by a chemical company with a history of environmental violations, Sky News reported.
A fishmonger in Elmina, a fishing port in the Central Region of Ghana. Environmental Justice Foundation
By Daisy Brickhill
Each morning, men living in fishing communities along Ghana's coastline push off in search of the day's catch. But when the boats come back to shore, it's the women who take over.
Pexels
By Sam Nickerson
Links between excess sugar in your diet and disease have been well-documented, but new research by Harvard's School of Public Health might make you even more wary of that next soda: it could increase your risk of an early death.
The study, published this week in the American Heart Association's journal Circulation, found that drinking one or two sugar-sweetened beverages (SSBs) each day — like sodas or sports drinks — increases risk of an early death by 14 percent.
Tyson Foods is recalling approximately 69,093 pounds of frozen chicken strips because they may have been contaminated with pieces of metal, the U.S. Department of Agriculture (USDA) Food Safety and Inspection Service (FSIS) announced Thursday.
The affected products were fully-cooked "Buffalo Style" and "Crispy" chicken strips with a "use by" date of Nov. 30, 2019 and an establishment number of "P-7221" on the back of the package.
"FSIS is concerned that some product may be in consumers' freezers," the recall notice said. "Consumers who have purchased these products are urged not to consume them. These products should be thrown away or returned to the place of purchase."
Environmental exposure to pesticides, both before birth and during the first year of life, has been linked to an increased risk of developing autism spectrum disorder, according to the largest epidemiological study to date on the connection.
The study, published Wednesday in BMJ, found that pregnant women who lived within 2,000 meters (approximately 1.2 miles) of a highly-sprayed agricultural area in California had children who were 10 to 16 percent more likely to develop autism and 30 percent more likely to develop severe autism that impacted their intellectual ability. If the children were exposed to pesticides during their first year of life, the risk they would develop autism went up to 50 percent.