This website uses cookies to ensure you get the best experience while browsing it. By clicking 'Got It' you're accepting these terms.
4 Arrested Blockading the U.S. First Tarsands Mine in Utah
Aug. 11, 2015 08:59AM EST
Energy
Dozens of environmental activists have signaled that the expansion of the tar sands in Utah will not happen without a fight.
Yesterday, about 40 protestors disrupted the work on the Utah tar sands strip mine, the first to be built in the U.S., located in the Book Cliffs wilderness area.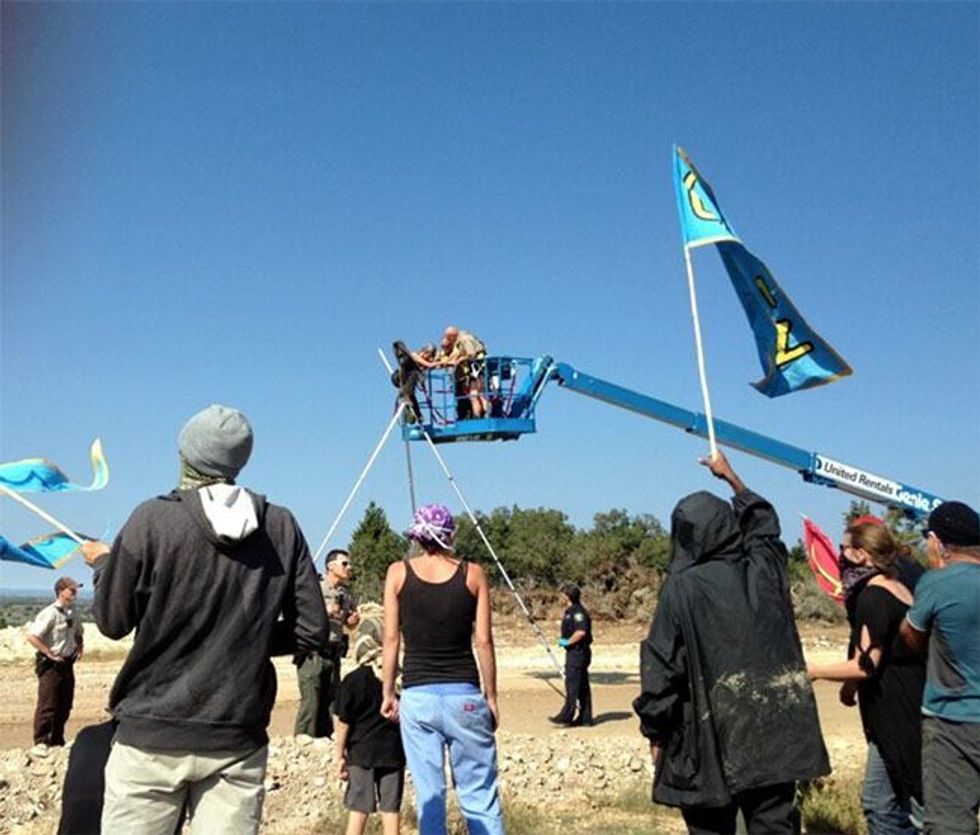 A person is pulled by police from atop a tripod during a site-wide work blockade at the U.S. Oil Sands tar sands strip mine Monday. Photo credit: Peaceful Uprising
The activists blocked a road using two tripods trying to stop traffic on the road which the tar sands firm, U.S. Oil Sands, is constructing south east of Salt Lake City.
The company is starting an $80 million construction phase to start to strip mine tar sands rock and turn it into fuel.
The company operates on land traditionally inhabited by the Ute people, which is now managed and leased to private corporations by the state of Utah.
By the end of yesterday, four people had been arrested by police using cherry pickers to evict them. At one stage yesterday, though, the cherry picker itself had to stop work as one activist locked on to the vehicle itself.
All the activists arrested were bailed out by late yesterday.
Melanie Martin from the group behind the protest, Peaceful Uprising, told the local media that they wanted to avoid the wanton destruction of Utah as had happened with the tar sands in Alberta.
"Looking at what's happening downstream to the Indigenous people in the Athabasca region of Canada has had a major impact on propelling this campaign forward," she said. "Many people in Utah are very afraid of that happening here and of the impacts it would have on the Colorado river."
Martin added: "Nothing has reassured us whatsoever that their project would be anything but a toxic mess for the Colorado Plateau region, or the southwest U.S."
Dozens locked down at site of US first planned tarsands mine in Utah--important to nip it in the bud! https://t.co/lija2c7ZO7 @Peace_UP_ — Bill McKibben (@billmckibben) August 10, 2015
The protest comes as the dangers of mining were reflected recently in the area when one million gallons of wastewater containing lead, arsenic and cadmium leaked into the Animas River in nearby Colorado from a long-abandoned gold mine, turning the river bright mustard yellow for several days.
The response from the tar sands company to yesterday's protest was farcical, with the CEO of the tar sands mine—Cameron Todd—saying "We're the environmentalists. We're the people that are here looking for a sustainable future."
Todd though was disappointed that no one believes him and the protests are set to continue.
Peaceful Uprising is planning more vigils as well as an action camp.
YOU MIGHT ALSO LIKE
Massive Mine Waste Spill Reaches New Mexico
Shell Dumps ALEC as Oil Giant Prepares to Drill in Arctic
EcoWatch Daily Newsletter
No longer will the options when we die be a choice between just burial or cremation. Soon it will be possible to compost your remains and leave your loved ones with rich soil, thanks to a new funeral service opening in Seattle in 2021 that will convert humans into soil in just 30 days, as The Independent reported.
You can reduce the footprint of a medium-sized live tree by donating it to elephants at a local zoo, like this African elephant pictured above. eans / iStock / Getty Images
The holiday season is supposed to be about giving and sharing, but often it is actually about throwing away. The U.S. generates 25 percent more garbage between Thanksgiving and New Year's than it does during the rest of the year. That's around one million extra tons per week, according to National Environmental Education Foundation (NEEF) figures reported by The Associated Press.
The Opera House is seen with smoke haze which enveloped Sydney Harbor on Dec. 10 in Sydney, Australia. Smoke haze hangs over the city as the New South Wales fire danger risk is raised from 'very high' to 'severe'. James D. Morgan / Getty Images
The brushfires raging through New South Wales have shrouded Australia's largest city in a blanket of smoke that pushed the air quality index 12 times worse than the hazardous threshold, according to the Australia Broadcast Corporation (ABC).
People walk across the bridge near Little Raven Court in downtown Denver. Younger Americans increasingly prefer to live in walkable neighborhoods. Helen H. Richardson / The Denver Post via Getty Images
By David B. Goldstein
Energy efficiency is the cornerstone of any country's plan to fight the climate crisis. It is the cheapest option available, and one that as often as not comes along with other benefits, such as job creation, comfort and compatibility with other key solutions such as renewable energy. This has been recognized by the International Energy Agency (IEA) for at least a decade.
Activists from Extinction Rebellion New York City engaged in nonviolent direct action to confront climate change outside City Hall on April 17, 2019. Erik McGregor / Pacific Press / LightRocket via Getty Images
By Andrea Germanos

Over 500 groups on Monday rolled out an an action plan for the next president's first days of office to address the climate emergency and set the nation on a transformative path towards zero emissions and a just transition in their first days in office.