This website uses cookies to ensure you get the best experience while browsing it. By clicking 'Got It' you're accepting these terms.
4 Arrested Blockading the U.S. First Tarsands Mine in Utah
Aug. 11, 2015 08:59AM EST
Dozens of environmental activists have signaled that the expansion of the tar sands in Utah will not happen without a fight.
Yesterday, about 40 protestors disrupted the work on the Utah tar sands strip mine, the first to be built in the U.S., located in the Book Cliffs wilderness area.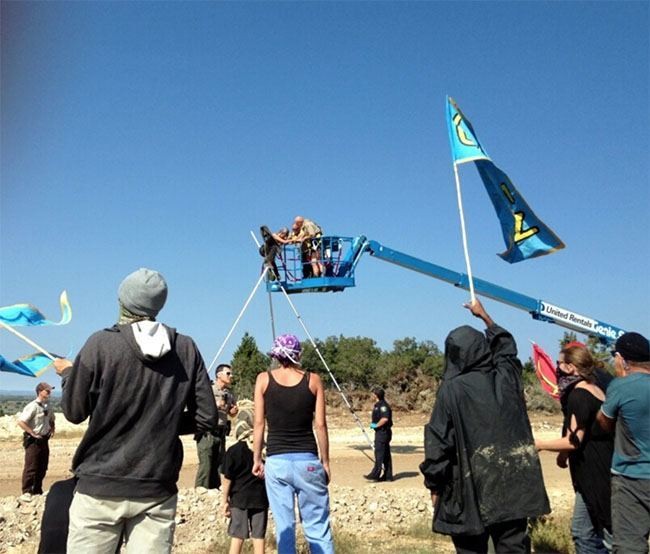 A person is pulled by police from atop a tripod during a site-wide work blockade at the U.S. Oil Sands tar sands strip mine Monday. Photo credit: Peaceful Uprising
The activists blocked a road using two tripods trying to stop traffic on the road which the tar sands firm, U.S. Oil Sands, is constructing south east of Salt Lake City.
The company is starting an $80 million construction phase to start to strip mine tar sands rock and turn it into fuel.
The company operates on land traditionally inhabited by the Ute people, which is now managed and leased to private corporations by the state of Utah.
By the end of yesterday, four people had been arrested by police using cherry pickers to evict them. At one stage yesterday, though, the cherry picker itself had to stop work as one activist locked on to the vehicle itself.
All the activists arrested were bailed out by late yesterday.
Melanie Martin from the group behind the protest, Peaceful Uprising, told the local media that they wanted to avoid the wanton destruction of Utah as had happened with the tar sands in Alberta.
"Looking at what's happening downstream to the Indigenous people in the Athabasca region of Canada has had a major impact on propelling this campaign forward," she said. "Many people in Utah are very afraid of that happening here and of the impacts it would have on the Colorado river."
Martin added: "Nothing has reassured us whatsoever that their project would be anything but a toxic mess for the Colorado Plateau region, or the southwest U.S."
Dozens locked down at site of US first planned tarsands mine in Utah--important to nip it in the bud! https://t.co/lija2c7ZO7 @Peace_UP_ — Bill McKibben (@billmckibben) August 10, 2015
The protest comes as the dangers of mining were reflected recently in the area when one million gallons of wastewater containing lead, arsenic and cadmium leaked into the Animas River in nearby Colorado from a long-abandoned gold mine, turning the river bright mustard yellow for several days.
The response from the tar sands company to yesterday's protest was farcical, with the CEO of the tar sands mine—Cameron Todd—saying "We're the environmentalists. We're the people that are here looking for a sustainable future."
Todd though was disappointed that no one believes him and the protests are set to continue.
Peaceful Uprising is planning more vigils as well as an action camp.
YOU MIGHT ALSO LIKE
Massive Mine Waste Spill Reaches New Mexico
Shell Dumps ALEC as Oil Giant Prepares to Drill in Arctic
Plus, learn if there's one that's best for your health.
Catherine Falls Commercial / Moment / Getty Images
An invasive Amynthas worm, also known as a crazy snake worm, Asian jumping worm and Alabama jumper Tom Potterfield / Flickr
By Jason Bittel
My wife and I built a house two years ago on a few acres of woodland outside of Pittsburgh. The backyard is full of maples, poplars, briars and common spicebush. Two-lined salamanders and grumpy-looking crayfish wade among the rocks in the small stream that runs down the edge of the property. Deer, raccoon and opossum tracks appear regularly in the snow and mud. Sometimes, my trail-cam even catches a pair of gray foxes as they slink through the night.
AleksandarNakic / Getty Images
By Kate Murphy
No matter the time of year, there's always a point in each season when my skin decides to cause me issues. While these skin issues can vary, I find the most common issues to be dryness, acne and redness.

David Woodfall / The Image Bank / Getty Images
By Sam Nickerson
The U.S. Environmental Protection Agency (EPA) in April 2018 proposed relaxing standards related to how it assesses the effects of exposure to low levels of toxic chemicals on public health.
Now, correspondence obtained by the LA Times revealed just how deeply involved industry lobbyists and a controversial, industry-funded toxicologist were in drafting the federal agency's proposal to scrap its current, protective approach to regulating toxin exposure.
Steve Irwin poses with a three foot long alligator at the San Francisco Zoo on June 26, 2002. Justin Sullivan / Getty Images
February 22 is the birthday of conservationist and beloved TV personality "Crocodile Hunter" Steve Irwin, who would have been 57 years old today.
Irwin's life was tragically cut short when the barb from a stingray went through his chest while he was filming in 2006, but his legacy of loving and protecting wildlife lives on, most recently in a Google Doodle today honoring his birthday.