This website uses cookies to ensure you get the best experience while browsing it. By clicking 'Got It' you're accepting these terms.
3 Ways to Restore Power to the People
Jan. 11, 2016 10:16AM EST
Climate
Things feel pretty weird right now to Americans.
Since we celebrated the New Year, we have seen President Obama's executive action with rudimentary gun control measures met with widespread backlash from the gun lobby and its political supporters, a state of emergency in California due to a methane leak and Virginia's GOP launched a pledge that would make it harder for minorities and the poor to vote. One thing we still have not seen, though, is a single Republican presidential candidate acknowledge climate change in the debates despite the historic climate deal in Paris just before the holidays.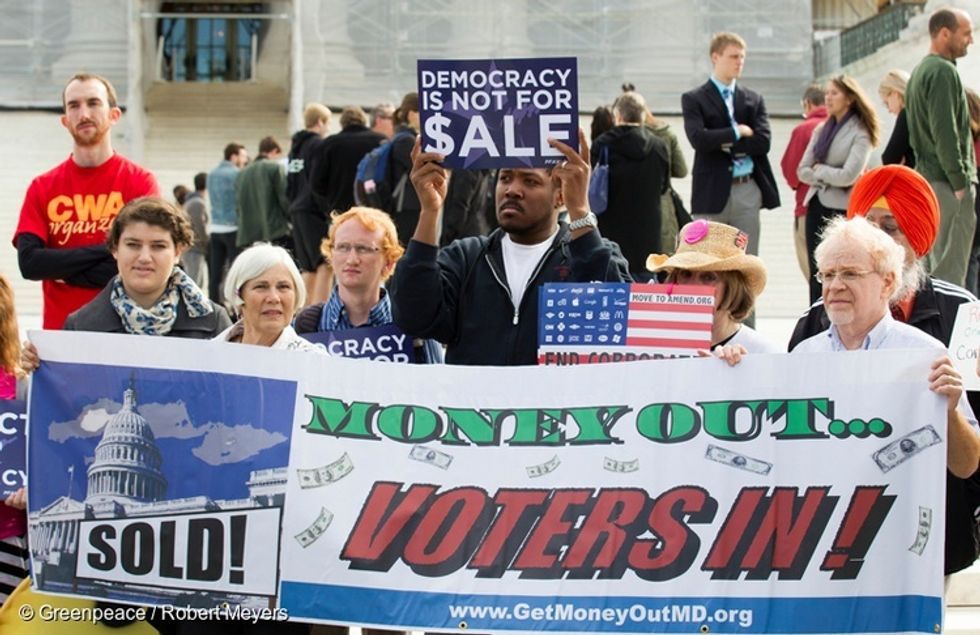 The country will hear from President Obama tomorrow night during his the State of the Union address. As for the state of our democracy, we have serious work to do. The good news is that the American people have never been more determined to claim a democracy that represents the people and the issues that matter to us. From issue to issue, people power is winning, and claiming our democracy will be no different.
Today, Bernie Sanders became the first presidential candidate to sign a pledge launched by Greenpeace and partners asking all candidates to support a people-powered democracy and reject campaign contributions from the fossil fuel industry. This is the first step in a historic journey to restore power to the people in this country.
To understand the state of our democracy and what's fueling the growing democracy movement today here are three important realities we must face.
Reality 1: Money in Politics
Let's start with out-of-control money in politics and its inflated influence on our government.
Private money, from industries like oil and gas, is manipulating our democracy so egregiously that it is has almost ceased to be a real democracy at all. The passage of Citizens United in 2010 unleashed unlimited spending and corporate influence. Individuals can now donate millions to the candidate of their choice.
We have seen the consequences of this. For instance, not one question about climate change was asked during either the Republican or Democratic presidential debates just days after the world reached a historic climate deal in Paris. 
Despite her recent comments on fossil fuels and climate change recently, even Democratic candidate Hillary Clinton receives money connected to the fossil fuel industry via industry lobbyists who have bundled contributions to the campaign.
We experience the impacts of excessive corporate influence on our politicians on a daily basis—from access to clean water and air to healthcare reform to student loans to gun control. The New York Times reported this fall that just 158 families have contributed half of the campaign money on the 2016 campaign trail. Where did all that money come from? Primarily the finance and energy industries, particularly oil and gas.
These contributors are not interested in protecting the environment, advocating for social justice or ending gun violence. They are only interested in protecting their sky-high profits.
The one percent is buying their candidates, while making it harder for the 99 percent to even vote in the first place.
Reality 2: Voting Rights
The right to vote is the foundation of democracy. Sadly, certain lawmakers have taken such major steps backwards in voting rights that it is harder for certain groups to vote in 2016 than in it was in 1965.
This will be the first presidential election year in which 15 states have new voting restrictions. These include photo identification requirements, cuts to early voting, and more registration restrictions including the elimination of same day voting registration. Who does this impact? Minorities, the elderly, the poor and students, primarily.
How did all this happen? The catalyst was the gutting of the Voting Rights Act by the Supreme Court in 2013. The Court voted to reverse parts of a crucial 1965 law that required lawmakers in state with a history of discrimination to receive federal permission before changing voting laws. What followed immediately were laws making it harder for underprivileged communities to vote, including birth certificate requirements and lack of voting booths near public transportation.  
Congress's failure to restore voting rights since that decision means means that a huge chunk of people in America—those most impacted by things like climate change and social injustice—are finding it hard to cast their votes at all.
Reality 3: People Power is Changing Everything
If there is anything to take from 2015, it's that people-power is winning.
From protecting the Arctic from Shell's offshore drilling plans to the Black Lives Matter movement, people are becoming more active on the issues that they care about. And that is manifesting into real change- albeit sometimes slow given the political realities.
Both Maine and Seattle voters recently made historic strides in passing initiatives that put more power in the hands of the people. Tallahassee, Florida, voters overwhelmingly supported a sweeping set of ethics and campaign finance laws. There have been major victories in voting rights in 16 states, including Maryland, Delaware and Vermont.
No matter where they currently stand, all of the presidential candidates are getting the message from thousands of supporters and nearly 20 organizations that it is time they support a people-powered democracy by saying "no" to fossil fuel money and supporting people's right to vote.
2016 just became the year we declare a democracy for the people of the 21st century.
Tell the presidential candidates to just say no to fossil fuel money.
YOU MIGHT ALSO LIKE
History Will Be Made Today as the Delta 5 Head to Court
Super PAC Credits Hillary Clinton for Selling Fracking to the World
Marco Rubio Calls Exxon Scandal 'Nothing But a Left-Wing Effort to Demonize Industry'
EPA Scientists Call Foul on Fracking Study, Say Findings 'Inconsistent With Data Presented'
EcoWatch Daily Newsletter
A new report spotlights a U.N. estimate that at least 275 million people rely on healthy coral reefs. A sea turtle near the Heron Island in the Great Barrier Reef is seen above. THE OCEAN AGENCY / XL CATLIN SEAVIEW SURVEY
In a new report about how the world's coral reefs face "the combined threats of climate change, pollution, and overfishing" — endangering the future of marine biodiversity — a London-based nonprofit calls for greater global efforts to end the climate crisis and ensure the survival of these vital underwater ecosystems.
Half of the extracted resources used were sand, clay, gravel and cement, seen above, for building, along with the other minerals that produce fertilizer. Cavan Images / Cavan / Getty Images
The world is using up more and more resources and global recycling is falling. That's the grim takeaway from a new report by the Circle Economy think tank, which found that the world used up more than 110 billion tons, or 100.6 billion metric tons, of natural resources, as Agence France-Presse (AFP) reported.
By Gero Rueter
Heating with coal, oil and natural gas accounts for around a quarter of global greenhouse gas emissions. But that's something we can change, says Wolfgang Feist, founder of the Passive House Institute in the western German city of Darmstadt.

By George Citroner
Recent research finds that official government figures may be underestimating drug deaths by half.
Researchers estimate that 142,000 people died due to drug use in 2016.
Drug use decreases life expectancy after age 15 by 1.4 years for men and by just under 1 year for women, on average.
Government records may be severely underreporting how many Americans die from drug use, according to a new study by researchers from the University of Pennsylvania and Georgetown University.
Water coolers in front of shut-off water fountains at Center School in Stow, MA on Sept. 4, 2019 after elevated levels of PFAS were found in the water. David L. Ryan / The Boston Globe via Getty Images
In a new nationwide assessment of drinking water systems, the Environmental Working Group found that toxic fluorinated chemicals known as PFAS are far more prevalent than previously thought.