This website uses cookies to ensure you get the best experience while browsing it. By clicking 'Got It' you're accepting these terms.


The best of EcoWatch, right in your inbox. Sign up for our email newsletter!
3 Alternatives to Cow's Milk for Kids
Feb. 25, 2015 01:01PM EST
Food
Parents are increasingly choosing to feed their children alternatives to cow's milk for a variety of reasons. Statistics now show that between 2 and 3 percent of all babies and young children are allergic to cow's milk, and many more are lactose intolerant—serious health concerns that requires eliminating or limiting cow's milk products in their diets.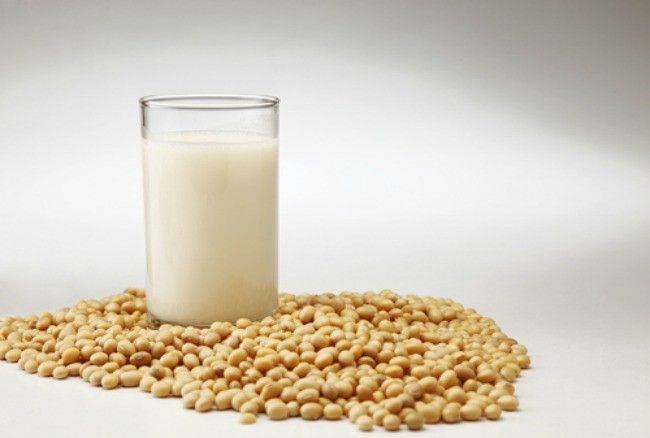 Photo credit: Shutterstock
Some parents are also drawn to the nutritional benefits offered in plant-based milks, such as no cholesterol, and high levels of calcium and protein. In addition, parents purchasing milk for their children are among the many consumers citing reasons why it's better to buy organic.
Here are three alternatives to cow's milk:
Goat Milk
Goat milk is considered to be the most nutritious alternative to breast milk for infants and young children since its chemical structure is similar to breast milk, according to the leading pediatrician and health expert Dr. Sears. Goat milk is apparently easier for children to digest than cow's milk, but is still rich in casein—the protein component in cow's milk. While goat's milk contains more overall calcium, vitamin A, potassium and niacin per serving than cow's milk, it's lower in B12 and folic acid.
Soy Milk
Soy milk is perhaps the most familiar of the cow's milk alternatives. While extracting the milk from soy beans requires processing—it is done by soaking dry soybeans in water, then grinding them up to make a stable emulsion of oil, water and protein—it is not chemically altered nor does it contain chemical additives. Naturally rich in protein and calcium, soy milk provides many of the same nutrients as cow's milk. Soy also happens to be free of cholesterol, unlike whole cow's milk, which contains saturated fat.
Oat Milk
Oat milk is another plant-based alternative to cow's milk with some great perks: it contains no lactose or cholesterol, and is as good of a source for calcium and iron. Most brands of oat milk are fortified with vitamins A and D, and some with B vitamins.
Allergens in Cow's Milk Alternatives
Parents need to be aware of the fact that goat milk and soy are both allergens, so children should be screened for allergic reactions to these foods.
Getting the Right Nutrients
Children need to get vitamin B12 daily, which is found in cow's milk but is lower in goat's milk, and not found in soy or oat milk. They can get their daily recommended amount of B12 from milk alternatives that are fortified with B12, from other forms of cow or goat-based dairy products (if not allergic), from red meat or from vitamin supplements designed for children.
YOU MAY ALSO LIKE
Alternatives to Factory Farm Milk
10 Reasons Consumers Buy Organic
EcoWatch Daily Newsletter
Did you know that more than a third of food is wasted or thrown away every year? And that only 25 percent of it would be enough to feed the 795 million undernourished people in the world? That's why today is Stop Food Waste Day, a chance to reflect on what you can do to waste less of the food you buy.
Stop Food Waste Day is an initiative of food service company Compass Group. It was launched first in the U.S, in 2017 and went global the year after, making today it's second worldwide celebration.
Flames and smoke are seen billowing from the roof at Notre-Dame Cathedral on April 15 in Paris, France. Veronique de Viguerie / Getty Images
When Paris's Notre Dame caught fire on April 15, the flames threatened more than eight centuries of culture and history. The fire evoked shock, horror and grief worldwide. While the cathedral burned, French President Emmanuel Macron expressed determination to rebuild what the French regard as a sacred site.
An artist's impression of NASA's InSight lander on Mars. NASA / JPL-CALTECH
Scientists have likely detected a so-called marsquake — an earthquake on Mars — for the first time, The National Aeronautics and Space Administration (NASA) announced on Tuesday.
Hero Images / Getty Images
Across the political aisle, a majority of American parents support teaching climate change in schools even though most teachers currently do not.
By Andrea Germanos
Lawyer and visionary thinker Polly Higgins, who campaigned for ecocide to be internationally recognized as a crime on par with genocide and war crimes, died Sunday at the age of 50.
She had been diagnosed with an aggressive cancer last month and given just weeks to live.
The Anopheles stephensi mosquito, which carries malaria. CDC / Jim Gathany
The world's first malaria vaccine was launched in Malawi on Tuesday, NPR reported. It's an important day in health history. Not only is it the first malaria vaccine, it's the first vaccine to target any human parasite.