This website uses cookies to ensure you get the best experience while browsing it. By clicking 'Got It' you're accepting these terms.
3 Alternatives to Cow's Milk for Kids
Feb. 25, 2015 01:01PM EST
Food
Parents are increasingly choosing to feed their children alternatives to cow's milk for a variety of reasons. Statistics now show that between 2 and 3 percent of all babies and young children are allergic to cow's milk, and many more are lactose intolerant—serious health concerns that requires eliminating or limiting cow's milk products in their diets.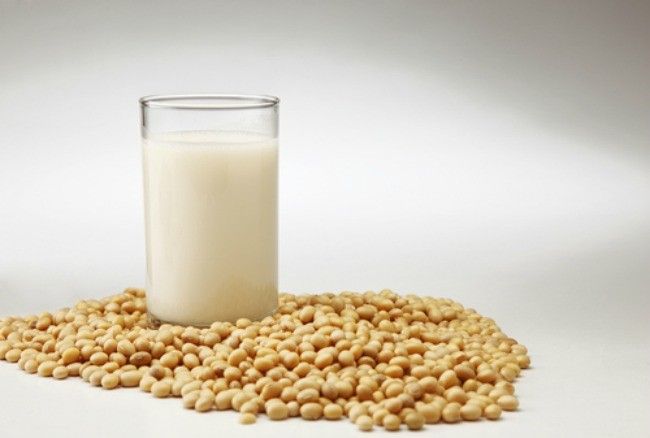 Photo credit: Shutterstock
Some parents are also drawn to the nutritional benefits offered in plant-based milks, such as no cholesterol, and high levels of calcium and protein. In addition, parents purchasing milk for their children are among the many consumers citing reasons why it's better to buy organic.
Here are three alternatives to cow's milk:
Goat Milk
Goat milk is considered to be the most nutritious alternative to breast milk for infants and young children since its chemical structure is similar to breast milk, according to the leading pediatrician and health expert Dr. Sears. Goat milk is apparently easier for children to digest than cow's milk, but is still rich in casein—the protein component in cow's milk. While goat's milk contains more overall calcium, vitamin A, potassium and niacin per serving than cow's milk, it's lower in B12 and folic acid.
Soy Milk
Soy milk is perhaps the most familiar of the cow's milk alternatives. While extracting the milk from soy beans requires processing—it is done by soaking dry soybeans in water, then grinding them up to make a stable emulsion of oil, water and protein—it is not chemically altered nor does it contain chemical additives. Naturally rich in protein and calcium, soy milk provides many of the same nutrients as cow's milk. Soy also happens to be free of cholesterol, unlike whole cow's milk, which contains saturated fat.
Oat Milk
Oat milk is another plant-based alternative to cow's milk with some great perks: it contains no lactose or cholesterol, and is as good of a source for calcium and iron. Most brands of oat milk are fortified with vitamins A and D, and some with B vitamins.
Allergens in Cow's Milk Alternatives
Parents need to be aware of the fact that goat milk and soy are both allergens, so children should be screened for allergic reactions to these foods.
Getting the Right Nutrients
Children need to get vitamin B12 daily, which is found in cow's milk but is lower in goat's milk, and not found in soy or oat milk. They can get their daily recommended amount of B12 from milk alternatives that are fortified with B12, from other forms of cow or goat-based dairy products (if not allergic), from red meat or from vitamin supplements designed for children.
YOU MAY ALSO LIKE
Alternatives to Factory Farm Milk
10 Reasons Consumers Buy Organic
EcoWatch Daily Newsletter
Marcos Alves / Moment Open / Getty Images
More than 40 percent of insects could go extinct globally in the next few decades. So why did the U.S. Environmental Protection Agency (EPA) last week ok the 'emergency' use of the bee-killing pesticide sulfoxaflor on 13.9 million acres?
EcoWatch teamed up with Center for Biological Diversity via EcoWatch Live on Facebook to find out why. Environmental Health Director and Senior Attorney Lori Ann Burd explained how there is a loophole in the The Federal Insecticide, Fungicide, and Rodenticide Act under section 18, "that allows for entities and states to request emergency exemptions to spraying pesticides where they otherwise wouldn't be allowed to spray."
View of downtown Miami, Florida from Hobie Island on Feb. 2, 2019.
Michael Muraz / Flickr
The Democratic candidates for president descended upon Miami for a two-night debate on Wednesday and Thursday. Any candidate hoping to carry the state will have to make the climate crisis central to their campaign, as The New York Times reported.
Simple swaps that cut down on kitchen trash.
Sponsored
By Kayla Robbins
Along with the bathroom, the kitchen is one of the most daunting areas to try and make zero waste.
By Sharon Kelly
On Monday, the Wall Street Journal featured a profile of Scott Sheffield, CEO of Pioneer Natural Resources, whose company is known among investors for its emphasis on drawing oil and gas from the Permian basin in Texas using horizontal drilling and hydraulic fracturing, or fracking.
Pexels
By Craig K. Chandler
The federal government has available to it, should it choose to use them, a wide range of potential climate change management tools, going well beyond the traditional pollution control regulatory options. And, in some cases (not all), without new legislative authorization.
Denis Poroy / Getty Images
By Dan Gray
Processed foods, in their many delicious forms, are an American favorite.
But new research shows that despite increasing evidence on just how unhealthy processed foods are, Americans have continued to eat the products at the same rate.
By Sarah Steffen
With a profound understanding of their environmental surroundings, indigenous communities around the world are often cited as being pivotal to tackling climate change.
By Adrienne Alvord
This week Oregon stands on the cusp of approving historic cap-and-invest legislation, HB 2020, that experts have said will help grow the Oregon economy. After three years of legislative consideration, numerous studies, hearings, public meetings and debate, the Oregon House approved the legislation decisively (36-22) on June 18th, and the bill moved to the Senate Floor, where a vote was expected on June 20th.