d3sign / Moment / Getty Images
By Amanda Fong
Food Tank is highlighting 26 books that help show young people that food can be a universal language. These stories illuminate the ways that food is used to show love, bring together communities, pass on traditions, and teach lessons. And their authors show that no matter a person's background and culture, nutritious food shared with loved ones can help bring anyone together.
These 26 children's books celebrate food, diversity, the love of cooking, and community from seed to fork:
1. A Day with Yayah by Nicola Campbell, illustrated by Julie Flett
Set in the Nicola Valley in British Columbia, this book follows Yayah, a First Nations grandmother, passing down her knowledge of plant life to her grandchildren. As Nikki, Jamesie, and Lenny forage for wild potatoes, rhubarb, celery, and lightning mushrooms, Yayah teaches them words in Nlaka'pamux, the endangered language of the Indigenous people of the Nicola Valley. Readers can learn alongside the characters with a pronunciation guide and glossary.
2. AGRIman AGventures by WHYFARM and Alpha Sennon
AGRIman is the world's first food security and nutrition superhero. In this educational comic, AGRIman is joined by PhotosyntheSista to inspire future feeders and build capacity and knowledge in agriculture. The superhero was developed by Alpha Sennon, the founder of We Help You-th FARM (WHYFARM), a non-profit from Trinidad and Tobago fighting food insecurity. Readers can access the comic the United States as an ebook or watch it as a motion comic.
3. Amy Wu and the Perfect Bao by Kat Zhang illustrated by Charlene Chua
Little, fearless Amy Wu is learning to make traditional Chinese bao with her family. Making bao takes skill to fill the dough and pinch it together, but Amy's bao keep coming out all wrong! Follow Amy as she learns to use creativity to problem solve while cooking. Kat Zhang even includes Amy's perfect bao recipe at the end!
4. Berry Magic by Betty Huffmon, illustrated by Teri Sloat
Yup'ik Eskimo elder, Betty Huffmon, brings this folktale about the origin of berries – traditionally told aloud to Yup'ik children – to life with author and illustrator, Teri Sloat. Berry Magic follows Anana as she uses magic songs to grow juicy blueberries, cranberries, salmonberries, and raspberries for the Fall Festival and to make agutak (Eskimo cream). The book features illustrations depicting Indigenous culture, like dance fans made of reindeer hair and snowy owl feathers, and an agutak recipe at the end.
5. Bilal Cooks Daal by Aisha Saeed, illustrated by Anoosha Syed
In this award-winning book, six-year-old Bilal wants to share his favorite dish, daal, with his friends. They have never tried daal before, and Bilal helps his dad cook while worrying if they will like it. Author Aisha Saeed showcases the value of patience, teamwork, community, and sharing in this picture book featuring the South Asian, slow-cooked lentil dish.
6. Cora Cooks Pancit by By Dorina Lazo Gilmore, illustrated by Kristi Valiant
In Cora Cooks Pancit, Dorina Lazo Gilmore celebrates the classic, Filipino noodle dish, pancit. Cora's favorite dish is pancit and gets her chance to be Mama's sous chef for the first time. Readers can follow along as Cora helps shred the chicken, soak the noodles, and stir the pot while sneaking some nibbles to taste test. This book highlights the love for a traditional family dish and the warmth between a mother and daughter cooking it.
7. Dear Tomato: An International Crop of Food and Agriculture Poems by Carol-Ann Hoyte
Carol-Ann Hoyte brings together an anthology of poems by thirty-four different authors from seven different countries, telling the stories of food through haikus, free verse, and more. The fifty-one poem collection introduces children to a fresh view of where their food comes from on all parts of the "field to fork" journey.
8. Dim Sum for Everyone! by Grace Lin
In this book, Dim Sum for Everyone! celebrates the cultural custom of eating dim sum, which translates to "little hearts" in English. The story follows a young girl and her family as they visit a bustling dim sum restaurant. As they pick their favorite little dishes from the steaming trolleys filled with dumplings, cakes, buns, and tarts, the family makes sure to share each dish so everyone gets a little bite of everything in classic dim sum tradition.
9. Dumpling Soup by Jama Kim Rattigan, illustrated by Lillian Hsu-Flanders
Seven-year-old Marisa, an Asian American girl, learns to make dumplings for her family's New Year's celebration with her grandmother. Jama Kim Rattigan based this book on her experiences growing up celebrating New Year's Day in Hawai'i, which she realized was much different from celebrations on the mainland. In Hawai'i, Rattigan shows that New Year's is a family-oriented holiday, a time for enjoying large quantities of food and basking in cultural tradition.
10. From Asparagus to Zucchini Cookbook by Madison Area and the Community Supported Agriculture Coalition
This guide is a nationally renowned resource for families who want to cook farm-fresh, seasonal produce. Filled with 420 recipes and information on more than 50 vegetables and herbs, this Community Supported Agriculture (CSA) designed resource promotes the consumption of fresh, local and sustainable foods.
11. Food Fight! A Mouthwatering History of Who Ate What and Why Through the Ages by Tanya Steel
In Food Fight, Tanya Steel uses food to explore history in a fun and engaging way. Readers can learn the origin story of M&Ms, the delicacies found at feasts in the Middle Ages, and much more. The book also includes 30 recipes tested and approved by young eaters.
12. Harvesting Friends / Cosechando Amigos by Kathleen Contreras
This bilingual book shows how a community garden can bring a community together and grow more than just fruits and vegetables. After making a deal, Lupe and Antonio tend a garden together, and bond over tomatoes, watermelon, squash, beans and corn. Over time, more and more neighbors become interested in gardening too. The book also includes easy recipes for young readers to try.
13. How Did That Get in My Lunchbox? by Chris Butterworth, illustrated by Lucia Gaggiotti
In Chris Butterworth's book, children can learn about the journey of different lunchbox items as they go from farm to fork. From planting wheat to mixing dough, climbing trees to machine-squeezing fruit, picking cocoa pods to stirring a vat of melted bliss, this book provides an accessible look into food production. It also includes health tips and a peek at basic food groups.
14. How to Feed Your Parents by Ryan Miller, illustrated by Hatem Aly
In this funny twist, the tables are turned and the parents are the picky eaters in this bi-racial family. Adventurous Matilda Macaroni loves trying new foods, like her grandma's jambalaya and friend's sushi. But her parents will only eat pepperoni pizza, hamburgers, and takeout noodles. Matilda sets out to secretly learn to cook with new flavors and open her parents' minds to trying new foods.
15. In the Garden with Dr. Carver by Susan Grigsby, illustrated by Nicole Tadsgell
Susan Grigsby shares Dr. George Washington Carver's story by following a young school girl who meets and learns from him. Set in rural Alabama in the early 1900s, Sally and her community are struggling to grow food in soil depleted by cotton production. Dr. Carver, an African American agricultural scientist, arrives to teach them how to restore the soil and respect the balance of nature. He also prepares a delicious lunch made of plants to celebrate the food they can grow..
16. It's Disgusting and We Ate It by James Solheim, illustrated by Eric Brace
This book is a funny collection of true facts of food dishes from around the world and throughout history. Solheim shares historical culinary creations, like roasted spiders and Garbage Stew, that were once eaten around the world or continue to be eaten today in a light-hearted and fascinating way. What is gross to one person may be a delicious treat to another, and this book teaches children to keep an open mind about different communities' dishes in this world food tour.
17. Let's Cook with Fruits & Vegetables / Vamos a Cocinar con Frutas y Verduras by Gayle Schachne and Northeast Valley Health Corporation WIC Program
This cookbook was created with families using the Special Supplemental Nutrition Program for Women, Infants, and Children (WIC) ingredients in mind. Many recipes are designed to encompass WIC ingredients, and all of the recipes are meant to be affordable, simple, and delicious. The first half of the book is in English, and the second half is in Spanish. Recipes were also written and tested by WIC participants and WIC dietitians.
18. Maddi's Fridge by Lois Brandt, illustrated by Vin Vogel
In this award-winning story, Lois Brandt shines a light on childhood hunger and food insecurity in an inspiring, child-friendly approach. Maddi and Sofia live in the same neighborhood and are best friends. But Sofia discovers that while her fridge is full of milk and vegetables, Maddi's only has one, small container of milk. Maddi explains that her fridge is always like this, and even though Sofia promises not to tell, she sets out to figure out a way to help her friend. This is a great resource to introduce younger readers to a serious issue, and also show children that they can do something about it.
19. Red Beans & Rice by Jeanette Weiland, illustrated by Roberta Van Zandt Loflin
Red Beans & Rice follows Magnolia Rose and her friends as they visit Grandma Bee and Grandpa Pepper's farm in rural Louisiana. Here, the children discover their outdoor playgrounds are the source of the flavorful ingredients used to make their favorite Louisiana dishes: Red Beans & Rice, Strawberry Shortcake, Seafood Po-Boys, Pecan Pralines, and more. Weiland weaves in New Orleans's food culture in this farm to table story.
20. Seedfolks by Paul Fleischman
In this critically acclaimed novella, Paul Fleischman uses thirteen narrators to tell the story of the founding and first year of a community garden in an immigrant neighborhood of Cleveland, Ohio. The characters come from a variety of ethnic groups and ages. From their point of view, each narrator shows how the empty lot becomes a vibrant community garden and shares the transformations they are each going through in life. Seedfolks has inspired countless school and community gardens and can also be performed as a play using Fleischman's school-friendly adaption.
21. Thank You, Omu! by Oge Mora
Oge Mora was inspired by the strong women role models in her life for her story about a grandmother's love and community. Omu, the Igbo word for queen, has made a stew that smells so good the entire neighborhood comes knocking on her door to try some. She gives all of it away by dinnertime, but the community shows their gratitude in this story of using food as a means of sharing, diversity, and inclusion.
22. The Bagel King by Andrew Larsen, illustrated by Sandy Nichols
In this book, Andrew Larsen features a special bond between a grandfather and his grandson, and their weekly tradition of eating bagels on Sunday. When his grandfather cannot bring bagels one weekend, Eli sets out to find a way to still share their favorite treat. The Bagel King highlights how a young child can take responsibility and, with a little initiative, help someone in need.
23. The Lunch Thief by Anne C. Bromley, illustrated by Robert Casilla
When a new classmate steals Rafael's lunch, he initially feels angry. But inspired by his mother's advice, he decides to try to understand why it happened. Later, Rafael sees his classmate carrying a bundle of laundry into a motel room, and his mom explains that his family might be one of the families who lost their homes in the recent wildfires. The next day, Rafael invites his classmate to share his lunch in this lesson of empathy and understanding.
24. Up in the Garden and Down in the Dirt by Kate Messner
In this book, Kate Messner vividly paints two different worlds in the garden. Up in the garden, there is an abundance of green in leaves, sprouts, vegetables, and fruit. But down in the dirt exists a busy world filled with all the animals that make a garden their home. This story will teach children about the different parts of an ecosystem, even the ones they might not be able to see.
25. We Are Water Protectors by Carole Lindstrom, illustrated by Michaela Goade
Inspired by Standing Rock and all Indigenous Peoples fighting for clean water, Carole Lindstrom, who is Ojibwe, issues an urgent rallying cry to safeguard the Earth's water from harm and corruption. In this book, a young girl stands to defend Earth's most precious resource from a black snake. Water connects everyone, and her courage teaches children that anyone can be a water protector.
26. Yoko by Rosemary Wells
Rosemary Wells shares a heartwarming story of open-mindedness when trying new foods from different cultures. Yoko the kitten is teased by her classmates when her mom packs her sushi for lunch. They think the fish and seaweed are "yucky." But Yoko's teacher has an idea. On "International Food Day" at school, Yoko brings sushi again and makes a friend who is willing to try it.In this funny twist, the tables are turned and the parents are the picky eaters in this bi-racial family. Adventurous Matilda Macaroni loves trying new foods, like her grandma's jambalaya and friend's sushi. But her parents will only eat pepperoni pizza, hamburgers, and takeout noodles. Matilda sets out to secretly learn to cook with new flavors and open her parents' minds to trying new foods.
Amanda is passionate about helping organizations drive social impact and health equity on local and international levels. After earning a Bachelor's degree in Biology from Willamette University, she taught English in Thailand at a primary school and saw up close how food moved from farms to local markets to plates. With a background working in multicultural settings in the U.S. and abroad, Amanda hopes to bring a global lens to her writing. She plans to pursue a Master's in Public Health with an emphasis in global health and sustainability to bring change directly to communities.
Reposted with permission from Food Tank.
EcoWatch Daily Newsletter
Woman building a diy insect hotel outdoor. Guido Mieth / DigitalVision / Getty Images
By Courtney Lindwall
If you're one of those people cooped up safely at home, with creative energy and free time to spare—count yourself lucky. Here, we've rounded up a list of two dozen environmental projects that can make your time indoors, or right outside, a little brighter. Whether you're ready to start rescuing more of your kitchen scraps, sewing your own cloth napkins, or documenting those backyard butterflies, we hope these simple green ideas will provide a calming means of coping during these unprecedented times. Have fun and stay safe.
waterlust.com / @tulasendlesssummer_sierra .
Each product featured here has been independently selected by the writer. If you make a purchase using the links included, we may earn commission.
The bright patterns and recognizable designs of Waterlust's activewear aren't just for show. In fact, they're meant to promote the conversation around sustainability and give back to the ocean science and conservation community.
Each design is paired with a research lab, nonprofit, or education organization that has high intellectual merit and the potential to move the needle in its respective field. For each product sold, Waterlust donates 10% of profits to these conservation partners.
Eye-Catching Designs Made from Recycled Plastic Bottles
waterlust.com / @abamabam
The company sells a range of eco-friendly items like leggings, rash guards, and board shorts that are made using recycled post-consumer plastic bottles. There are currently 16 causes represented by distinct marine-life patterns, from whale shark research and invasive lionfish removal to sockeye salmon monitoring and abalone restoration.

One such organization is Get Inspired, a nonprofit that specializes in ocean restoration and environmental education. Get Inspired founder, marine biologist Nancy Caruso, says supporting on-the-ground efforts is one thing that sets Waterlust apart, like their apparel line that supports Get Inspired abalone restoration programs.
"All of us [conservation partners] are doing something," Caruso said. "We're not putting up exhibits and talking about it — although that is important — we're in the field."
Waterlust not only helps its conservation partners financially so they can continue their important work. It also helps them get the word out about what they're doing, whether that's through social media spotlights, photo and video projects, or the informative note card that comes with each piece of apparel.
"They're doing their part for sure, pushing the information out across all of their channels, and I think that's what makes them so interesting," Caruso said.
And then there are the clothes, which speak for themselves.
Advocate Apparel to Start Conversations About Conservation
waterlust.com / @oceanraysphotography
Waterlust's concept of "advocate apparel" encourages people to see getting dressed every day as an opportunity to not only express their individuality and style, but also to advance the conversation around marine science. By infusing science into clothing, people can visually represent species and ecosystems in need of advocacy — something that, more often than not, leads to a teaching moment.

"When people wear Waterlust gear, it's just a matter of time before somebody asks them about the bright, funky designs," said Waterlust's CEO, Patrick Rynne. "That moment is incredibly special, because it creates an intimate opportunity for the wearer to share what they've learned with another."
The idea for the company came to Rynne when he was a Ph.D. student in marine science.
"I was surrounded by incredible people that were discovering fascinating things but noticed that often their work wasn't reaching the general public in creative and engaging ways," he said. "That seemed like a missed opportunity with big implications."
Waterlust initially focused on conventional media, like film and photography, to promote ocean science, but the team quickly realized engagement on social media didn't translate to action or even knowledge sharing offscreen.
Rynne also saw the "in one ear, out the other" issue in the classroom — if students didn't repeatedly engage with the topics they learned, they'd quickly forget them.
"We decided that if we truly wanted to achieve our goal of bringing science into people's lives and have it stick, it would need to be through a process that is frequently repeated, fun, and functional," Rynne said. "That's when we thought about clothing."
Support Marine Research and Sustainability in Style
To date, Waterlust has sold tens of thousands of pieces of apparel in over 100 countries, and the interactions its products have sparked have had clear implications for furthering science communication.
For Caruso alone, it's led to opportunities to share her abalone restoration methods with communities far and wide.
"It moves my small little world of what I'm doing here in Orange County, California, across the entire globe," she said. "That's one of the beautiful things about our partnership."
Check out all of the different eco-conscious apparel options available from Waterlust to help promote ocean conservation.
Melissa Smith is an avid writer, scuba diver, backpacker, and all-around outdoor enthusiast. She graduated from the University of Florida with degrees in journalism and sustainable studies. Before joining EcoWatch, Melissa worked as the managing editor of Scuba Diving magazine and the communications manager of The Ocean Agency, a non-profit that's featured in the Emmy award-winning documentary Chasing Coral.
Tom Werner / DigitalVision / Getty Images
With many schools now closed due to the current COVID-19 outbreak, you may be looking for activities to keep your children active, engaged, and entertained.
Although numerous activities can keep kids busy, cooking is one of the best choices, as it's both fun and educational.
Cooking may help develop their problem-solving and hand-eye coordination skills, increase confidence, and even improve diet quality by encouraging fruit and veggie intake.
Yet, it's important to choose age-appropriate recipes and assign kitchen tasks that are safe for your child to tackle.
For example, very young children can help by washing vegetables, stirring ingredients, and cutting out shapes with cookie cutters while older children can take on more complex tasks, such as chopping and peeling.
Here are 15 healthy recipes that you can make with your kids.
Reposted with permission from Healthline. For detailed source information, please view the original article on Healthline.
Hackney primary school students went to the Town Hall on May 24 in London after school to protest about the climate emergency. Jenny Matthews / In Pictures / Getty Images
Talking with children gives a fresh perspective on the absurdity of doing so little about climate change, but it also exposes a troubling disconnect between what we say and what we do.
Adults are often guilty of cognitive dissonance when it comes to climate change. The UK parliament declares a climate emergency after voting to expand an airport. Scientists conclude that the Amazon rainforest is one of the world's best assets for storing climate-warming gases while large swathes of it are burnt deliberately to make room for methane-belching cattle. A vast coal mine is approved near Australia's Great Barrier Reef while its condition is downgraded from "poor" to "very poor."
Perhaps young people are simply less cynical and more capable of seeing clearly how irrational these decisions are. When I interviewed teenagers in the Maldives, one said:
We saw online that people in Iceland held a funeral for a glacier today, but who is going to do that for us? Don't they see that we will be underwater soon and our country will be gone? No one cares. How can you grieve for ice and ignore us?
Because of sea level rise, people in the low-lying Maldives have more to fear from climate change than most. The sense of injustice that young people felt here was palpable.
Climate change is like Thanos, wiping out half the world so the rest can survive … we are being sacrificed.

There's moral clarity in the things young people say about climate change, but even at their age, there's a weariness. After all, young people use social media and are bombarded with bad environmental news as much as adults. Some may begin to normalise the mass extinctions they read about. A 10-year-old in the UK told me:
It's normal for us now to grow up in a world where there will be no polar bears, that's just how it is for us now, it's different than it was for you.

My dilemma was in trying talk to children about climate change without upsetting them even more. But I also wanted to know how they really felt, subconsciously. Rather than hearing them repeat what they're told in school or hear from adults, I wanted to hear what this generation — people who have never known a world without the looming threat of climate catastrophe — thought about what's happening to the planet and their futures.
Healing the Generational Rift
I asked the children to personify climate change — to see it as an animal and give it a voice. If climate change could talk, what would it say? I hoped that by externalizing that voice, they could talk more honestly than they otherwise would. Even so, I wasn't fully prepared for their responses.
You created me, and now you must face the consequences… You spoilt the planet for the children and animals, now I'm going to spoil it for you… Adults have made the world a worse place, so now I'm here for revenge.

Anger was the most common emotion that surfaced with this technique. These complicated emotions about climate change — perhaps difficult to express or articulate in conversation — surprised me, but they probably shouldn't have. Given the severity of climate change and biodiversity loss predicted in their lifetimes, anger seems appropriate.
What was also uncovered in these conversations was an enduring empathy for the creatures they share the world with. These children could recognize their own vulnerability in the face of climate change, but it didn't eclipse their concern for the natural world. Instead, they expressed solidarity and empathy with other species. One said:
Climate change is like the bug spray of nature, and people are the bugs.

I believe children are bearing the emotional burden of climate change more courageously than adults, but we owe it to them to share it. Listen to your children when they talk about climate change, you'll learn more about how we should take responsibility for the mess, say sorry, and start to act.
This story originally appeared in The Conversation. It is republished here as part of EcoWatch's partnership with Covering Climate Now, a global collaboration of more than 250 news outlets to strengthen coverage of the climate story.

© Robin Loznak Photography, LLC
U.S. Magistrate Judge Thomas Coffin issued an order Thursday in the climate lawsuit brought by 21 youth, Juliana v. United States, setting a trial date for Feb. 5, 2018 before U.S. District Court Judge Ann Aiken in Eugene, Oregon.
Juliana v. United States was brought by 21 young plaintiffs and Earth Guardians who argue that their constitutional and public trust rights are being violated by the government's creation of climate danger. The case is one of many related legal actions brought by youth in several states and countries, all supported by Our Children's Trust, seeking science-based action by governments to stabilize the climate system.
Kids Climate Lawsuit Heads to Trial, Judge Denies Trump Administration's Appeal https://t.co/ZhJdVXKf3n @GoFossilFree @ukycc

— EcoWatch (@EcoWatch)1497138606.0
"On February 5, 2018, science, not alternative facts, will be presented to the court to establish that our nation's children and grandchildren are being victimized by climate change," said Philip L. Gregory, co-lead counsel for plaintiffs. "Given our excellent panel of experts, and the ongoing problems created by the Trump Administration, we believe the court will use the constitution and the public trust doctrine to protect our climate from further serious damage."
Several of the youth plaintiffs issued statements:
"I'm excited that we have a date now," said Jayden Foytlin, 14, of Rayne, Louisiana. "I think we are all looking forward to our day in court. I feel like we are that much closer to justice."
"The Trump Administration plays directly into the hands of fossil fuel industries while ignoring the impending dangers of climate change and his responsibility as a leader to protect our future," said Nathan Baring, 17, of Fairbanks, Alaska. "Why should the industry bother spending millions on a legal defense when they have a vicious advocate in the White House already fighting for their interests?"
"Despite incessant efforts by government and industry to prevent our case from moving forward, the date is set for trial," said Alex Loznak, 20, of Roseburg, Oregon. "Having seen some of the most damning evidence to be presented at trial, I am confident that our claims will prevail."
The order also released three fossil fuel industry trade associations, the National Association of Manufacturers (NAM), the American Petroleum Institute (API), and the American Fuel and Petrochemical Manufacturers (AFPM), as defendants in the case, without placing any conditions on their withdrawal.
When the youth plaintiffs filed their lawsuit in 2015, they did not name NAM, API or AFPM as defendants. The associations joined together to intervene in November 2015 on the side of the U.S. government defendants, but last month, all three industry groups submitted motions seeking the court's permission to withdraw from the case.
Linda Kelly, NAM general counsel, recently said that because of the shift in administrations, NAM "no longer feel[s] that [its] participation in this case is needed to safeguard industry and [its] workers."
"Over 18 months ago, these fossil fuel associations went to incredible lengths to become defendants so that they could shut down this case," said Julia Olson, co-lead counsel for plaintiffs and executive director of Our Children's Trust. "They failed, and youth prevailed. Now these youth and the top climate experts on the planet can go to trial against the Trump administration."
On June 9, the Trump administration filed a petition for writ of mandamus with the Ninth Circuit Court of Appeals, seeking an extraordinarily rare review of a Nov. 10, 2016 decision by U.S. District Court Judge Ann Aiken to deny its motion to dismiss the case. The Ninth Circuit has not requested the parties to submit briefs on the government's petition, and could deny it without doing so.
The Chicago-based youngster started his show when he was only five years old with the help of his producer dad, Eric Butkus. Episodes cover complex scientific topics, from radiation to genome-editing, and feature renowned scientists from around the world.
In a recent episode, Dr. John Wiens, a professor of ecology and evolutionary biology at the University of Arizona, discussed climate change and its impact on evolution.
The inquisitive first-grader asked, "Why are people causing climate change?" and, "So, um, how fast is the rate of extinction going?" and, "Why don't our politicians believe in climate change?"
During one part of the interview, Wiens suggested cutting out or reducing meat consumption to reduce carbon and methane emissions.
"I want to do it, but I love bacon," Nate charmingly commented, but later agreed to eat less to help the environment.
According to STAT, each episode has been downloaded about 4,000 times. Nate hopes to one day interview science educator Bill Nye as well as Olympic swimming champion Michael Phelps about the physics of swimming.

You can subscribe to the podcast on iTunes. Also, check out Nate's appearance on the Ellen DeGeneres show:
Julia Olson, executive director and chief legal counsel at Our Children's Trust, stands with some of the youth plaintiffs from the landmark lawsuit Juliana v. United States. Photo credit: Robin Loznak
The Trump administration filed a motion Tuesday seeking an appeal to the Ninth Circuit Court of Appeals on a federal judge's Nov. 10, 2016 order in Juliana v. United States. The Trump administration also filed a motion to delay trial preparation until after its appeal is considered.
Kids Name Trump as Defendant in Landmark Climate Case https://t.co/ONB3XOIRo5

— Robert F. Kennedy Jr (@Robert F. Kennedy Jr)1486750403.0
Further, the Trump administration asked for expedited review of both motions, arguing the plaintiffs' Jan. 24 letter requesting the government to retain records relating to climate change and communications between the government and the fossil fuel industry was overly burdensome. The excerpt from the government's stay motion said:

"Plaintiffs … intend to seek discovery relating to virtually all of the federal government's activities relating to control of CO2 emissions ... Compounding the United States' burdens, Plaintiffs have indicated that their intended discovery has a temporal scope of more than sixty years ... Absent relief, there will most certainly be depositions of federal government fact witnesses ... that will explore the extraordinarily broad topic of climate change and the federal government's putative knowledge over the past seven decades."
Yet, in another complex case regarding the Deepwater Horizon oil spill and BP, the U.S. produced more than 17 million pages of documents from April to September of 2011. Plaintiffs maintain that their requests are limited, reasonable and aimed at getting to trial this fall.
Appeals typically do not occur until a trial court has issued final rulings following the presentation of evidence, but the Trump administration is asking federal Magistrate Judge Coffin to exercise his discretion to allow the case to proceed to the Court of Appeals before final judgment.
Attorneys representing fossil fuel industry defendants are expected to file papers supporting the government's motions on Friday.
"The Trump administration argues that this is a big case and so the burdens of preserving government documents warrant an expedited review," Julia Olson, plaintiffs' counsel and executive director of Our Children's Trust, said. "They're right. It is a big case. We have a classic example of the government's misplaced priorities: They prefer to minimize their procedural obligations of not destroying government documents over the urgency of not destroying our climate system for our youth plaintiffs and all future generations?"
In the government's answer to the youth plaintiffs' complaint, they admitted that "the use of fossil fuels is a major source of [carbon dioxide] emissions, placing our nation on an increasingly costly, insecure and environmentally dangerous path."
The case was brought by 21 young plaintiffs who argue that their constitutional and public trust rights are being violated by the government's creation of climate danger. Judge Ann Aiken's November order denied motions to dismiss brought by both the Obama administration and fossil fuel industry defendants.
"This request for appeal is an attempt to cover up the federal government's long-running collusion with the fossil fuel industry," Alex Loznak, 20-year-old plaintiff and Columbia University student, said. "My generation cannot wait for the truth to be revealed. These documents must be uncovered with all deliberate speed, so that our trial can force federal action on climate change."
Victory for America's Youth: Federal Judge Rules Climate Lawsuit Can Proceed https://t.co/iXxiZvf5Nf @climatecouncil @energyaction

— EcoWatch (@EcoWatch)1478913606.0
Other pre-trial developments

During Wednesday's telephonic case management conference between attorneys for the parties and Magistrate Judge Thomas Coffin, the U.S. Department of Justice (DOJ) took the view that the Trump administration, will have the opportunity to use executive privilege to prevent the release of evidence in the possession of the National Archives and Records Administration (NARA).
DOJ attorneys said they recently informed the White House that NARA was in the process of gathering documents requested by the plaintiffs. It is the DOJ's view that former Presidents George H. W. Bush, Bill Clinton and George W. Bush, will have the opportunity to bar release of the records of their respective administrations, but President Trump will ultimately have the authority to bar release of any and all NARA records.
The next Juliana v. United States case management conference with Judge Coffin is scheduled for April 7 and will be telephonic.
Attorneys for youth plaintiffs are in the process of compiling a list of prospective witnesses to be deposed, including Secretary of State Rex Tillerson and expect to provide that list to defendants next week.
Youth Seek Testimony From Exxon's Rex Tillerson in Federal Climate Lawsuit https://t.co/c8kaz4lKkM @ClimateDesk @globalgreen

— EcoWatch (@EcoWatch)1483066833.0
Juliana v. United States is one of many related legal actions brought by youth in several states and countries, all supported by Our Children's Trust, seeking science-based action by governments to stabilize the climate system.

By Maggie McCracken
Italian parliamentarian Elvira Savino wants to impose jail time on parents who choose to feed their children a vegan diet. Citing malnutrition, Savino likened veganism to child abuse and expressed concern about recent incidents in Italy in which vegan diets were linked to health problems in children under 16.
Understandably, vegans and non-vegans alike have expressed outrage over the proposal. Should Italy really be making decisions like these for parents under the guise of child welfare? And even if they should, is there really anything particularly unhealthy about a vegan diet?

Veganism and Parenting
Chastising parents for what they choose to feed their children is nothing new. Both meat eaters and vegans often criticize parents on the other side, citing the opposing diet as unhealthy, irresponsible and ill-informed.
Parents Who Feed Children #Vegan Diet Could Be Jailed for Year Under Proposed Italian Law https://t.co/2Jk6wooInz @Food_Tank @nongmoreport

— EcoWatch (@EcoWatch)1470919668.0
For the sake of clarity, some children do suffer from poor nutrition when they're fed a vegan diet—but so do many children of meat-eating parents. In her proposal, Savino cites a recent case in which a Milan one-year-old was hospitalized as a result, doctors determined, of malnutrition due to his vegan diet.
However, it's likely that parents of poorly fed vegan children aren't paying due diligence to the nutritional needs that are inherent with veganism. No one is saying that eating healthy while vegan is easy. It requires a deep understanding of nutrition, particularly when one is dealing with growing children. But with the right research and eye to detail, a healthy vegan diet is certainly doable, as millions of parents have demonstrated by correctly feeding their children a healthy plant-based diet.
Is a Vegan Diet Healthy for Kids?
If done correctly, it's usually possible for a healthy young child to thrive on a vegan diet. Pediatric dietician Helen Wilcock of the British Dietetic Association explained to The Guardian that vegan parents should be sure to give their kids supplements to protect against malnutrition.
"Vegan children can be deficient in vitamin D, calcium, iron and possibly vitamin B12," she explained, "so they need supplements."
Wilcock also recommends adding oil to children's food to provide them with nourishing fats as well as extra calories.
Dr. Hyman: 5 Ways to Raise Healthy Eaters - EcoWatch https://t.co/7KkJ81xfEd @livestrong @nytimeswell

— EcoWatch (@EcoWatch)1471817110.0
And finally, she cautions parents to think about the amino acid profile of their vegan children's diets. In order to get complete amino acids, parents need to pair plant-based foods together that deliver the entire spectrum of the nine essential amino acids for human growth. Most plant foods don't contain a complete amino acid profile, so it's necessary to create combinations that do, such as rice with beans, peanut butter with bread or hummus with pita.
How to Take Action
If you're passionate about parents' right to feed their children a vegan diet, we invite you to sign our petition and make your voice heard. Only by being vocal about these issues can we educate others about nutrition and give parents the tools they need to raise strong and healthy vegan kids.
This article was reposted with permission from our media associate Care2.

A new report released Thursday from the Centers for Disease Control and Prevention (CDC) finds the prevalence of autism spectrum disorder (ASD) largely unchanged from two years ago, at one in 68 children. Researchers at the Johns Hopkins Bloomberg School of Public Health contributed to the study, which showed boys were 4.5 times more likely to be identified with ASD than girls. The rate is one in 42 among boys and one in 189 among girls.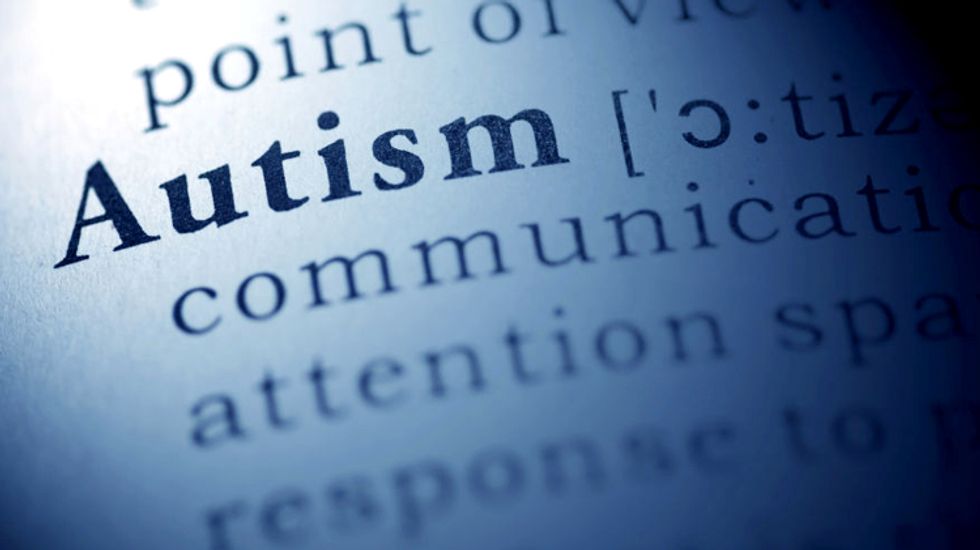 This is the sixth report by the CDC's Autism and Developmental Disabilities Monitoring Network (ADDM), which has used the same surveillance methods for more than a decade, a tracking system that provides estimates of the prevalence and characteristics of autism among 8-year-old children in 11 communities.
Here are the estimated prevalence rates of ASD in the U.S. reported by previous data:
one in 68 children in the 2014 report that looked at 2010 data

one in 88 children in the 2012 report that looked at 2008 data

one in 110 children in the 2009 report that looked at 2006 data

one in 150 children in the 2007 report that looked at 2000 and 2002 data
According to John Hopkins Bloomberg School of Public Health, researchers say it is too early to tell if the overall prevalence rate has stabilized because the numbers vary widely across ADDM communities. The school goes on to say that "the causes of autism are not completely understood; studies show that both environment and genetics may play a role. There is no known cure, and no treatment or intervention has been proven to reduce the prevalence of ASD."
Alison Singer, president of the Autism Science Foundation and mother of a daughter with autism, told CNN that this new report is not a sign everything is fine. "It points to the need for more research to understand nuances in data to be able to better serve all children diagnosed with autism," she said. The report suggests there are delays in acting on early concerns, said Rice.
Rice attributed the lack of early identification to a "capacity crisis." "There are not enough quality providers out there to provide those therapy services that are needed," she said. "I think a huge thing we need to do at the early age and across the life span of people with autism is ... identify and support individuals with autism."
Robert F. Kennedy, Jr., environmental lawyer and founder of The Mercury Project, finds the leveling off of the prevalence of autism to coincide with the decline of thimerosal in three childhood vaccines.
"Interestingly, this represents the first group of children that were not exposed to thimerosal through the HepB, HiB and DTaP infant vaccines," Kennedy said. "Also, uptake of the maternal flu vaccine was below 50 percent​. This is the first time essentially on record that autism rates haven't gone up since 1989."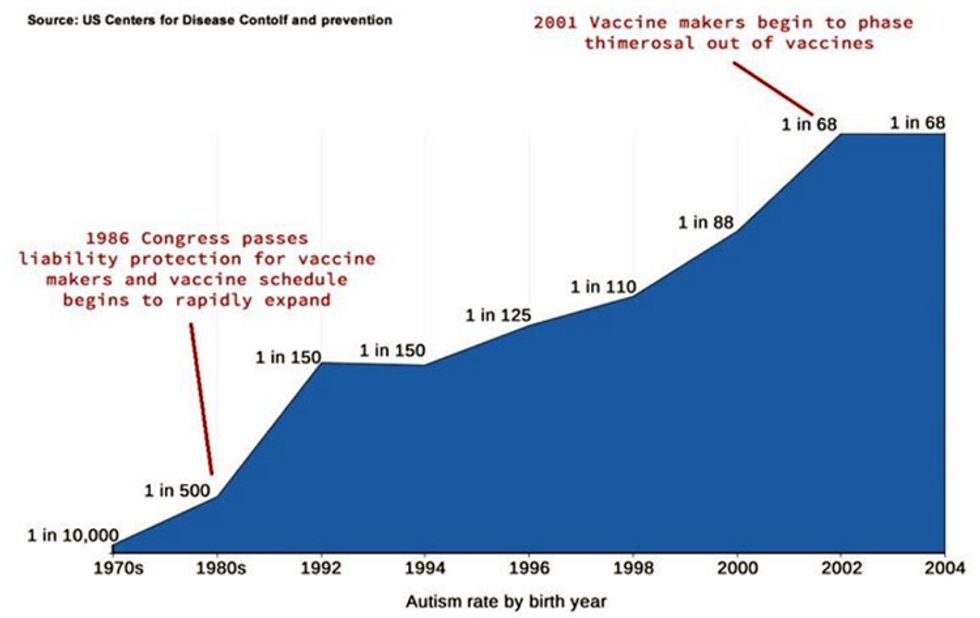 Brian Hooker, associate professor of biology at Simpson University, agrees. He told EcoWatch:
"I'm not surprised that the autism numbers started to stabilize between birth years 2002 and 2004. By 2004, all of the back stock of thimerosal containing HepB, DTaP and HiB vaccines (which were no longer manufactured after 2001) would have been removed from the shelves and these infants (reflected in the latest CDC numbers) did not receive thimerosal in any of their vaccines, with the exception of the flu shot which was administered maternally and at 6 and 7 months of age. Flu shot uptake maternally and in infants was fairly low at this time but has increased since 2004.
"In Denmark, when thimerosal was phased out of infant vaccines in 1992, rates of autism spectrum disorder prevalence slowly dropped over 33 percent over the next 10 years. Unfortunately, because of the thimerosal-containing maternal flu shot, I don't think we'll see this profound of a drop in the U.S."
Regardless of the reason why the results of the new CDC study show the rate of autism unchanged, the American Academy of Pediatrics recommends that all kids are screened for autism at ages 18 and 24 months.
YOU MIGHT ALSO LIKE
Groups Sue FDA Over Approval of Genetically Engineered Salmon
Monsanto's Glyphosate Found in California Wines, Even Wines Made With Organic Grapes
World's First Plastic Fishing Company Wants to Rid the Oceans of Plastic Pollution
Stanford Scientists Find Fracking Linked to Groundwater Contamination in Pavillion, Wyoming
We love our children. We protect them. At home we put up safety gates near the stairs and take sharp objects out of their reach. When we are in the car, we strap them into a child safety seat. But does your child safety seat pose a risk to their health. It just may, and a new study from the Ecology Center tested some popular seats for their chemical content. Some were rated safer than others.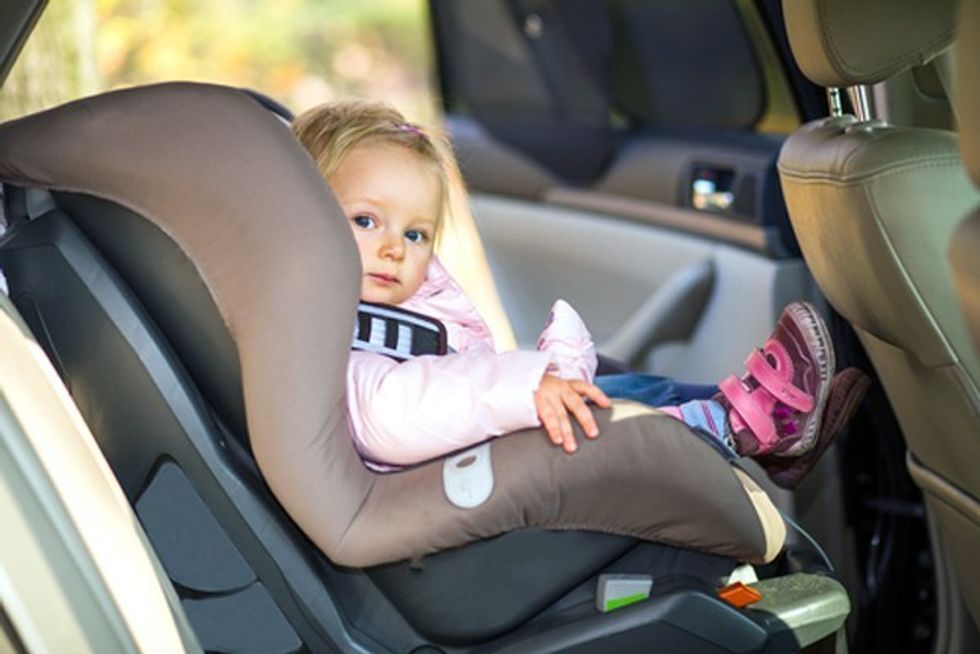 Photo credit: Shutterstock
To be clear, you must use a child safety seat. It protects your kids in the event of a collision. But what if you could shop for one that didn't contain as many chemicals that have been linked to fertility problems, learning impairments, liver toxicity and cancer? The Ecology Center's new product tests may just help you do that.
Consumer Report's reviewed the Ecology Center's study, and here's the problem as they see it:
The concerns stem from the detection of chemicals like bromine and chlorine, which are used in some flame retardants. Such halogenated flame retardants have been linked to a variety of health issues. In addition, many are considered persistent (they don't break down to something safer over time) and bioaccumulative (they build up in your system).

One such chemical, a carcinogen known as chlorinated tris, was found in two seats. It was removed from children's pajamas many years ago. Though it is prohibited in many states, it is still in use elsewhere. This and other flame retardants can be released from the foams and fabrics of products through regular use. They settle into the air and, in particular, the dust in the vehicle.
Cars can be Cocoons for Unsafe Chemicals
Nearly three-quarters (73 percent) of child safety seats tested contained hazardous halogenated flame retardants and over half contained non-halogenated organophosphate flame retardants, some of which are hazardous as well. These chemicals simply aren't necessary, and top rated companies in the study, Britax and Clek, have been proactively implementing policies to reduce hazards in their products while still meeting all safety standards.  Some are not, as was the case for the poorest performing company: Graco, which unfortunately is one of the largest in manufacturers in the country.
​There have been several iterations of this report over the last several years, and there's some good news. There's a general trend toward safer chemicals in child seats. But we are by no means "there." Fifteen 2014-model car seats were tested for specific flame retardant chemicals by gas chromatography/mass spectrometry. The seats were also tested for bromine (associated with brominated flame retardants), chlorine (indicating the presence of chlorinated flame retardants when detected in a certain range of concentration), lead and other heavy metals. These substances have been linked to thyroid problems, learning and memory impairment, decreased fertility, behavioral changes and cancer.
Heat and UV-ray exposure in cars can accelerate the release of these chemicals from products into the vehicle environment.  Many children spend hours in a car every week, or even every day, potentially exposing them to harmful flame retardants. Babies are the most vulnerable population in terms of exposure, since their bodily systems are still developing and they spend many hours in their car seats. Infants, toddlers and children can be exposed through inhalation, ingestion and dermal (skin) absorption of these chemicals.
The Best and the Worst
Car seats were evaluated using a comparative ranking method which evaluated a range of chemical hazards in the products. Complete product rankings and the ranking methodology are available at HealthyStuff.org. Here's how things came out:
Best 2014-15 Car Seats: Britax Frontier and Marathon (Convertible); Clek Foonf (Convertible)

Worst 2014-15 Car Seats: Graco, My Size 65 (Convertible); Baby Trend, Hybrid 3-in-1 (Convertible)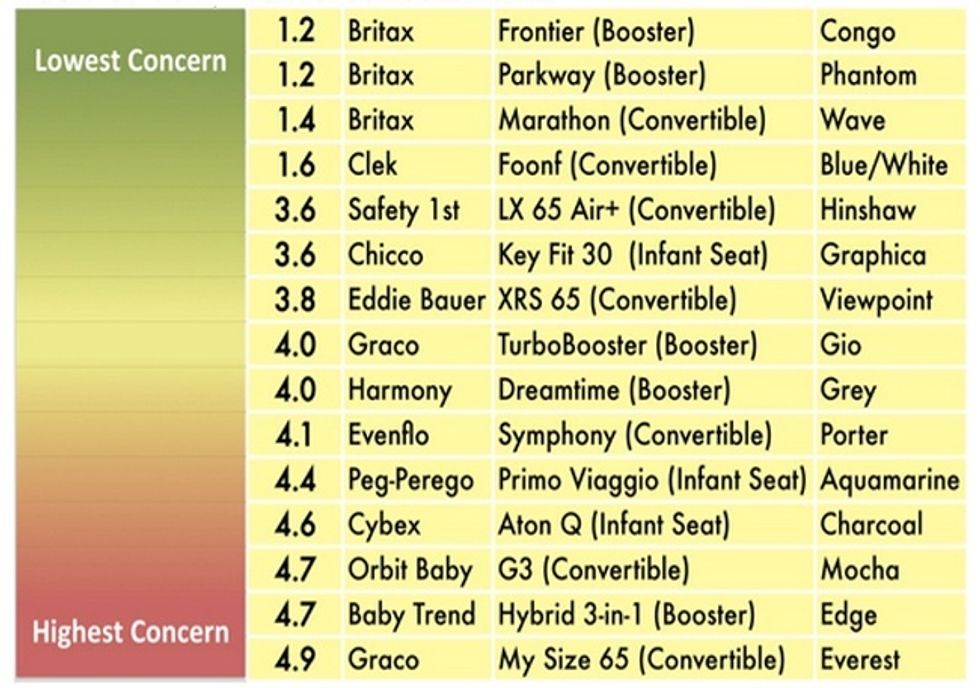 Take Action
Visit HealthyStuff.org and check out the car seat rankings. When you choose a safer seat, you not only make a safer environment for your child, you vote with your dollar. You can also check out their other consumer tips, like for example limiting the amount of time your child spends in a car, and dusting and vacuuming the car often to help remove contaminants.
YOU MIGHT ALSO LIKE
Big Ag Claims Cancer-Causing Glyphosate No More Dangerous Than 'Coffee or Working the Night Shift'
Find Out Which Brands Still Use Toxic BPA-Lined Cans (And Which Don't)
When you picture a middle schooler, or tween, what do you see? A lanky kid with braces on an iPad? Awkward middle school years? What if you pictured a kid dirty with mud and emerging from the forest instead?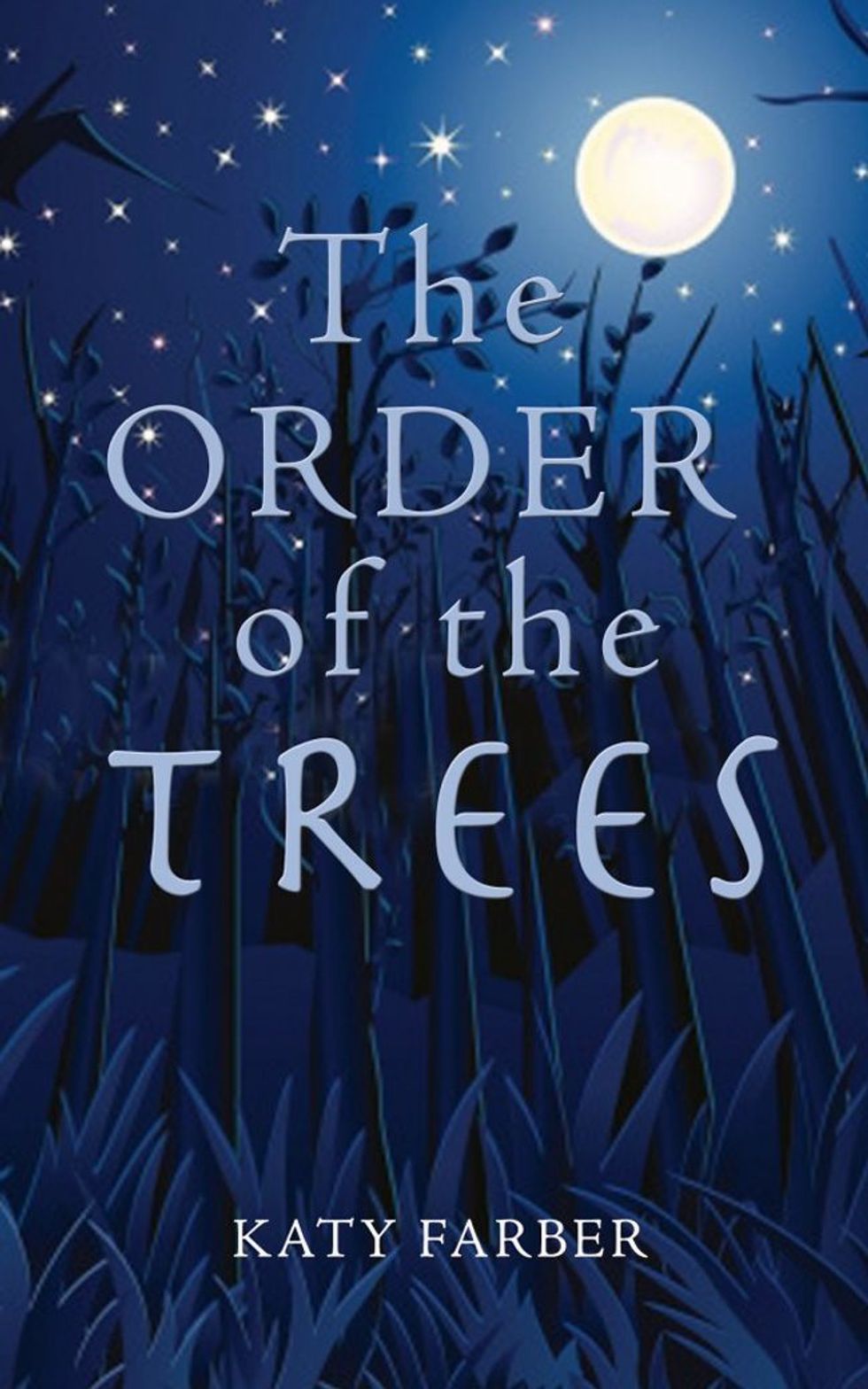 Research tells us that kids who spend time in nature suffer less anxiety, have better health, longer attention spans and the ability to cope with the challenges of the middle school years. Yet, we often associate the early adolescence with decreases in time outside and less interaction with nature.
In my new book for middle school readers, The Order of the Trees, the characters discover their friendship and the power of the forest in their lives. The book will be published on May 15 (preorders are available now) by Green Writers Press, this book is one way to excite and inspire middle school students to think about their local natural areas and how they can experience them with friends.
The main character, Cedar, was found as a baby deep in the Vermont woods. We flash forward to her sixth grade year and she couldn't be more different than the other kids. She finds her first true friend and shares her forest home with him. He quickly discovers her secret and has to race to find a plan to save their sacred woods.
It is my hope that middle school students and their parents will find this book inspiring to use their passions, interests and creativity to seek out and preserve the magic found in our local woodlands, ponds, streams and habitats. Tweens can be and do so much more than the stereotype allows. Put down that iPad, smart phone or tablet and head into the woods or your neighborhood park. You never know what you might find there.
Do you have a child in grades 4-8 in your life? The Order of the Trees was written just for this age group. Starting on May 1 and running through May 7, I'm giving away three copies of the book on Goodreads, so be sure to enter to win a copy. The Vermont-based publisher, Green Writers Press, focuses on giving voice to writers who want to make the world a better place. Ask for it at your local, independent bookstore or you can find it on Amazon.
Katy Farber is a teacher, author and founder of the blog, Non-Toxic Kids. She is also the author of two other books about education: Why Great Teachers Quit and How We Might Stop the Exodus and Change the World with Service Learning.
YOU MIGHT ALSO LIKE
Unity College Students Are Putting Biodiversity Loss and Global Warming Into Focus
Alaskan Entrepreneur Wants to Sell Bulk Water Shipments to Drought-Stricken California
See Stunning Photos of What Rob Greenfield Finds After Dumpster Diving Across America
Earth Day Network (EDN) launched a free Climate Education Toolkit for K-12 educators to initiate EDN's inaugural Climate Education Week, April 18 - 25.
The toolkit seeks to equip educators with the tools to teach and activate students on climate issues and solutions. As international action to address climate change and other environmental issues remains stalled, EDN intends to raise awareness among K-12 students and ensure that students graduate from their education system as a climate literate young adult—enacting a cultural shift.
EDN collaborated with high-level advisors from renowned climate education organizations and government agencies in order to provide the most current and effective materials, including the CLEAN Network and Connect4Climate. The toolkit provides a week's worth of lesson plans, activities, short videos, service learning projects, writing contests and Earth Day action ideas—all in an easy-to-use, ready-to-go online format.
One of the highlights of the toolkit is the first-ever iTextbook for middle school students on climate change, The Story of Climate Change. Earth Day Network and ecoDads announced the release of The Story of Climate Change from the Global Citizen 2015 Earth Day stage last Saturday in front of 250,000 people. This free interactive digital textbook allows educators and students to witness our changing climate through animation, science videos, and photographs and field expedition stories, and check their progress with quizzes at the end of each chapter. The iTextbook not only provides the gripping imagery of our changing climate, but it also offers ideas on action and solutions.
The toolkit covers a different topic on each day of Climate Education Week with themes like "What is Climate Change" to "Solutions: Green Jobs, Green Economy." EDN hopes that providing free access to these lesson plans, The Story of Climate Change, and other resources will inspire students to take action in their schools and communities, contributing to one of the largest environmental service campaigns in the world, "A Billion Acts of Green."
"Climate education now is a necessary foundation for our future climate leaders," said Kathleen Rogers, president of the Earth Day Network. "Creating a climate narrative for students encourages them to think about the risks associated with climate change and the future of their planet."
YOU MIGHT ALSO LIKE
250,000 People Call for Action on Climate Change and an End to Extreme Poverty
World Premiere of Chloe & Theo and Its Extraordinary Behind-the-Scenes Story