This website uses cookies to ensure you get the best experience while browsing it. By clicking 'Got It' you're accepting these terms.


The best of EcoWatch, right in your inbox. Sign up for our email newsletter!
Hackney primary school students went to the Town Hall on May 24 in London after school to protest about the climate emergency. Jenny Matthews / In Pictures / Getty Images
© Robin Loznak Photography, LLC
U.S. Magistrate Judge Thomas Coffin issued an order Thursday in the climate lawsuit brought by 21 youth, Juliana v. United States, setting a trial date for Feb. 5, 2018 before U.S. District Court Judge Ann Aiken in Eugene, Oregon.
EcoWatch Daily Newsletter
Julia Olson, executive director and chief legal counsel at Our Children's Trust, stands with some of the youth plaintiffs from the landmark lawsuit Juliana v. United States. Photo credit: Robin Loznak
The Trump administration filed a motion Tuesday seeking an appeal to the Ninth Circuit Court of Appeals on a federal judge's Nov. 10, 2016 order in Juliana v. United States. The Trump administration also filed a motion to delay trial preparation until after its appeal is considered.
Further, the Trump administration asked for expedited review of both motions, arguing the plaintiffs' Jan. 24 letter requesting the government to retain records relating to climate change and communications between the government and the fossil fuel industry was overly burdensome. The excerpt from the government's stay motion said:

"Plaintiffs … intend to seek discovery relating to virtually all of the federal government's activities relating to control of CO2 emissions ... Compounding the United States' burdens, Plaintiffs have indicated that their intended discovery has a temporal scope of more than sixty years ... Absent relief, there will most certainly be depositions of federal government fact witnesses ... that will explore the extraordinarily broad topic of climate change and the federal government's putative knowledge over the past seven decades."
Yet, in another complex case regarding the Deepwater Horizon oil spill and BP, the U.S. produced more than 17 million pages of documents from April to September of 2011. Plaintiffs maintain that their requests are limited, reasonable and aimed at getting to trial this fall.
Appeals typically do not occur until a trial court has issued final rulings following the presentation of evidence, but the Trump administration is asking federal Magistrate Judge Coffin to exercise his discretion to allow the case to proceed to the Court of Appeals before final judgment.
Attorneys representing fossil fuel industry defendants are expected to file papers supporting the government's motions on Friday.
"The Trump administration argues that this is a big case and so the burdens of preserving government documents warrant an expedited review," Julia Olson, plaintiffs' counsel and executive director of Our Children's Trust, said. "They're right. It is a big case. We have a classic example of the government's misplaced priorities: They prefer to minimize their procedural obligations of not destroying government documents over the urgency of not destroying our climate system for our youth plaintiffs and all future generations?"
In the government's answer to the youth plaintiffs' complaint, they admitted that "the use of fossil fuels is a major source of [carbon dioxide] emissions, placing our nation on an increasingly costly, insecure and environmentally dangerous path."
The case was brought by 21 young plaintiffs who argue that their constitutional and public trust rights are being violated by the government's creation of climate danger. Judge Ann Aiken's November order denied motions to dismiss brought by both the Obama administration and fossil fuel industry defendants.
"This request for appeal is an attempt to cover up the federal government's long-running collusion with the fossil fuel industry," Alex Loznak, 20-year-old plaintiff and Columbia University student, said. "My generation cannot wait for the truth to be revealed. These documents must be uncovered with all deliberate speed, so that our trial can force federal action on climate change."
Other pre-trial developments

During Wednesday's telephonic case management conference between attorneys for the parties and Magistrate Judge Thomas Coffin, the U.S. Department of Justice (DOJ) took the view that the Trump administration, will have the opportunity to use executive privilege to prevent the release of evidence in the possession of the National Archives and Records Administration (NARA).
DOJ attorneys said they recently informed the White House that NARA was in the process of gathering documents requested by the plaintiffs. It is the DOJ's view that former Presidents George H. W. Bush, Bill Clinton and George W. Bush, will have the opportunity to bar release of the records of their respective administrations, but President Trump will ultimately have the authority to bar release of any and all NARA records.
The next Juliana v. United States case management conference with Judge Coffin is scheduled for April 7 and will be telephonic.
Attorneys for youth plaintiffs are in the process of compiling a list of prospective witnesses to be deposed, including Secretary of State Rex Tillerson and expect to provide that list to defendants next week.
Juliana v. United States is one of many related legal actions brought by youth in several states and countries, all supported by Our Children's Trust, seeking science-based action by governments to stabilize the climate system.

By Maggie McCracken
Italian parliamentarian Elvira Savino wants to impose jail time on parents who choose to feed their children a vegan diet. Citing malnutrition, Savino likened veganism to child abuse and expressed concern about recent incidents in Italy in which vegan diets were linked to health problems in children under 16.
Understandably, vegans and non-vegans alike have expressed outrage over the proposal. Should Italy really be making decisions like these for parents under the guise of child welfare? And even if they should, is there really anything particularly unhealthy about a vegan diet?

Veganism and Parenting
Chastising parents for what they choose to feed their children is nothing new. Both meat eaters and vegans often criticize parents on the other side, citing the opposing diet as unhealthy, irresponsible and ill-informed.
For the sake of clarity, some children do suffer from poor nutrition when they're fed a vegan diet—but so do many children of meat-eating parents. In her proposal, Savino cites a recent case in which a Milan one-year-old was hospitalized as a result, doctors determined, of malnutrition due to his vegan diet.
However, it's likely that parents of poorly fed vegan children aren't paying due diligence to the nutritional needs that are inherent with veganism. No one is saying that eating healthy while vegan is easy. It requires a deep understanding of nutrition, particularly when one is dealing with growing children. But with the right research and eye to detail, a healthy vegan diet is certainly doable, as millions of parents have demonstrated by correctly feeding their children a healthy plant-based diet.
Is a Vegan Diet Healthy for Kids?
If done correctly, it's usually possible for a healthy young child to thrive on a vegan diet. Pediatric dietician Helen Wilcock of the British Dietetic Association explained to The Guardian that vegan parents should be sure to give their kids supplements to protect against malnutrition.
"Vegan children can be deficient in vitamin D, calcium, iron and possibly vitamin B12," she explained, "so they need supplements."
Wilcock also recommends adding oil to children's food to provide them with nourishing fats as well as extra calories.
And finally, she cautions parents to think about the amino acid profile of their vegan children's diets. In order to get complete amino acids, parents need to pair plant-based foods together that deliver the entire spectrum of the nine essential amino acids for human growth. Most plant foods don't contain a complete amino acid profile, so it's necessary to create combinations that do, such as rice with beans, peanut butter with bread or hummus with pita.
How to Take Action
If you're passionate about parents' right to feed their children a vegan diet, we invite you to sign our petition and make your voice heard. Only by being vocal about these issues can we educate others about nutrition and give parents the tools they need to raise strong and healthy vegan kids.
This article was reposted with permission from our media associate Care2.

A new report released Thursday from the Centers for Disease Control and Prevention (CDC) finds the prevalence of autism spectrum disorder (ASD) largely unchanged from two years ago, at one in 68 children. Researchers at the Johns Hopkins Bloomberg School of Public Health contributed to the study, which showed boys were 4.5 times more likely to be identified with ASD than girls. The rate is one in 42 among boys and one in 189 among girls.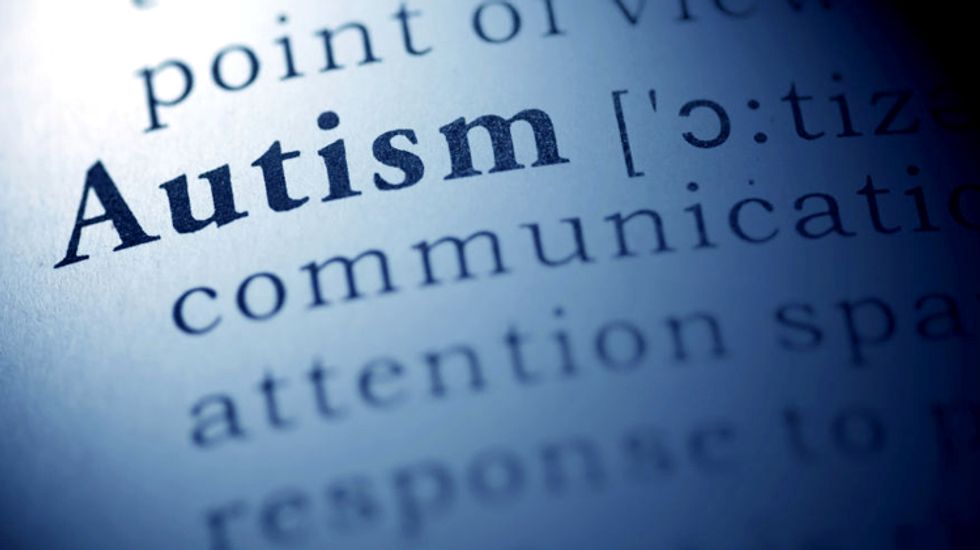 This is the sixth report by the CDC's Autism and Developmental Disabilities Monitoring Network (ADDM), which has used the same surveillance methods for more than a decade, a tracking system that provides estimates of the prevalence and characteristics of autism among 8-year-old children in 11 communities.
Here are the estimated prevalence rates of ASD in the U.S. reported by previous data:
one in 68 children in the 2014 report that looked at 2010 data

one in 88 children in the 2012 report that looked at 2008 data

one in 110 children in the 2009 report that looked at 2006 data

one in 150 children in the 2007 report that looked at 2000 and 2002 data
According to John Hopkins Bloomberg School of Public Health, researchers say it is too early to tell if the overall prevalence rate has stabilized because the numbers vary widely across ADDM communities. The school goes on to say that "the causes of autism are not completely understood; studies show that both environment and genetics may play a role. There is no known cure, and no treatment or intervention has been proven to reduce the prevalence of ASD."
Alison Singer, president of the Autism Science Foundation and mother of a daughter with autism, told CNN that this new report is not a sign everything is fine. "It points to the need for more research to understand nuances in data to be able to better serve all children diagnosed with autism," she said. The report suggests there are delays in acting on early concerns, said Rice.
Rice attributed the lack of early identification to a "capacity crisis." "There are not enough quality providers out there to provide those therapy services that are needed," she said. "I think a huge thing we need to do at the early age and across the life span of people with autism is ... identify and support individuals with autism."
Robert F. Kennedy, Jr., environmental lawyer and founder of The Mercury Project, finds the leveling off of the prevalence of autism to coincide with the decline of thimerosal in three childhood vaccines.
"Interestingly, this represents the first group of children that were not exposed to thimerosal through the HepB, HiB and DTaP infant vaccines," Kennedy said. "Also, uptake of the maternal flu vaccine was below 50 percent​. This is the first time essentially on record that autism rates haven't gone up since 1989."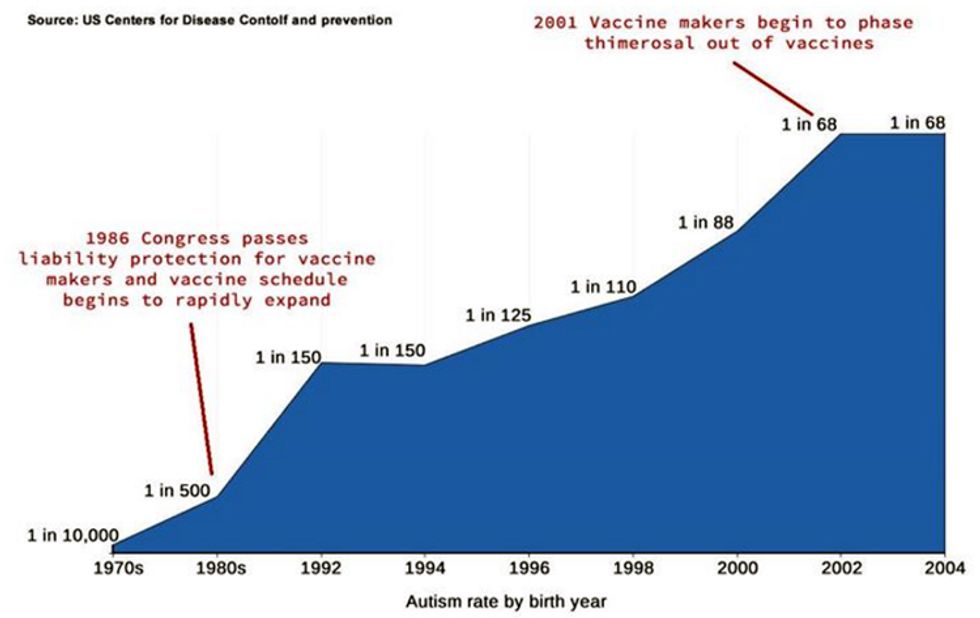 Brian Hooker, associate professor of biology at Simpson University, agrees. He told EcoWatch:
"I'm not surprised that the autism numbers started to stabilize between birth years 2002 and 2004. By 2004, all of the back stock of thimerosal containing HepB, DTaP and HiB vaccines (which were no longer manufactured after 2001) would have been removed from the shelves and these infants (reflected in the latest CDC numbers) did not receive thimerosal in any of their vaccines, with the exception of the flu shot which was administered maternally and at 6 and 7 months of age. Flu shot uptake maternally and in infants was fairly low at this time but has increased since 2004.
"In Denmark, when thimerosal was phased out of infant vaccines in 1992, rates of autism spectrum disorder prevalence slowly dropped over 33 percent over the next 10 years. Unfortunately, because of the thimerosal-containing maternal flu shot, I don't think we'll see this profound of a drop in the U.S."
Regardless of the reason why the results of the new CDC study show the rate of autism unchanged, the American Academy of Pediatrics recommends that all kids are screened for autism at ages 18 and 24 months.
YOU MIGHT ALSO LIKE
Groups Sue FDA Over Approval of Genetically Engineered Salmon
Monsanto's Glyphosate Found in California Wines, Even Wines Made With Organic Grapes
World's First Plastic Fishing Company Wants to Rid the Oceans of Plastic Pollution
Stanford Scientists Find Fracking Linked to Groundwater Contamination in Pavillion, Wyoming
We love our children. We protect them. At home we put up safety gates near the stairs and take sharp objects out of their reach. When we are in the car, we strap them into a child safety seat. But does your child safety seat pose a risk to their health. It just may, and a new study from the Ecology Center tested some popular seats for their chemical content. Some were rated safer than others.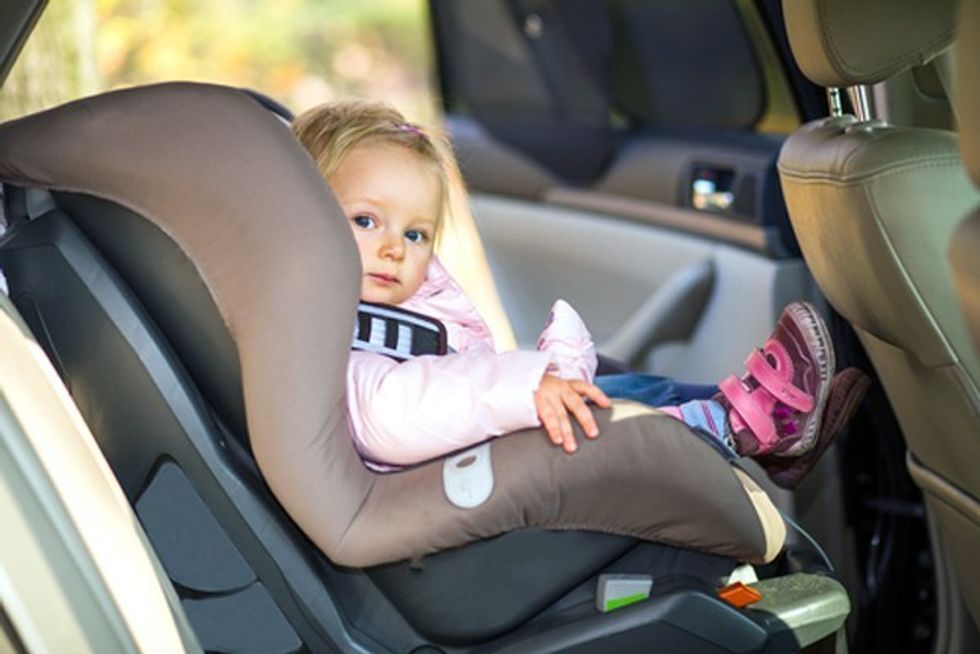 Photo credit: Shutterstock
To be clear, you must use a child safety seat. It protects your kids in the event of a collision. But what if you could shop for one that didn't contain as many chemicals that have been linked to fertility problems, learning impairments, liver toxicity and cancer? The Ecology Center's new product tests may just help you do that.
Consumer Report's reviewed the Ecology Center's study, and here's the problem as they see it:
The concerns stem from the detection of chemicals like bromine and chlorine, which are used in some flame retardants. Such halogenated flame retardants have been linked to a variety of health issues. In addition, many are considered persistent (they don't break down to something safer over time) and bioaccumulative (they build up in your system).

One such chemical, a carcinogen known as chlorinated tris, was found in two seats. It was removed from children's pajamas many years ago. Though it is prohibited in many states, it is still in use elsewhere. This and other flame retardants can be released from the foams and fabrics of products through regular use. They settle into the air and, in particular, the dust in the vehicle.
Cars can be Cocoons for Unsafe Chemicals
Nearly three-quarters (73 percent) of child safety seats tested contained hazardous halogenated flame retardants and over half contained non-halogenated organophosphate flame retardants, some of which are hazardous as well. These chemicals simply aren't necessary, and top rated companies in the study, Britax and Clek, have been proactively implementing policies to reduce hazards in their products while still meeting all safety standards.  Some are not, as was the case for the poorest performing company: Graco, which unfortunately is one of the largest in manufacturers in the country.
​There have been several iterations of this report over the last several years, and there's some good news. There's a general trend toward safer chemicals in child seats. But we are by no means "there." Fifteen 2014-model car seats were tested for specific flame retardant chemicals by gas chromatography/mass spectrometry. The seats were also tested for bromine (associated with brominated flame retardants), chlorine (indicating the presence of chlorinated flame retardants when detected in a certain range of concentration), lead and other heavy metals. These substances have been linked to thyroid problems, learning and memory impairment, decreased fertility, behavioral changes and cancer.
Heat and UV-ray exposure in cars can accelerate the release of these chemicals from products into the vehicle environment.  Many children spend hours in a car every week, or even every day, potentially exposing them to harmful flame retardants. Babies are the most vulnerable population in terms of exposure, since their bodily systems are still developing and they spend many hours in their car seats. Infants, toddlers and children can be exposed through inhalation, ingestion and dermal (skin) absorption of these chemicals.
The Best and the Worst
Car seats were evaluated using a comparative ranking method which evaluated a range of chemical hazards in the products. Complete product rankings and the ranking methodology are available at HealthyStuff.org. Here's how things came out:
Best 2014-15 Car Seats: Britax Frontier and Marathon (Convertible); Clek Foonf (Convertible)

Worst 2014-15 Car Seats: Graco, My Size 65 (Convertible); Baby Trend, Hybrid 3-in-1 (Convertible)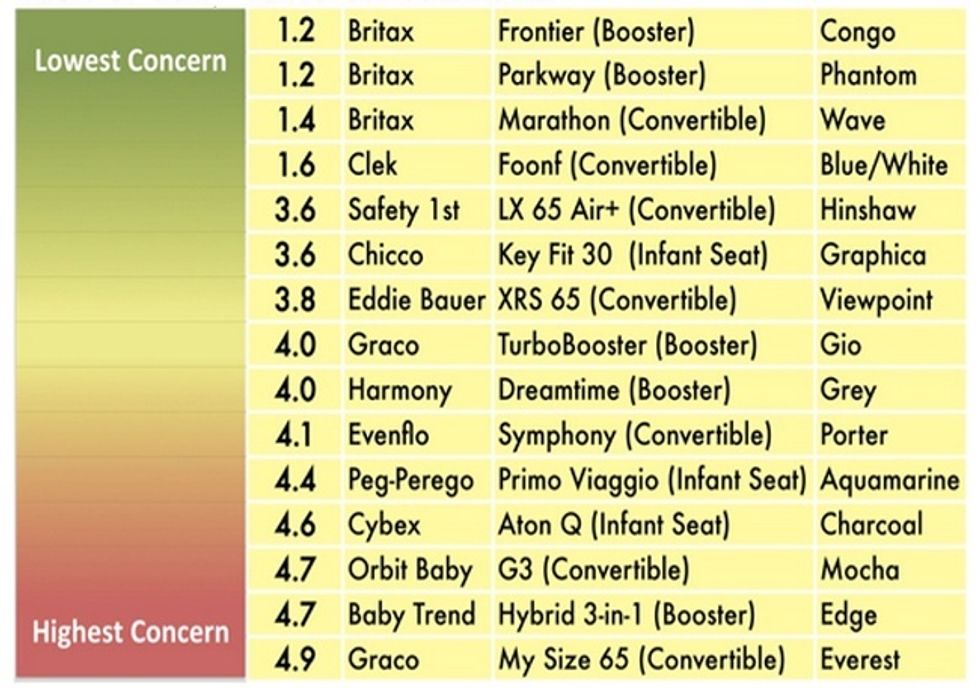 Take Action
Visit HealthyStuff.org and check out the car seat rankings. When you choose a safer seat, you not only make a safer environment for your child, you vote with your dollar. You can also check out their other consumer tips, like for example limiting the amount of time your child spends in a car, and dusting and vacuuming the car often to help remove contaminants.
YOU MIGHT ALSO LIKE
Big Ag Claims Cancer-Causing Glyphosate No More Dangerous Than 'Coffee or Working the Night Shift'
Find Out Which Brands Still Use Toxic BPA-Lined Cans (And Which Don't)
When you picture a middle schooler, or tween, what do you see? A lanky kid with braces on an iPad? Awkward middle school years? What if you pictured a kid dirty with mud and emerging from the forest instead?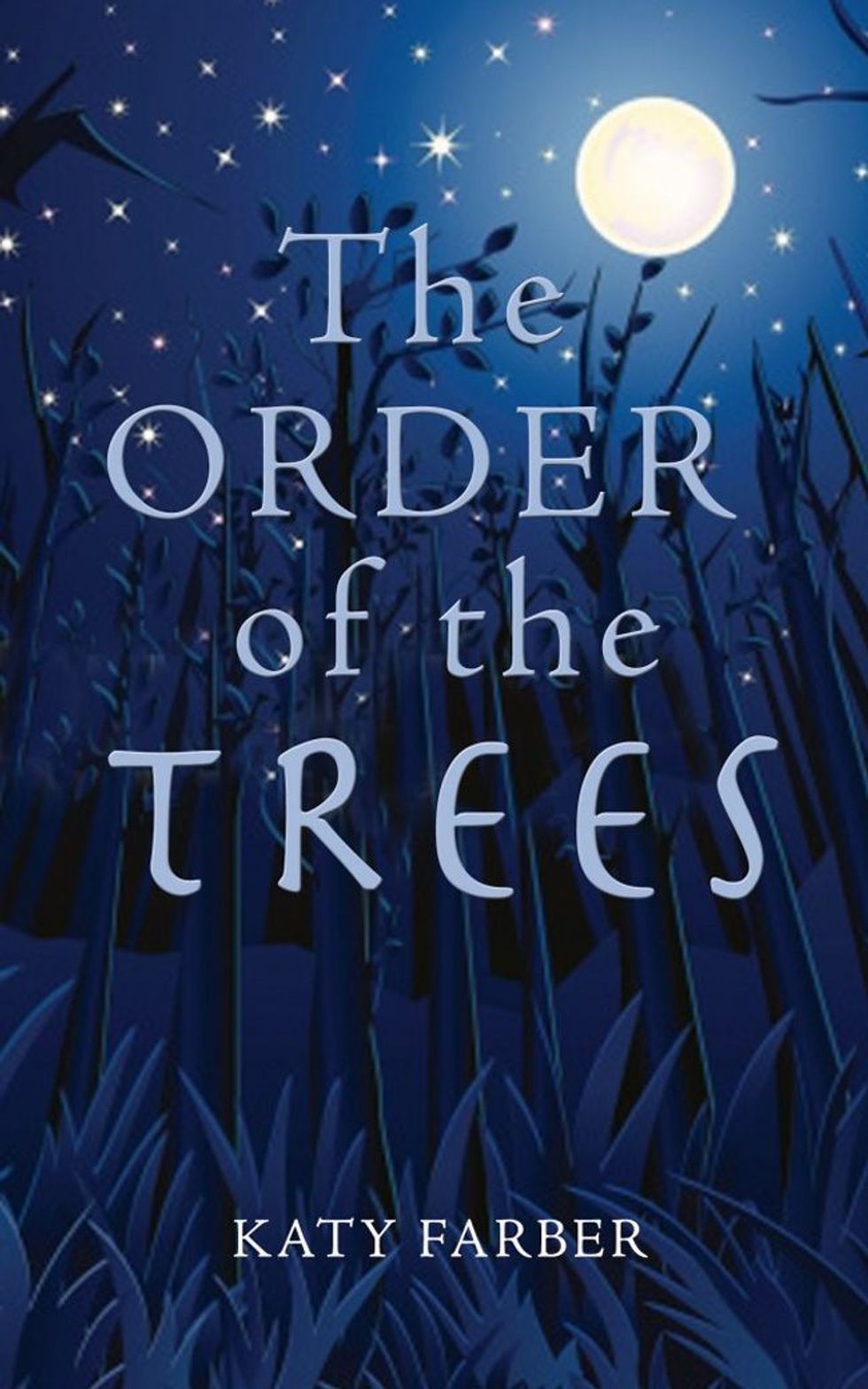 Research tells us that kids who spend time in nature suffer less anxiety, have better health, longer attention spans and the ability to cope with the challenges of the middle school years. Yet, we often associate the early adolescence with decreases in time outside and less interaction with nature.
In my new book for middle school readers, The Order of the Trees, the characters discover their friendship and the power of the forest in their lives. The book will be published on May 15 (preorders are available now) by Green Writers Press, this book is one way to excite and inspire middle school students to think about their local natural areas and how they can experience them with friends.
The main character, Cedar, was found as a baby deep in the Vermont woods. We flash forward to her sixth grade year and she couldn't be more different than the other kids. She finds her first true friend and shares her forest home with him. He quickly discovers her secret and has to race to find a plan to save their sacred woods.
It is my hope that middle school students and their parents will find this book inspiring to use their passions, interests and creativity to seek out and preserve the magic found in our local woodlands, ponds, streams and habitats. Tweens can be and do so much more than the stereotype allows. Put down that iPad, smart phone or tablet and head into the woods or your neighborhood park. You never know what you might find there.
Do you have a child in grades 4-8 in your life? The Order of the Trees was written just for this age group. Starting on May 1 and running through May 7, I'm giving away three copies of the book on Goodreads, so be sure to enter to win a copy. The Vermont-based publisher, Green Writers Press, focuses on giving voice to writers who want to make the world a better place. Ask for it at your local, independent bookstore or you can find it on Amazon.
Katy Farber is a teacher, author and founder of the blog, Non-Toxic Kids. She is also the author of two other books about education: Why Great Teachers Quit and How We Might Stop the Exodus and Change the World with Service Learning.
YOU MIGHT ALSO LIKE
Unity College Students Are Putting Biodiversity Loss and Global Warming Into Focus
Alaskan Entrepreneur Wants to Sell Bulk Water Shipments to Drought-Stricken California
See Stunning Photos of What Rob Greenfield Finds After Dumpster Diving Across America
Earth Day Network (EDN) launched a free Climate Education Toolkit for K-12 educators to initiate EDN's inaugural Climate Education Week, April 18 - 25.
The toolkit seeks to equip educators with the tools to teach and activate students on climate issues and solutions. As international action to address climate change and other environmental issues remains stalled, EDN intends to raise awareness among K-12 students and ensure that students graduate from their education system as a climate literate young adult—enacting a cultural shift.
EDN collaborated with high-level advisors from renowned climate education organizations and government agencies in order to provide the most current and effective materials, including the CLEAN Network and Connect4Climate. The toolkit provides a week's worth of lesson plans, activities, short videos, service learning projects, writing contests and Earth Day action ideas—all in an easy-to-use, ready-to-go online format.
One of the highlights of the toolkit is the first-ever iTextbook for middle school students on climate change, The Story of Climate Change. Earth Day Network and ecoDads announced the release of The Story of Climate Change from the Global Citizen 2015 Earth Day stage last Saturday in front of 250,000 people. This free interactive digital textbook allows educators and students to witness our changing climate through animation, science videos, and photographs and field expedition stories, and check their progress with quizzes at the end of each chapter. The iTextbook not only provides the gripping imagery of our changing climate, but it also offers ideas on action and solutions.
The toolkit covers a different topic on each day of Climate Education Week with themes like "What is Climate Change" to "Solutions: Green Jobs, Green Economy." EDN hopes that providing free access to these lesson plans, The Story of Climate Change, and other resources will inspire students to take action in their schools and communities, contributing to one of the largest environmental service campaigns in the world, "A Billion Acts of Green."
"Climate education now is a necessary foundation for our future climate leaders," said Kathleen Rogers, president of the Earth Day Network. "Creating a climate narrative for students encourages them to think about the risks associated with climate change and the future of their planet."
YOU MIGHT ALSO LIKE
250,000 People Call for Action on Climate Change and an End to Extreme Poverty
World Premiere of Chloe & Theo and Its Extraordinary Behind-the-Scenes Story
Childhood eczema is described by the National Eczema Association (NEA) as a chronic itchy skin condition that usually occurs within a child's first five years of life, typically lasts into childhood and adolescence, and can sometimes last into adulthood.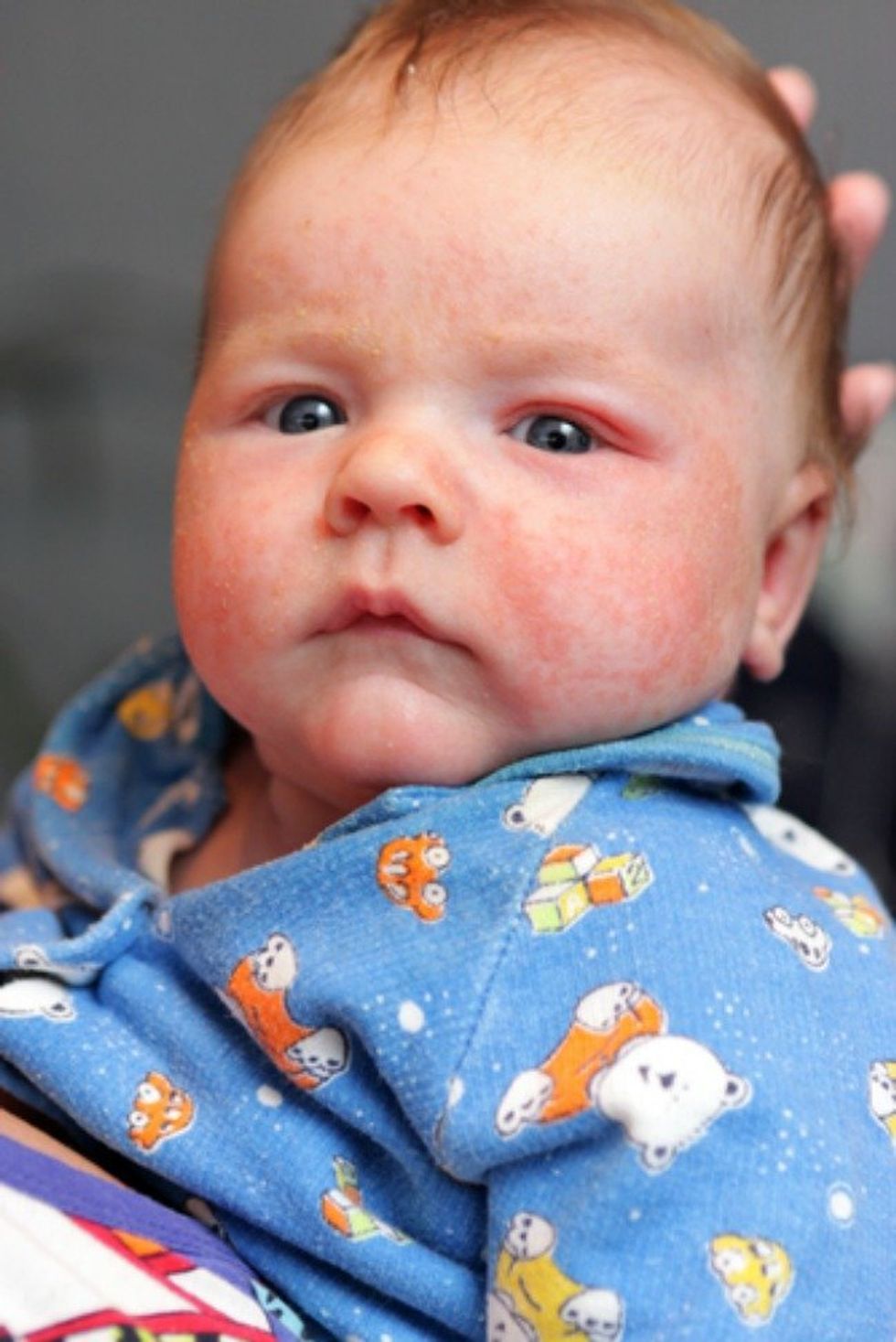 Photo credit: Shutterstock
Some children have very mild eczema and others have severe eczema, also known as atopic dermatitis. While some health experts may recommend giving children with eczema petroleum-based moisturizers or prescribe topical steroid cortisone cream, some parents are seeking out natural treatments, including plant-based moisturizers, which do not contain processed chemicals. The following all-natural steps can be taken to help control a child's eczema and avoid breakouts.
Bathe Daily
Giving your child a bath every day is recommended for infants and children with eczema, according to NEA. Baths should contain warm rather than hot water and last approximately 10 minutes. Experts at the NEA also say that parents should avoid washing children with loofahs and rough washcloths, use very little soap, and steer clear of bubble bath, epson salts and other bath additives because they can irritate the skin.
Moisturize
The NEA emphasizes the importance of moisturizing a child's skin, especially immediately after bathing, before the skin dries. Some natural, plant-based creams that will soothe and moisturize a child's skin include 100 percent shea butter, Burt's Bees Baby Bee Multipurpose Ointment and California Baby Eczema Cream. Dr. Weil, a leader in the field of integrative medicine, also recommends using aloe vera gel or calendula cream.
Avoid Skin Irritants
Knowing any food allergies your child may have and avoiding those foods is essential to preventing eczema since food allergies are a leading cause of skin inflammation in children.
"Children with this condition also have some underlying allergies that are manifested in the skin. When exposed to these allergens, the skin overreacts and breaks out in a rash. The already dry and slightly irritated skin is less able to handle this allergic rash, and less able to heal itself quickly," pediatrician and health expert Dr. Sears stated on his web site.
Dr. Sears also suggests taking the following actions to avoid skin irritation in children. Avoid wool and synthetic materials for clothing and bedding, wash new clothes before wearing them to remove the chemicals, avoid perfumed or scented lotions, bubble bath, suntan lotion with PABA and laundry detergents with dyes or scents. He also recommends maintaining a humidity of 25-40 percent in your home.
Eat Moisturizing Foods
Giving your child foods high in omega 3 fat will help keep your child's skin naturally moisturized, according to Dr. Sears. Some ways of incorporating omega 3 into a child's diet are to add flaxseeds or chia seeds in oatmeal, pancakes and sandwiches. Salmon, tuna and canola oil also contain high amounts of omega 3 fat. Vitamins C and E also act as natural skin moisturizers. Children can get those extra vitamins by taking a daily multivitamin. Finally, Dr. Sears recommends keeping your child hydrated by having him or her drink plenty of water.
YOU MAY ALSO LIKE
5 Omega-Rich Seeds You Should Include in Your Daily Diet
3 Gluten-Free Pasta Brands Kids Actually Like to Eat