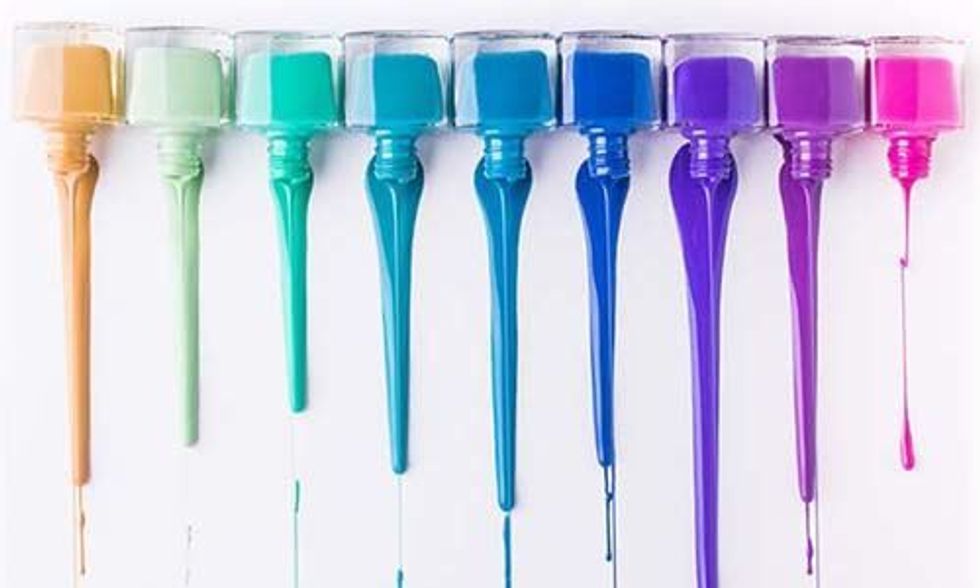 The more natural I go with skin care, the more natural I go with everything I put on my body. My latest green switch is nail care. I am a big fan of painted nails. In my jewelry career, that was limited to my toes, as it was pointless to paint my fingernails—they were never long and were in constant use.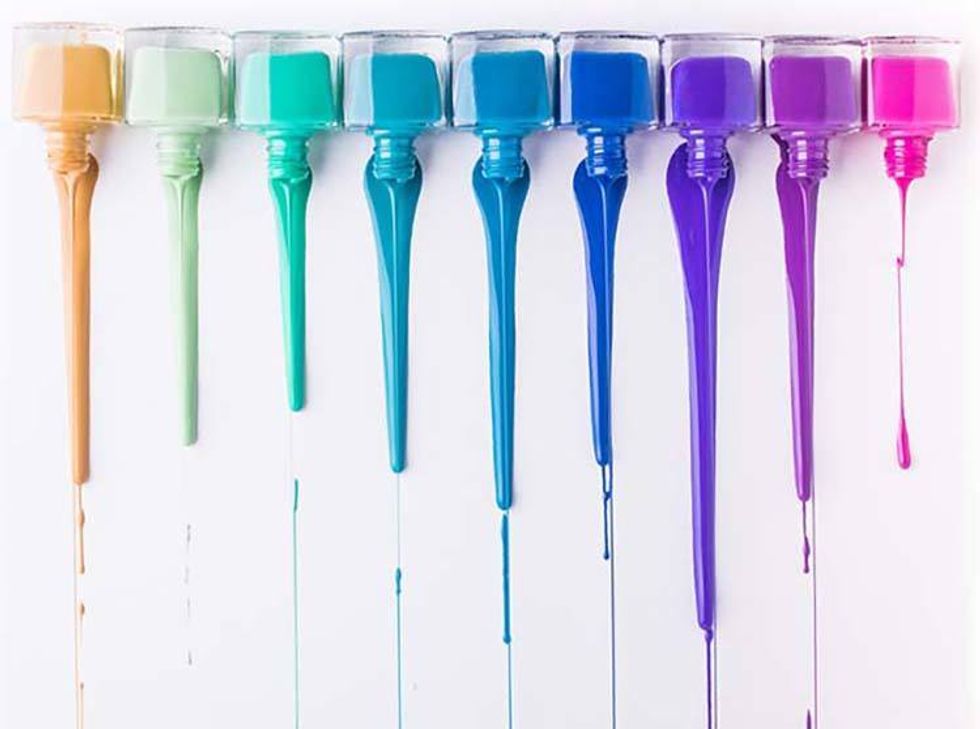 There are lots of brands out there that say they are all-natural or nontoxic. Photo credit: Shutterstock
I was watching a rerun of my favorite guilty pleasure, Gilmore Girls, and Lorelai's nails were painted this great fire-engine red. This was about a week before Christmas and I thought, "Perfect!" I ran to my bathroom, got my fave O.P.I. red and started to paint. Then, I noticed the smell. My husband has what we like to call "dog nose" (thanks to a funny line in an even funnier book, Diary of a Mad Mom-to-Be by Laura Wolf). This affliction causes him to smell things more deeply and strongly and than the rest of us, especially me. Problem is, I seem to have contracted it as well in the few months since we moved back to the states, and the nail polish was seriously making me feel like I was going to lose my lunch. And the kicker? It wouldn't dry. Ever. I think it was the rain.
Whatever the cause, after four hours trying to dry in the evening and a sleepless night spent with my nails sticking to my flannel sheets, I got up and removed the perfect red that was now all smudged and still not dry. The lacquer/formaldehyde smell stuck with me through the night, and my nails felt a little bit like someone was trying to peel them off. I've known for years that nail polish and standard polish remover are not terribly healthy for us and even less healthy for the environment, and I'd been thinking for a while that I needed to switch. But would nontoxic colors really last? Would they come in the shades I like? Would plain old alcohol really remove them?
Hence began my search for nontoxic nail polish. I've been more aware of healthier lacquer since I attended the Women In Green Forum this past September, but haven't been painting my nails much (or at all, really) and haven't had the right impetus to pursue researching it. Until now.
There are lots of brands out there that say they are all-natural or nontoxic, but there are three ingredients you are looking to avoid:
1. Dibutyl phthalate (DBP)
2. Formaldehyde (Yes, seriously. In your nail polish.)
3. Toluene
These three have been linked to problems ranging from skin irritation in people to birth defects in animals.
Polishes that exclude all three of the above-listed chemicals, include:
1. Piggy Paint, non-toxic, odorless, kid-friendly, kid-colored, water-based formula.
2. Honeybee Gardens, an alternative to solvent-based nail polish, water-based, odorless, removes with rubbing alcohol.
3. No-Miss, does not contain the three-to-avoid above, and also does not contain camphor.
4. Acquarella, water-based system of nail polish, conditioner, remover and moisturizer.
5. Suncoat, water-based nail polish that has been recognized and honored from the Canadian Health Food Association Expo.
6. Gaiam, Created by New York City's first organic spa, non-toxic nail polish free of known carcinogens.
7. Peacekeeper Cause-Metics, created by the Environmental Working Group as the safest paint-based natural nail polish.
8. Sante, created without the use of formaldehydes, toluene, and colophony rosin.
9. Nubar, carcinogen-free nail care products.
10. Safe Nail Polish, non-toxic, odorless, made in the U.S.
11. Priti, non-toxic, made without the three chemicals listed above and all known carcinogenic ingredients.
12. Spa Ritual, vegan nail lacquers.
Having done my research, I was eager to try some out! I looked at several of the brands for the colors I wanted: fire-engine red, a pale pink like you'd use for a french manicure, and dark purple (almost black, but not true black). I found what I thought I was looking for at Honeybee Gardens online and ordered all three colors. Once delivered, the only one that was what I wanted was the light pink, but I saved the other two to give as gifts. I found the red I was looking for by No-Miss in Whole Foods, and I am still on the lookout for the not-quite-black. I recommend buying polish you can see in the store, because online photos and differences in computer screens make it difficult to tell what color you're really getting.
So how well does the polish hold up, and does it really come off with just rubbing alcohol? Fabulously well! And yes! I gave myself a full mani-pedi on Sunday and had to remove the last of the pink polish. I used plain old generic rubbing alcohol, probably from Walgreen's, and cotton swabs (once my bag of swabs is done, I will switch to using cotton rags instead of disposable cotton balls). I had to rub a little longer to remove all the polish, but there was no stink! Not from the remover or the polish—Honeybee Gardens and No-Miss both state they are fragrance-free and while they do have a slight odor, it is insignificant and doesn't smell like toxic paint.
As for the staying power, I have a chip on one nail, but I've done dishes, washed a car and moved some furniture since Sunday, and I'm impressed with how great the paint looks and stays on. I'm a convert for sure.
YOU MIGHT ALSO LIKE
6 Ways Your Home Can Make You Sick
Duke Researchers Find Nail Polish Chemical in Women's Bodies
EcoWatch Daily Newsletter
Related Articles from EcoWatch
Recent Stories from EcoWatch