11 Health Benefits of Chia Seeds
By Kris Gunnars
Chia seeds are among the healthiest foods on the planet. They are loaded with nutrients that can have important benefits for your body and brain.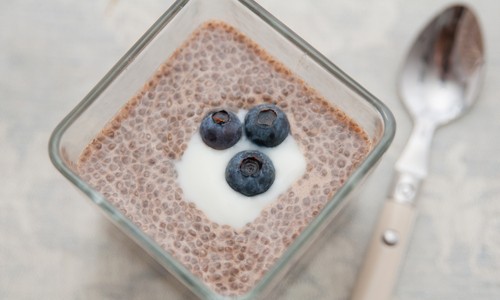 Chia seed pudding. Photo courtesy of Shutterstock
Here are 11 health benefits of chia seeds that are supported by human studies.
1. Chia Seeds Deliver a Massive Amount of Nutrients With Very Few Calories
Chia seeds are tiny black seeds from the plant Salvia Hispanica, which is related to mint. This plant grows natively in South America. Chia seeds were an important food for the Aztecs and Mayans back in the day. They prized them for their ability to provide sustainable energy … in fact, "chia" is the ancient Mayan word for "strength."
Despite their ancient history as a dietary staple, only recently did chia seeds become recognized as a modern day superfood. In the past few years, they have exploded in popularity and are now consumed by health conscious people all over the world.
This is what chia seeds look like: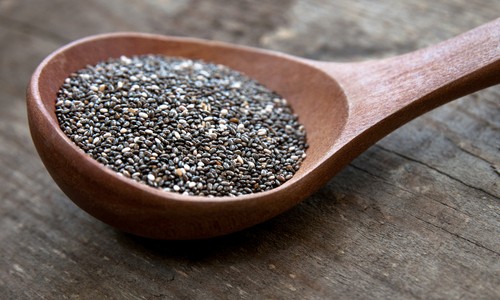 Photo courtesy of Shutterstock
Don't be fooled by the size … these tiny seeds pack a powerful nutritional punch.
A 1 ounce (28 grams) serving of chia seeds contains:
Fiber: 11 grams.
Protein: 4 grams.
Fat: 9 grams (5 of which are Omega-3s).
Calcium: 18 percent of the RDA.
Manganese: 30 percent of the RDA.
Magnesium: 30 percent of the RDA.
Phosphorus: 27 percent of the RDA.
They also contain a decent amount of Zinc, Vitamin B3 (Niacin), Potassium, Vitamin B1 (Thiamine) and Vitamin B2.
This is particularly impressive when you consider that this is just a single ounce, which supplies only 137 calories and one gram of digestible carbohydrate! Just so that we're all on the same page, 1 ounce equals 28 grams, or about 2 tablespoons.
Interestingly … if you subtract the fiber, which may not end up as usable calories for the body, chia seeds only contain 101 calories per ounce. This makes them one of the world's best sources of several important nutrients, calorie for calorie.
To top things off, chia seeds are a "whole grain" food, are usually grown organically, are non-GMO and naturally free of gluten.
Bottom Line: Despite their tiny size, chia seeds are among the most nutritious foods on the planet. They are loaded with fiber, protein, Omega-3 fatty acids and various micronutrients.
2. Chia Seeds Are Loaded With Antioxidants
Another area where chia seeds shine is in their high amount of antioxidants. These antioxidants protect the sensitive fats in the seeds from going rancid.
Although antioxidant supplements are not very effective, getting antioxidants from foods can have positive effects on health. Most importantly, antioxidants fight the production of free radicals, which can damage molecules in cells and contribute to aging and diseases like cancer.
There are some claims online about chia seeds having more antioxidants than blueberries, but I was unable find a study to verify this claim.
Bottom Line: Chia seeds are high in antioxidants that help to protect the delicate fats in the seeds. They also have various benefits for health.
3. Almost All the Carbs in Them Are Fiber
Looking at the nutrition profile of chia seeds, you see that an ounce has 12 grams of "carbohydrate." However, 11 of those grams are fiber, which isn't digested by the body. Fiber doesn't raise blood sugar, doesn't require insulin to be disposed of and therefore shouldn't count as a carb.
The true carb content is only 1 gram per ounce, which is very low. This makes chia a low-carb friendly food. Because of all the fiber, chia seeds can absorb up to 10-12 times their weight in water, becoming gel-like and expanding in your stomach. Theoretically, this should increase fullness, slow absorption of your food and help you automatically eat fewer calories.
Fiber also feeds the friendly bacteria in the intestine, which is important because keeping your gut bugs well fed is absolutely crucial for health. Chia seeds are 40 percent fiber, by weight. This makes them one of the best sources of fiber in the world.
Bottom Line: Almost all of the carbohydrates in chia seeds are fiber. This gives them the ability to absorb 10-12 times their weight in water. Fiber also has various beneficial effects on health.
4. Chia Seeds Are High in Quality Protein
Chia seeds contain a decent amount of protein. By weight, they are about 14 percent protein, which is very high compared to most plants. They also contain a good balance of essential amino acids, so our bodies should be able to make use of the protein in them.
Protein has all sorts of benefits for health. It is also the most weight loss friendly nutrient in the diet, by far. A high protein intake reduces appetite and has been shown to reduce obsessive thoughts about food by 60 percent percent and the desire for night time snacking by 50 percent.
Chia seeds really are an excellent protein source, especially for people who eat little or no animal products.
Bottom Line: Chia seeds are high in quality protein, much higher than most plant foods. Protein is the most weight loss friendly macronutrient and can drastically reduce appetite and cravings.
5. Due to the High Fiber and Protein Content, Chia Seeds Should be Able to Help You Lose Weight
Many health experts believe that chia seeds can help with weight loss. The fiber absorbs large amounts of water and expands in the stomach, which should increase fullness and slow the absorption of food.
There have been several studies on glucomannan, a fiber that works in a similar way, showing that it can lead to weight loss. Then the protein in chia seeds could help to reduce appetite and food intake.
Unfortunately, when the effects of chia seeds on weight loss have been studied, the results have been rather disappointing. Although one study showed that chia seeds can reduce appetite, there was no significant effect on body weight.
In a study on 90 overweight people, 50 grams of chia seeds per day for 12 weeks had no effect on body weight or health markers. In another 10 week study of 62 women, chia seeds had no effect on body weight but did increase the amount of Omega-3s in the blood.
Although just adding chia seeds to your diet is unlikely to affect your weight, I personally believe that they can be a useful addition. A weight loss diet is about more than just adding or subtracting single foods. The entire diet counts, as well as other lifestyle behaviors like sleep and exercise.
When combined with a real food-based diet and a healthy lifestyle, I can definitely see how chia seeds could help with weight loss.
Bottom Line: Chia seeds are high in protein and fiber, both of which have been shown to aid weight loss. However, the studies on chia seeds have not noted any effects on weight.
6. Chia Seeds Are High in Omega-3 Fatty Acids
Like flax seeds, chia seeds are very high in Omega-3 fatty acids. In fact, chia seeds contain more Omega-3s than salmon, gram for gram.
However, it's important to keep in mind that the Omega-3s in them are mostly ALA (Alpha Linolenic Acid), which is not as beneficial as you may think. ALA needs to converted into the "active" forms, EPA and DHA, before it can be used by the body. Unfortunately, humans are inefficient at converting ALA into the active forms. Therefore, plant Omega-3s tend to be vastly inferior to animal sources like fish.
Studies have shown that chia seeds (especially if they are milled) can increase blood levels of ALA and EPA, but not DHA, which is a problem. Because they don't supply any DHA (the most important Omega-3 fat), I think chia seeds are overrated as an Omega-3 source.
In order to get the DHA your body and brain desperately need, either eat fatty fish regularly, take fish oil or take a DHA supplement if you are vegan or vegetarian.
Bottom Line: Chia seeds are very high in the Omega-3 fatty acid ALA. However, humans are not good at converting this into DHA, the most important Omega-3 fatty acid.
7. Chia Seeds May Improve Certain Blood Markers, Which Should Lower The Risk of Heart Disease and Type 2 Diabetes
Given that chia seeds are high in fiber, protein and Omega-3s, they should be able to improve metabolic health. This has been tested in several studies, but the results have been inconclusive.
In two studies, a diet with chia seeds, soy protein, oats and nopal, has been shown to lower LDL cholesterol and triglycerides, increase HDL cholesterol and reduce inflammation. Because these studies also used other ingredients, nothing can be concluded about the chia seeds themselves.
Rat studies have also shown that chia seeds can lower triglycerides, raise HDL (the "good") cholesterol and reduce inflammation, insulin resistance and belly fat. However, a study that looked at just chia seeds did not note any improvements.
Overall, it is possible that chia seeds can improve these risk factors, but probably won't have a major effect unless followed by other beneficial changes in the diet.
Bottom Line: The effects on cholesterol levels and other risk factors is inconclusive. Some studies show an effect, others do not.
8. They Are High in Many Important Bone Nutrients
Chia seeds are high in several nutrients that are important for bone health. This includes calcium, phosphorus, magnesium and protein. The calcium content is particularly impressive: 18 percent of the RDA in a single ounce. Gram for gram, this is higher than most dairy products.
Chia seeds may be considered an excellent source of calcium for people who don't eat dairy.
Bottom Line: Chia seeds are high in calcium, magnesium, phosphorus and protein. All of these nutrients are essential for bone health.
9. Chia Seeds Can Cause Major Improvements in Type 2 Diabetics
The most successful application of chia seeds to date was in a study on type 2 diabetic patients. In this study, 20 diabetic patients received either 37 grams of chia seeds, or 37 grams of wheat bran, for 12 weeks. When they got the chia seeds, they saw improvements in several important health markers.
Blood pressure went down by 3-6 mm/Hg and an inflammatory marker called hs-CRP went down by 40 percent. A risk factor called vWF also decreased by 21 percent. There was also a small drop in blood sugar, but it wasn't statistically significant.
Given that chia seeds are high in fiber, it does seem plausible that they could help reduce blood sugar spikes after meals, but this needs to be confirmed in studies.
Bottom Line: A study in type 2 diabetics showed that chia seeds can significantly lower blood pressure and a marker for inflammation.
10. Chia Seeds Can Improve Exercise Performance as Much as a Sports Drink
Legend has it that the Aztecs and Mayans used chia seeds to fuel performance back in the day. There is one recent study suggesting that this may be effective. In this study, six participants "carb loaded" with either gatorade, or a mix of half Gatorade/half chia seeds. Then they ran for an hour on a treadmill, followed by a timed 10 kilometer long run. There was no difference between the two groups.
In other words, replacing half of the Gatorade with chia seeds did not reduce the performance of the athletes, indicating that chia seeds were of some use.
According to this study, chia seeds can help athletes "carb load" for endurance events, while increasing their intake of nutrients and decreasing their intake of sugar. However, I'd personally like to see some larger studies on this. Given that most of the carbs in chia seeds are fiber, it doesn't make much sense that they could be used for carb loading.
Bottom Line: One small study shows that chia seeds can partly replace Gatorade as a way of carb loading for endurance athletes, but this needs to be studied more.
11. Chia Seeds Are Easy to Incorporate Into Your Diet
Okay, this last one is not a health benefit, but important nonetheless. Chia seeds are incredibly easy to incorporate into your diet.
The seeds themselves taste rather bland, so you can add them to pretty much anything.They also don't need to be ground like flax seeds, which makes them much easier to prepare. They can be eaten raw, soaked in juice, added to porridges and puddings or added to baked goods. You can also sprinkle them on top of cereal, yogurt, vegetables or rice dishes.
Because of their ability to absorb both water and fat, they can be used to thicken sauces and even used as egg substitutes in recipes. They can also be mixed with water and turned into a gel. Adding chia seeds to recipes will dramatically boost the nutritional value.
If you want to buy chia seeds, then there is an excellent selection on Amazon with thousands of customer reviews.
They do seem to be well tolerated, but if you're not used to eating a lot of fiber, then there is a possibility of digestive side effects if you eat too much of them at a time.
A common dosage recommendation is 20 grams (about 1.5 tablespoons) of chia seeds, twice per day.
This article was reposted with permission from our media associate Authority Nutrition.
YOU MIGHT ALSO LIKE
11 Universal Truths in Nutrition That Are Actually Agreed On
10 Ways to Teach Your Child to Eat Well
——–
Monsanto, the maker of the glyphosate-based herbicide Roundup, filed a motion June 16 in U.S. District Court, Northern District of California to reconsider the chemical's addition to California's Proposition 65 list of agents known to cause cancer.
The agrochemical giant made this move based on a June 14 Reuters investigation of Dr. Aaron Blair, a lead researcher on the World Health Organization's International Agency for Research on Cancer (IARC) committee, that classified glyphosate as a "2A probable human carcinogen" in March 2015.
Keep reading...
Show less
By Avery Friedman
Algae is often considered a nuisance, but for Sweden, the rapidly growing sea plant is now an asset.
As the Scandinavian country works to cut all of its greenhouse gas emissions by 2045, it's using algae to sop up the carbon emissions from cement.
Keep reading...
Show less
Jun. 24, 2017 01:35PM EST
By Itai Vardi
A recent intensification in protests against Williams Partners' planned Atlantic Sunrise pipeline in Pennsylvania prompted a state senator to propose legislation aimed at limiting demonstrations.
Last month, Pennsylvania Sen. Scott Martin (R-Norman) announced his intention to introduce legislation that would pass the costs of law enforcement responding to protests onto the demonstrators. Martin also helped introduce a different bill that would criminalize protests at natural gas facilities.
Keep reading...
Show less
Jun. 24, 2017 01:29PM EST
Black Shogun / iStock
The Federal Energy Regulatory Commission (FERC) released its Final Environmental Impact Statement Friday for the Mountain Valley Pipeline, a controversial 303-mile pipeline that would carry two billion cubic feet of fracked gas per day from West Virginia through Virginia.
Keep reading...
Show less
Jun. 24, 2017 01:46PM EST
Falcon PEV
The so-called "first and last mile" problem is one of the biggest hurdles with public transportation. How do you encourage more people to take Earth-friendlier commutes when their homes are miles away from the train or bus station?
One solution, as this Estonian electric scooter company proposes, is to simply take your commute with you—literally. Tallinn-based Stigo has developed a compact e-scooter that folds to the size of a rolling suitcase in about two seconds.
Keep reading...
Show less
Jun. 24, 2017 05:12PM EST
Connect4Climate
[Editor's note: I'm still in shock after hearing the news that Lucia Grenna passed away in her sleep last week. When we first met in April of 2014 at a Copenhagen hotel, I was immediately taken by here powerful presence. We spent the next couple days participating in a Sustainia climate change event where Lucia presented her audacious plans to connect people to the climate issue. I had the chance to partner with Lucia on several other projects throughout the years and work with her incredible Connect4Climate team. I was always in awe of her ability to "make the impossible possible." Her spirit will live on forever. — Stefanie Spear]
It is with a heavy heart that Connect4Climate announces the passing of its founder and leading light, Lucia Grenna. Lucia passed peacefully in her sleep on June 15, well before her time. We remember her for her leadership and extraordinary ability to motivate people to take on some of the greatest challenges of our time, not least climate change.
Keep reading...
Show less
Jun. 23, 2017 07:29PM EST
Wikimedia Commons
By Stacy Malkan
Neil deGrasse Tyson has inspired millions of people to care about science and imagine themselves as participants in the scientific process. What a hopeful sign it is to see young girls wearing t-shirts emblazoned with the words, "Forget princess, I want to be an astrophysicist."
Keep reading...
Show less
Jun. 23, 2017 01:57PM EST
www.youtube.com
By Andy Rowell
Any day now we will truly witness climate change in action. Within days at worst, maybe weeks at best, scientists predict that a huge section of the Larsen C ice shelf in Antarctica will break off into the ocean, in what is called a major "carving" event.
Keep reading...
Show less
Jun. 23, 2017 02:27PM EST
www.youtube.com
President Trump visited Cedar Rapids, Iowa on June 21 to speak to a large crowd in the U.S. Cellular Center at a political rally organized by his campaign.
As Trevor Noah noted during The Daily Show episode last night (starts at 2:25), the real reason Trump has these rallies is to "get back in front of his loyal crowds and feed of their energy." Noah believes that "Trump supporters are so on board with their dude he can say anything and they'll come along for the ride."
Keep reading...
Show less