Energy
Apr. 14, 2016 08:30AM EST
10 Years of Fracking: Its Impact on Our Water, Land and Climate
In a single year, fracking wells across the country released at least 5.3 billion pounds of the potent greenhouse gas methane, as much global warming pollution as 22 coal-fired power plants.
The statistic is one of many in a new study by Environment America Research & Policy Center that quantifies the environmental harm caused by more 137,000 fracking wells permitted since 2005.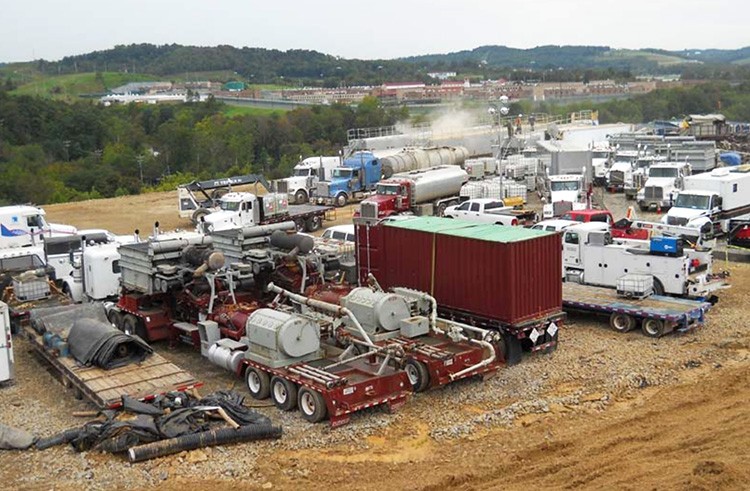 "The numbers in this report don't lie," Rachel Richardson, director of Environment America's Stop Drilling program and co-author of the report, said. "For the past decade, fracking has been a nightmare for our drinking water, our open lands and our climate."
Today's analysis, an update of a similar 2013 study, paints a frightening picture of fracking's harms in addition to its global warming pollution—including toxic chemical use and destroyed land.
"In just the last two and a half years, the number of fracked oil and gas wells has increased by 55,000," Elizabeth Ridlington, policy analyst with Frontier Group and co-author of the report, said. "That growth in fracked wells means more polluted water, more toxic chemicals and more communities at risk."
The major findings of Fracking by the Numbers: The Damage to Our Air, Water and Climate from a Decade of Dirty Drilling include:
During well completion alone, fracking released 5.3 billion pounds of methane in 2014, a pollutant 86 times more powerful than carbon dioxide over the course of 20 years.
Fracking wells produced at least 14 billion gallons of wastewater in 2014. Fracking wastewater has leaked from retention ponds, been dumped into streams and escaped from faulty disposal wells, putting drinking water at risk. Wastewater from fracked wells includes not only the toxic chemicals injected into the well but also can bring naturally occurring radioactive materials to the surface.
Between 2005 and 2015, fracking used at least 23 billion pounds of toxic chemicals. Fracking uses of vast quantities of chemicals known to harm human health. People living or working nearby can be exposed to these chemicals if they enter drinking water after a spill or if they become airborne.
At least 239 billion gallons of water have been used in fracking since 2005, an average of 3 million gallons per well. Fracking requires huge volumes of water for each well—water that is often needed for other uses or to maintain healthy aquatic ecosystems.
Infrastructure to support fracking has directly damaged at least 675,000 acres of land since 2005, an area only slightly smaller than Yosemite National Park. Well pads, new access roads, pipelines and other infrastructure built for fracking turn forests and rural landscapes into industrial zones.
Given the scale and severity of fracking's impacts, the report says fracking should be prohibited wherever possible and stricter regulations should be enacted to better protect communities already on the frontlines of drilling.
The report also gives lift to the effort to convince President Obama to end new fracking and drilling leases on public lands and in public waters, in order to keep upwards of 450 billion tons of global warming pollution out of the atmosphere.
"From contaminated water, to marred landscapes, to increased global warming pollution, fracking has been an environmental disaster," said Richardson. "The best way to protect our health and climate from this dirty drilling is to ban it altogether and keep fossil fuels safely in the ground."
YOU MIGHT ALSO LIKE
Peabody's Bankruptcy: A Giant Falls, But Its Obligations Remain
Renowned Turkish Photographer Asks: Will My Country Lock-In a 'Smoky Future' or Break Free?
Maryland's Prince George's County Bans Fracking
Tom Reichner | Shutterstock.com
Three days before oral arguments are scheduled in the 10th Circuit Court of Appeals on Bureau of Land Management safety measures to regulate fracking operations on public lands, the U.S. Department of Interior is moving ahead with its plan to rescind the 2015 rule.
The rule, which was the product of nearly five years of agency work, expert input, public comments and hearings, never went into effect after it was challenged immediately by oil and gas industry trade associations. After a district court judge set aside the rule in 2016, BLM and citizen groups appealed to the 10th Circuit in late 2016.
Keep reading...
Show less
Jul. 24, 2017 08:04AM EST
Stomach contents of an albatross chick photographed in the Pacific in 2009. Chris Jordan / U.S. Fish & Wildlife Service HQ
By Tim Radford
Scientists have calculated yet another item on the human shopping list that makes up the modern world: plastics. They have estimated the mass of all the plastic bottles, bags, cups, toys, instruments and fabrics ever produced and tracked its whereabouts, as yet another index of the phenomenal change to the face of the planet made by recent human advance.
Altogether, since about 1950, with the birth of a new industry, more than 8.3 billion tonnes (or 9.1 tons) of synthetic organic polymers have been generated, distributed and discarded. Of that total, 6.3 billion tonnes are classified as waste.
Keep reading...
Show less
Jul. 24, 2017 10:03AM EST
By Jessica Corbett
As Senate Democrats stay silent on an energy bill that environmental groups call "a pro-fracking giveaway to oil and gas interests that would commit America to decades more of dangerous fossil fuel dependence," Sen. Bernie Sanders (I-Vt.) is receiving applause for speaking out against it.
"As a nation, our job is to move away from fossil fuels toward sustainable energy and energy efficiency. This bill does the opposite," Sanders said in a statement.
Keep reading...
Show less
Jul. 24, 2017 09:09AM EST
ExxonMobil filed suit against the federal government last week, claiming that a $2 million fine levied against the company by the Treasury Department is "unlawful" and "capricious."
The Treasury Department fined Exxon Thursday morning, alleging that the oil giant displayed "reckless disregard" of U.S.-Russian sanctions in its dealings with Russian company Rosneft in 2014 under CEO Rex Tillerson.
Keep reading...
Show less
By Andy Rowell
For years, environmentalists have warned that due to climate change, there will be billions of barrels of oil that we will never be able to burn. These reserves will become what has increasingly been called "stranded assets."
To give you one example: In a new report, Friends of the Earth argued that "The coal, oil and gas in reserves already in production and development globally is more than we can afford to burn. There is no room for any new coal, oil or gas exploration and production.
Keep reading...
Show less
Jul. 24, 2017 12:38PM EST
Craftsman tiny house by Zyl Vardos. Abel Zyl / Shuttertstock
Late last year, the tiny house community celebrated a watershed moment—an official appendix in the 2018 version of the International Residential Code, the model building code used by most jurisdictions in the U.S.
"There are many things that are monumental in the adoption of tiny house construction codes by the IRC," cheered Thom Stanton, the CEO of small space developer, Timber Trails. "Among them, that architects, designers, builders, community developers and (maybe most importantly) zoning officials have a means of recognizing tiny houses as an official form of permissible dwelling."
Keep reading...
Show less
www.youtube.com
The colossal mass of throwaway plastic—from straws to bags to bottles—has grown much faster than recycling and disposal efforts can contain it. You might even say this is obvious, no matter where you look.
As a result, places that were once considered pristine—such as Antarctica and the ocean floors of Australia—have become inundated with plastic waste.
Check out this video from National Geographic to watch underwater photographer Huai Su film a diver collecting an endless amount of plastic bottles that litter the seafloor off Xiaoliuqiu Island, Taiwan.
Jul. 24, 2017 11:12AM EST
A reef off the coast of Cancún will become the first in the world with its own insurance policy, testing a new strategy meant to encourage local investment in the wellbeing of the reef.
Under the policy, created by insurance company Swiss Re and the Nature Conservancy, local hotels and other organizations dependent on tourism will pay into the policy, receiving reimbursements to repair the reef and local beaches after natural disasters.
Keep reading...
Show less