This website uses cookies to ensure you get the best experience while browsing it. By clicking 'Got It' you're accepting these terms.
10 Foods That Make You Smarter
Feb. 18, 2015 08:11AM EST
Food
Who doesn't want to become smarter? Who wants to look better or feel healthier? Many recent studies have shown how certain nutrients can positively affect the brain, specifically in areas of the brain related to cognitive processing or feelings and emotions. Generally speaking, you want to follow a healthy diet for your brain that will lead to strong blood flow, maintenance of mental sharpness and reduce the risk of heart disease and neurodegenerative diseases such as Alzheimer's and dementia.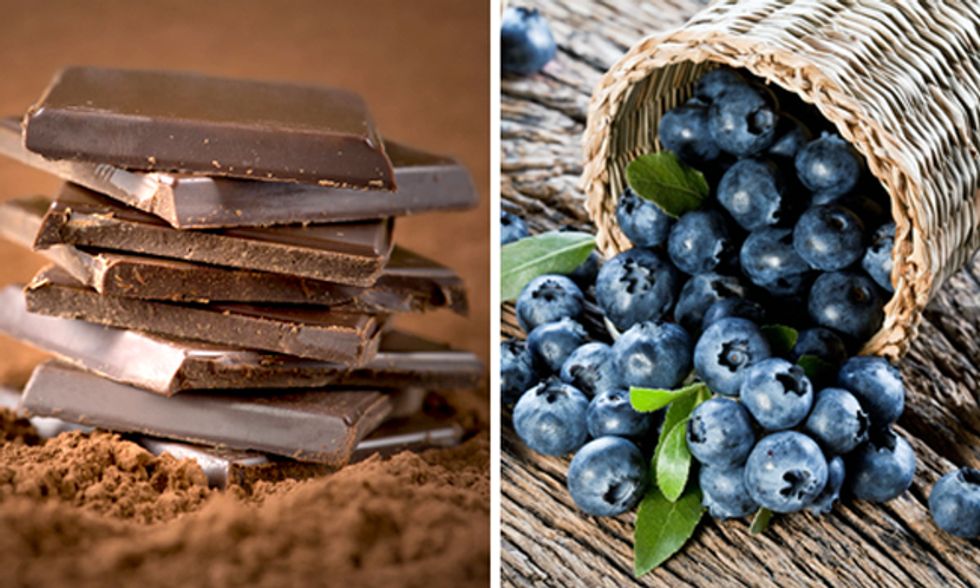 We know that foods play a great role in our brain, as concluded in several studies led by a phenomenal neuroscientist at UCLA, Gomez Pinilla.
According to one study, the super fats your brain needs most are omega-3 fatty acids. Your brain converts them into DHA (docosahexaenoic acid) which enhances neuronal communication and promotes neuronal growth.
Food and nutrients represent fuel to our bodies the same way that when we use our car we need to fill the gas tank. Unfortunately, we generally take better care of our cars than our bodies. Why is that? We are hearing frequently that consuming the right nutrients can help our health, aging process, and more efficient brain-body functioning.
With that said, I want to share with you 10 foods you must keep in your diet to maintain brain health:
1. Apples: Eating an apple a day protects the brain from oxidative damage that causes neurodegenerative diseases such Alzheimer's and Parkinson's. This magical nutrient that acts as protection is quercetin, which is a phytonutrient.
2. Asparagus: Asparagus is rich in folic acid, which is essential for the metabolism of the long chain fatty acids in your brain.
3. Lean Beef: Lean beef is rich in vitamin B12, iron and zinc. These vitamins and minerals have been shown to maintain a healthy neural tissue.
4. Blueberries and Strawberries: Studies show that people who eat berries improve their memory and their motor skills. In addition, their antioxidant properties can protect your brain from the oxidative process.
5. Dark Chocolate: Dark chocolate offers incredible concentration powers. It is a very powerful antioxidant containing natural stimulants that increase the production of feel-good endorphins. Trick: you need to find dark chocolate with less than 10 grams of sugar per serving for optimal benefits.
6. Salmon: Salmon contains omega-3 fatty acids, which studies have shown to be essential for brain function.
7. Dried Oregano: Certain spices have powerful antioxidant properties. In several studies, this powerful spice has shown to have 40 times more antioxidant properties than apples, 30 times more than potatoes, 12 times more than oranges, and 4 times more than that of blueberries or strawberries.
8. Walnuts: Walnuts are rich in protein and contain omega-3 fatty acids, vitamins E and B6 which all promote healthy neural tissue.
9. Whole Grains: Whole grains deliver fiber and vitamin E that help promote cardiovascular health, which helps improve the circulation to the brain.
10. Yogurt: Yogurt and other dairy foods are filled with protein and vitamin B that are essential to improve the communication between nerve cells.
Make sure that from now on you select and plan a great menu that include these brain foods. Life is about choices and selecting the right nutrients can play a key role in your health.
Michael Gonzalez-Wallace is the author of Super Body, Super Brain.
YOU MIGHT ALSO LIKE
Starbucks Adds Coconut Milk to Its Menu, But Should You Order It?
Study Finds Lower Pesticide Levels in People Who Eat Organic Produce
EcoWatch Daily Newsletter
The current rate of CO2 emissions is a major event in the recorded history of Earth. EPA
At several points in the history of our planet, increasing amounts of carbon dioxide in the atmosphere have caused extreme global warming, prompting the majority of species on Earth to die out.
The "Earthrise" photograph that inspired the first Earth Day. NASA / Bill Anders
For EcoWatchers, April usually means one thing: Earth Day. But how do you celebrate the environment while staying home to prevent the spread of the new coronavirus?
Animal rights activists try to save dogs at a free market ahead of the Yulin Dog Eating Festival in Yulin city, south China's Guangxi Zhuang Autonomous Region on June 21, 2014. Jie Zhao / Corbis via Getty Images
The Great Barrier Reef, where record-high sea temperatures in February caused its most widespread coral bleaching event. JAYNE JENKINS / CORAL REEF IMAGE BANK
Tropical coral reefs are at a critical tipping point, and we've pushed them there, scientists say. Climate change may now cause previously rare, devastating coral bleaching events to occur in tropical coral reefs around the globe on a 'near-annual' basis, reported The Guardian.
The first peer-reviewed research into a promising coronavirus vaccine was published Thursday. Javier Zayas Photography / Moment / Getty Images