10 Eco-Destinations in North America to Add to Your Bucket List
May. 23, 2016 01:43PM EST
Adventure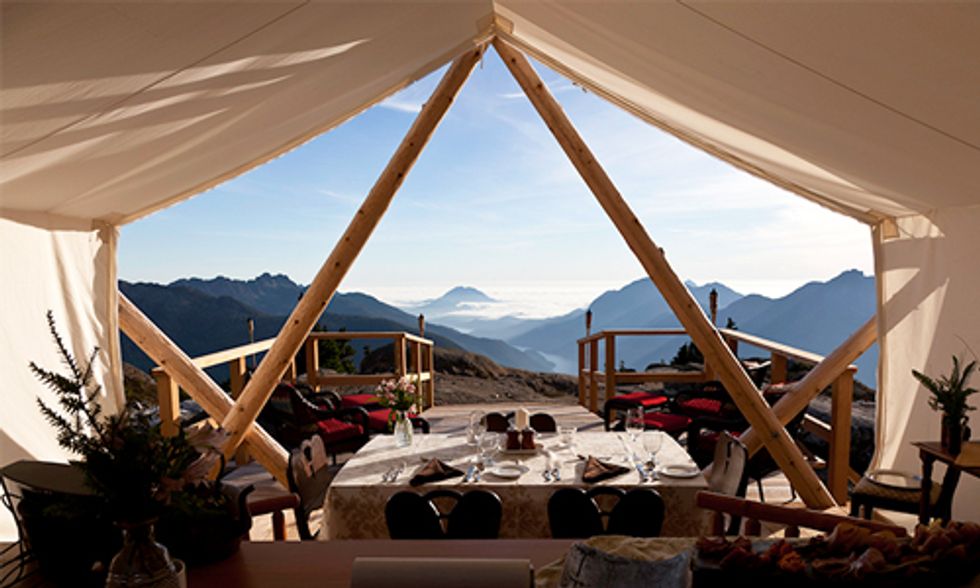 In the 1950s, the world was crisscrossed by some 25 million annual tourists (i.e., overnight visitors). In 2014, according to the Center for Responsible Travel, that number ballooned to nearly 1.2 billion—about a 4,000 percent increase—contributing $7.6 trillion (almost 10 percent) to the world's GDP.
But the sad and inescapable fact is that all our flying, driving and trampling about has also contributed to the destruction of the environment, harming wildlife, historical sites and the livelihoods of indigenous societies around the globe.
As the largest global service industry, tourism can—and should—play a significant role in conservation and environmental sustainability. That was the message that U.N. Secretary-General Ban Ki-Moon delivered on World Tourism Day in 2012. "One of the world's largest economic sectors, tourism is especially well‐placed to promote environmental sustainability, 'green' growth and our struggle against climate change through its relationship with energy," he said.
Robert Baden-Powell, founder of the world Scouting movement, was an early proponent of not only treading lightly when you travel, but also doing some good while you're there. In his last message before his death in 1941, Baden-Powell neatly summed up his philosophy: "Leave this world a little better than you found it." It's a sentiment that anchored the "Leave No Trace" outdoor/camping ethos that took root in the 1960s and it can easily serve as a motto for ecotourists and ethical travelers alike.
Thinking about a travel destination in North America that shares your green philosophy? Here are 10 of the best to consider.
1. Earthship Rentals (Taos, New Mexico)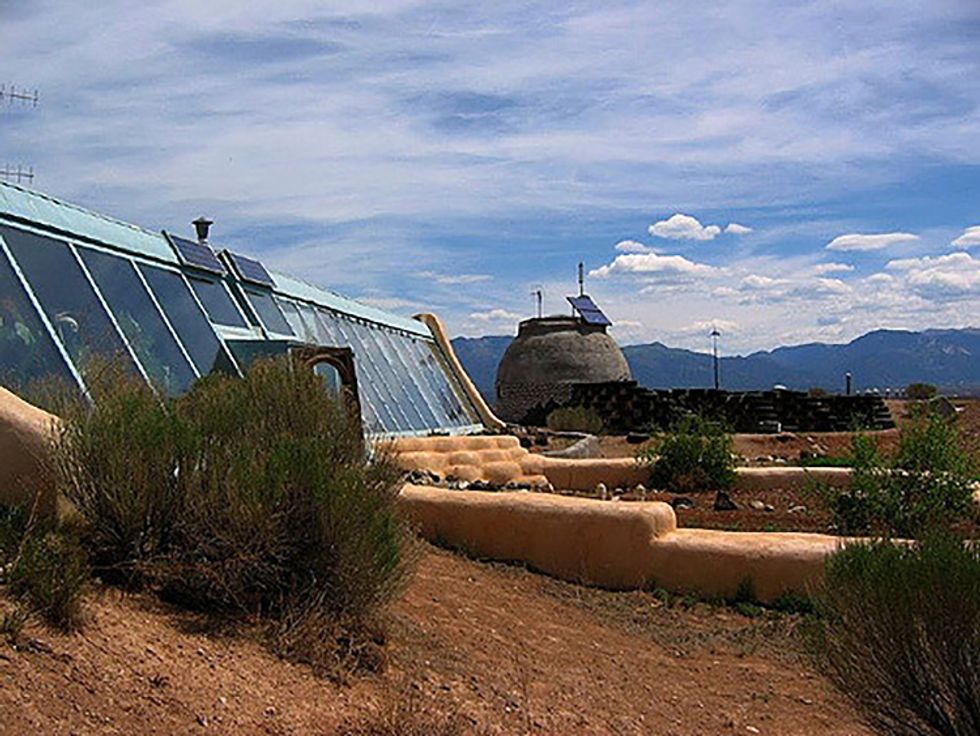 Taos, a desert town in the New Mexico high desert situated at the edge of the Sangre de Cristo Mountains and known for its historic Native American adobe buildings and its artist colony, has long been a destination for eco-minded free spirits. It's also the location of a small collection of unique eco-friendly buildings called Earthships.
Constructed from natural and recycled materials, including tires packed with dirt, Earthships are passive solar houses, meaning their entire structures—including windows, walls and floors—are designed to collect solar energy. The first Earthship was designed in the 1970s by the architect and environmental activist Michael Reynolds, who calls his unique practice Earthship Biotecture.
Ecotourists can enjoy the sites of Taos while staying at Earthship Rentals, which offer a unique taste of sustainable, off-grid living, including growing your own food and using water provided by cisterns that collect rain and snow. Plus, they are dog-friendly, so bring Fido along. You can also enjoy the amenities of modern life, such as Wifi and TV. But why boob-tube it when you're surrounded by a gorgeous landscape that has attracted and inspired artists for over a century? Earthships can transport you while not moving at all—the perfect opportunity to unplug and recharge.
2. Clayoquot Wilderness Resort (British Columbia)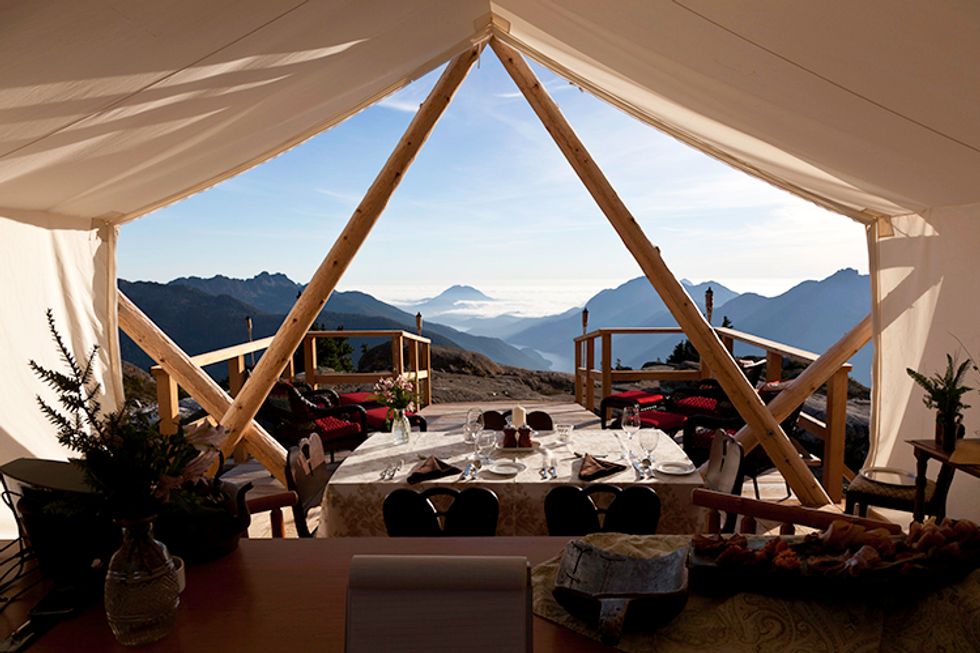 Winston Churchill once said, "There are no limits to the majestic future which lies before the mighty expanse of Canada." Unfortunately, the world's second largest nation hasn't been protecting that mighty expanse all that well. According to its 2015 annual report, the nonprofit Canadian Parks and Wilderness Society (CPAWS) found that the nation is lagging on its commitment to protect at least 17 percent of its land and fresh water by 2020—and is behind the global average.
"Based on our assessment of progress since Canada endorsed the UN Convention on Biological Diversity 10-year plan in 2010, it would take us 50 years from today, not five, to meet our commitment to protect at least 17 percent of our land and fresh water," said Alison Woodley, nation director of CPAWS' parks program.
One of the places that has been protected is an eco-resort tucked away in the remote wilderness of Clayoquot Sound in British Columbia, Canada. Clayoquot Wilderness Resort offers the best of both worlds, from river kayaking, horseback riding, hiking through old-growth forest and surfing on a secluded beach, to five-star dining, spa treatments and as its website notes, "great white tents with their fluffy duvets and antiques."
The all-inclusive, summer-only luxury resort isn't just about pampering guests and offering great adventures in a pristine landscape—it's also playing an important role in the region's sustainability and environmental stewardship. The resort has invested in the protection of the area's wild salmon, working with the nonprofit Wild Fish Conservancy, based in neighboring Washington state, to protect the fish stocks against the threats of overfishing and climate change.
Clayoquot has also partnered with the Ahousaht First Nation to restore indigenous land, share the Ahousaht's cultural legacy with visitors and build relationships that foster economic development within the local community.
The late Canadian artist and writer Emily Carr, who found creative inspiration in the indigenous people who lived along the Pacific Northwest coast, said, "It is wonderful to feel the grandness of Canada in the raw." Clayoquot offers that raw grandeur—just with fluffy duvets.
3. Sian Ka'an (Tulum, Mexico)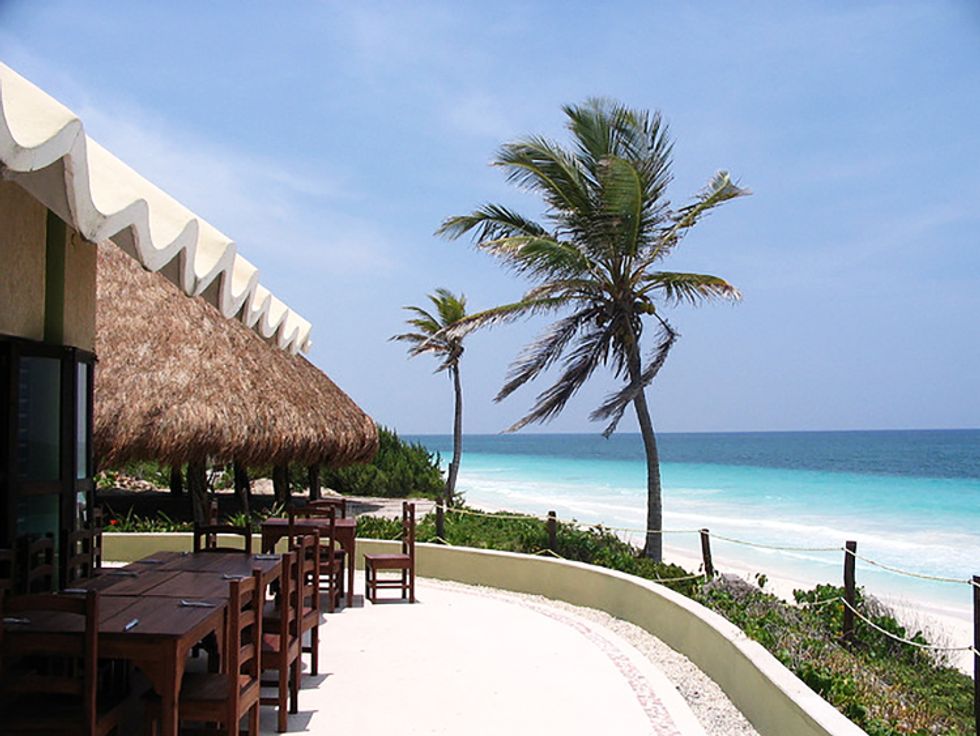 Located on the eastern coast of the Yucatan Peninsula in Mexico, Sian Ka'an is home to thousands of species of flora and fauna. The reserve is so pristine and biodiverse that, in 1986, it was designated Biosphere Reserve. And the following year, it was declared a World Heritage Site by UNESCO, the United Nations Educational, Scientific and Cultural Organization, which works with nations to secure the world's cultural and natural heritage. Sian Ka'an is the largest protected area in the Mexican Caribbean.
There's no shortage of eco-friendly activities here, from exploring Mayan ruins to diving in the deep cenotes (crystalline pools of freshwater connected by an intricate network of underground rivers) or simply enjoying the gorgeous white sand beaches and swimming in the Caribbean. You'd never guess that just two and half hours north is Cancun, a hyper-touristic spot that has been overrun by college students on spring break.
Sian Ka'an is committed to protecting its fragile ecosystem—and its esteemed World Heritage Site status. As it says on its website, "Sian Ka'an is one of the most spectacular and ecologically diverse places on Earth—and we want to keep it that way."
4. Nurture Through Nature (Denmark, Maine)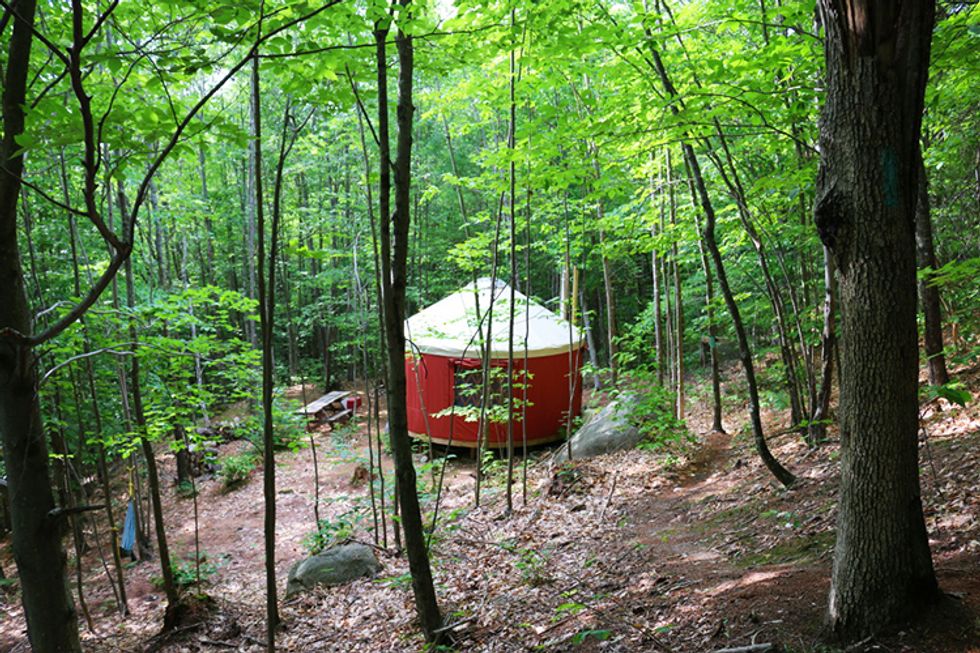 Located deep in the rugged heart of western Maine's Lakes and Mountains region, Nurture Through Nature is the state's first green-certified, Earth-friendly retreat center and has been providing individuals, couples and groups an environmentally conscious getaway since 1999.
Visitors can explore the retreat's 33 forested acres nestled along the lower slopes of Pleasant Mountain along a maze of private hiking trails that lead to a spring-fed mountain brook and sweeping views of Mount Washington and the White Mountains. This is an ideal place to reconnect with nature.
Nurture Through Nature's stated mission is to "offer a healing, Earth-friendly retreat space for reflection, contemplation and connection with your true self and the living Earth." That connection is encouraged by yoga classes, guided meditation, a private sauna, massage therapy, healing arts classes and holistic life coaching—all within a green-certified off-the-grid getaway that uses solar power, compost, renewable heat sources and non-toxic cleaning products.
With 1.3 million residents, Maine is the least densely populated state east of the Mississippi River. And as far as states go, it's not that popular of a tourist destination, ranking 44th in a 2014 survey conducted by HotelsCombined, a hotel booking site. Still, for a state with a GDP at around $54 billion, tourism fuels a tenth of the economy, providing more than 94,000 jobs—about 14 percent of the state's total employment. "Given that Maine's economy pivots on 22 million tourists who spend as much as $6 billion a year, the state's challenge is to balance one of its main sources of income with the preservation of its ecosystem," writes Kay Tang in USA Today. "Ecotourism could be Maine's win-win solution to this dilemma."
5. The Stanford Inn by the Sea (Mendocino, California)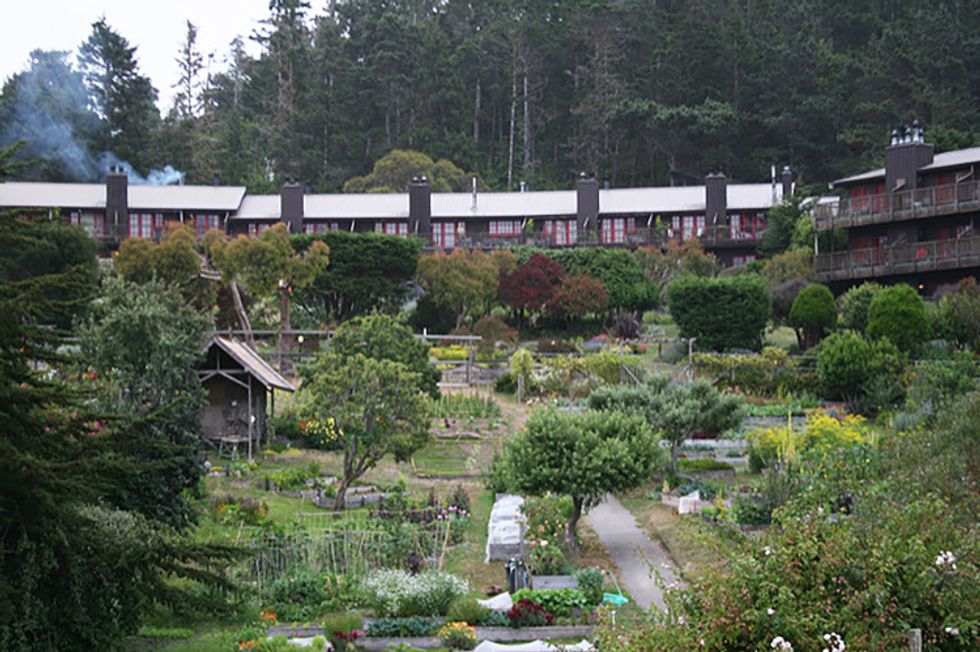 For many years, Mendocino County, located on California's north coast, has lured visitors to its lush redwood forests, breathtaking coastline and vineyards famous for producing some of the nation's best wine. That it has also become a top destination for travelers interested in environmentalism and sustainability is no surprise: In the 1970s, the county was a hippie magnet, attracting free spirits seeking independence, experimentation, communal living and a direct connection with nature.
Today, in the face of industrial logging, large-scale agriculture and urbanization—and a surging population that is expected to double by 2050—it's a challenge for the county to maintain its sustainable roots. One oasis from the area's rapid growth is the Stanford Inn by the Sea, a pet-friendly eco-resort situated on Mendocino's coast that opened its doors to eco-conscious travelers more than three decades ago.
Guests can take advantage of a wide range of therapeutic, eco-friendly activities, from canoeing and biking to enjoying the cuisine of The Ravens, the inn's vegan restaurant featuring local and organic food, including produce from the Stanford Inn's own California-certified organic farm and wine from certified organic vineyards.
The inn also hosts wellness retreats, bringing in nutritionists, vegan chefs and health coaches to teach guests about healthy living. "Moving here in 1980, we were changed by the creative and healing energies of the land," say founders Joan and Jeff Stanford, on their website. "The inn manifests our commitment to live mindfully so that all might live well."
6. Omega Institute (Rhinebeck, New York)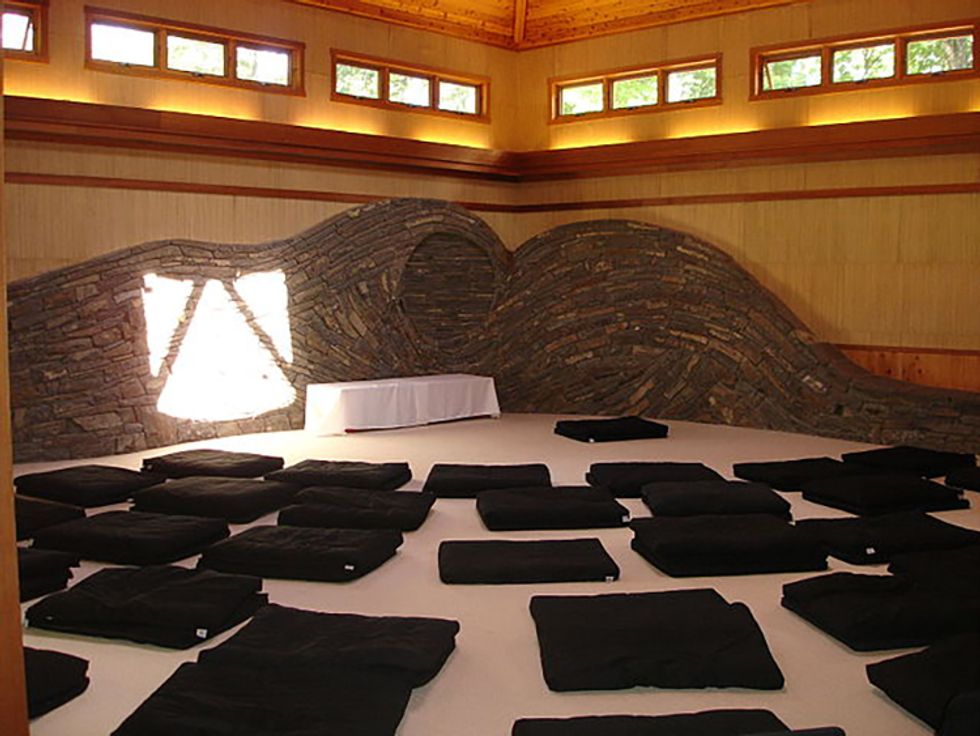 Since 1977, the Omega Institute for Holistic Studies has been on a mission to "provide hope and healing for individuals and society through innovative educational experiences that awaken the best in the human spirit."
Famous for its yoga and meditation retreats—as well as workshops covering everything from creativity and mindfulness to sexuality and life coach certification—Omega Institute is dedicated to healthy, green living and sustainable lifestyles.
Spread across nearly 200 acres in the quiet town of Rhinebeck in upstate New York, Omega has a dining hall, café, bookstore, meditation hall and the Ram Dass Library, named after the famed spiritual teacher and author of the seminal 1971 book Be Here Now, who Omega notes has served as one of their "trusted guides." The campus also includes the Omega Center for Sustainable Living, a solar-powered education center and water reclamation facility.
On its website, Omega calls itself "the nation's foremost educational retreat center." Considering its history, as well as its growing list of of A-list speakers—which includes Al Gore, Maya Angelou, Jane Goodall and Thich Nhat Hanh, among many others—it's a claim they have little problem backing up.
7. Hotel Terra Jackson Hole (Teton Village, Wyoming)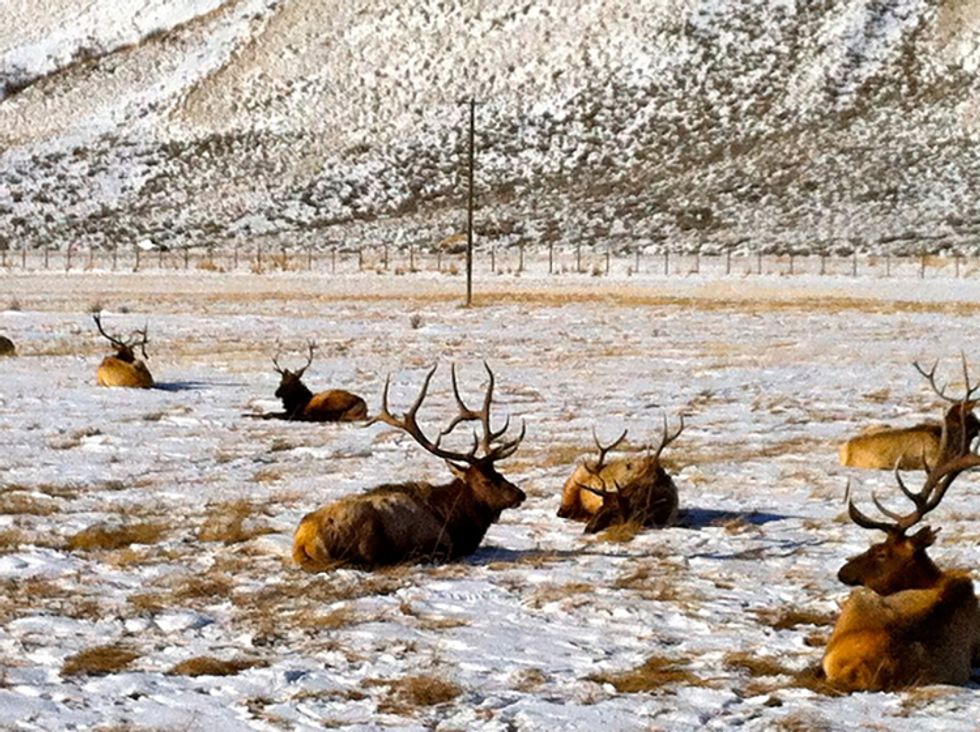 Nestled between the Teton Mountain Range and the Gros Ventre Range in Wyoming, Jackson Hole is a low-lying valley that was settled in the late 1800s by Native Americans, fur trappers and homesteaders. Later, dude ranches sparked tourism to the region. Today, ecotourism is taking hold. Eco-Tour Adventures offers wildlife tours in Grand Teton committed to the Leave No Trace ethic. The Grand Teton Lodge Company, an authorized concessionaire of the National Park Service, buys wind credits to offset its energy use and diverts half of its waste—including food waste, aluminum cans and even horse manure—into reuse and recycling.
One hotel that gets high marks on its eco-scorecard is Hotel Terra Jackson Hole in Teton Village, located at the base of the Jackson Hole Mountain Resort.
And while the first LEED-certified hotel in Wyoming gets the big things right—like offsetting energy use by purchasing solar, hydro and wind power and using native landscaping that needs no irrigation—Terra also considers the small things: its hot tubs use a natural substitute for chlorine, while every bathroom features countertops and soap dishes made of reclaimed glass and 100 percent organic linens.
Plus, what could feel better after a day hitting slopes and elk-watching than a detox organic blueberry body wrap in the hotel's Chill Spa? It's no wonder that last year, Gayot named Terra one of America's Top 10 Green Hotels.
8. Sadie Cove Wilderness Lodge (Kachemak Bay State Park, Alaska)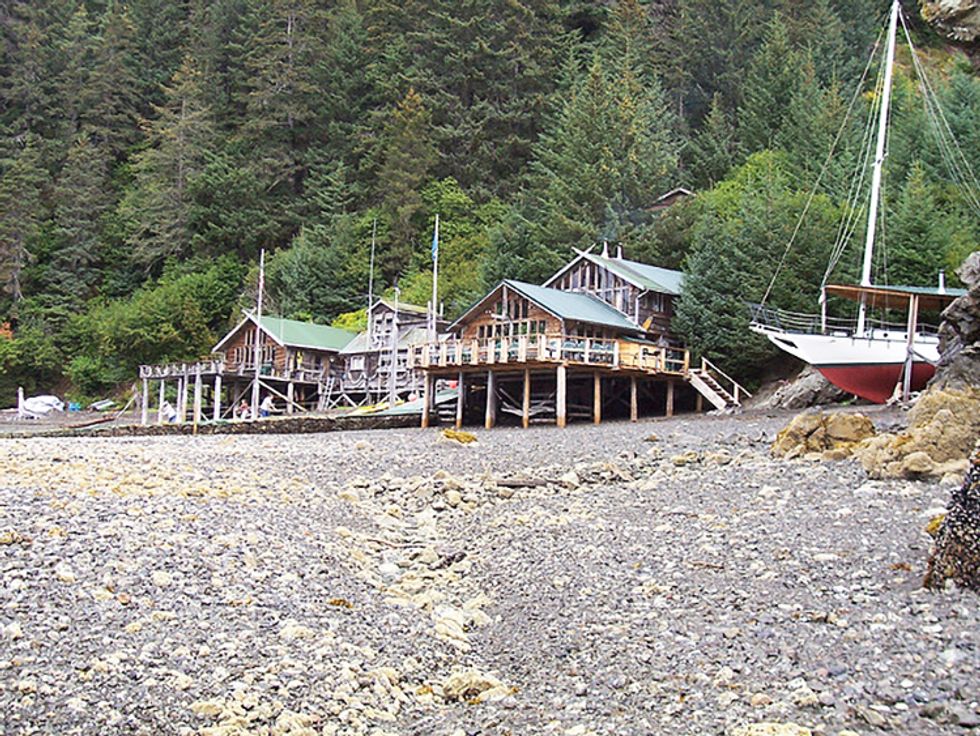 Located on a remote beach in Alaska's Kachemak Bay State Park, about 10 miles by boat from Homer (the "Bear Viewing Capital of the World"), Sadie Cove Wilderness Lodge gives visitors a unique way to experience the wilderness lifestyle that only the Last Frontier state can offer.
Open year-round, Sadie Cove was transformed from a private home hand-built from driftwood into an eco-lodge in 1981, completely powered by hydro and wind power. With only five private guest cabins and accessible only by boat, helicopter or float plane, Sadie Cove gives new meaning to "getaway." As the owners Keith and Randi Iverson note on their website, "At Sadie Cove Wilderness Lodge you can surround yourself in wilderness, not tourists."
Hiking trails of Kachemak Bay State Park, kayaking, beach combing, clam-digging and fishing for salmon are some of the year-round activities for lodge guests. Bring your binoculars, because wildlife viewing here is a special treat, with whales, orcas, seals, sea otters, sea lions, bald eagles, mountain goats, moose and bears all making their home in the park's lush environs.
9. Majestic Yosemite Hotel (Yosemite National Park, California)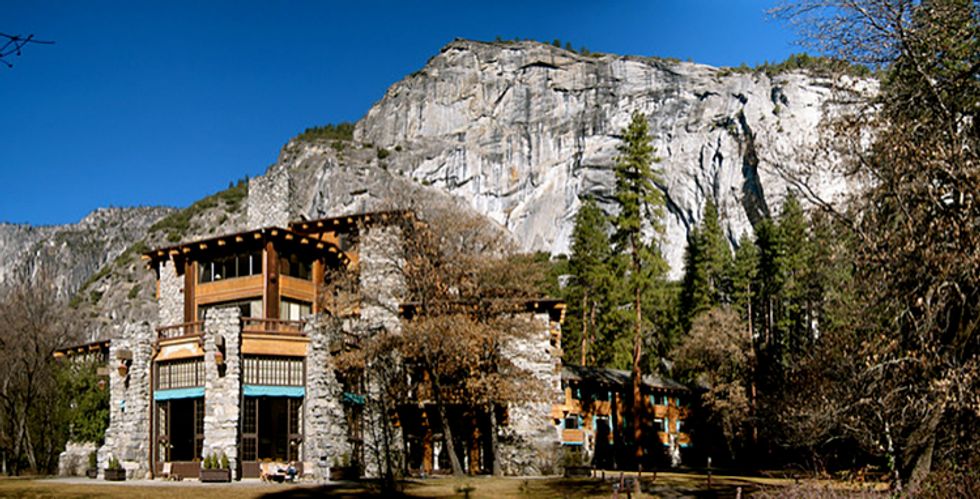 A National Historical Landmark known as much for its stunning granite facade as its beautiful interiors, Majestic Yosemite Hotel (formerly Ahwahnee Hotel) is considered one of North America's most distinctive luxury lodges. The site of the 123-room hotel was chosen for its stunning views of Glacier Point, Half Dome and Yosemite Falls.
Completed in 1927 and designed by architect Gilbert Stanley Underwood, Ahwanee is considered a masterpiece of "National Park Service rustic" (a.k.a "parkitecture"), a style of architecture developed in the first half of the 20th century through the National Park Service's efforts to create buildings that would exist in harmony with the natural environment.
Majestic Yosemite Hotel definitely takes advantage of its natural environment: One of the reasons the site was picked was to maximize sun exposure, which provides natural, fossil-free heating.
A member of the Green Hotels Association, Majestic Yosemite also participates in the GreenPath program, an environmental stewardship program ensuring that business decisions incorporate environmental considerations.
10. Jumbo Rocks Campground (Joshua Tree National Park, California)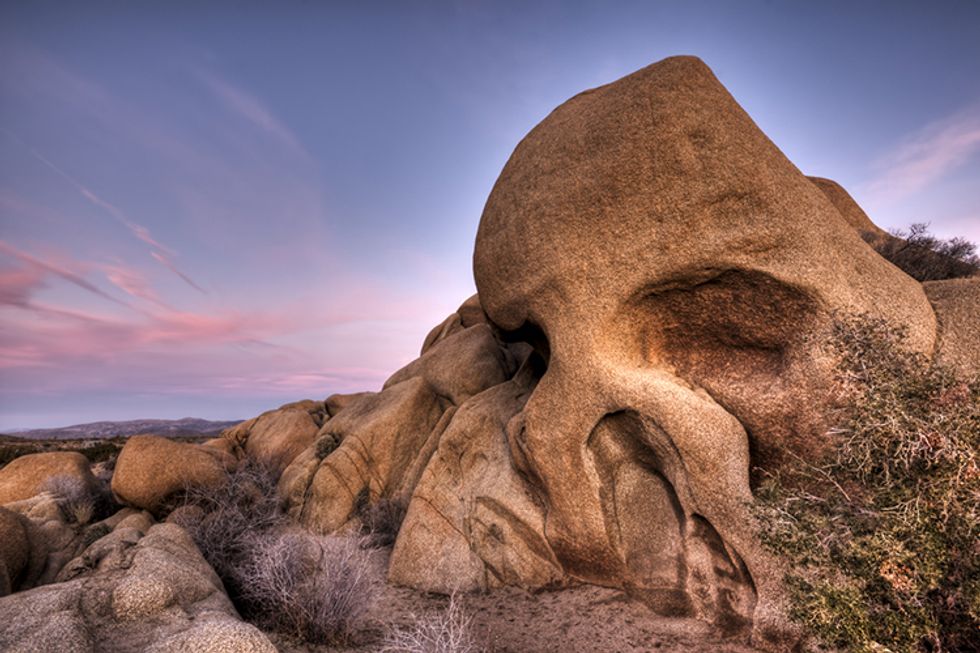 This list has some pretty pricey eco-lodges that wouldn't look out of place on your bucket list. But it wouldn't be complete without a recommendation for roughing it in the great outdoors. And since we've covered Alaska—and you've either been to the Grand Canyon or it's already on your bucket list—Jumbo Rocks Campground in Southern California's mind-blowingly gorgeous Joshua Tree National Park in the Mojave Desert gets the nod (not least because this pristine and primal landscape is less than a three-hour drive from Los Angeles).
Located near the aptly named Skull Rock by the park's western border, Jumbo Rocks features 124 campsites that include picnic tables, fire rings and pit toilets. Biking, rock climbing, hiking, horseback riding are just some of the eco-friendly activities that will wear you out and get you ready for cowboy songs by the campfire, under the stars. Plus, there's a remarkable abundance of wildlife to watch (and avoid) in this dry place: bighorn sheep, kangaroo rats, coyotes and black-tailed jackrabbits come out at night, while daytime widlife watchers can enjoy spotting birds, lizards and squirrels.
Reservations are not accepted, meaning it's first come, first served. And since it's pretty close to LA, you'll want to come early and preferably on a weekday to put up sticks before the weekenders arrive. Make a note that there's no potable water, so bring more than you think you'll need, especially if you're bringing your pet. And if you need camping essentials like a tent, sleeping bags, backpacks and hiking shoes, check out Inhabit's "Top Eco-Friendly Camping Gear for Conscientious Outdoor Enthusiasts."
No matter what your next travel destination is, getting there can be a big burden on the environment in terms of greenhouse gas emissions. Consider more local and regional destinations that are accessible by bus or train. If you have to drive, use a fuel-efficient car, like a hybrid or an EV or find a carpool. And if you simply must fly, choose coach (yes, it's smaller, but less carbon-intensive than first or business class), select an efficient airline (check Atmosfair's airline ranking) and consider reducing your air travel carbon footprint by purchasing carbon offsets, which are offered by most domestic airlines and many international carriers.
Bon voyage!
YOU MIGHT ALSO LIKE
10 Extraordinary Places Saved by the Endangered Species Act
Paddleboarder Sets Out on Epic Journey to Fight Plastic Pollution
12 Kid-Friendly National Parks
Antarctica's Thwaites Glacier, aka the doomsday glacier, is seen here in 2014. NASA /
Wikimedia Commons
/ CC0
Scientists have maneuvered an underwater robot beneath Antarctica's "doomsday glacier" for the first time, and the resulting data is not reassuring.
Antarctica's Thwaites Glacier is referred to as the doomsday glacier because every year it contributes four percent to global sea level rise and acts as a stopper for the West Antarctic Ice Sheet. If the glacier were to collapse and take the sheet with it, that would raise global sea levels by around 10 feet. Now, a study published in Science Advances on April 9 warns that there is more warm water circling below the glacier than previously believed, making that collapse more likely.
"Our observations show warm water impinging from all sides on pinning points critical to ice-shelf stability, a scenario that may lead to unpinning and retreat," the study authors wrote. Pinning points are areas where the ice connects with the bedrock that provides stability, Earther explained.

The new paper is based on a 2019 expedition where an autonomous submarine named Ran explored the area beneath the glacier in order to measure the strength, salinity, oxygen content and temperature of the ocean currents that move beneath it, the International Thwaites Glacier Collaboration explained in a press release.
"These were the first measurements ever performed beneath the ice front of Thwaites glacier," Anna Wåhlin, lead author and University of Gothenburg oceanography professor, explained in the press release. "Global sea level is affected by how much ice there is on land, and the biggest uncertainty in the forecasts is the future evolution of the West Antarctic Ice Sheet."
This isn't the first instance revealing the presence of warm water beneath the glacier. In January 2020, researchers drilled a bore hole through the glacier and recorded temperature readings of more than two degrees Celsius above freezing, EcoWatch reported at the time.

However, Ran's measurements were taken earlier and allow scientists to understand the warmer water's movement in more detail. Scientists now know that water as warm as 1.05 degrees Celsius is circulating around the glacier's vulnerable pinning points.
"The worry is that this water is coming into direct contact with the underside of the ice shelf at the point where the ice tongue and shallow seafloor meet," Alastair Graham, study co-author and University of Southern Florida associate professor of geological oceanography, told Earther. "This is the last stronghold for Thwaites and once it unpins from the sea bed at its very front, there is nothing else for the ice shelf to hold onto. That warm water is also likely mixing in and around the grounding line, deep into the cavity, and that means the glacier is also being attacked at its feet where it is resting on solid rock."
While this sounds grim, the fact that researchers were able to obtain the data is crucial for understanding and predicting the impacts of the climate crisis.
"The good news is that we are now, for the first time, collecting data that will enable us to model the dynamics of Thwaite's glacier. This data will help us better calculate ice melting in the future. With the help of new technology, we can improve the models and reduce the great uncertainty that now prevails around global sea level variations," Wåhlin said in the press release.
From Your Site Articles
Related Articles Around the Web
EcoWatch Daily Newsletter
Journalists film a protest by the environmental organization BUND at the Datteln coal-fired power plant in North Rhine-Westphalia, Germany on April 23, 2020. Bernd Thissen / picture alliance via Getty Images
By Jessica Corbett
Lead partners of a global consortium of news outlets that aims to improve reporting on the climate emergency released a statement on Monday urging journalists everywhere to treat their coverage of the rapidly heating planet with the same same level of urgency and intensity as they have the COVID-19 pandemic.
Airborne microplastics are turning up in remote regions of the world, including the remote Altai mountains in Siberia. Kirill Kukhmar / TASS / Getty Images
However, a new study from researchers at Cornell and Utah State University highlights the increasing threat of airborne microplastics "spiraling around the globe," The Guardian reported.
Plastic waste breaks down into smaller pieces until it becomes microscopic and gets swept up into the atmosphere, where it rides the jet stream and travels across continents, the Cornell Chronicle reported. Researchers discovered this has led to a global plastic cycle as microplastics permeate the environment, according to The Guardian.
"We found a lot of legacy plastic pollution everywhere we looked; it travels in the atmosphere and it deposits all over the world," Janice Brahney, lead author of the study and Utah State University assistant professor of natural resources, told the Cornell Chronicle. "This plastic is not new from this year. It's from what we've already dumped into the environment over several decades."
In the study, published in the journal Proceedings of the National Academy of Sciences, researchers tested the most likely sources of more than 300 samples of airborne microplastics from 11 sites across the western U.S. To their surprise, the researchers found that almost none of the atmospheric microplastics came from plastic waste in cities and towns. "It just didn't work out that way," Professor Natalie Mahowald from Cornell University, who was part of the research team, told The Guardian.
It turns out that 84 percent of atmospheric microplastics came from roads, 11 percent from oceans and five percent from agricultural soil dust, the scientists wrote.
"We did the modeling to find out the sources, not knowing what the sources might be," Mahowald told the Cornell Chronicle. "It's amazing that this much plastic is in the atmosphere at that level, and unfortunately accumulating in the oceans and on land and just recirculating and moving everywhere, including remote places."
The scientists say the level of plastic pollution is expected to increase, raising "questions on the impact of accumulating plastics in the atmosphere on human health. The inhalation of particles can be irritating to lung tissue and lead to serious diseases," The Guardian reported.
The study coincides with other recent reports by researchers, who confirmed the existence of microplastics in New Zealand and Moscow, where airborne plastics are turning up in remote parts of snowy Siberia.
In the most recent study, scientists also learned that plastic particles were more likely to be blown from fields than roads in Africa and Asia, The Guardian reported.
As plastic production increases every year, the scientists stressed that there remains "large uncertainties in the transport, deposition, and source attribution of microplastics," and wrote that further research should be prioritized.
"What we're seeing right now is the accumulation of mismanaged plastics just going up. Some people think it's going to increase by tenfold [per decade]," Mahowald told The Guardian. "But maybe we could solve this before it becomes a huge problem, if we manage our plastics better, before they accumulate in the environment and swirl around everywhere."
A laborer works at the site of a rare earth metals mine at Nancheng county, Jiangxi province, China on Oct. 7, 2010. Jie Zhao / Corbis via Getty Images
By Michel Penke
More than every second person in the world now has a cellphone, and manufacturers are rolling out bigger, better, slicker models all the time. Many, however, have a bloody history.
Though made in large part of plastic, glass, ceramics, gold and copper, they also contain critical resources. The gallium used for LEDs and the camera flash, the tantalum in capacitors and indium that powers the display were all pulled from the ground — at a price for nature and people.
"Mining raw materials is always problematic, both with regard to human rights and ecology," said Melanie Müller, raw materials expert of the German think tank SWP. "Their production process is pretty toxic."
The gallium and indium in many phones comes from China or South Korea, the tantalum from the Democratic Republic of Congo or Rwanda. All in, such materials comprise less than ten grams of a phone's weight. But these grams finance an international mining industry that causes radioactive earth dumps, poisoned groundwater and Indigenous population displacement.
Environmental Damage: 'Nature Has Been Overexploited'
The problem is that modern technologies don't work without what are known as critical raw materials. Collectively, solar panels, drones, 3D printers and smartphone contain as many as 30 of these different elements sourced from around the globe. A prime example is lithium from Chile, which is essential in the manufacture of batteries for electric vehicles.
"No one, not even within the industry, would deny that mining lithium causes enormous environmental damage," Müller explained, in reference to the artificial lakes companies create when flushing the metal out of underground brine reservoirs. "The process uses vast amounts of water, so you end up with these huge flooded areas where the lithium settles."
This means of extraction results in the destruction and contamination of the natural water system. Unique plants and animals lose access to groundwater and watering holes. There have also been reports of freshwater becoming salinated due to extensive acidic waste water during lithium mining.
But lithium is not the only raw material that causes damage. Securing just one ton of rare earth elements produces 2,000 tons of toxic waste, and has devastated large regions of China, said Günther Hilpert, head of the Asia Research Division of the German think tank SWP.
He says companies there have adopted a process of spraying acid over the mining areas in order to separate the rare earths from other ores, and that mined areas are often abandoned after excavation.
"They are no longer viable for agricultural use," Hilpert said. "Nature has been overexploited."
China is not the only country with low environmental mining standards and poor resource governance. In Madagascar, for example, a thriving illegal gem and metal mining sector has been linked to rainforest depletion and destruction of natural lemur habitats.
States like Madagascar, Rwanda and the DRC score poorly on the Environmental Performance Index that ranks 180 countries for their effort on factors including conservation, air quality, waste management and emissions. Environmentalists are therefore particularly concerned that these countries are mining highly toxic materials like beryllium, tantalum and cobalt.
But it is not only nature that suffers from the extraction of high-demand critical raw materials.
"It is a dirty, toxic, partly radioactive industry," Hilpert said. "China, for example, has never really cared about human rights when it comes to achieving production targets."
Dirty, Toxic, Radioactive: Working in the Mining Sector
One of the most extreme examples is Baotou, a Chinese city in Inner Mongolia, where rare earth mining poisoned surrounding farms and nearby villages, causing thousands of people to leave the area.
In 2012, The Guardian described a toxic lake created in conjunction with rare earth mining as "a murky expanse of water, in which no fish or algae can survive. The shore is coated with a black crust, so thick you can walk on it. Into this huge, 10 sq km tailings pond nearby factories discharge water loaded with chemicals used to process the 17 most sought after minerals in the world."
Local residents reported health issues including aching legs, diabetes, osteoporosis and chest problems, The Guardian wrote.
South Africa has also been held up for turning a blind eye to the health impacts of mining.
"The platinum sector in South Africa has been criticized for performing very poorly on human rights — even within the raw materials sector," Müller said.
In 2012, security forces killed 34 miners who had been protesting poor working conditions and low wages at a mine owned by the British company Lonmin. What became known as the "Marikana massacre" triggered several spontaneous strikes across the country's mining sector.
Müller says miners can still face exposure to acid drainage — a frequent byproduct of platinum mining — that can cause chemical burns and severe lung damage. Though this can be prevented by a careful waste system.
Some progress was made in 2016 when the South African government announced plans to make mining companies pay $800 million (€679 million) for recycling acid mine water. But they didn't all comply. In 2020, activists sued Australian-owned mining company Mintails and the government to cover the cost of environmental cleanup.
Another massive issue around mining is water consumption. Since the extraction of critical raw materials is very water intensive, drought prone countries such as South Africa, have witnessed an increase in conflicts over supply.

For years, industry, government and the South African public debated – without a clear agreement – whether companies should get privileged access to water and how much the population may suffer from shortages.
Mining in Brazil: Replacing Nature, People, Land Rights
Beyond the direct health and environmental impact of mining toxic substances, quarrying critical raw materials destroys livelihoods, as developments in Brazil demonstrate.
"Brazil is the major worldwide niobium producer and reserves in [the state of] Minas Gerais would last more than 200 years [at the current rate of demand]," said Juliana Siqueira-Gay, environmental engineer and Ph.D. student at the University of São Paulo.
While the overall number of niobium mining requests is stagnating, the share of claims for Indigenous land has skyrocketed from 3 to 36 percent within one year. If granted, 23 percent of the Amazon forest and the homeland of 222 Indigenous groups could fall victim to deforestation in the name of mining, a study by Siqueira-Gay finds.
In early 2020, Brazilian President Jair Bolsonaro signed a bill which would allow corporations to develop areas populated by Indigenous communities in the future. The law has not yet entered into force, but "this policy could have long-lasting negative effects on Brazil's socio-biodiversity," said Siqueira-Gay.
One example are the niobium reserves in Seis Lagos, in Brazil's northeast, which could be quarried to build electrolytic capacitors for smartphones.
"They overlap the Balaio Indigenous land and it would cause major impacts in Indigenous communities by clearing forests responsible for providing food, raw materials and regulating the local climate," Siqueira-Gay explained.
She says scientific good practice guidelines offer a blueprint for sustainable mining that adheres to human rights and protects forests. Quarries in South America — and especially Brazil — funded by multilaterial banks like the International Finance Corporation of the World Bank Group have to follow these guidelines, Siqueira-Gay said.
They force companies to develop sustainable water supply, minimize acid exposure and re-vegetate mined surfaces. "First, negative impacts must be avoided, then minimized and at last compensated — not the other way around."
Reposted with permission from DW.
From Your Site Articles
Related Articles Around the Web
Scientists are studying barley, the key ingredient in beer. Ridofranz / Getty Images
Researchers at UC-Riverside are investigating how barley, a key ingredient in beer, survives in such a wide variety of climates with hopes of learning what exactly makes it so resilient across climates.
Barley was first grown domestically in Southwest Asia about 10,000 year ago and is grown around the world, from Egypt to Minnesota.
Barley's prime growing regions have shifted northward in recent decades as global temperatures have risen due to climate change caused by human extraction and combustion of fossil fuels.
Chuck Skypeck, technical brewing projects manager for the Brewers Association located in Boulder, Colorado, told E&E climate change's effects are impacting the brewing industry.
"Certainly dynamic growing conditions, water scarcity, extreme weather events, growers' planting decisions can all affect both pricing and availability of brewers' supply of malted barley," he told E&E News.
For a deeper dive:
For more climate change and clean energy news, you can follow Climate Nexus on Twitter and Facebook, sign up for daily Hot News, and visit their news site, Nexus Media News.