This website uses cookies to ensure you get the best experience while browsing it. By clicking 'Got It' you're accepting these terms.
10 Animal Species That Could Vanish in 2015 if We Don't Act Now
Jan. 03, 2015 10:33AM EST
Anyone who has ever visited a zoo has probably seen the charts depicting how this or that animal's habitat has shrunk, thanks to human encroachment, climate change or both. And while some animal rights activists oppose zoos and animal captivity, if we don't address the disappearance of their territory, many animals themselves could disappear from the face of the Earth—many of them as early as this year.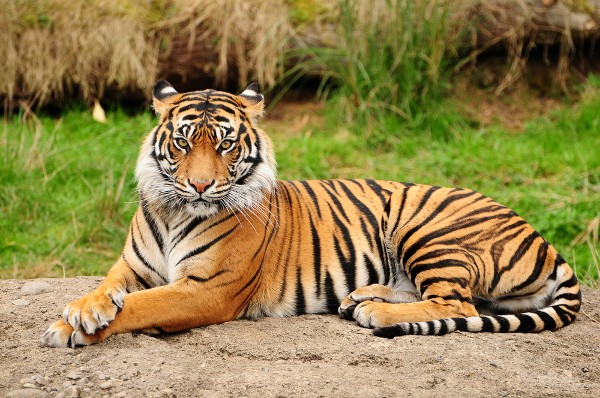 Photo credit: Shutterstock
The Center for Biological Diversity says there's an "extinction crisis" underway that threatens our planet's biodiversity.
"Our planet is now in the midst of its sixth mass extinction of plants and animals—the sixth wave of extinctions in the past half-billion years," says Center for Biological Diversity. "We're currently experiencing the worst spate of species die-offs since the loss of the dinosaurs 65 million years ago. Although extinction is a natural phenomenon, it occurs at a natural 'background' rate of about one to five species per year. Scientists estimate we're now losing species at 1,000 to 10,000 times the background rate, with literally dozens going extinct every day. It could be a scary future indeed, with as many as 30 to 50 percent of all species possibly heading toward extinction by mid-century."
And the reason for species extinction has been upended.
"Unlike past mass extinctions, caused by events like asteroid strikes, volcanic eruptions and natural climate shifts, the current crisis is almost entirely caused by us—humans," says Center for Biological Diversity. "In fact, 99 percent of currently threatened species are at risk from human activities, primarily those driving habitat loss, introduction of exotic species and global warming."
The disappearing species include mammals, reptiles, amphibians, fish, birds and invertebrates such as corals, earthworms and butterflies.
Here are some of the species that may not live to see 2016, thanks to humans. The World Wildlife Fund rates all of these species "critically endangered."
1. Black Rhino. Recently a white rhino died at the San Diego Zoo, leaving only five in the world. But the black rhino is also threatened. With fewer than 5,000 left in the wild in the grasslands and deserts of coastal east Africa, they're sometimes killed for food but their double horns are a valuable product in this impoverished area. Ninety-six percent of their population was destroyed from 1970 to 1992. Conflict in countries like Sudan, Rwanda and Somalia has hampered conservation efforts.
2. Javan Rhino. Indonesia's Javan rhino is even more threatened than the black rhino, with possibly only 35 remaining. They're dying of disease and an invasive species that has destroyed their food source. Poaching already wiped out a subspecies of this rhino in Vietnam in 2010 and threatens this one as well. They also face threats from reduced genetic diversity and natural disasters such as volcanos and tsunamis.
3. Hawksbill Turtle. Found in tropical oceans, especially coral reefs, they feed on sponges, sea anemone and jellyfish and are essential to the health of coral reefs. They're fighting threats from every direction, including habitat disruption, pollution, poor fishery practices and illegal trade in their prized shells.
4. Soala. Often called the Asian unicorn, this previously unknown mammal was discovered in Vietnam in 1992. It's unclear how many there are since they tend to elude human contact, with estimates ranging from a few dozen to a few hundred. The forests of Vietnam and Laos where they live are being cut down to expand agriculture, forcing them into ever-smaller territory. Closer contact with humans means they're more hunted as well.
5. South China Tiger. This species of tiger hasn't been seen in the wild for 25 years, existing only in zoos. Although hunting them was outlawed in China in 1979 and its survival made a conservation priority there in 1995, the country's rapid development has meant that their habitat is fragmented into areas too small to support a population.
6. Yangtze Finless Porpoise. The Yangtze River was once home to two porpoise species, but one, the Baiji dolphin, was declared extinct in 2006, the first time human activity wiped a dolphin species off the planet. The Yangtze finless porpoise has a remaining population of less than 2,000 individuals and could go the same way as the Baiji if its food supply, threatened by overfishing, continues to dwindle. It's also threatened by pollution and ship movement.
7. Western Lowland Gorilla. This small gorilla, found in the dense rain forests of west central Africa, was once one of the most numerous but its population has been decimated by ebola. And while hunting them for bushmeat is illegal, timber and other companies making forays into distant forests have also made poaching and bushmeat trade easier—and facilitated the transfer of ebola to humans.
8. Vaquita. There are probably less than 100 of these rare marine animals left in the wild. They're often caught in gillnets from the illegal fishing  trade in protected areas in Mexico's Gulf of California. Half the population has disappeared in the last three years, with one in five drowned as bycatch. They're one of the most critically threatened species.
9. Sumatran Elephant. There are only 2,400-2,800 Sumatran elephants left on the Indonesian island of Sumatra, with half their population gone in one generation due to habitat loss through deforestation by the paper, pulp and palm oil industries. In addition, they're often killed in "human-elephant conflict" when they trample homes and crops—another result of destroying their natural feeding grounds.
10. Mountain Gorilla. This gorilla, which lives in the mountainous forests of central Africa, is jeopardized by human encroachment forcing them into more dangerous territory, as well as by poaching and civil conflicts. They number less than 1,000 but the good news is that, thanks to conservation efforts, their numbers are growing. So they could dodge the extinction bullet.
YOU MIGHT ALSO LIKE
Wild Buffalo Roam East of the Mississippi for First Time Since 1830s
Can Drones Stop Poaching and Save Rhinos and Elephants?
Prince William and British naturalist David Attenborough attend converse during the World Economic Forum annual meeting, on January 22 in Davos, Switzerland. Fabrice Cofferini /AFP / Getty Images
Britain's Prince William interviewed famed broadcaster David Attenborough on Tuesday at the World Economic Forum's annual meeting in Switzerland.
During the sit-down, the 92-year-old naturalist advised the world leaders and business elite gathered in Davos this week that we must respect and protect the natural world, adding that the future of its survival—as well as humanity's survival—is in our hands.
Electric vehicle sales took off in 2018, with a record two million units sold around the world, according to a new Deloitte analysis.
What's more, the accounting firm predicts that another 21 million electric cars will be on the road globally over the next decade due to growing market demand for clean transportation, government subsidies, as well as bans on fossil fuel cars.
Teenager Alex Weber and friends collected nearly 40,000 golf balls hit into the ocean from a handful of California golf courses.
Alex Weber /
CC BY-ND
Southwest Greenland had the most consistent ice loss from 2003 to 2012. Eqalugaarsuit, Ostgronland, Greenland on Aug. 1, 2018.
Rob Oo / CC BY 2.0
Greenland is melting about four times faster than it was in 2003, a new study published Monday in the Proceedings of the National Academy of Sciences found, a discovery with frightening implications for the pace and extent of future sea level rise.
"We're going to see faster and faster sea level rise for the foreseeable future," study lead author and Ohio State University geodynamics professor Dr. Michael Bevis said in a press release. "Once you hit that tipping point, the only question is: How severe does it get?"
Finally, some good news about the otherwise terrible partial government shutdown. A federal judge ruled that the Trump administration cannot issue permits to conduct seismic testing during the government impasse.
The Justice Department sought to delay—or stay—a motion filed by a range of coastal cities, businesses and conservation organizations that are suing the Trump administration over offshore oil drilling, Reuters reported. The department argued that it did not have the resources it needed to work on the case due to the shutdown.
Most people have heard of the Amazon, South America's famed rainforest and hub of biological diversity. Less well known, though no less critical, is the Pantanal, the world's largest tropical wetland.
Like the Amazon, the Pantanal is ecologically important and imperiled. Located primarily in Brazil, it also stretches into neighboring Bolivia and Paraguay. Covering an area larger than England at more than 70,000 square miles, the massive wetland provides irreplaceable ecosystem services that include the regulation of floodwaters, nutrient renewal, river flow for navigability, groundwater recharge and carbon sequestration. The wetland also supports the economies of the four South American states it covers.
Demonstrators participate in a protest march over agricultural policy on Jan. 19 in Berlin, Germany. Carsten Koall / Getty Images Europe
By Andrea Germanos
Organizers said 35,000 people marched through the streets of the German capital on Saturday to say they're "fed up" with industrial agriculture and call for a transformation to a system that instead supports the welfare of the environment, animals and rural farmers.

The fire that erupted after a pipeline explosion in Mexico Friday. FRANCISCO VILLEDA / AFP / Getty Images
By Patrick Rogers
If you have ever considered making the switch to an environmentally friendly electric vehicle, don't drag your feet. Though EV prices are falling, and states are unveiling more and more public charging stations and plug-in-ready parking spots, the federal government is doing everything it can to slam the brakes on our progress away from gas-burning internal combustion engines. President Trump, likely pressured by his allies in the fossil fuel industry, has threatened to end the federal tax credits that have already helped put hundreds of thousands of EVs on the road—a move bound to harm not only our environment but our economy, too. After all, the manufacturing and sale of EVs, hybrids, and plug-in hybrids supported 197,000 jobs in 2017, according to the most recent U.S. Energy and Employment Report.