This website uses cookies to ensure you get the best experience while browsing it. By clicking 'Got It' you're accepting these terms.
10 Animal Species That Could Vanish in 2015 if We Don't Act Now
Jan. 03, 2015 10:33AM EST
Animals
Anyone who has ever visited a zoo has probably seen the charts depicting how this or that animal's habitat has shrunk, thanks to human encroachment, climate change or both. And while some animal rights activists oppose zoos and animal captivity, if we don't address the disappearance of their territory, many animals themselves could disappear from the face of the Earth—many of them as early as this year.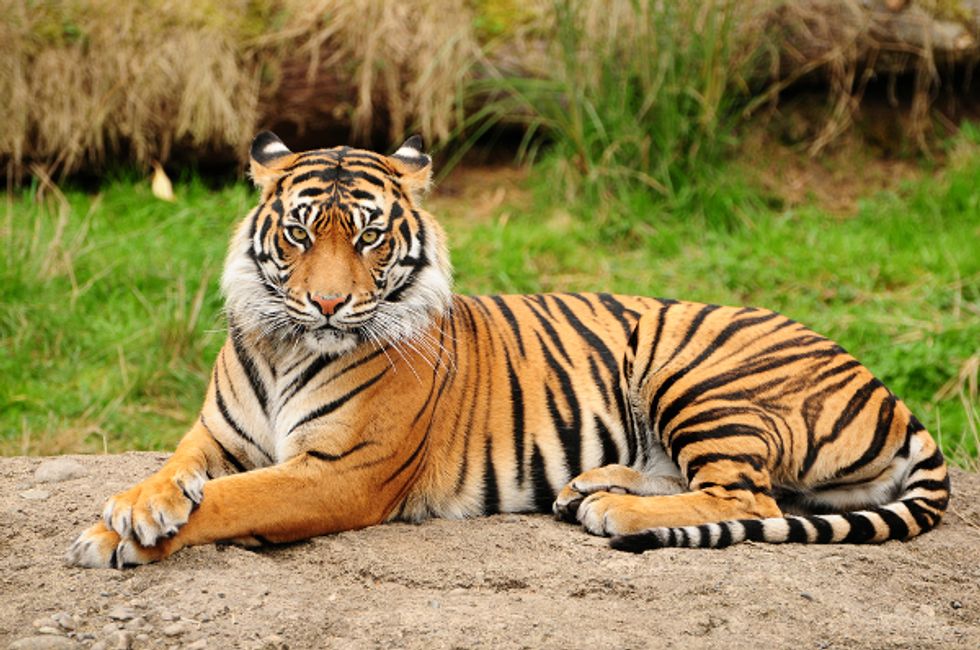 Photo credit: Shutterstock
The Center for Biological Diversity says there's an "extinction crisis" underway that threatens our planet's biodiversity.
"Our planet is now in the midst of its sixth mass extinction of plants and animals—the sixth wave of extinctions in the past half-billion years," says Center for Biological Diversity. "We're currently experiencing the worst spate of species die-offs since the loss of the dinosaurs 65 million years ago. Although extinction is a natural phenomenon, it occurs at a natural 'background' rate of about one to five species per year. Scientists estimate we're now losing species at 1,000 to 10,000 times the background rate, with literally dozens going extinct every day. It could be a scary future indeed, with as many as 30 to 50 percent of all species possibly heading toward extinction by mid-century."
And the reason for species extinction has been upended.
"Unlike past mass extinctions, caused by events like asteroid strikes, volcanic eruptions and natural climate shifts, the current crisis is almost entirely caused by us—humans," says Center for Biological Diversity. "In fact, 99 percent of currently threatened species are at risk from human activities, primarily those driving habitat loss, introduction of exotic species and global warming."
The disappearing species include mammals, reptiles, amphibians, fish, birds and invertebrates such as corals, earthworms and butterflies.
Here are some of the species that may not live to see 2016, thanks to humans. The World Wildlife Fund rates all of these species "critically endangered."
1. Black Rhino. Recently a white rhino died at the San Diego Zoo, leaving only five in the world. But the black rhino is also threatened. With fewer than 5,000 left in the wild in the grasslands and deserts of coastal east Africa, they're sometimes killed for food but their double horns are a valuable product in this impoverished area. Ninety-six percent of their population was destroyed from 1970 to 1992. Conflict in countries like Sudan, Rwanda and Somalia has hampered conservation efforts.
2. Javan Rhino. Indonesia's Javan rhino is even more threatened than the black rhino, with possibly only 35 remaining. They're dying of disease and an invasive species that has destroyed their food source. Poaching already wiped out a subspecies of this rhino in Vietnam in 2010 and threatens this one as well. They also face threats from reduced genetic diversity and natural disasters such as volcanos and tsunamis.
3. Hawksbill Turtle. Found in tropical oceans, especially coral reefs, they feed on sponges, sea anemone and jellyfish and are essential to the health of coral reefs. They're fighting threats from every direction, including habitat disruption, pollution, poor fishery practices and illegal trade in their prized shells.
4. Soala. Often called the Asian unicorn, this previously unknown mammal was discovered in Vietnam in 1992. It's unclear how many there are since they tend to elude human contact, with estimates ranging from a few dozen to a few hundred. The forests of Vietnam and Laos where they live are being cut down to expand agriculture, forcing them into ever-smaller territory. Closer contact with humans means they're more hunted as well.
5. South China Tiger. This species of tiger hasn't been seen in the wild for 25 years, existing only in zoos. Although hunting them was outlawed in China in 1979 and its survival made a conservation priority there in 1995, the country's rapid development has meant that their habitat is fragmented into areas too small to support a population.
6. Yangtze Finless Porpoise. The Yangtze River was once home to two porpoise species, but one, the Baiji dolphin, was declared extinct in 2006, the first time human activity wiped a dolphin species off the planet. The Yangtze finless porpoise has a remaining population of less than 2,000 individuals and could go the same way as the Baiji if its food supply, threatened by overfishing, continues to dwindle. It's also threatened by pollution and ship movement.
7. Western Lowland Gorilla. This small gorilla, found in the dense rain forests of west central Africa, was once one of the most numerous but its population has been decimated by ebola. And while hunting them for bushmeat is illegal, timber and other companies making forays into distant forests have also made poaching and bushmeat trade easier—and facilitated the transfer of ebola to humans.
8. Vaquita. There are probably less than 100 of these rare marine animals left in the wild. They're often caught in gillnets from the illegal fishing  trade in protected areas in Mexico's Gulf of California. Half the population has disappeared in the last three years, with one in five drowned as bycatch. They're one of the most critically threatened species.
9. Sumatran Elephant. There are only 2,400-2,800 Sumatran elephants left on the Indonesian island of Sumatra, with half their population gone in one generation due to habitat loss through deforestation by the paper, pulp and palm oil industries. In addition, they're often killed in "human-elephant conflict" when they trample homes and crops—another result of destroying their natural feeding grounds.
10. Mountain Gorilla. This gorilla, which lives in the mountainous forests of central Africa, is jeopardized by human encroachment forcing them into more dangerous territory, as well as by poaching and civil conflicts. They number less than 1,000 but the good news is that, thanks to conservation efforts, their numbers are growing. So they could dodge the extinction bullet.
YOU MIGHT ALSO LIKE
Wild Buffalo Roam East of the Mississippi for First Time Since 1830s
Can Drones Stop Poaching and Save Rhinos and Elephants?
EcoWatch Daily Newsletter
Pexels
By Charli Shield
At unsettling times like the coronavirus outbreak, it might feel like things are very much out of your control. Most routines have been thrown into disarray and the future, as far as the experts tell us, is far from certain.
Pie Ranch in San Mateo, California, is a highly diverse farm that has both organic and food justice certification. Katie Greaney
By Elizabeth Henderson
Farmworkers, farmers and their organizations around the country have been singing the same tune for years on the urgent need for immigration reform. That harmony turns to discord as soon as you get down to details on how to get it done, what to include and what compromises you are willing to make. Case in point: the Farm Workforce Modernization Act (H.R. 5038), which passed in the House of Representatives on Dec. 11, 2019, by a vote of 260-165. The Senate received the bill the next day and referred it to the Committee on the Judiciary, where it remains. Two hundred and fifty agriculture and labor groups signed on to the United Farm Workers' (UFW) call for support for H.R. 5038. UFW President Arturo Rodriguez rejoiced:
A woman walks to her train in Grand Central Terminal as New York City attempts to slow down the spread of coronavirus through social distancing on March 27. John Lamparski / Getty Images
By Julia Conley
A council representing more than 800,000 doctors across the U.S. signed a letter Friday imploring President Donald Trump to reverse his call for businesses to reopen by April 12, warning that the president's flouting of the guidance of public health experts could jeopardize the health of millions of Americans and throw hospitals into even more chaos as they fight the coronavirus pandemic.
polaristest / Flickr / CC BY-NC-ND 2.0
By Melissa Kravitz Hoeffner
Over six gallons of water are required to produce one gallon of wine. "Irrigation, sprays, and frost protection all [used in winemaking] require a lot of water," explained winemaker and sommelier Keith Wallace, who's also a professor and the founder of the Wine School of Philadelphia, the largest independent wine school in the U.S. And water waste is just the start of the climate-ruining inefficiencies commonplace in the wine industry. Sustainably speaking, climate change could be problematic for your favorite glass of wine.
Pixabay
Spinach is a true nutritional powerhouse, as it's rich in vitamins, minerals, and antioxidants.