5 Years Since Massive Tar Sands Oil Spill, Kalamazoo River Still Not Clean
Five years ago today, in the middle of the night, an oil pipeline operated by Enbridge ruptured outside of Marshall, Michigan. It took more than 17 hours before the Canadian company finally cut off the flow, but by then, more than a million gallons of tar sands crude had oozed into Talmadge Creek. The oil quickly flowed into the Kalamazoo River, forcing dozens of families to evacuate their homes. Oil spills of that magnitude are always disastrous, but the Kalamazoo event was historically damaging.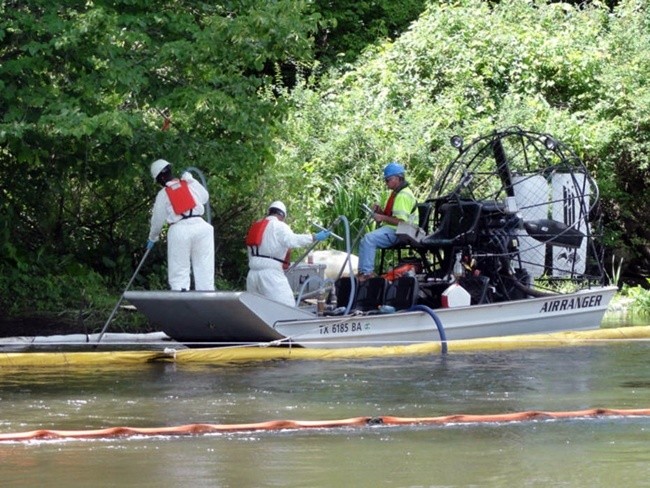 Submerged oil recovery on the Kalamazoo River. Photo credit: EPA
The first challenge was the composition of the oil. Fresh tar sands crude looks more like dirt than conventional crude—it's far too thick to travel through a pipeline.
To get this crumbly mess to flow, producers thin it out with the liquid constituents of natural gas. Diluted bitumen, or dilbit, as it's called in the tar sands industry, is approximately three parts tar sands crude, one part natural gas liquids.
When dilbit gushed into Talmadge Creek in 2010, the mixture broke apart. The volatile natural gas liquids vaporized and wafted into the surrounding neighborhoods. The airborne chemicals were so difficult to find and eliminate that Enbridge decided it would be better to simply buy some of the homes that were evacuated, preventing the residents from ever returning.
The tar sands oil, which stayed in the water, presented an even bigger chemistry problem. Most forms of oil, including conventional crude, are less dense than water. That's why oil makes such pretty colors when dropped into a rain puddle—it floats and plays tricks with the sunlight. Traditional oil spill cleanup technology relies heavily on this density relationship. Skimmers and vacuums remove it from the surface. Floating booms prevent surface-level oil from moving into environmentally sensitive areas.
Tar sands crude behaves differently. "Tar sands bitumen is a low-grade, heavy substance," says Anthony Swift, director of NRDC's Canada Project (disclosure). "Unlike conventional crude, when bitumen is released into a water body, it sinks." (See "Sink or Skim," onEarth's infographic on why tar sands oil is more difficult to clean up than conventional crude.)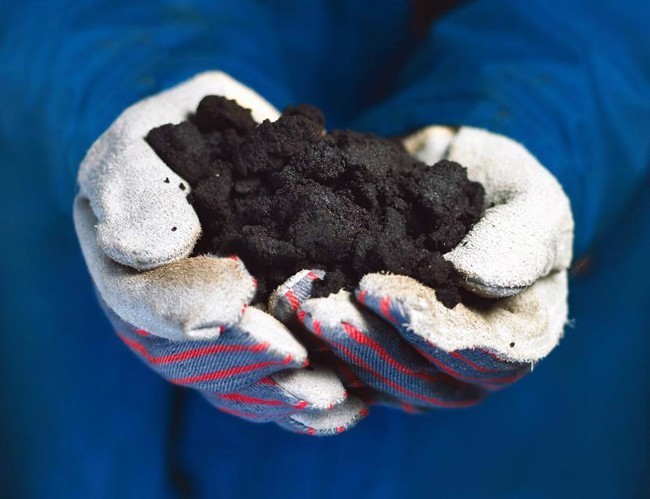 Try pumping this through a pipeline. Photo credit: SUNCOR
Put simply, the spilled dilbit traveled in every direction—into the air, with the current, to the bottom of the river—at the same time. The U.S. Environmental Protection Agency's (EPA) indisputably naïve response reveals how little anyone knew about tar sands crude. The EPA demanded that Enbridge remove the oil from wetlands surrounding the pipe by August 27, a little more than one month after the spill began. The agency wanted the stuff out of the creek, river and shorelines by Sept. 27. Those deadlines would have been practical for a typical spill—but not for a tar sands oil spill. A half-decade later, some of the oil still remains—though, much of that has to do with Enbridge botching the cleanup effort (see onEarth's three-part series, "The Whistleblower.")
Enbridge's bungling began even before the spill. First, the company knew the pipeline was vulnerable by 2005, if not earlier. When the rupture finally came in July 2010, operators dismissed the alarms as a malfunction of the system for 17 hours before finally accepting that the pipeline had failed. Making things worse, six hours after Calhoun County residents were complaining to 911 about the smell of oil, Enbridge employees were still trying to fix the problem by pumping additional oil into the pipeline. In its review of the accident, the National Transportation Safety Board faulted Enbridge's "culture of deviance" for what happened, pointing out that the response team in the first hours consisted of four local pipeline maintenance employees who were inadequately trained and made a series of bad decisions.
Not only did Enbridge fail to make the EPA's initial cleanup deadline, it also blew through a series of fallback deadlines across more than four years. Not until late 2014 did the agency finally sign off on the remediation effort, handing the remaining responsibilities to the Michigan Department of Environmental Quality.
As the cleanup winds down, though, there is little cause for celebration. "The Kalamazoo River still isn't clean," says Swift. "The EPA reached a point where additional cleanup might do more harm than good. Much of the river is still contaminated."
Some local residents accuse the company of overstating its progress. "In the process of beautifying everything and giving money to everybody and making everybody feel good about it, they're not really telling people about the dangers still there in that water," says Linda L. Cypret-Kilbourne of Michigan's Potawatomi tribe.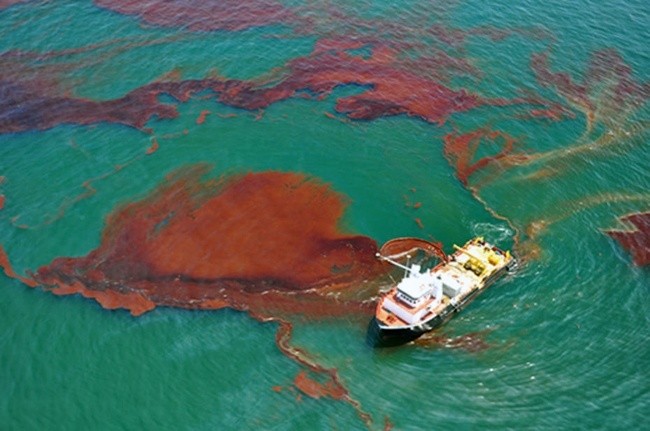 It's not clear when the river will go back to pre-spill quality. After conventional oil spills, crews eventually back off and allow microbes to break down the last bits of crude. That approach isn't a good option in Kalamazoo. First, the area doesn't have a large natural population of oil-eating microbes like the Gulf of Mexico has. In addition, tar sands crude contains very high levels of heavy metals, which don't break down easily.
Let's not forget how much it cost to (not completely) clean the Kalamazoo. The current price tag is $1.21 billion (and rising), making it the most expensive onshore oil spill in U.S. history.
It's tempting to dismiss the slow, botched, expensive and still-unfinished cleanup as growing pains. Tar sands imports have risen significantly since 2010, as has public awareness of the difference between the Canadian crude and the conventional product. In the five years since the incident, we should have improved tar sands oil spill response. But we didn't.
If another Enbridge spill were to happen tomorrow, the company might respond more quickly, but huge volumes of heavy tar sands crude would still pour out of the pipeline. David Holtz of the Michigan chapter of the Sierra Club told reporters that a rupture in Enbridge Line 5, another pipeline that runs through Michigan, would be disastrous.
"If they hit the shutoff valve immediately after a rupture, there would still be more than 650,000 gallons of oil spilled into the Great Lakes," he said.
Cleaning it up would be as challenging today as it was five years ago. There have been no technological breakthroughs since 2010. The tar sands industry should accept a large portion of the blame for this stasis.
"The efforts to improve spill response have been caught up in a public relations war," says Swift. "The tar sands industry wants you to believe that oil is oil and that its product involves no heightened concerns. As a result, spill responders are working with largely the same tools today as in 2010."
Tar sands pipelines—like the one operated by Enbridge, or TransCanada's proposed Keystone XL pipeline—run for thousands of miles, crisscrossing the U.S. and Canada in elaborate networks. They entail certain risks and those risks are not going away. We have to decide how to respond. If we accept them, we must work to minimize the consequences by developing the appropriate safety measures and technology. Or we can reject them by eliminating tar sands from our energy infrastructure. The one thing we must not do is to pretend they don't exist. The Kalamazoo spill is a reminder. It won't be the last.
YOU MIGHT ALSO LIKE
Michael Brune: A Bad Call on Shell
5,000+ Take to the Streets for Historic 'Tar Sands Resistance March'
The huge iceberg in Ferryland, Newfoundland on April 16 via
jodymartin_3298
.
A massive iceberg is towering over a Newfoundland town, as climate change continues to cause dramatic and spectacular events.
The giant iceberg near Ferryland, Canada has created quite a stir and even caused traffic jams as locals stop to take pictures.
Icebergs commonly appear off the coast of Ferryland—in fact, this area called "Iceberg Alley" is famous for iceberg tours that start in May. However, this particular iceberg is unusual for its mammoth size and early appearance.
The Canadian Ice Service classified the iceberg as "large," their second largest category that includes heights of 151-240 feet and lengths of 401-670 feet.
According to Gabrielle McGrath, commander of the United States Coast Guard International Ice Patrol, 616 icebergs have already moved down the North Atlantic this year, while last year, 687 were counted by late September.
"When you look at the iceberg chart, it's truly incredible," Rebecca Acton-Bond, acting superintendent of ice operations with the Canadian Coast Guard, told CBC News.
"Usually, you don't see these numbers until the end of May or June. So the amount of icebergs that we're seeing right now, it really is quite something."
Acton-Bond said that the high number of icebergs is evidence that a major calving event has happened in Greenland. Ice calving is the process of ice chunks breaking loose from the edge of a glacier.
This rare climate event is only one of several reported this month. Scientists discovered a giant waterfall forming in Antarctica and an entire river in Canada's Yukon territory suddenly and unexpectedly changing direction.
Awarded annually to environmental heroes from each of the world's six inhabited continental regions, the Goldman Prize recognizes grassroots activists for significant achievement to protect the environment and their communities.
The winners will be awarded the prize at an invitation-only ceremony at 5:30 p.m. Monday at the San Francisco Opera House (this event will be live streamed online). A ceremony at the Ronald Reagan Building and International Trade Center in Washington, DC will follow on April 26.
This year's winners are:
Rodrigue Mugaruka Katembo, Democratic Republic of Congo
Putting his life on the line, Rodrigue Katembo went undercover to document and release information about bribery and corruption in the quest to drill for oil in Virunga National Park, resulting in public outrage that forced the company to withdraw from the project.
Goldman Environmental Prize
Prafulla Samantara, India
An iconic leader of social justice movements in India, Prafulla Samantara led a historic 12-year legal battle that affirmed the indigenous Dongria Kondh's land rights and protected the Niyamgiri Hills from a massive, open-pit aluminum ore mine.
Goldman Environmental Prize
Uroš Macerl, Slovenia
Uroš Macerl, an organic farmer from Slovenia, successfully stopped a cement kiln from co-incinerating petcoke with hazardous industrial waste by rallying legal support from fellow activists and leveraging his status as the only citizen allowed to challenge the plant's permits.
Goldman Environmental Prize
Wendy Bowman, Australia
In the midst of an onslaught of coal development in Australia, octogenarian Wendy Bowman stopped a powerful multinational mining company from taking her family farm and protected her community in Hunter Valley from further pollution and environmental destruction.
Goldman Environmental Prize
mark! Lopez, United States
Born and raised in a family of community activists, mark! Lopez persuaded the state of California to provide comprehensive lead testing and cleanup of East Los Angeles homes contaminated by a battery smelter that had polluted the community for over three decades.
Goldman Environmental Prize
Rodrigo Tot, Guatemala
An indigenous leader in Guatemala's Agua Caliente, Rodrigo Tot led his community to a landmark court decision that ordered the government to issue land titles to the Q'eqchi people and kept environmentally destructive nickel mining from expanding into his community.
Goldman Environmental Prize
First look at new NASA satellite map reveals global carbon dioxide hotspots. NASA

By Lauren McCauley
The amount of carbon in the Earth's atmosphere is now officially off the charts as the planet last week breached the 410 parts per million (ppm) milestone for the first time in human history.
"It's a new atmosphere that humanity will have to contend with, one that's trapping more heat and causing the climate to change at a quickening rate," wrote Climate Central's Brian Kahn. "Carbon dioxide hasn't reached that height in millions of years."
The milestone was recorded Tuesday at the Mauna Loa Observatory in Hawaii by the Keeling Curve, a program of the Scripps Institution of Oceanography at University of California San Diego. Since the planet reached the dangerous new normal of 400 ppm last year, scientists have warned that that the accelerated rate at which concentrations of CO2 are rising means that humanity is marching further and further past the symbolic red line towards climate chaos.
What's more, as Aarne Granlund, a graduate student researching climate change at the University of the Arctic, pointed out, the recording was taken before carbon levels are expected to reach their annual peak, meaning they could soon notch even higher.
But despite the unprecedented threat, climate action has ground to a halt in the U.S. under the leadership of President Donald Trump and U.S. Environmental Protection Agency chief Scott Pruitt, forcing campaigners and concerned citizens to take to the streets in droves to prompt the government to do something to address the threat of planetary devastation.

Saturday's March for Science saw tens of thousands of people rally in Washington, DC and across the world to send a message to the Trump administration that governance should be based on research and facts—not ideology.
Speaking at the march in San Diego, Ralph Keeling, director of the CO2 program at Scripps whose father founded the Keeling Curve, gave an impassioned speech on why legislators need to abandon the partisan effort to stymie environmental legislation, declaring: "The climate change debate has been over for decades."
Now, infused by the energy of the March for Science, campaigners are gearing up for next weekend's Peoples Climate March with a week of action that centers on creating a just transition away from fossil fuels.
"The Peoples Climate March is the next step for the March for Science, a call to get more engaged in our political system, to confront power and to demand solutions," explained May Boeve, executive director of 350.org.
"The demands we will put forward—respect for Indigenous peoples, investments in communities on the front lines of the climate crisis, transitioning from fossil fuels to 100 percent clean energy economy that works for all and more," Boeve continued, "highlight the intersections between our different struggles and the common solutions we can work for together."
Dubbed "From Truth to Justice: Earth Day to May Day 2017," the more than 50 events in the lead-up to Saturday will include strategy sessions, a massive youth convergence, the introduction of a 100 percent Clean Energy Bill in Congress and non-violent direct actions.
On Friday, activists will form "Mother Earth's red line" on the Capitol lawn to symbolize the multiple lines that must not be crossed by corporations and governments in the increasingly severe climate crisis, organizers said.
"This is about strength in unity; diverse groups of people are coming together like never before and are creating a red line of protection against capitalism, militarism and racism," said Kandi Mossett, Indigenous energy and climate campaign organizer with the Indigenous Environmental Network, one of the group's organizing the direct action. "We are here to push for solutions like Indigenous rights, divestment and renewable energy as we continue to fight for a just transition away from a fossil fuel based economy."
Reposted with permission from our media associate Common Dreams.
Adidas's Parley Ultraboost.
According to Business Insider, each pair uses an average of 11 plastic bottles and incorporates recycled plastic into the shoe's laces, heel webbing, heel lining and sock liner covers.
The company has a goal of creating 1 million pairs of the popular running shoes from recovered ocean plastic in 2017.
"The new additions to the adidas x Parley collection are another step in our journey to creating one million pairs of Ultraboost from up-cycled marine plastic," said Mathias Amm, a product category director at adidas.
The new, ocean-inspired sneakers will be available in-store and online May 10.

Adidas partnered with Parley for the Oceans—a team of artists, musicians, actors, directors, fashion designers, journalists, architects, product inventors and scientists addressing major threats to the world's oceans— to develop materials made from ocean plastic waste to use in its products starting in 2016. Last November, adidas and Parley rolled out 7,000 pairs of its 3D-printed shoes made from recycled ocean plastics.
To ramp up its commitment to sustainability, adidas phased out plastic bags in its 2,900 retail stores around the world, saving 70 million plastic shopping bags by switching to paper bags in its stores.

EcoWatch has extensively covered the devastating global issue of ocean plastic, which is a major threat to marine life, marine ecosystems and our own health. A staggering 8 million tons of plastic is dumped into the oceans every year.
Tens of thousands of people celebrated Earth Day Saturday by taking to the streets in a historic day of action for science and truth. A massive March for Science took place in Washington, DC, and more than 600 sister marches took place in other cities around the world.
"We are marching today to remind people everywhere, our lawmakers especially, of the significance of science for our health and our prosperity," Bill Nye, honorary co-chair of the March for Science, told the crowd in DC.
Saturday's March for Science was the perfect launching pad to a week of action that will culminate in the Peoples Climate March in Washington, DC, on April 29. As Ploy Achakulwisut, PhD Candidate in Atmospheric Science at Harvard University, put it, "the Science March is about respecting science, the People's Climate March is about acting on it."
The week of action, dubbed "From Truth to Justice: Earth Day to May Day 2017," will feature more than 50 events, including the launch of visionary clean energy legislation, a speak-out of the 21 young people suing the U.S. government, massive youth convergence, direct actions and more.
"Scientists have not been eager to get politically involved, but in the face of unceasing attacks and organized denial, they're putting their credibility to good use," Bill McKibben, 350.org co-founder, said. "Now the rest of us can back them up next weekend when everyone gets to march!"
May Boeve, 350.org executive director, shared the same sentiment.
"The Peoples Climate March is the next step for the March for Science: a call to get more engaged in our political system, to confront power and to demand solutions," she said.
"The demands we will put forward—respect for Indigenous peoples, investments in communities on the front lines of the climate crisis, transitioning from fossil fuels to 100 percent clean energy economy that works for all, and more—highlight the intersections between our different struggles, and the common solutions we can work for together."
In addition to the march in DC this weekend, there will be hundreds of sister marches in cities across the globe.
Check out these amazing tweets from the March for Science:
Screenshot of Opendata.epa.gov taken at 7:50 a.m. on April 24, 2017
Opendata.epa.gov—the U.S. government's largest civilian-linked data service, storing crucial information on climate change, life cycle assessment, health impact analysis and environmental justice—could face shut-down this Friday, according to people familiar with the plan.
"Last week, after numerous conversations with the U.S. Environmental Protection Agency's Office of Environmental Information (OEI), and various technical contractors who support them, we were notified that funding is not available to continue operation U.S. EPA's flagship Open Data Web service," wrote open data scientist Bernadette Hyland—the CEO and co-founder of 3 Round Stones, a platform for publishing data on the web—in a Medium post on Sunday.
A screenshot taken from the site this morning around 7:50 a.m. shows a popup announcing the Friday shutdown.
Hyland noted in her post that the U.S. EPA Open Data Service website, which has been publicly available since 2016, provides human- and machine-readable information for more than 4 million EPA-regulated facilities, from dry cleaners to nuclear power plants. The critical service contains linked open data on 30 years of toxic releases into the environment maintained by the EPA Toxics Release Inventory Program, she wrote.
Hyland detailed how the EPA contacted her Fredericksburg, Virginia-based company and said, "We need to be ready to turn-off the EPA Open Data web service by noon on April 28, 2017—the last day of the current continuing resolution. If Congress does not pass a budget, we will be facing a government shutdown and won't be able to give technical direction to continue any work."

Reports of the EPA Open Data web service going dark spread wide Monday morning, prompting online backlash and efforts to quickly copy the data.

The EPA, however, tweeted today that, "Rumors about the website http://opendata.epa.gov/ are wrong. It's open, working & not going anywhere. This website & the EPA belong to you."
As the Independent explained, if the site were to shut down, this means that "citizens will no longer be able to access information on their environment and climate, keeping them from researching potentially fatal changes to their area."
It is well known that President Trump's administration has been wiping Obama-era climate initiatives off the Internet. Rex Tillerson's State Department has scrubbed from its websites the mention of President Obama's Climate Action Plan to reduce carbon pollution and other efforts on fighting climate change.
And it emerged last week that Rick Perry's Department of Energy has significantly altered its websites on renewable energy, removing references on how clean energy technologies can reduce the nation's reliance on fossil fuels and help lower climate-changing emissions.
Meanwhile, Reuters reported that the president will sign new executive orders this week, including two on energy and the environment to make it easier for the U.S. to develop energy on and offshore.
An image of drug-resistant bacteria under the microscope
Following a four-month battle for his life, Chris Linaman committed to sharing his story to help raise awareness about the growing threat posed by antibiotic-resistant bacteria. As executive chef at a large medical center, he is also driving change at an institutional level, harnessing his purchasing power to support the responsible use of antibiotics in food animals.
Linaman is the recipient of the "Sustainable Food Procurement Award" by Health Care Without Harm, an international coalition committed to environmentally responsible health care. As part of Pew's Supermoms Against Superbugs initiative, Linaman recently met with policymakers in Washington, urging them to maintain sufficient funding for efforts that are critical to combating antibiotic-resistant bacteria, which has become a public health crisis. He spoke with Pew about his illness and his advocacy.
Chris Linaman. © The Pew Charitable Trusts
Q: Can you tell us about your MRSA infection and how it affected you and your family?
A: My nightmare started as a basketball injury. I'd had a successful ACL surgery and several weeks into my recovery was doing great and thought my incision was fully healed. But that all changed very quickly. After a weekend trip to visit friends, I went to sleep on a Sunday night feeling fine and woke up Monday morning to find my knee had swollen to the size of a melon. It was bright red and hot to the touch. Within hours, my MRSA infection had been diagnosed and I was in emergency surgery—the first of several surgeries I would need over the course of four days.
Unfortunately, that wasn't the end of my struggle to survive MRSA.
Just a few days after being sent home from the hospital, my wife found me nearly unconscious, with a swollen face and a temperature of 105 degrees. She rushed me back to the hospital and the doctors told her to begin making plans because they didn't expect me to make it. Luckily, the spinal tap showed the infection had not yet gotten to my brain. But I needed to have even more surgeries to get rid of it and I also lost my epidermis—the outer layer of my skin—over my entire body, due to an allergic reaction to the antibiotic they were using to treat me.
Ultimately, the doctors were able to get the infection under control within a few weeks, but the road to recovery was long and painful. Even after my infection was cleared and I was out of the hospital, my body was still reeling from all it had been through. My leg muscles were wrecked from all of the surgeries and it took extensive physical therapy to get me back to anything resembling normal. To help put it in perspective, my original ACL surgery had been in early May and it wasn't until mid-July that I was even able to walk around the block in my neighborhood, a feat that took more than an hour.
Beyond the physical trauma, the whole ordeal also nearly ruined our family financially and it was emotionally devastating as well. At the time, our two kids were just 2 and 4 years old and they didn't understand what was going on. It still breaks my heart to think about it. Those were the darkest days of my life and, honestly, it's hard to believe that I'm still here.
Q: Why do you think it's so important for superbug survivors to share their stories?
A: I don't think enough people realize the extent of what's at stake. People have maybe heard the term "post-antibiotic" era but don't really understand what that could mean to them and their families. While it's still very difficult for me to talk about—even today, more than 10 years later—sharing my experience can help show what that future could look like if we don't keep up the fight and do what we can today. As horrible as my MRSA infection was, I'm the "good" outcome—I survived. Way too many others have not.
Q: Why do you advocate for the responsible use of antibiotics in food animals and how have you brought that advocacy to life in your work?
A: It's absolutely essential that we have effective antibiotics available when people need them. I know this firsthand and I want to make sure that my kids never live in a world where there are no antibiotics to help them. So we need to do anything and everything we can to conserve these lifesaving drugs so that they work when they're needed—that includes making sure antibiotics are used appropriately and only when necessary—both in people and in animals.
Shortly after I recovered from my MRSA infection, I began working as the executive chef at Overlake Medical Center in Bellevue, Washington and in that role I created a procurement policy for the center that prioritizes bringing healthy food to our community and gives preference to food producers who are working to reduce antibiotic use. That policy has really been the foundation for driving significant increases in the proportion of responsibly raised food we're able to source. We've gone from approximately 19 percent of our proteins being classified as "reduced antibiotic use" in 2012, up to 80 percent in 2016. And during this same time, I've seen the market for responsibly raised meats evolve as well. It's been increasingly easier and less expensive to find these types of proteins and that's part of what's made our dramatic shift at Overlake possible. It's not just small and local famers offering these types of products anymore, it's also producers on a larger scale and that's encouraging.
Q: What can individuals do to support the responsible use of antibiotics in animal agriculture?
A: Everyone can do something. As patients, we can talk to our doctors about whether an antibiotic is necessary. When it comes to reducing antibiotic use in food animals, we can all commit to doing our research and being mindful shoppers who choose to purchase products from farmers and companies that are committed to minimizing antibiotic use. Consumer demand for responsibly raised food has been a powerful force for change in recent years and together we can make sure that demand continues to grow and make a real difference.