This website uses cookies to ensure you get the best experience while browsing it. By clicking 'Got It' you're accepting these terms.
World's Endangered Forests Need Your Help
Sep. 08, 2014 01:56PM EST
"Out of Fashion" is Rainforest Action Network's (RAN) latest major effort to preserve the world's endangered forests and we need your help to win. With this campaign, RAN is bringing attention to a growing global threat to forests, animals and Indigenous communities—a threat that has been hiding in plain sight for years: dissolving pulp. Dissolving pulp is a highly influential commodity in today's marketplace. And the increased demand for this product is accelerating deforestation and exacerbating human rights abuses across the globe.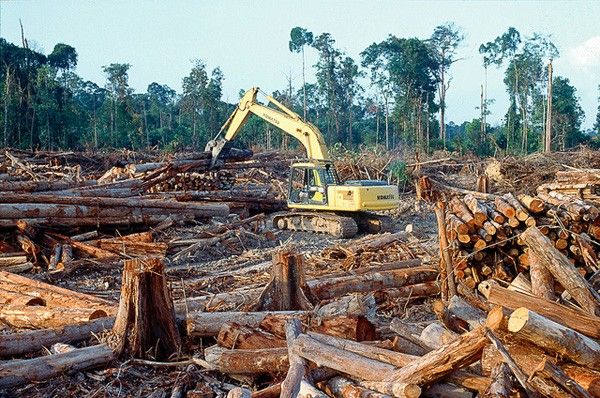 Big name fashion brands are complicit in the pulping of pristine forests—seizing Indigenous land, driving species loss and threatening the climate—all to manufacture a product that makes its way into the clothes we wear every day.
Over the next few days, RAN will introduce you to this destructive industry—and how Rainforest Action Network is planning to take it on.
Dissolving Pulp and Fashion
In our first blog, "Introducing: Out of Fashion," we introduced the threat of dissolving wood pulp and how this product makes its way out of the forest and into your closet. Dissolving pulp makes this journey disguised as rayon, viscose, and modal, fabrics used in the latest fashions from many of today's most popular brands.
So, how do trees actually make their way into the clothes you're wearing?
It's a complicated process: forests are cut, then pulped into a toxic sludge or "soluble compound." This sludge is what is known as dissolving pulp and it is produced using a wide variety of toxic chemicals including dioxin, chlorine, volatile organic compounds and adsorbable organic halides. These chemicals are known to bioaccumulate—meaning they collect and increase in negative impact within the bodies of human beings and all living creatures. This toxic sludge is then forced through spinnerets, and becomes viscose staple fiber (VSF). The VSF is then spun into yarn, woven into fabric, sewn into garments, and then marketed by brands and sold in outlets all over the world—from luxury stores to suburban shopping malls to big box stores. That is how pristine rainforests find their way into our closets.
So, what fabrics actually contain dissolving pulp? What should you look for on the label?
This fiber goes by many names, so it's important to check the label when looking for your next outfit. These include: rayon, viscose, Lyocell and modal. While clothes might feel like silk or cotton, remember to double check and see if they contain rayon or these other potentially rainforest-damaging fabrics. And even if you personally are avoiding these fabrics, remember that not everybody is. That's why RAN is calling on the industry to change as a whole—and that's why we need your voice on this petition.
Why would people actually turn precious rainforests into high-fashion apparel in the first place?
These fabrics are becoming attractive options due to the rising cost and (ironically) environmental concerns associated with cotton. Due to recent flooding and droughts, cotton crops have suffered significantly in recent years. As a response, clothing brands will even list these rainforest-destroying fabrics such as rayon as "natural" or "renewable" textiles.
One of the most amazing things is the ubiquity of these products. From cheap clothing to high-end luxury brands, rayon and viscose are everywhere, and at every price point. Companies that use these products range from Forever 21 to Prada, from Abercrombie to Louis Vuitton—and everyone in between. It's critical that companies that are profiting from this destruction take responsibility for their supply chain.
In the next blog, we'll dive into what clothing companies can do and actions you as the consumer can take to protect forests and human rights from irresponsible clothing and the expansion of the dissolving pulp market. But don't wait—take action now to demand that your clothes are free of deforestation and human rights abuses here.
YOU MIGHT ALSO LIKE
'Out of Fashion' Campaign: Preserving the World's Endangered Forests
Canadian Tycoon Clashes With Environmentalists in the Bahamas
Ocean Acidification Threatens Economies and Cultures Around the World
EcoWatch Daily Newsletter
Last week, the Peruvian Palm Oil Producers' Association (JUNPALMA) promised to enter into an agreement for sustainable and deforestation-free palm oil production. The promise was secured by the U.S. based National Wildlife Federation (NWF) in collaboration with the local government, growers and the independent conservation organization Sociedad Peruana de Ecodesarrollo.
Pixabay
Leaked documents show that Jair Bolsonaro's government intends to use the Brazilian president's hate speech to isolate minorities living in the Amazon region. The PowerPoint slides, which democraciaAbierta has seen, also reveal plans to implement predatory projects that could have a devastating environmental impact.
XL CATLIN SEAVIEW SURVEY / THE OCEAN AGENCY
Hope may be on the horizon for the world's depleted coral reefs thanks to scientists who successfully reproduced endangered corals in a laboratory setting for the first time, according to Reuters.
Last week we received positive news on the border wall's imminent construction in an Arizona wildlife refuge. The Trump administration delayed construction of the wall through about 60 miles of federal wildlife preserves.
PhotoAlto / Frederic Cirou / Getty Images
Drinking water treated with fluoride during pregnancy may lead to lower IQs in children, a controversial new study has found.
National Institude of Allergy and Infectious Disease
A Greenpeace rally calls for a presidential campaign climate debate on June 12 in Washington, DC. Sarah Silbiger / Getty Images