World Premiere of Chloe & Theo and Its Extraordinary Behind-the-Scenes Story

Connect4Climate hosted the world premiere of Chloe & Theo Wednesday night, a film demonstrating how storytelling motivates people to do extraordinary things. In the film, a homeless girl (Dakota Johnson star of 50 Shades of Grey) befriends an Inuit, who has traveled to New York City from his tiny Arctic hometown with a big message for world leaders: "My world is melting. Please help us."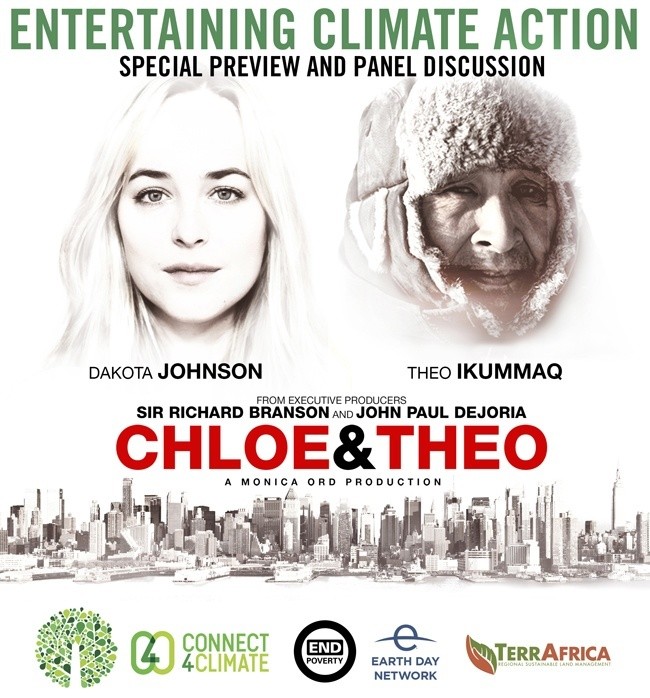 Prior to the screening in the Preston Auditorium at the World Bank Headquarters in Washington, DC, an esteemed panel—including film producer Monica Ord, founder and president of Prospero Pictures Martin Katz, director of social responsibility at MTV International Julie Allen and moderator Joe Wagner from Fenton Communications—discussed the power of film and how it can truly transform society.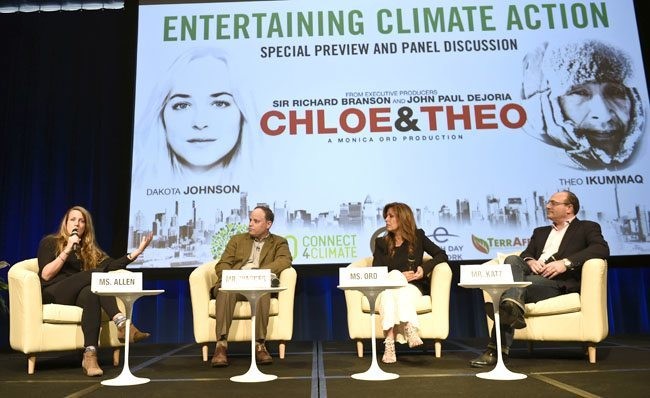 "Film can change people's lives and have far reaching effects on how we live," said Wagner prior to introducing the panel.
He first introduced Ord, an entrepreneur focused on critical global social and health issues, who explained that she heard Theo's true story from a friend, who challenged her to do something about it, so she did.
Ord told the crowd of more than 200 people that Theo told her friend "a passionate story of what was happening to his people" and that "he wanted someone to come up with a famous person that could go to the Arctic and maybe bring some awareness."
Ord called Theo and asked him what she could do and he asked her to get someone to help him. So she called Richard Branson and "he cleared his entire schedule and a month later we were all in the Arctic traveling by dog sled."
Ord confessed that she had no knowledge of climate change or filmmaking, but was committed to getting this project done.
Monica Ord: "People need to feel what the people on the frontline of #climatechange are facing" #TakeOn pic.twitter.com/W4FpwMvONg

— Connect4Climate (@Connect4Climate) April 15, 2015
Wagner then asked Katz, producer of the award-winning, historical film Hotel Rwanda, to talk about "what is the essence of film that enables one to create these connections and render such powerful responses and can this be applied to the subject of climate change?" Read page 1
Katz responded by asking a few questions himself. "Can film be an agent for social change? Can the arts be an agent for social change? Can anything but the arts be an agent for social change? I can't think of how to change people's perception or behavior except for the arts. That's why governments who don't want people's behavior to be changed sensor the arts." He told a story about how Hotel Rwanda impacted people including a young man from Italy that watched the movie as a high school student and was so inspired by the film that he wanted to be a journalist to affect change in the world. Katz concluded saying, "I think that film can be a catalyst for those who can be social agents who can affect change in the world and I think that's a great thing."
"You need the big story that comes from films. Then you need to give tools to people to make them able to make a change"@martinfkatz #TakeOn — Connect4Climate (@Connect4Climate) April 15, 2015
Wagner next asked Allen about MTV's audience and wondered if she feels that she has "more of a chance to impact young minds and render change or is it the other way around?"
"I feel it's MTV's responsibility as a global media company to bring issues like climate change and other issues that affect young people all over the world to the forefront," Allen responded. "We play a very important role in raising awareness of these issues. But, it's very important that we do it that's appealable to the mainstream."
"We find the best way to relate to them is by producing entertaining, informative, sometime funny content that they are going to relate to and weaving messaging into that programming."
.@julie_a @MTV "It's important to do productions that are entertaining, informative content that raise awareness among young people" #TakeOn

— Connect4Climate (@Connect4Climate) April 15, 2015
Sir Richard Branson and John Paul DeJoria are executive producers of the film, which is scheduled for release in August.
I had the chance to interview Ord after the screening and I asked her what she hopes people will get out of her film. "If people will just step up and do what they can ... they can truly make a difference. They just have to go for it," she replied.
The film is a must-see that will capture your attention and pull at your heartstrings. You'll want to encourage everyone you know to see it and hopefully it will motivate you to step up and truly make a difference.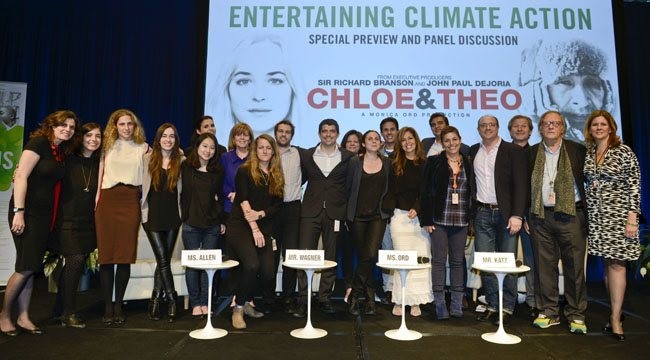 For a glimpse of the film, watch the trailer below where you get to meet Chloe, a young woman who has been searching for something to believe in. She comes face to face with an Inuit Eskimo named Theo, who was sent by his elders to send a message to humankind. Chloe and Theo inspire each other and through the help of a kind lawyer named Monica (starring Mira Sorvino), they are able to help Theo tell his story in an attempt to help his people and all of humankind.
YOU MIGHT ALSO LIKE
6 Year Old Gets President Obama's Attention With This Climate Change Video
How One Person Can Make a Big Difference
The OceanMaker: An Animated, Post-Apocalyptic Film You Don't Want to Miss
Dow CEO Andrew Liveris and President Donald Trump in February.
U.S. Environmental Protection Agency (EPA) administrator Scott Pruitt met with Dow Chemical CEO Andrew Liveris before deciding to reverse an earlier EPA decision to ban the company's toxic and widely used pesticide, chlorpyrifos.
According to records obtained by the Associated Press, the EPA boss met with Liveris for about 30 minutes at a Houston hotel on March 9. Later that month, Pruitt announced that he would no longer pursue a ban on chlorpyrifos from being used on food, ignoring his agency's own review that even small amounts of the pesticide could impact fetus and infant brain development.
Keep reading...
Show less
www.facebook.com
Native communities and environmental justice advocates in Louisiana opened a new resistance camp Saturday to oppose the proposed Bayou Bridge Pipeline project. Called L'eau Est La Vie, or Water is Life, the camp will consist of floating indigenous art structures on rafts and constant prayer ceremonies during its first two weeks.
Keep reading...
Show less
Continuing its march toward elimination of key Clean Water Act protections, the U.S. Environmental Protection Agency (EPA) on Tuesday issued a formal notice of withdrawal of the Obama administration's rule defining which waters can be protected against pollution and destruction under federal law.
Keep reading...
Show less
The U.S. Environmental Protection Agency (EPA) is not doing enough to prevent weed resistance to the herbicide glyphosate (Roundup) says a new report from the EPA's Inspector General's Office, which draws in part on a report from the agbiotech company, Pioneer: Weed Management in the Era of Glyphosate Resistance.
Keep reading...
Show less
SUMR
When it comes to the latest wind turbine technologies, size matters. A group of six institutions and universities is designing an offshore wind turbine that will stand 500 meters in height. That's taller than the Eiffel Tower and the Empire State Building.
The research team, led by researchers at the University of Virginia, believes that its wind turbine concept will produce 50 megawatts of peak power, or about 10 times more powerful than conventional wind turbines.
Keep reading...
Show less
www.facebook.com
Natural gas is often considered the cleanest fossil fuel, but could it actually be dirtier than coal?
Watch as New York Times reporter Mark Bittman, in the above Year's of Living Dangerously video, investigates how much methane is leaking at fracking wells. Find out how the natural gas industry's claims compare to what scientists are reporting.
See what happens when Gaby Petron, an atmospheric scientist with NOAA, converts her van into a mobile methane detector and sets out across northeastern Colorado for two years, taking thousands of readings to uncover the truth.
www.youtube.com
Adrian Grenier was named UN Goodwill Ambassador earlier this month. The Hollywood actor, best known for his iconic role of A-list movie star Vincent Chase in the HBO smash hit and film Entourage, will advocate for drastically reducing single-use plastic and protection of marine species, and encourage his followers to make conscious consumer choices to reduce their environmental footprint, according to the UN Environment announcement.
"Together we must usher in a new era of compassion and carefulness through forward thinking environmental programs to drive measurable change," Grenier said. "I am personally committed to creating ways in which the global community can come together to help solve our most critical climate crises through routine, collective action.
"The more we connect to nature in our daily lives, the more dedicated we will become to our individual commitments. Together, I believe we can go further, faster in our race to achieve the UN Sustainable Development Goals by 2030."
Watch the video above to learn more.
The last week has seen a flood of stories on clean energy's prospects—stories that make your head spin with their conflicting tales of renewable energy's prospects of ending our dangerous addiction to fossil fuel power from coal and gas.
Keep reading...
Show less


Get EcoWatch in your inbox