This website uses cookies to ensure you get the best experience while browsing it. By clicking 'Got It' you're accepting these terms.
Although we don't always realize it, climate change envelopes us it completely surrounds us all the time. What better subject therefore to become the basis for the World Bank group's first virtual reality experience. The People's March for Earth, organized by Earth Day Italia and the World Bank group's Connect4Climate initiative, took place in Rome last November to underscore the feelings and desires of many that wanted to express the need for more immediate and substantial action on climate change and to send a strong message to the United Nations Conference on Climate Change that was just about to take place in Paris.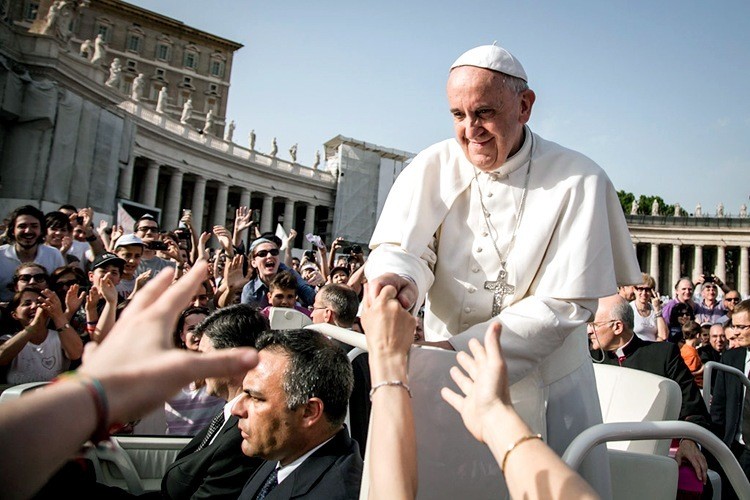 The People's March for Earth, starting at the Colosseum and progressing through the wide avenues of Rome to later arrive at St. Peter's Square where Pope Francis would greet and bless the gathering, reflected the history of the eternal city and indicated both the advances in civilization but also the toil that humanity has taken on our natural world. These rich concepts inspired the creation of a Virtual Reality experience so many more people could feel the same impact and energy that the marchers felt, long after the final participants had left.
The World Bank and Connect4Climate partnered with RYOT to produce a truly immersive film. RYOT is one of the leading content studios creating documentary-style virtual reality films. Anglo-Italian actress Greta Scacchi kindly gave her talents to produce a powerful narrative fully evocative of both the location and the cause.
Immersive experiences are getting great traction in many industries such as entertainment and gaming. But this product illustrates perfectly how it can be used to convey messages that are both intensely personal and of worldwide importance. The medium gives extra and immediate impact to the very real issues that impact both individuals, institutions, governments and regions alike. At their best such initiatives can help humans connect through creating a unique collective empathy which ultimately can inspire others to take action and contribute to find real solutions.
Watch here:
YOU MIGHT ALSO LIKE
Sea Levels Rising at Fastest Rate in 3,000 Years
Horrible! This Guy Drags Shark From Sea Just to Pose for Photos
Warren Buffett Wages Quiet War on Solar in the West
Pamela Anderson: If Louisiana Prisons Go Vegan, I'll Come Cook and Serve Lunch to the Inmates
A coalition convened by the World Bank Group's Connect4Climate initiative presented a gift of contemporary public art, Fiat Lux: Illuminating our Common Home, to Pope Francis on the opening day of the Extraordinary Jubilee of Mercy in December 2015, to galvanize action and drive global attention to the importance of preserving our natural environment and tackling climate change.
Watch the full show of the breathtaking art projection at the Vatican, on St. Peter's Basilica:
The coalition comprised of Paul G. Allen's Vulcan Inc., the Li Ka Shing Foundation and Okeanos, in partnership with The Oceanic Preservation Society and Obscura Digital, worked under the auspices of Connect4Climate, the World Bank's global partnership program dedicated to driving global action on climate change.
At this unprecedented and historic event, beautiful images of our shared natural world were projected onto the facade of St. Peter's Basilica in a contemporary work of public art that tells the visual story of the interdependency of humans and life on Earth with the planet, in order to educate and inspire change around the climate crisis across generations, cultures, languages, religions and class.
"We are honored to be working with the Vatican to raise awareness of an issue so critical to our shared goal of ending extreme poverty," World Bank Group President Jim Yong Kim said. "The poorest people in the world are disproportionately affected by the effects of a warming climate and are most vulnerable to natural disasters and extreme weather. This impressive initiative will draw global attention to the urgency of tackling climate change for the sake of people and our planet."
The large-scale architectural public art installation was inspired by the themes of climate change, human dignity and the Earth's living creatures in the Encyclical "Laudato Si'" of Pope Francis. Programed to coincide not only with the Jubilee, but also with COP21 in Paris, the historic occasion called on citizens of the world to join a global movement to protect our common home.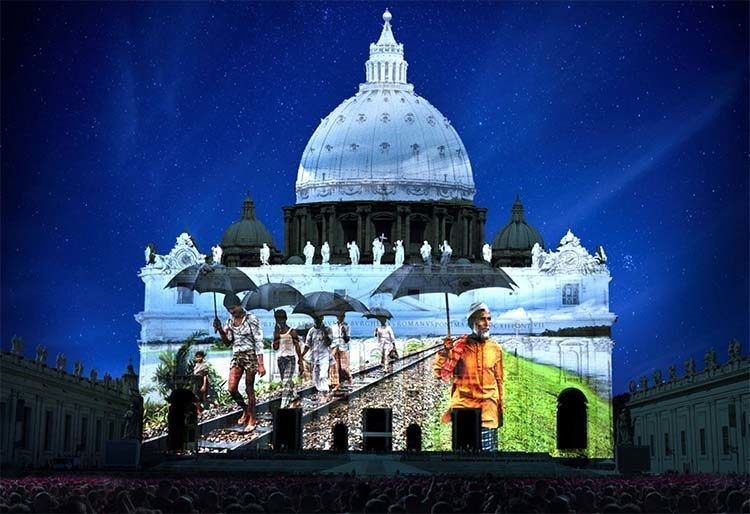 "The fight against climate change invokes each of us in a battle for civilization and democracy," Italy's Minister for the Environment, Land and Sea Gianluca Galletti said. "This was explained by the Holy Father in his extraordinary encyclical Laudato Si: respect to the environment is the condition to reaffirm universal rights and defend human dignity, to guarantee global security, to build a fairer world ... Intercultural dialogue is our most important objective and the most efficient tool for peace."
The cinematic event featured the work of some of the world's most notable humanistic and nature photographers and filmmakers, including Sebastião Salgado (Genesi and Contrasto), Joel Sartore (National Geographic Photo Ark), Yann Arthus Bertrand (Human), David Doubilet, Ron Fricke and Mark Magidson (Samsara), Howard Hall, Shawn Heinrichs, Greg Huglin, Chris Jordan, Steve McCurry, Paul Nicklen and Louie Schwartzberg. The projection was curated by Louie Psihoyos and Travis Threlkel, and produced by Obscura Digital. Francesco Carrozzini curated the creative direction for Connect4Climate.
"We are proud to support the realization of this gift of art to Pope Francis and to work with our creative partners to highlight the biggest issues facing mankind: poverty and climate change," Lucia Grenna, program manager of the World Bank Group's Connect4Climate global partnership program, added. "This artistic display will tell a powerful visual story of the interdependency of all life on earth with our environment and we hope inspire the teams in Paris to push for the most ambitious deal possible."
Share a Short Recap Video:
YOU MIGHT ALSO LIKE
Fascinating Timeline: 30 Years of History of Climate and Energy in State of the Union Speeches
Leonardo DiCaprio: 'Revenant' Drove Home Need to Take Climate Action
3 Ways to Restore Power to the People
Today's youth are the first generation to feel the impacts of climate change and the last that can do something about it. A flotilla of partners are working together to empower young people around the world to engage in the UNFCCC climate talks taking place in Paris from Nov. 30 to Dec. 11.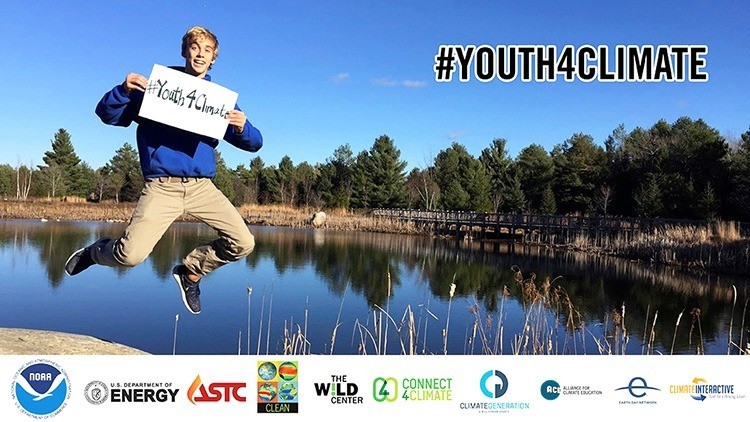 Why Does Climate Change Education Matter?
As the United Nations Framework Convention on Climate Change says in Article 6, education contributes to the solutions being developed to respond to the challenges and opportunities presented by climate change:
"The solutions to climate change are also the paths to a safer, healthier, cleaner and more prosperous future for all. To see this and to understand what needs to be done requires a sharp and sustained focus on education, training and public awareness in all countries and at all levels of government, society and enterprise."
Key points on why climate change education matters:
Long-term, independent records from weather stations, satellites, ocean buoys, tide gauges and many other data sources all confirm that our nation, like the rest of the world, is warming. Scientists who study climate change confirm that these observations are consistent with significant changes in Earth's climatic trends. (U.S. National Climate Assessment, 2014)

Over the 21st century, climate scientists expect Earth's temperature to continue increasing, very likely more than it did during the 20th century. Two anticipated results are rising global sea level and increasing frequency and intensity of heat waves, droughts and floods. These changes will affect almost every aspect of human society, including economic prosperity, human and environmental health and national security. (USGCRP Climate Literacy, 2009)

Climate change will bring economic and environmental challenges as well as opportunities and citizens who have an understanding of climate science will be better prepared to respond to both. (USGCRP Climate Literacy, 2009)

Society needs citizens who understand the climate system and know how to apply that knowledge in their careers and in their engagement as active members of their communities. (USGCRP Climate Literacy, 2009)

Climate change will continue to be a significant element of public discourse. Understanding the essential principles of climate science will enable all people to assess news stories and contribute to their everyday conversations as informed citizens. (USGCRP Climate Literacy, 2009)
The #Youth4Climate social media campaign is an effort led by the National Oceanic and Atmospheric Administration (NOAA), U.S. Department of Energy, Association of Science-Technology Centers (ASTC), CLEAN Network, The Wild Center, the World Bank Group's global partnership program Connect4Climate, Climate Generation: A Will Steger Legacy, Alliance for Climate Education, Earth Day Network, Climate Interactive and others. It is an open discussion for all to join the youth call for climate action.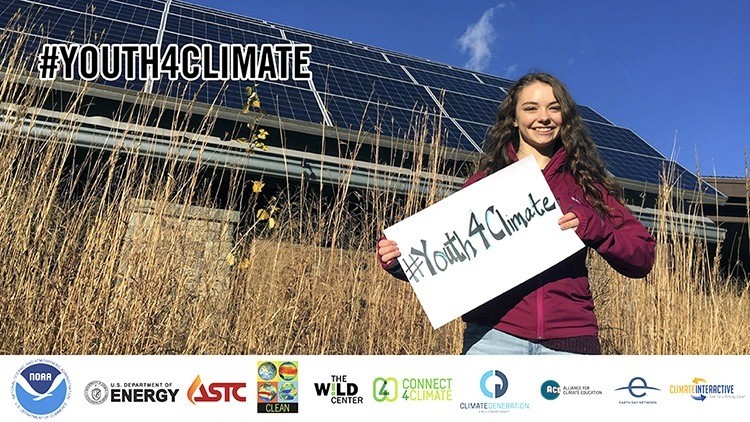 Young people are one of the largest demographics in the world—approximately one billion youth roam the globe today. Climate education is now a necessary foundation for those young people. In order to tackle the complex issue of climate change, we need leaders with the skills, knowledge and passion to push for and innovate solutions.
With their knowledge, young people are already the leaders of this generation. They are already demanding ambitious action on climate change and leading a youth climate movement. The #Youth4Climate coalition is supporting them all the way on the road to and through Paris.
We are excited to join forces and support them by giving them a voice and an opportunity to lead in Paris and beyond. We know the solutions are here and are committed to working together to build a resilient climate-friendly world. Join us at #Youth4Climate.
Social Media Kit
This coordinated media effort is a commitment to educating, engaging and lifting up youth in the COP21 space. In order to create a powerful presence during this defining moment in climate history, we need your help. This toolkit should provide you with all the information you need to engage in the #Youth4Climate social media campaign, as well as provide you with a list of important youth and climate education initiatives taking place around COP21.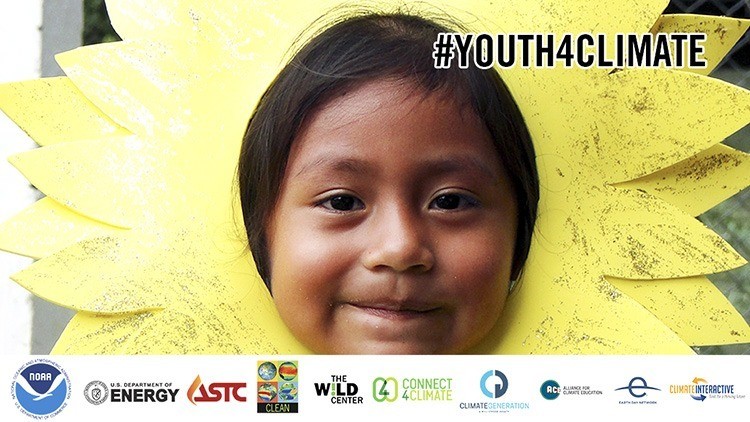 #Youth4Climate Calendar
For a month, from Nov. 12 until Dec. 12, we're calling on young people to share their climate solutions, tell their climate stories and engage in the UNFCCC COP21.
Nov. 12-13: In the center of the Adirondacks, in northern New York state, 200 high school and college students convene at the Wild Center for the Adirondack Youth Climate Summit to learn climate science and to create climate action plans for their schools and communities. #ADKyouthsummit Watch highlights here.
Nov. 12-30: In the lead up to COP21, get ready to film a #Day4Climate action when people around the world will raise the voice of youth in climate action and send in your climate questions and or statements to the partners developing the U.S. Center side event, "Our Time to Lead: Youth Engagement on Climate Change" on Nov. 30 (ASTC, the Wild Center and the Alliance for Climate Education, collaboration with DOE and NOAA) using the hashtag #AskUSCenter. See more here.
Nov. 15: Students and teachers from schools from across New England will meet at Miss Porter's School in Farmington, Connecticut for the GSAx Sustainability Conference to share best practices and create action plans around how schools can play an integral part in addressing climate and conservation challenges. #GreenSchoolsAll
Nov. 16-17: If you are in Washington DC on Nov. 16-17, join the World Bank Youth Summit 2015 to engage with crowd-sourced solutions to climate change or discuss climate change with your peers online through the #wbgyouthsummit community.
Nov. 20: Vermont Youth Climate Summit. High school and college students from across the state of Vermont will share ideas, craft plans and inspire action to reduce carbon footprints of schools and communities through peer-to-peer learning at the University of Vermont in Burlington. Follow their Facebook page here and connect with #VTYCS.
Nov. 21: Middle and high school students will gather at Furr High School in Houston, Texas for the School and Community Sustainability Summit. The summit is a collaborative effort of the Green Schools Alliance and the Houston East End Greenbelt Initiative. #GreenSchoolsAll
Nov. 26: Finland Youth Climate Summit at Heureka, the Finnish Science Center in Helsinki. Junior high schools students from all over Finland will gather to create a climate action plan for their schools, while their teachers learn to support them, with coaching from experts. It is the most remarkable climate education event in the country, leading not only to learning but also to concrete actions.
Nov. 26-28: This year's Conference of Youth, organized by young volunteers, will take place in Villepinte, France. The conference targets youth, aged 18 to 30, to spread sustainability best practices, with a specific climate change focus. Join #COY15 and spread the youth climate movement.
Nov. 29: Join the 24-hr Film a #Day4Climate Action challenge organized by Connect4Climate, Vimeo and partners. On Nov. 29, at the Global Climate March, people around the world will raise their voices for climate action. Film your climate action, solution or conversation on the day before COP21. We are heading for a clean resilient future. Let's make it a reality. Let's tell the world through film, send your story to #Day4Climate.
Nov. 30: At the U.S. Center at COP21, an interactive panel of climate scientists, decision makers, science museums and youth climate organizations will showcase unique and diverse youth programming models and student-driven initiatives that are advancing place-based climate solutions.
Nov. 30: Youth experts will also be heard at COP21 in the Justice and Future Generations: Achieving Intergenerational Equity in Paris and Beyond side-event.
Nov. 30-Dec. 11: The Window into Paris: COP21 #EducatorsinParis initiative of Climate Generation: A Will Steger Legacy will be sending out daily digests that include blogs by their staff and teacher delegation to Paris and information on how to connect to daily webcasts hosted by teachers connecting back to their classrooms, which will also be open to the public. Climate Generation will be bringing the position statements of hundreds of students and public to share with the U.S. delegation. Climate Generation will also host daily informal "cafe roundtables" with experts in Paris.
Dec. 1: CLEAN Network Teleconference: Live from Paris—Frank Niepold, NOAA Climate Program Office and Johanna Bozuwa, Earth Day Network, Title: #COP21 Youth Engagement on #climatechange.
Dec. 3: The Young and Future's Generation Day at the UNFCCC COP21 will host a number of youth-focused events throughout the day, placing youth at the heart of the climate talks. Join with #ParisACE for #COP21.
Dec. 3: In the middle of the day young leaders will join their older counterparts on the Intergenerational Inquiry official side-event of the UNFCCC. This is followed by a special screening of "An Inconvenient Youth," a film documenting the vibrant untold story of the global youth climate movement by Slater Jewell-Kemker, a young Canadian.
Dec. 3: During an international interactive video conference organizing a dialogue between youth and experts on concrete plans for their communities and youth and education leaders can ask their questions at the Universcience the science center in Paris on Dec. 3 by using hashtag #WorldCOP21.
Dec. 4: UN Alliance Call to Action: There is an urgent need to scale-up action and investment in climate change education, training and awareness raising. This high-level event showcases innovative ways of effectively engaging all stakeholder in this transformation. Panelists will include representatives from Earth Day Network and Connect4Climate, discussing recent climate education and communication initiatives. In the evening the #Day4Climate filmmakers and UNFCCC videographers will be celebrated at a youth reception with a special presentation by Prince Ea.
Dec. 4: World Climate Project: Interactive Simulation of UN Climate Negotiations. In the Climate Generations Area from 11:30-1:00, Climate Interactive will offer a chance to explore potential pathways to address climate change through an interactive demonstration of the World Climate game and computer simulations C-ROADS and En-ROADS. Put yourself in the shoes of the climate negotiators to see what it will take. Analysis of the INDC pledges will be offered alongside a framework for understanding how climate solutions can and must address other challenges simultaneously. See more here.
Dec. 6: The Sustainia Award Ceremony will highlight and celebrate the solutions and young change makers that are already paving the road to achieving the SDGs and tackling climate change. Young entrepreneurs will be awarded by a jury lead by Arnold Schwarzenegger. Connect4Climate will present leading industry transformers from their Fashion4Climate and Film4Climate initiatives during the show: www.sustainia.me/cop21/.
Dec. 7-8: Earth To Paris: A diverse coalition of groups, from foundations to technology companies to media organizations and more, is uniting to launch Earth To Paris to drive awareness and host events that highlight the connection between people and planet and the need for strong climate action; to showcase climate solutions and innovations; to bring together communities to promote collaboration; and to engage people around the world in the dialogue taking place in Paris.
Dec. 8: CLEAN Network Teleconference: Live from Paris—Kristen Poppleton, Climate Generation: A Will Steger Legacy, Title: Window into Paris: COP21.
YOU MIGHT ALSO LIKE
Elton John, Mumford & Sons + Many More Join Al Gore for '24 Hours of Reality'
1,000 Youth Take to the Streets Demanding Climate Justice
7 Kids Demand Judge Uphold Their Rights to a Healthy Environment in Landmark Case
14 Passionate Young Leaders Inspiring a Just and Thriving Planet
Connect4Climate, the global partnership program of the World Bank Group, the online platform Vimeo and partners have joined forces to challenge citizens around the world to film Climate Action on one day, Nov. 29.
Dedicated to driving climate action around the world, the 24-hour Film a #Day4Climate Action challenge asks aspiring filmmakers and citizens worldwide to document climate actions, solutions and conversations happening on a day dedicated to global climate mobilization. On Nov. 29, a day before the UN Framework Convention on Climate Change (UNFCCC) COP21 meeting starts in Paris with a gathering of global leaders, citizens all around the world will get out and call for an ambitious outcome in Paris. The 21st Conference of the Parties of the UNFCCC is expected to adopt a binding agreement on the long-term reduction of greenhouse gas emissions.
As part of Connect4Climate's Film4Climate Initiative, Film a #Day4Climate Action invites people globally to share their story from Nov. 29 on what we should do to prevent dangerous climate change and save our planet. The stories all need to be filmed and edited down to no more than three minutes in 24 hour and submitted on the Vimeo's group channel: Film a #Day4Climate Action—November 29, by the next day.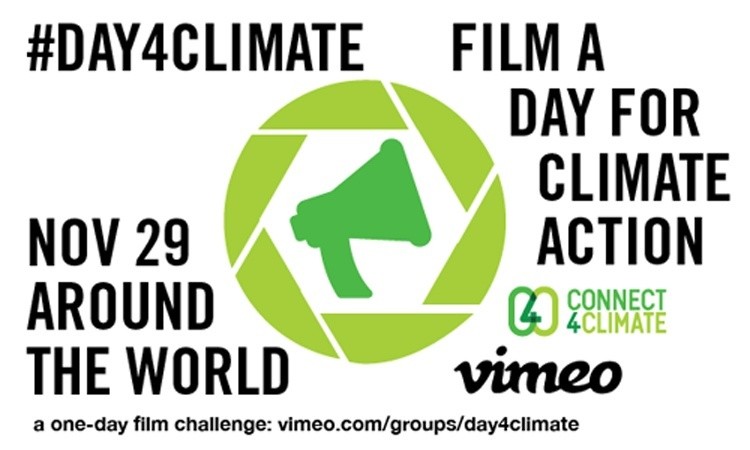 Submitted video messages will be featured during the Youth Day at COP21 and at events across the city. The videos will also be brought together in a documentary telling the story of how citizens around the world showed their support for climate action. A highly celebrated editor and filmmaker will lead this effort and the outcome will be then launched at the World Bank Group in 2016.
"Telling stories in a way which allows others to experience a world, which they never would have otherwise seen, changes people," said Lucia Grenna, program manager at Connect4Climate. "It has the power to change their perspectives, opinions and hearts. This is why film is such a powerful tool to encourage climate action."
Why Now?
Just one day before the crucial climate negotiations in Paris begin, coinciding with the Global Climate March—a decisive call for bold actions on climate change—this challenge represents an opportunity for people to come together through the power of video and share their messages, pledges and solutions for climate change. Everyone, everywhere, united to build a resilient clean future!
Connect4Climate aims to raise global awareness about climate change in line with the World Bank's mission to end extreme poverty within a generation and boost shared prosperity. As World Bank Group President Jim Yong Kim said, "We will never end poverty if we don't tackle climate change.
YOU MIGHT ALSO LIKE
Larry David as Bernie Sanders on Saturday Night Live: 'We Need a Revolution'
Bill McKibben Gets Arrested Exposing Exxon's 'Unparalleled Evil'
Interactive Map Shows 414 U.S. Cities Already Locked Into Catastrophic Sea Level Rise
Obama Cancels Arctic Drilling Leases
In his encyclical "Praise Be to You, Laudato Sì—On Care for Our Common Home," Pope Francis encourages all people to praise and thank God for his glorious creation and to work together to safeguard our world. The Holy Father also gives special attention to the global challenge all humanity is now facing: the urgency of tackling poverty and climate change.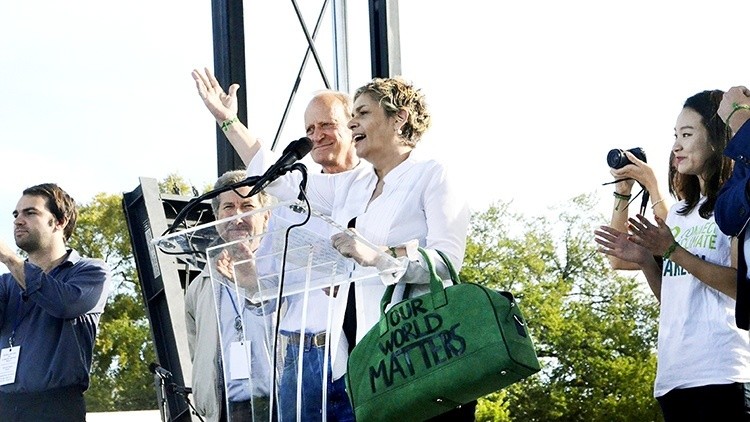 Lucia Grenna announces the People's March for Earth in Washington DC. Photo credit: Bárbara Simões
The Holy Father places special emphasis on an "Integral Ecology," the need to understand the profound connections and interrelationship between the social, environmental and economical aspects of our lives and the strong relationships among all human beings and the life of all creatures.
As Pope Francis calls on us all to act as one, he urges all of humanity to work together to take care of our "Common Home," which we are called to inhabit as a united human family throughout all generations.
With this in mind, on Nov. 8, the Vicariate of Rome will celebrate a "Day for the Custody of Creation." The celebration takes place right before the United Nations Conference on Climate Change (COP21), a pivotal moment in global history for responsible citizens from all over the world.
With this in mind, Earth Day Network and Connect4Climate have been invited by the Vatican to organize a People's March for the Earth in Rome to showcase global citizens' undivided support of Pope Francis and to help bring his message of peace to the attention of all global leaders.
On Sunday, Nov. 8, people from all over the world, together with civil society and faith organizations, will gather at 9 a.m. in front of the Coliseum, the iconic symbol of the Eternal City.
The march will then start at 10 a.m. and will progress through via dei Fori Imperiali before arriving in Piazza SS. Apostoli at the "Laudato Sì Village" of the Vicariage of Rome.
In Piazza SS. Apostoli, a free shuttle service will be available for people to reach St. Peter's Square, where Pope Francis will greet the audience and the participants of the march during the Angelus. The Holy Father's message will also be livestreamed on a screen at the Laudato Sì village.
In the afternoon, a rich program will feature artists from all over the world and include food stands and educational activities at the "Laudato Sì Village." The program will close with a concert starting at 5 p.m.
YOU MIGHT ALSO LIKE
146 Countries Covering Almost 87% of Global Emissions Submit Climate Plans Ahead of Paris
10 Food Company CEOs Tell World Leaders to Act on Climate
Al Gore Blasts GOP Climate Deniers, Thom Hartmann Says Throw Them in Jail
Syrian Exodus Won't Compare to Global Climate Migration

Could a few really upset birds get people all over the world to fight the cruel effects of our ever-warming planet? Could they ignite a groundswell of support, from the bottom up, to convince world leaders to commit to tackling climate change?
That's what Rovio, the creators of Angry Birds, Earth Day Network, and we at Connect4Climate are hoping.  To encourage a binding climate agreement at the United Nations meeting in Paris this December, Rovio is doing their part, by creating Angry Birds: Champions for Earth, a special tournament on Angry Bird Friends, a mobile game in the Angry Bird series that you can play as a free Mobile App and on Facebook.
In Champions for Earth, participants play in the tournament with specially created Angry Bird avatars in their likeness. The game is themed around climate change, and players encounter facts about the climate and learn what they can do to take action.
Put on your angry face, and join Don Cheadle, Matt Damon, Danny DeVito, Christiana Figueres, Anil Kapoor, Sonam Kapoor, Ian Somerhalder and Korean pop group VIXX for a special Angry Birds Friends tournament to help protect our environment!
We at Connect4Climate try to motivate people to take on the world's number one threat by connecting to people where they live, which is why we're honored to support Champions for Earth. Incorporating climate change messages into the most popular video game ever is an ideal example of how to really communicate climate change messages.
In the original, highly-addictive, Angry Birds game, the heroes are birds, who are angry at pigs for stealing their eggs. While comical, the underlying theme of the game is about a commitment to justice and protection of the innocent. These messages, in fact, transfer easily to climate change messages. In Champions of Earth, players translate protecting eggs to protecting the earth.
Will Champions of Earth reach many people? With a record-breaking 3 billion downloads, Angry Birds is the most downloaded game ever. In some countries, the game has been downloaded more times than the size of the population. We now spend 3 billion hours a week playing online games, and close to 100 percent of teenagers under 18 years old play games regularly. By age 21, a person will have spent 10,000 hours playing on-line games, close to the same number of hours they have spent in classroom education. Now there's a captive audience! We're betting Champions of Earth will hit big.
Rovio is hoping that the game will ignite a powerful call to action and is hosting a seven-day tournament this week during the UN Environment Week when world leaders are chugging through details to announce goals around climate change.
We believe that this game, Champions of Earth, has the potential to be the game-changer, the point at which a critical mass of concerned global citizens together turn toward solutions to calm our ever warming earth, and finally—finally—provide the force to get our global leaders to act.
As Sonam Kapoor, a Connect4Climate Global Leader, puts it: Climate change affects us "in every country, and it makes us very angry." It's time to put on our angry faces and call for climate action.
Spread the word! You can tweet: These celebrity birds are #angryaboutclimatechange & want to plant 1B trees: @EarthDayNetwork @AngryBirds @Connect4Climate.