This website uses cookies to ensure you get the best experience while browsing it. By clicking 'Got It' you're accepting these terms.
Chloe & Theo Embodies the Power of Storytelling
Apr. 17, 2015 10:15AM EST
Climate

I'm always amazed at how a good story can move people. I was reminded of this again while watching the world premiere of Chloe & Theo, a film in which a homeless girl befriends an Inuit who travels to New York City from his tiny village in the Arctic to deliver an important message: "My world is melting. Please help us." (Look for the film in August at a theater near you).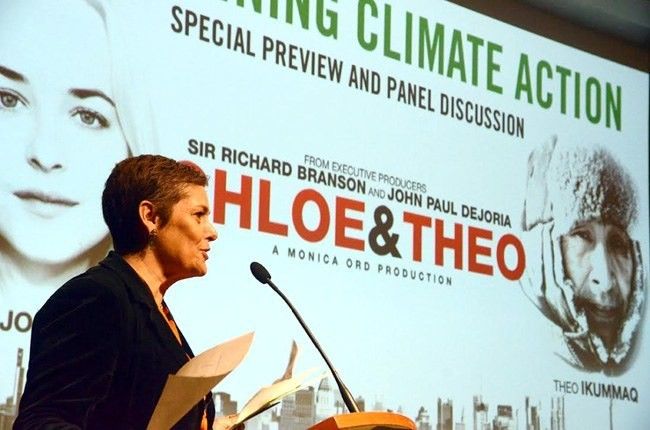 Theo's story is a true one. He does leave his vast, white and silent world on the Canadian coastline where he was born (in an igloo!) and he did go to U.S. to try to meet with world leaders. His help came in the form of Monica Ord, an entrepreneur who was committed to helping HIV/AIDS victims and finding cancer cures. She heard Theo's story and asked how she could help. She had no background in film making, but she did know Richard Branson, founder of the Virgin Group, and told him about Theo's story. Three months later, she and Sir Richard were on a dog sled traveling through the Arctic to see what Theo meant.
The rest, as they say, is history.
On a budget so small, the crew took only half their pay, Monica succeeded in making an engaging, and often funny, movie about Theo Ikummaq's journey, in which he plays his charming self. Dakota Johnson insisted on playing Chloe, Theo's guide; Mira Sorvino also costars. We experience Theo's physical journey from the North, as well as his emotional journey through the layers and personalities of New York City.
We get invested in the Story of the Angry Sun, which Theo's Inuit elders use to explain what's happening to their slowly melting village. We empathize when Theo mourns that people have separated from their world, and that things are changing way too fast. We have a responsibility to what we've been killing, he says, his soulful deep brown eye projecting innocence and truth. The result is a simple, and entirely complicated, beautifully-told story.
Theo just wants to get his message heard, because he wanted his world to stay frozen, snow covered and remain on sacred "cathedrals of ice." And so do we in the climate change communication business. We want to make sure our messages about our changing world are heard. But maybe we've been trying to do this in all the wrong ways, by telling people the facts, when what they want to hear is a good story.
The willingness to enter another's world, as Monica Ord did, and be a witness to his story, his life, his plights and concerns is, to me, the very beginning of communication. Telling those stories in a way which allows others to experience a world they never would have otherwise changes people. It has the power to change their perspectives, opinions and hearts.
YOU MIGHT ALSO LIKE
World Premiere of Chloe & Theo and Its Extraordinary Behind-the-Scenes Story
How One Person Can Make a Big Difference
The OceanMaker: An Animated, Post-Apocalyptic Film You Don't Want to Miss
EcoWatch Daily Newsletter
A. Battenburg / Technical University of Munich
By Sarah Kennedy
Algae in a pond may look flimsy. But scientists are using algae to develop industrial-strength material that's as hard as steel but only a fraction of the weight.
Variety of fermented food korean traditional kimchi cabbage and radish salad. white and red sauerkraut in ceramic plates over grey spotted background. Natasha Breen / REDA&CO / Universal Images Group / Getty Image
Even if you've never taken probiotics, you've probably heard of them.
These supplements provide numerous benefits because they contain live microorganisms, such as bacteria or yeast, which support the healthy bacteria in your gut (1, 2, 3, 4).
Pexels
Singapore will become the first country in the world to place a ban on advertisements for carbonated drinks and juices with high sugar contents, its health ministry announced last week. The law is intended to curb sugar consumption since the country has some of the world's highest diabetes rates per capita, as Reuters reported.
A typical adult takes around 20,000 breaths per day. If you live in a megacity like Beijing, with many of those lungfuls you're likely to inhale a noxious mixture of chemicals and pollutants.
Fred Stone holds his brown swiss cow Lida Rose at his Arundel dairy farm on March 18 after a press conference where he spoke about PFAS chemical contamination in his fields. Gregory Rec / Portland Portland Press Herald via Getty Images
By Susan Cosier
First there was Fred Stone, the third-generation dairy farmer in Maine who discovered that the milk from his cows contained harmful chemicals. Then came Art Schaap, a second-generation dairy farmer in New Mexico, who had to dump 15,000 gallons of contaminated milk a day.
Protesters attend the 32nd annual Fur-Free Friday demonstration on Nov. 23, 2018 in Beverly Hills, California. Ella DeGea / Getty Images
California Governor Gavin Newsom signed into law a bill that that bans the sale and manufacture of fur products in the state. The fur ban, which he signed into law on Saturday, prohibits Californians from selling or making clothing, shoes or handbags with fur starting in 2023, according to the AP.
By Simon Evans
During the three months of July, August and September, renewables generated an estimated total of 29.5 terawatt hours (TWh), compared with just 29.1TWh from fossil fuels, the analysis shows.
A demonstrator waves an Ecuadorian flag during protests against the end of subsidies to gasoline and diesel on Oct. 9 in Quito, Ecuador. Jorge Ivan Castaneira Jaramillo / Getty Images