This website uses cookies to ensure you get the best experience while browsing it. By clicking 'Got It' you're accepting these terms.
Chloe & Theo Embodies the Power of Storytelling
Apr. 17, 2015 10:15AM EST

I'm always amazed at how a good story can move people. I was reminded of this again while watching the world premiere of Chloe & Theo, a film in which a homeless girl befriends an Inuit who travels to New York City from his tiny village in the Arctic to deliver an important message: "My world is melting. Please help us." (Look for the film in August at a theater near you).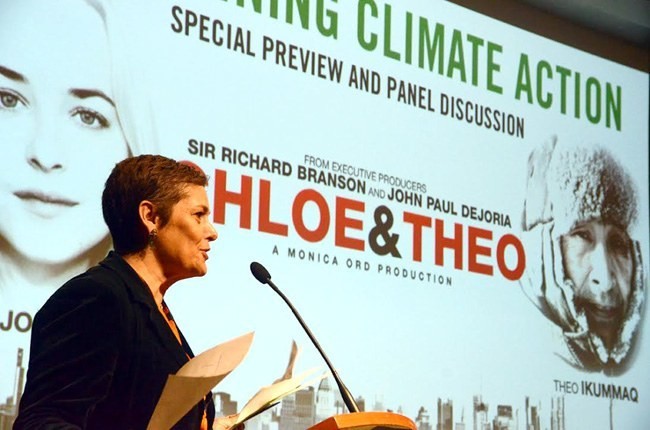 Theo's story is a true one. He does leave his vast, white and silent world on the Canadian coastline where he was born (in an igloo!) and he did go to U.S. to try to meet with world leaders. His help came in the form of Monica Ord, an entrepreneur who was committed to helping HIV/AIDS victims and finding cancer cures. She heard Theo's story and asked how she could help. She had no background in film making, but she did know Richard Branson, founder of the Virgin Group, and told him about Theo's story. Three months later, she and Sir Richard were on a dog sled traveling through the Arctic to see what Theo meant.
The rest, as they say, is history.
On a budget so small, the crew took only half their pay, Monica succeeded in making an engaging, and often funny, movie about Theo Ikummaq's journey, in which he plays his charming self. Dakota Johnson insisted on playing Chloe, Theo's guide; Mira Sorvino also costars. We experience Theo's physical journey from the North, as well as his emotional journey through the layers and personalities of New York City.
We get invested in the Story of the Angry Sun, which Theo's Inuit elders use to explain what's happening to their slowly melting village. We empathize when Theo mourns that people have separated from their world, and that things are changing way too fast. We have a responsibility to what we've been killing, he says, his soulful deep brown eye projecting innocence and truth. The result is a simple, and entirely complicated, beautifully-told story.
Theo just wants to get his message heard, because he wanted his world to stay frozen, snow covered and remain on sacred "cathedrals of ice." And so do we in the climate change communication business. We want to make sure our messages about our changing world are heard. But maybe we've been trying to do this in all the wrong ways, by telling people the facts, when what they want to hear is a good story.
The willingness to enter another's world, as Monica Ord did, and be a witness to his story, his life, his plights and concerns is, to me, the very beginning of communication. Telling those stories in a way which allows others to experience a world they never would have otherwise changes people. It has the power to change their perspectives, opinions and hearts.
YOU MIGHT ALSO LIKE
World Premiere of Chloe & Theo and Its Extraordinary Behind-the-Scenes Story
How One Person Can Make a Big Difference
The OceanMaker: An Animated, Post-Apocalyptic Film You Don't Want to Miss
Best 3 Recommended CBD Oils
Pixabay
By John R. Platt
The world needs to change the way it eats, not just as individuals but as a society.
The Russian military is taking measures to protect the residents of a remote Arctic settlement from a mass of polar bears, German press agency DPA reported.
The move comes after regional authorities declared a state of emergency over the weekend after sightings of more than 50 bears in the town of Belushya Guba since December.
This year's letter from Bill and Melinda Gates focused on nine things that surprised them. For the Microsoft-cofounder, one thing he was surprised to learn was the massive amount of new buildings the planet should expect in the coming decades due to urban population growth.
"The number of buildings in the world is going to double by 2060. It's like we're going to build a new New York City every month for the next 40 years," he said.