This website uses cookies to ensure you get the best experience while browsing it. By clicking 'Got It' you're accepting these terms.
Chloe & Theo Embodies the Power of Storytelling
Apr. 17, 2015 10:15AM EST
Climate
I'm always amazed at how a good story can move people. I was reminded of this again while watching the world premiere of Chloe & Theo, a film in which a homeless girl befriends an Inuit who travels to New York City from his tiny village in the Arctic to deliver an important message: "My world is melting. Please help us." (Look for the film in August at a theater near you).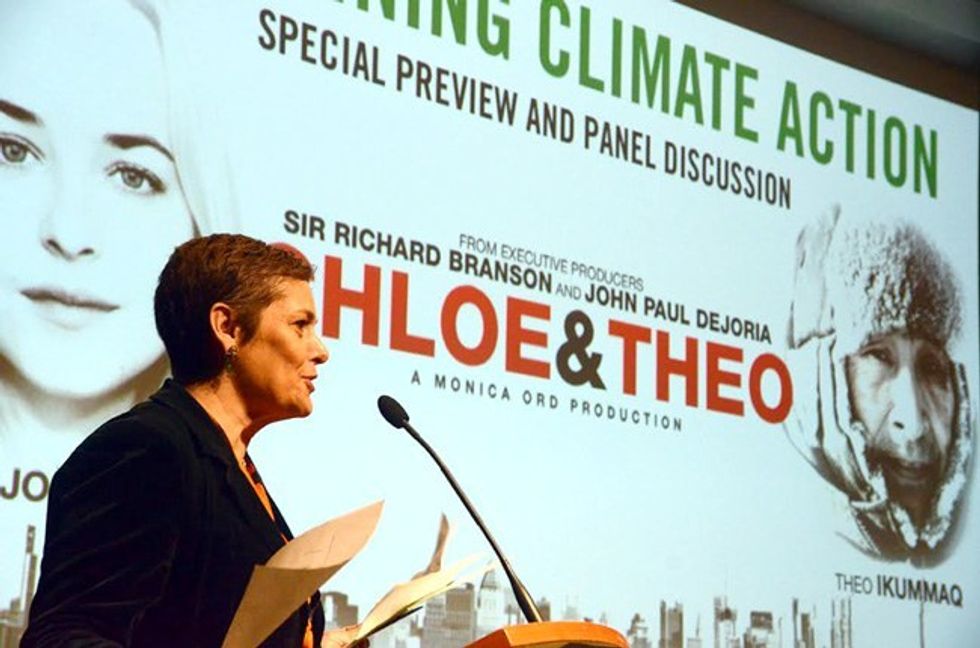 Theo's story is a true one. He does leave his vast, white and silent world on the Canadian coastline where he was born (in an igloo!) and he did go to U.S. to try to meet with world leaders. His help came in the form of Monica Ord, an entrepreneur who was committed to helping HIV/AIDS victims and finding cancer cures. She heard Theo's story and asked how she could help. She had no background in film making, but she did know Richard Branson, founder of the Virgin Group, and told him about Theo's story. Three months later, she and Sir Richard were on a dog sled traveling through the Arctic to see what Theo meant.
The rest, as they say, is history.
On a budget so small, the crew took only half their pay, Monica succeeded in making an engaging, and often funny, movie about Theo Ikummaq's journey, in which he plays his charming self. Dakota Johnson insisted on playing Chloe, Theo's guide; Mira Sorvino also costars. We experience Theo's physical journey from the North, as well as his emotional journey through the layers and personalities of New York City.
We get invested in the Story of the Angry Sun, which Theo's Inuit elders use to explain what's happening to their slowly melting village. We empathize when Theo mourns that people have separated from their world, and that things are changing way too fast. We have a responsibility to what we've been killing, he says, his soulful deep brown eye projecting innocence and truth. The result is a simple, and entirely complicated, beautifully-told story.
Theo just wants to get his message heard, because he wanted his world to stay frozen, snow covered and remain on sacred "cathedrals of ice." And so do we in the climate change communication business. We want to make sure our messages about our changing world are heard. But maybe we've been trying to do this in all the wrong ways, by telling people the facts, when what they want to hear is a good story.
The willingness to enter another's world, as Monica Ord did, and be a witness to his story, his life, his plights and concerns is, to me, the very beginning of communication. Telling those stories in a way which allows others to experience a world they never would have otherwise changes people. It has the power to change their perspectives, opinions and hearts.
YOU MIGHT ALSO LIKE
World Premiere of Chloe & Theo and Its Extraordinary Behind-the-Scenes Story
How One Person Can Make a Big Difference
The OceanMaker: An Animated, Post-Apocalyptic Film You Don't Want to Miss
EcoWatch Daily Newsletter
Investing in grid infrastructure would enable utilities to incorporate modern technology, making the grid more resilient and flexible. STRATMAN2 / FLICKR
By Elliott Negin
The Royal Swedish Academy of Sciences' recent decision to award the 2019 Nobel Prize in Chemistry to scientists who developed rechargeable lithium-ion batteries reminded the world just how transformative they have been. Without them, we wouldn't have smartphones or electric cars. But it's their potential to store electricity generated by the sun and the wind at their peak that promises to be even more revolutionary, reducing our dependence on fossil fuels and protecting the planet from the worst consequences of climate change.
Two Javan rhinos deep in the forests of Ujung Kulon National Park, the species' last habitat on Earth. Sugeng Hendratno / WWF
The global population of the critically endangered Javan rhinoceros has increased to 72 after four new calves were spotted in the past several months.
A tiger looks out from its cage at a new resort and zoo in the eastern Lao town of Tha Bak on Dec. 5, 2018. Karl Ammann believes the "zoo" is really a front for selling tigers. Terrence McCoy / The Washington Post / Getty Images
Are tigers extinct in Laos?
That's the conclusion of a detailed new study that found no evidence wild tigers still exist in the country.
A group of scientists is warning that livestock production must not expand after 2030 for the world to stave off ecological disaster.
The largest wetland in Africa is in the South Sudan. George Steinmetz / Corbis Documentary / Getty Images Plus
Methane emissions are a far more powerful greenhouse gas than carbon dioxide – about 28 times more powerful. And they have been rising steadily since 2007. Now, a new study has pinpointed the African tropics as a hot spot responsible for one-third of the global methane surge, as Newsweek reported.