This website uses cookies to ensure you get the best experience while browsing it. By clicking 'Got It' you're accepting these terms.
3 Steps to a Zero-Carbon Future
May. 13, 2015 09:58AM EST
Business
We've all heard that we need to cut use of carbon-emitting fossil fuels to decarbonize the environment and slow climate change. And, except for a handful of vocal climate deniers, most of us agree. But in real, practical terms, how do we going about doing this?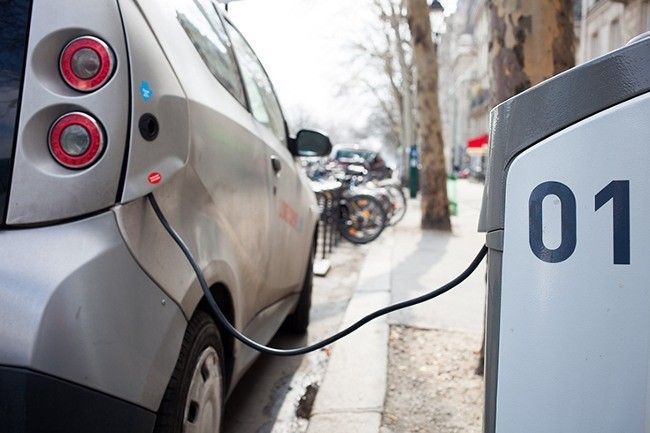 The World Bank has laid out the primary steps we need to take in its new report Decarbonizing Development: Three Steps to a Zero Carbon Future.
"Choices made today can lock in emissions trajectories for years to come and leave communities vulnerable to climate impacts," said World Bank Group Vice President and Special Envoy for Climate Change Rachel Kyte. "To reach zero net emissions before the end of this century, the global economy needs to be overhauled. We at the World Bank Group are increasing our focus on the policy options."
First, the report says, we need to plan for the future by defining and focusing on the final goal. That means things like investing in the research and development of new energy technologies or designing cities for public transportation rather than short-term solutions with immediate impact.
"The appropriate way to achieve a given reduction in emissions by, say, 2030 depends on whether that is the final target or a step along the way to zero net emissions," it says. "If the latter, early action will need to be a mix of cheap, quick fixes and costlier long-term measures to promote technology development, investment in long-lived infrastructure and changes in how cities are built. So every country needs to define a long-term target—say, for 2050—that is consistent with decarbonization and to build short-term, sector-specific plans that contribute to that target and are adapted to the country's wealth, endowments and capacity."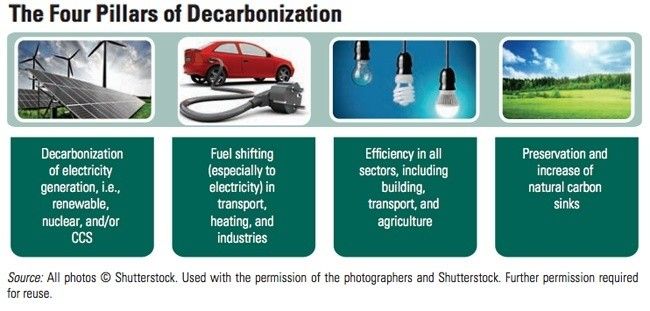 The second step is to develop policies that take into consideration not only pricing but investment patterns, technologies and behaviors. They need to not only price carbon to take into account the negative impacts of carbon pollution but also reward behavior that cuts pollution by encouraging the adoption of green technologies.
"Carbon pricing is necessary for an efficient transition toward decarbonization," says the report. "It is also an efficient way to raise revenue, which can be used to support poverty reduction and development or to reduce other taxes. And a carbon tax can be designed to be administratively simple yet harder to evade than taxes on income or capital. But carbon pricing alone cannot solve the climate change problem, given the many market failures and behavioral. Policy makers also need to adopt measures such as targeted investment subsidies, performance standards and mandates, or communication campaigns that trigger the required changes in investment patterns, behaviors and technologies."
And finally, we need to ease the transition for those most affected by policy and cost changes related to going green.
"Reforms live or die on the basis of how well the political economy is managed: a climate policy package must be attractive to a majority of voters and avoid impacts that appear unfair or that are concentrated in a region, sector, or community," it says. "Removing fossil fuel subsidies, which primarily benefit the wealthy, and implementing carbon taxes or cap-and-trade systems are two ways to free up or generate revenue that can lower costs of education, health care and infrastructure and provide direct support for the poor while also reducing carbon emissions."
"Data in 22 developing countries show that if fossil fuels subsidies were replaced by universal cash transfers, the bottom 60 percent would benefit from the reform," said Stephane Hallegatte, a senior economist for climate change at the World Bank and a lead author of the report.
YOU MIGHT ALSO LIKE
250,000 People Call for Action on Climate Change and an End to Extreme Poverty
Global Carbon Levels Surpass 400 ppm for First Time Ever for Entire Month
Al Gore: We Must 'Put a Price on Carbon' and on Climate 'Denial in Politics'
EcoWatch Daily Newsletter
SHEALAH CRAIGHEAD
By Elliott Negin
On July 19, President Trump hosted Apollo 11 astronauts Buzz Aldrin and Michael Collins and their families, along with the family of their deceased colleague Neil Armstrong, at a White House event to commemorate the 50th anniversary of the first manned landing on the moon.
The study looked at three groups of diverse lizards from South America. Daniel Pincheira-Donoso
Cold-climate lizards that give live birth to their offspring are more likely to be driven to extinction than their egg-laying cousins as global temperatures continue to rise, new research suggests.
Sean Gallup / Getty Images
A stock photo of fire in the Amazon; a record number of fires have burned there this year. Brasil2 / E+ / Getty Images
Tuna auctions are a tourist spectacle in Tokyo. Outside the city's most famous fish market, long queues of visitors hoping for a glimpse of the action begin to form at 5 a.m. The attraction is so popular that last October the Tsukiji fish market, in operation since 1935, moved out from the city center to the district of Toyosu to cope with the crowds.

gmnicholas / E+ / Getty Images
Kristan Porter grew up in a fishing family in the fishing community of Cutler, Maine, where he says all roads lead to one career path: fishing. (Porter's father was the family's lone exception. He suffered from terrible seasickness, and so became a carpenter.) The 49-year-old, who has been working on boats since he was a kid and fishing on his own since 1991, says that the recent warming of Maine's cool coastal waters has yielded unprecedented lobster landings.
Aerial view of lava flows from the eruption of volcano Kilauea on Hawaii, May 2018. Frizi / iStock / Getty Images
Hawaii's Kilauea volcano could be gearing up for an eruption after a pond of water was discovered inside its summit crater for the first time in recorded history, according to the AP.