Why Microgreens Should Be Part of Your Daily Superfood Diet
You may have dismissed the increasing prevalence of microgreens as some kind of trendy fad found mostly at fancy restaurants and upscale groceries that charge a lot for them. Don't do that! They're way more than a dainty little plate decoration or embellishment to make a salad cost more. There's a real reason to add them to your diet—and it's much easier than you think.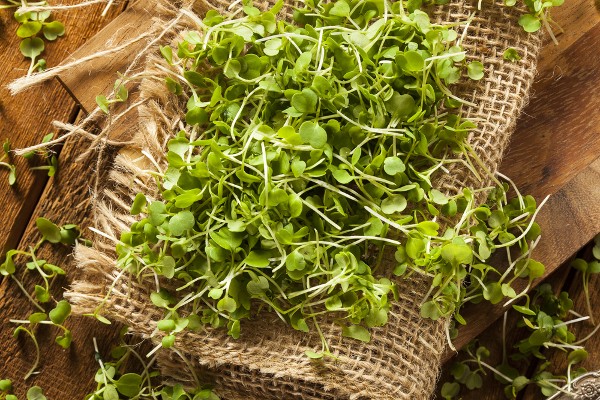 Photo credit: Shutterstock
First of all, what exactly is a "microgreen"? Think of it as the teenage version of a sprout. It's not one kind of plant, but rather, the seedling version of many different kinds, harvested when the first sets of true leaves appear or when the plant is about 1 to 3 inches tall. That's about two to three weeks depending on how fast a particular type of plant seed germinates.
Dozens of different types of vegetables can be planted to produce microgreens, with a range of tastes—mellow, spicy, tangy, earthy, nutty, crisp. Some of the most common varieties are things you may already grow to use the full plant: basil, parsley, cilantro, radishes, salad burnet, fennel, chervil, mustard, kale, collards, beets, pac choy and cabbage. Even carrots and beets can be sown and harvested as microgreens.
Because the plant is harvested before all the food contained in the seed is used to fuel the growth of a mature plant, microgreens condense the nutritional value of their older siblings. They could contain anywhere from 4 top 40 times as much of a particular nutrient, according to a study conducted by researchers at the University of Maryland and the U.S. Department of Agriculture. And many of the plants grown as microgreens are already considered superfoods, so this makes their mini-versions super-superfoods.
The researchers learned that overall microgreens tend to have higher concentrations of vitamins and carotenoids than the mature plants—many of which fall into the superfood category themselves. Because they are grown from so many types of plant seeds, what specifically they contain varies from plant to plant. Red cabbage microgreens had the greatest concentration of vitamin C—six times more than mature cabbage. It also had 40 times more vitamin E than the bigger plants. Red cabbage, garnet amaranth and green daikon radish microgreens had the highest concentrations of vitamin C, vitamin K and vitamin E. Cilantro was the winner when it came to the carotenoids lutein and beta-carotene.
"In general, microgreens contained considerably higher levels of vitamins and carotenoids—about five times greater—than their mature plant counterparts, an indication that microgreens may be worth the trouble of delivering them fresh during their short lives," said the study.
What does that mean for you? It means more of what you eat your vegetables for. Lutein, for instance, has been found to have an impact on eye health, possibly helping to stave off conditions such as macular degeneration. Beta-carotene may help protect against some cancers. And all the carotenoids are antioxidants, which play a role in maintaining and improving overall health, boosting your immune system and delaying chronic diseases of aging. If it's good to eat your vegetables, it's even better to eat your microgreens.
The best news? Forget the premium price per pound at those upscale stores. All it takes to grow your own is a shallow tray with some potting soil and seeds. You can find seeds intended for growing microgreens for sale at garden centers or through seed catalogs. Many sell seed mixes of complementary flavor, which also provide a mix of different nutrients. But you don't need to buy special seeds. Anything you have on hand can produce microgreens.
Sow the seed heavily and keep lightly watered at all times. Store-bought microgreens have a very short shelf life, so growing your own and cutting them as you need them assures you'll always have the freshest, crispest ones to enhance a salad or a sandwich or sprinkle on top a tart, a pot pie, a pizza or even a cup of soup as the finishing touch before serving. Happy eating!
YOU MIGHT ALSO LIKE
How to Create Your Indoor Edible Garden
9 Ways to Boost Your Immune System
www.youtube.com
By Katie O'Reilly
Two years ago—long before coal became one of the most dominant and controversial symbols of the 2016 presidential election—Bloomberg Philanthropies approached production company RadicalMedia with the idea of creating a documentary exploring the U.S. coal mining industry. Last spring, they brought on Emmy-nominated director Michael Bonfiglio, tasked with forging a compelling story out of the multitudes of facts, statistics and narratives underlying the declining industry.
Keep reading...
Show less
Mayors for 100% Clean Energy
Keep reading...
Show less
www.youtube.com
President Trump visited Cedar Rapids, Iowa on June 21 to speak to a large crowd in the U.S. Cellular Center at a political rally organized by his campaign.
As Trevor Noah noted during The Daily Show episode last night (starts at 2:25), the real reason Trump has these rallies is to "get back in front of his loyal crowds and feed of their energy." Noah believes that "Trump supporters are so on board with their dude he can say anything and they'll come along for the ride."
Keep reading...
Show less
www.youtube.com
By Andy Rowell
Any day now we will truly witness climate change in action. Within days at worst, maybe weeks at best, scientists predict that a huge section of the Larsen C ice shelf in Antarctica will break off into the ocean, in what is called a major "carving" event.
Keep reading...
Show less
www.youtube.com
Thanks to Newsy for their coverage on Thursday's news that the U.S. Fish and Wildlife Service removed grizzly bears in the Greater Yellowstone region from the Endangered Species List.
Watch above as Newsy explains that the decision comes despite serious concerns from the environmental and scientific community, and Tribal Nations about a declining, isolated grizzly bear population with diminishing food resources and record-high mortalities.
Keep reading...
Show less
www.facebook.com
By Francine Kershaw
Seismic airguns exploding in the ocean in search for oil and gas have devastating impacts on zooplankton, which are critical food sources for marine mammals, according to a new study in Nature. The blasting decimates one of the ocean's most vital groups of organisms over huge areas and may disrupt entire ecosystems.
And this devastating news comes on the heels of the National Marine Fisheries Service's proposal to authorize more than 90,000 miles of active seismic blasting. Based on the results of this study, the affected area would be approximately 135,000 square miles.
Keep reading...
Show less
By Jill Richardson
Is coconut oil:
good for you
bad for you
neither good nor bad
scientists don't know
The subject of this question is the source of a disagreement. Initially, the question was thought to be settled decades ago, when scientist Ancel Keys declared all saturated fats unhealthy. Coconut oil, which is solid at room temperature, is a saturated fat.
Keep reading...
Show less
The U.S. Fish and Wildlife Service removed grizzly bears in the Greater Yellowstone region on Thursday from the Endangered Species List. The decision comes despite serious concerns in the scientific community about a declining, isolated population with diminishing food resources and record-high mortalities, as well as strong opposition from an unprecedented number of Tribal Nations.
Keep reading...
Show less
ArborGen pine tree field test site in South Carolina. BJ McManama
By BJ McManama
ArborGen Corporation, a multinational conglomerate and leading supplier of seedlings for commercial forestry applications, has submitted an approval request to the U.S. Department of Agriculture, Animal and Plant Health Inspection Service to deregulate and widely distribute a eucalyptus tree genetically engineered (GE) to be freeze tolerant. This modification will allow this GE variety to be grown in the U.S. Southeast. The reason this non-native and highly invasive tree has been artificially created to grow outside of its tropical environment is to greatly expand production capacity for the highly controversial woody biomass industry.
Keep reading...
Show less


Get EcoWatch in your inbox