Why Is This Hormone-Disrupting Pesticide Banned in Europe But Widely Used in the U.S.?
The European Union just banned two agricultural weed killers linked to infertility, reproductive problems and fetal development—the first-ever EU ban on endocrine-disrupting pesticides. That's good news for Europeans. But as in Europe, many endocrine-disrupting weed killers remain widely used on American crops and from farm fields make their way into drinking water and food.
One of the most widely used and most troublesome endocrine-disrupting pesticides in the U.S. is atrazine. Manufactured by agro-chemical giant Syngenta, atrazine is sprayed mostly on Midwest corn fields and is consistently one of the most detected crop chemicals in drinking water.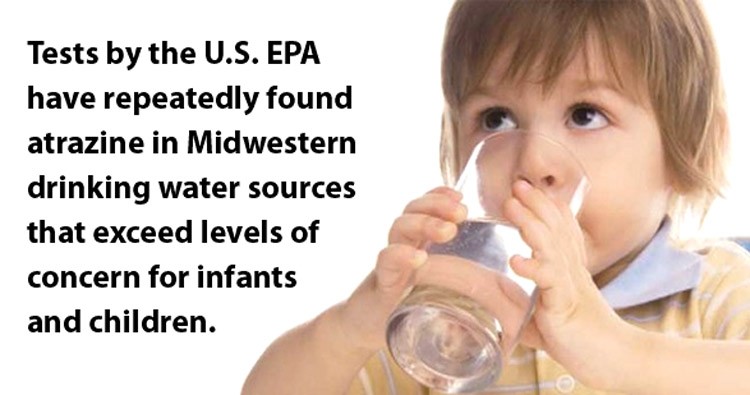 Tests by the U.S. Environmental Protection Agency (EPA) have repeatedly found atrazine in Midwestern drinking water sources that exceed levels of concern for infants and children. In 2009, the New York Times reported that an estimated 33 million Americans have been exposed to atrazine through their taps.
The hormone-disrupting qualities of atrazine have been well-documented, most notably by Tyrone Hayes, a professor of biology at the University of California at Berkeley. His extensive research has shown the chemical altered the reproductive systems in frogs.
In 2010, Hayes and a team of researchers exposed 40 male tadpoles to water with atrazine at 2.5 parts per billion—well within the U.S. EPA's established drinking water standards. Roughly one-tenth of the frogs that grew in the atrazine-tainted water become "functionally female," Hayes reported.
Atrazine is banned in Europe. But it is the second most-used herbicide in U.S. agriculture, with more than 60 million pounds sprayed on crops each year, behind only Monsanto's glyphosate, the active ingredient in Roundup.
Some farmers are reducing the need for herbicides like atrazine by switching to organic production methods or adopting new weed management strategies. But the federal government doesn't invest enough in supporting such innovative strategies.
Most federal farm spending supports and encourages large-scale industrial farming, dependent on chemical pesticides and fertilizers that pollute streams, rivers and lakes. Of the meager support for more sustainable farming, even less is dedicated to practices that reduce the need for pesticides. As a result, most farmers seeking financial help to reduce chemical use are turned away.
The U.S. EPA is currently reviewing the regulations on atrazine and should release its assessment in the next year. To protect public health and ensure clean drinking water, the agency should recognize the harm caused by atrazine and restrict its use.
YOU MIGHT ALSO LIKE
Interactive Maps Show Where Monsanto's Roundup Is Sprayed in San Francisco and Portland
GMO Mushroom Sidesteps UDSA Regulations
Glyphosate Found in Popular Breakfast Foods
8 Disturbing Facts About Monsanto's Evil Twin—The Chemical Fertilizer Industry
By Jason Mark
Sequoiadendron giganteum. That's the scientific name for the giant sequoia: the mammoth trees found in California's Sierra Nevada that are the largest organisms on Earth, and among the longest-lived. Biologists estimate that about half of all sequoias live in Giant Sequoia National Monument, a 328,000-acre preserve in the Southern Sierra Nevada established by President Clinton in 2000.
Now that national monument is in jeopardy.
Keep reading...
Show less
By Andy Rowell
Donald Trump this week is launching an "energy week," pushing the argument that the U.S. will become a net exporter of oil and gas.
The president and his cronies are talking about a new era of "U.S. energy dominance," which could stretch for decades to come. However, no one believes the president anymore.
Keep reading...
Show less
Jun. 26, 2017 01:48PM EST
www.elysee.fr
By Andy Rowell
There is a growing feeling within European capitals that a quiet, but deeply positive, revolution is happening under Emmanuel Macron in France.
Macron's opinion poll rating is high, especially boosted in how the young French president has reacted to Donald Trump on the international stage.
Keep reading...
Show less
Jun. 26, 2017 12:32PM EST
www.facebook.com
Keep reading...
Show less
Keep reading...
Show less
www.youtube.com
According to Bloomberg, "SeaWorld Entertainment Inc. received a subpoena earlier this month from regulators investigating disclosures and public statements by executives, including comments about the Blackfish documentary that caused a public backlash against the confinement of orcas.
Keep reading...
Show less
By Mary Mazzoni
In 2013, shoppers were reacquainted with the tragic story of their clothing when a massive factory collapse claimed the lives of more than 1,100 Bangladeshi garment workers.
The nonprofit Fashion Revolution, formed in response to that disaster, continues to track the apparel industry's progress on environmental stewardship and human rights. But four years later, big brands are still not doing enough to disclose their efforts to customers, the organization concluded in a recent report.
Keep reading...
Show less
Jun. 26, 2017 01:18PM EST
Hawaii Renewable Energy Alliance
The latest issue of the U.S. Energy Information's "Electric Power Monthly" (with data through April 30) reveals that—for the first time since the beginning of the nuclear era—renewable energy sources (i.e., biomass, geothermal, hydropower, solar—inc. small-scale PV, wind) are now providing a greater share of the nation's electrical generation than nuclear power.
Keep reading...
Show less
www.youtube.com
Check out this great 360° virtual reality video by NowThis on the world's largest indoor vertical farm, AeroFarms. Located in Newark, New Jersey, AeroFarms grows more than 2 million pounds of greens a year without sunlight, soil or pesticides.
As reported by EcoWatch in July 2105, the $30 million, 70,000-square-foot AeroFarms headquarters dwarfs Japan's (already impressive) 25,000-square-foot vertical indoor farm, which had been the world's largest until now.