This website uses cookies to ensure you get the best experience while browsing it. By clicking 'Got It' you're accepting these terms.
Why Is This Hormone-Disrupting Pesticide Banned in Europe But Widely Used in the U.S.?
Apr. 26, 2016 08:56AM EST
Food
The European Union just banned two agricultural weed killers linked to infertility, reproductive problems and fetal development—the first-ever EU ban on endocrine-disrupting pesticides. That's good news for Europeans. But as in Europe, many endocrine-disrupting weed killers remain widely used on American crops and from farm fields make their way into drinking water and food.
One of the most widely used and most troublesome endocrine-disrupting pesticides in the U.S. is atrazine. Manufactured by agro-chemical giant Syngenta, atrazine is sprayed mostly on Midwest corn fields and is consistently one of the most detected crop chemicals in drinking water.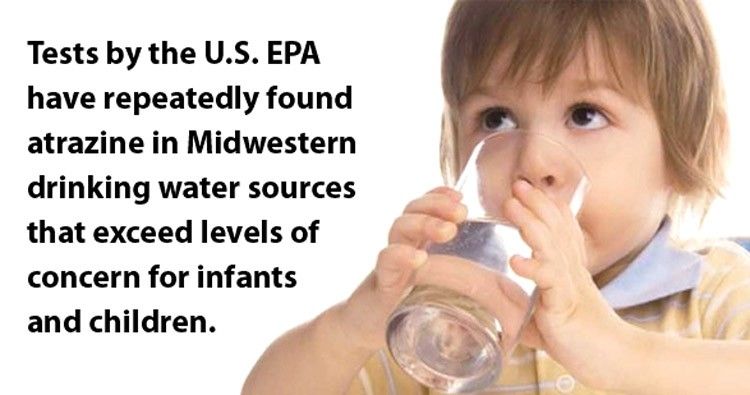 Tests by the U.S. Environmental Protection Agency (EPA) have repeatedly found atrazine in Midwestern drinking water sources that exceed levels of concern for infants and children. In 2009, the New York Times reported that an estimated 33 million Americans have been exposed to atrazine through their taps.
The hormone-disrupting qualities of atrazine have been well-documented, most notably by Tyrone Hayes, a professor of biology at the University of California at Berkeley. His extensive research has shown the chemical altered the reproductive systems in frogs.
In 2010, Hayes and a team of researchers exposed 40 male tadpoles to water with atrazine at 2.5 parts per billion—well within the U.S. EPA's established drinking water standards. Roughly one-tenth of the frogs that grew in the atrazine-tainted water become "functionally female," Hayes reported.
Atrazine is banned in Europe. But it is the second most-used herbicide in U.S. agriculture, with more than 60 million pounds sprayed on crops each year, behind only Monsanto's glyphosate, the active ingredient in Roundup.
Some farmers are reducing the need for herbicides like atrazine by switching to organic production methods or adopting new weed management strategies. But the federal government doesn't invest enough in supporting such innovative strategies.
Most federal farm spending supports and encourages large-scale industrial farming, dependent on chemical pesticides and fertilizers that pollute streams, rivers and lakes. Of the meager support for more sustainable farming, even less is dedicated to practices that reduce the need for pesticides. As a result, most farmers seeking financial help to reduce chemical use are turned away.
The U.S. EPA is currently reviewing the regulations on atrazine and should release its assessment in the next year. To protect public health and ensure clean drinking water, the agency should recognize the harm caused by atrazine and restrict its use.
YOU MIGHT ALSO LIKE
Interactive Maps Show Where Monsanto's Roundup Is Sprayed in San Francisco and Portland
GMO Mushroom Sidesteps UDSA Regulations
Glyphosate Found in Popular Breakfast Foods
8 Disturbing Facts About Monsanto's Evil Twin—The Chemical Fertilizer Industry
EcoWatch Daily Newsletter
Tuna auctions are a tourist spectacle in Tokyo. Outside the city's most famous fish market, long queues of visitors hoping for a glimpse of the action begin to form at 5 a.m. The attraction is so popular that last October the Tsukiji fish market, in operation since 1935, moved out from the city center to the district of Toyosu to cope with the crowds.

gmnicholas / E+ / Getty Images
Kristan Porter grew up in a fishing family in the fishing community of Cutler, Maine, where he says all roads lead to one career path: fishing. (Porter's father was the family's lone exception. He suffered from terrible seasickness, and so became a carpenter.) The 49-year-old, who has been working on boats since he was a kid and fishing on his own since 1991, says that the recent warming of Maine's cool coastal waters has yielded unprecedented lobster landings.
Aerial view of lava flows from the eruption of volcano Kilauea on Hawaii, May 2018. Frizi / iStock / Getty Images
Hawaii's Kilauea volcano could be gearing up for an eruption after a pond of water was discovered inside its summit crater for the first time in recorded history, according to the AP.
The Eqip Sermia Glacier is seen behind a moraine left exposed by the glacier's retreat during unseasonably warm weather on Aug. 1 at Eqip Sermia, Greenland. Sean Gallup / Getty Images
hadynyah / E+ / Getty Images
By Johnny Wood
The Ganges is a lifeline for the people of India, spiritually and economically. On its journey from the Himalayas to the Bay of Bengal, it supports fishermen, farmers and an abundance of wildlife.
The river and its tributaries touch the lives of roughly 500 million people. But having flowed for millennia, today it is reaching its capacity for human and industrial waste, while simultaneously being drained for agriculture and municipal use.
Here are some of the challenges the river faces.
By Jake Johnson
As a growing number of states move to pass laws that would criminalize pipeline protests and hit demonstrators with years in prison, an audio recording obtained by The Intercept showed a representative of a powerful oil and gas lobbying group bragging about the industry's success in crafting anti-protest legislation behind closed doors.
Reposted with permission from our media associate Common Dreams.

DESIREE MARTIN / AFP / Getty Images
Wildfires raging on Gran Canaria, the second most populous of Spain's Canary Islands, have forced around 9,000 people to evacuate.