This website uses cookies to ensure you get the best experience while browsing it. By clicking 'Got It' you're accepting these terms.
Why Is This Hormone-Disrupting Pesticide Banned in Europe But Widely Used in the U.S.?
Apr. 26, 2016 08:56AM EST
The European Union just banned two agricultural weed killers linked to infertility, reproductive problems and fetal development—the first-ever EU ban on endocrine-disrupting pesticides. That's good news for Europeans. But as in Europe, many endocrine-disrupting weed killers remain widely used on American crops and from farm fields make their way into drinking water and food.
One of the most widely used and most troublesome endocrine-disrupting pesticides in the U.S. is atrazine. Manufactured by agro-chemical giant Syngenta, atrazine is sprayed mostly on Midwest corn fields and is consistently one of the most detected crop chemicals in drinking water.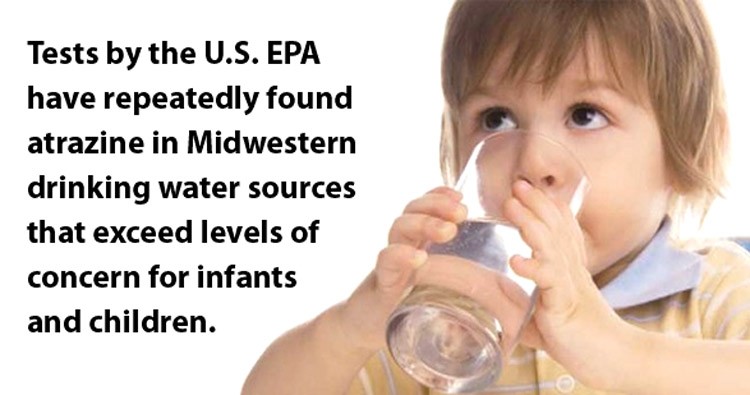 Tests by the U.S. Environmental Protection Agency (EPA) have repeatedly found atrazine in Midwestern drinking water sources that exceed levels of concern for infants and children. In 2009, the New York Times reported that an estimated 33 million Americans have been exposed to atrazine through their taps.
The hormone-disrupting qualities of atrazine have been well-documented, most notably by Tyrone Hayes, a professor of biology at the University of California at Berkeley. His extensive research has shown the chemical altered the reproductive systems in frogs.
In 2010, Hayes and a team of researchers exposed 40 male tadpoles to water with atrazine at 2.5 parts per billion—well within the U.S. EPA's established drinking water standards. Roughly one-tenth of the frogs that grew in the atrazine-tainted water become "functionally female," Hayes reported.
Atrazine is banned in Europe. But it is the second most-used herbicide in U.S. agriculture, with more than 60 million pounds sprayed on crops each year, behind only Monsanto's glyphosate, the active ingredient in Roundup.
Some farmers are reducing the need for herbicides like atrazine by switching to organic production methods or adopting new weed management strategies. But the federal government doesn't invest enough in supporting such innovative strategies.
Most federal farm spending supports and encourages large-scale industrial farming, dependent on chemical pesticides and fertilizers that pollute streams, rivers and lakes. Of the meager support for more sustainable farming, even less is dedicated to practices that reduce the need for pesticides. As a result, most farmers seeking financial help to reduce chemical use are turned away.
The U.S. EPA is currently reviewing the regulations on atrazine and should release its assessment in the next year. To protect public health and ensure clean drinking water, the agency should recognize the harm caused by atrazine and restrict its use.
YOU MIGHT ALSO LIKE
Interactive Maps Show Where Monsanto's Roundup Is Sprayed in San Francisco and Portland
GMO Mushroom Sidesteps UDSA Regulations
Glyphosate Found in Popular Breakfast Foods
8 Disturbing Facts About Monsanto's Evil Twin—The Chemical Fertilizer Industry
Pixabay
By John R. Platt
The world needs to change the way it eats, not just as individuals but as a society.
The Russian military is taking measures to protect the residents of a remote Arctic settlement from a mass of polar bears, German press agency DPA reported.
The move comes after regional authorities declared a state of emergency over the weekend after sightings of more than 50 bears in the town of Belushya Guba since December.
This year's letter from Bill and Melinda Gates focused on nine things that surprised them. For the Microsoft-cofounder, one thing he was surprised to learn was the massive amount of new buildings the planet should expect in the coming decades due to urban population growth.
"The number of buildings in the world is going to double by 2060. It's like we're going to build a new New York City every month for the next 40 years," he said.
Over the past few years, it seems vegan cooking has gone from 'brown rice and tofu' to a true art form. These amazing cooks show off the creations on Instagram—and we can't get enough.