This website uses cookies to ensure you get the best experience while browsing it. By clicking 'Got It' you're accepting these terms.


The best of EcoWatch, right in your inbox. Sign up for our email newsletter!
Why Is This Hormone-Disrupting Pesticide Banned in Europe But Widely Used in the U.S.?
Apr. 26, 2016 08:56AM EST
Food
The European Union just banned two agricultural weed killers linked to infertility, reproductive problems and fetal development—the first-ever EU ban on endocrine-disrupting pesticides. That's good news for Europeans. But as in Europe, many endocrine-disrupting weed killers remain widely used on American crops and from farm fields make their way into drinking water and food.
One of the most widely used and most troublesome endocrine-disrupting pesticides in the U.S. is atrazine. Manufactured by agro-chemical giant Syngenta, atrazine is sprayed mostly on Midwest corn fields and is consistently one of the most detected crop chemicals in drinking water.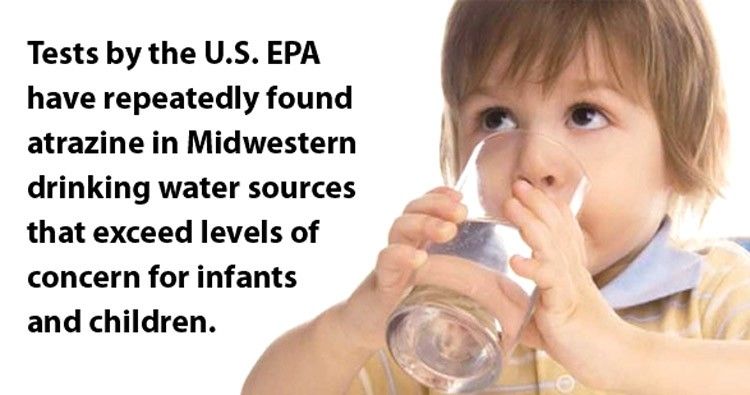 Tests by the U.S. Environmental Protection Agency (EPA) have repeatedly found atrazine in Midwestern drinking water sources that exceed levels of concern for infants and children. In 2009, the New York Times reported that an estimated 33 million Americans have been exposed to atrazine through their taps.
The hormone-disrupting qualities of atrazine have been well-documented, most notably by Tyrone Hayes, a professor of biology at the University of California at Berkeley. His extensive research has shown the chemical altered the reproductive systems in frogs.
In 2010, Hayes and a team of researchers exposed 40 male tadpoles to water with atrazine at 2.5 parts per billion—well within the U.S. EPA's established drinking water standards. Roughly one-tenth of the frogs that grew in the atrazine-tainted water become "functionally female," Hayes reported.
Atrazine is banned in Europe. But it is the second most-used herbicide in U.S. agriculture, with more than 60 million pounds sprayed on crops each year, behind only Monsanto's glyphosate, the active ingredient in Roundup.
Some farmers are reducing the need for herbicides like atrazine by switching to organic production methods or adopting new weed management strategies. But the federal government doesn't invest enough in supporting such innovative strategies.
Most federal farm spending supports and encourages large-scale industrial farming, dependent on chemical pesticides and fertilizers that pollute streams, rivers and lakes. Of the meager support for more sustainable farming, even less is dedicated to practices that reduce the need for pesticides. As a result, most farmers seeking financial help to reduce chemical use are turned away.
The U.S. EPA is currently reviewing the regulations on atrazine and should release its assessment in the next year. To protect public health and ensure clean drinking water, the agency should recognize the harm caused by atrazine and restrict its use.
YOU MIGHT ALSO LIKE
Interactive Maps Show Where Monsanto's Roundup Is Sprayed in San Francisco and Portland
GMO Mushroom Sidesteps UDSA Regulations
Glyphosate Found in Popular Breakfast Foods
8 Disturbing Facts About Monsanto's Evil Twin—The Chemical Fertilizer Industry
EcoWatch Daily Newsletter
Ice-rich permafrost has been exposed due to coastal erosion, National Petroleum Reserve, Alaska. Brandt Meixell / USGS
By Jake Johnson
An alarming study released Tuesday found that melting Arctic permafrost could add nearly $70 trillion to the global cost of climate change unless immediate action is taken to slash carbon emissions.
According to the new research, published in the journal Nature Communications, melting permafrost caused by accelerating Arctic warming would add close to $70 trillion to the overall economic impact of climate change if the planet warms by 3°C by 2100.
Jeff Reed / NYC Council
The New York City Council on Thursday overwhelmingly passed one of the most ambitious and innovative legislative packages ever considered by any major city to combat the existential threat of climate change.

Ghazipur is a neighborhood in East Delhi. It has been one of the largest dumping site for Delhi. India is one of many countries where global warming has dragged down economic growth. Frédéric Soltan / Corbis / Getty Images
Global inequality is worse today because of climate change, finds a new study published Monday by Stanford University professors Noah Diffenbaugh and Marshall Burke in the Proceedings of the National Academy of Sciences.
A child playing with a ball from planet earth during Extinction Rebellion rally on April 18 in London, England. Brais G. Rouco / Barcroft Media / Getty Images
Earth Day 2019 just passed, but planning has already begun for Earth Day 2020, and it's going to be a big deal.
Geneva Vanderzeil, A Pair & A Spare / Flickr / CC BY 2.0
Is your closet filled with clothes you don't wear (and probably don't like anymore)? Are you buying cheap and trendy clothing you only wear once or twice? What's up with all the excess? Shifting to a more Earth-conscious wardrobe can help simplify your life, as well as curb fast fashion's toll on people and the planet.
Christine Zenino / Wikimedia Commons / CC BY 2.0

The 18th century St. Catherine of Alexandria church is seen after its bell tower was destroyed following a 6.3 magnitude earthquake that struck the town of Porac, pampanga province on April 23. TED ALJIBE / AFP / Getty Images
At least 16 people have died, 81 are injured and 14 are still missing after an earthquake struck Luzon island in the Philippines Monday, according to the latest figures from the National Disaster Risk Reduction and Management Council, as the Philippine Star tweeted Tuesday.
Climate change activists gather in front of the stage at the Extinction Rebellion group's environmental protest camp at Marble Arch in London on April 22, on the eighth day of the group's protest calling for political change to combat climate change. TOLGA AKMEN / AFP / Getty Images