What Becomes of Cuba After the Embargo Is Lifted?
When a foreigner sets foot in Cuba, it immediately becomes clear that this magical island is profoundly unique and has developed drastically differently than any other country in Latin America and the Caribbean. And for those who venture into its verdant mountains or below its aquamarine waves, a striking revelation awaits: Just as the fifties-era Chevys and horse-drawn buggies portray an island seemingly frozen in time, so, too, do its exceptionally healthy and vibrant ecosystems illustrate that Cuba may have picked the perfect time in history not to follow the path of its neighbors. Indeed the past half century has seen a tragic and unprecedented decline in Caribbean coastal and marine ecosystems.
Elkhorn coral, one of the Caribbean's most iconic and important species, is estimated by the National Oceanic and Atmospheric Administration (NOAA) to be 95 extinct from Caribbean waters today. But in Cuba's Gardens of the Queen National Park—which includes Cuba's first "no-take" marine reserve, the largest in the Caribbean—a barrier reef of healthy and magnificent elkhorn stretches across more than thirty miles as part of a barrier reef, brimming with snapper, grunt, eagle rays and sea turtles, leaving one scratching their head and wondering how in a world of corals dead and dying that such a sight is possible today.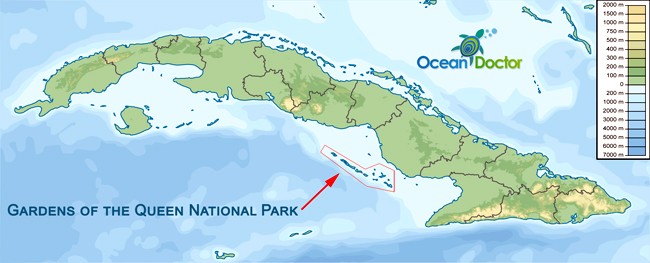 The health of Cuba's environment is partially an accident of history and the unique way Cuba has developed—or not developed as the case may be. The U.S. economic embargo, which was imposed on Cuba 54 years ago today, has no doubt kept millions of would-be tourists from Cuban shores and the consequent development of the resorts and golf courses that might have accommodated them. However, an important part of the story lies with the Cubans themselves who have placed strong environmental laws in place along with a comprehensive national system of protected areas. Its national commitment to protect 25 percent of its marine waters in protected areas is world-leading. In comparison, the global average is only one percent.
At a time when we reflect on the embargo, it is critical to consider what becomes of Cuba's environmental achievements in a post-embargo world. Given the uncertainty in Cuba's future—including a burgeoning privatization movement and the possibility of an end to the U.S. economic embargo and massive influx of tourism and business—it is important to anticipate dramatically increasing pressures on Cuba's natural resources. A team of Cuban and American scientists believes that placing an economic value on Cuba's natural resources will be essential to ensure the long-term protection of Cuba's ecosystems and the "future-proofing" of its environmental laws.
By the 1960s it became clear that traditional economics failed to take into account important factors, such as social welfare and the environment. Environmental economics seeks to measure the environmental impacts or costs of economic decisions, helping to address the shortfalls of policies based on traditional economics which often treat environmental impacts as externalities without economic consequence.
Had we placed an economic value on keeping our natural ecosystems intact, there is no doubt that many decisions would have been made much differently. For example, had we adequately considered the value of the Everglades to the economy of South Florida we might not be engaged today in the largest environmental restoration project in history to try to save them.
In September 2014, Ocean Doctor and the Cuban Center for Coastal Ecosystem Research led a workshop in Cuba with representatives of the Cuban Ministry of Science, Technology and the Environment and the Cuban National Center for Protected Areas, along with U.S. partners including University of California, Santa Barbara's Bren School of Environmental Science and Management, University of Colorado, Boulder, World Resources Institute and Washington and Lee University, to kick off a major new initiative to develop and implement a national strategy for the application of environmental economics to Cuba's marine and coastal areas.
Interestingly, Cuba's "Law of the Environment" requires that its environmental ministry "… direct actions intended to promote the economic evaluation of biological diversity." Cuba has a handful of dedicated environmental economists who have had to adapt to an ever-shifting economic landscape that is comprised of dizzying combinations of socialist and capitalist elements. The work of one Cuban environmental economist, Tamara Figueredo, helped support the Cuban government's decision to establish Gardens of the Queen as a national park in 2010. Our team is now working with Tamara to perform an economic assessment focused on the possible expansion of the marine reserve within Gardens of the Queen National Park.
We believe that helping Cuba apply the principles of environmental economics will serve to "future-proof" the country's strong environmental legacy against future economic pressures by providing it with the tools and information necessary to demonstrate the economic value of its resources in their natural state. Such studies, though limited in Cuba, have already demonstrated that protecting large marine areas can be more valuable to the economy than commercial fishing, thanks to Cuba's growing ecotourism sector.
Just over the horizon lies the first day of Cuba's post-embargo existence. It is our fervent hope that on that day and those that follow, Cuba avoids the well-worn path that too many nations followed over the past half century, at the expense of too many of their environmental treasures. By considering the economic and cultural value of some of the last remaining vibrant marine ecosystems in the Caribbean, Cuba has a unique opportunity to continue on a truly sustainable path. In a country where boundless Cuban ingenuity keeps Chevys running for more than 60 years, we have faith that Cuba's people will find a way to ensure that their pristine ocean ecosystems endure for centuries to come.
YOU MIGHT ALSO LIKE
500 Years After Columbus, Cuba's Gardens of the Queen Still Pristine
By Itai Vardi
A recent intensification in protests against Williams Partners' planned Atlantic Sunrise pipeline in Pennsylvania prompted a state senator to propose legislation aimed at limiting demonstrations.
Last month, Pennsylvania Sen. Scott Martin (R-Norman) announced his intention to introduce legislation that would pass the costs of law enforcement responding to protests onto the demonstrators. Martin also helped introduce a different bill that would criminalize protests at natural gas facilities.
Keep reading...
Show less
Black Shogun / iStock
The Federal Energy Regulatory Commission (FERC) released its Final Environmental Impact Statement Friday for the Mountain Valley Pipeline, a controversial 303-mile pipeline that would carry two billion cubic feet of fracked gas per day from West Virginia through Virginia.
Keep reading...
Show less
Falcon PEV
The so-called "first and last mile" problem is one of the biggest hurdles with public transportation. How do you encourage more people to take Earth-friendlier commutes when their homes are miles away from the train or bus station?
One solution, as this Estonian electric scooter company proposes, is to simply take your commute with you—literally. Tallinn-based Stigo has developed a compact e-scooter that folds to the size of a rolling suitcase in about two seconds.
Keep reading...
Show less
Connect4Climate
[Editor's note: I'm still in shock after hearing the news that Lucia Grenna passed away in her sleep last week. When we first met in April of 2014 at a Copenhagen hotel, I was immediately taken by here powerful presence. We spent the next couple days participating in a Sustainia climate change event where Lucia presented her audacious plans to connect people to the climate issue. I had the chance to partner with Lucia on several other projects throughout the years and work with her incredible Connect4Climate team. I was always in awe of her ability to "make the impossible possible." Her spirit will live on forever. — Stefanie Spear]
It is with a heavy heart that Connect4Climate announces the passing of its founder and leading light, Lucia Grenna. Lucia passed peacefully in her sleep on June 15, well before her time. We remember her for her leadership and extraordinary ability to motivate people to take on some of the greatest challenges of our time, not least climate change.
Keep reading...
Show less
Jun. 23, 2017 07:29PM EST
Wikimedia Commons
By Stacy Malkan
Neil deGrasse Tyson has inspired millions of people to care about science and imagine themselves as participants in the scientific process. What a hopeful sign it is to see young girls wearing t-shirts emblazoned with the words, "Forget princess, I want to be an astrophysicist."
Keep reading...
Show less
Jun. 23, 2017 01:57PM EST
www.youtube.com
By Andy Rowell
Any day now we will truly witness climate change in action. Within days at worst, maybe weeks at best, scientists predict that a huge section of the Larsen C ice shelf in Antarctica will break off into the ocean, in what is called a major "carving" event.
Keep reading...
Show less
Jun. 23, 2017 02:27PM EST
www.youtube.com
President Trump visited Cedar Rapids, Iowa on June 21 to speak to a large crowd in the U.S. Cellular Center at a political rally organized by his campaign.
As Trevor Noah noted during The Daily Show episode last night (starts at 2:25), the real reason Trump has these rallies is to "get back in front of his loyal crowds and feed of their energy." Noah believes that "Trump supporters are so on board with their dude he can say anything and they'll come along for the ride."
Keep reading...
Show less
Jun. 23, 2017 07:50PM EST
The Kamuthi solar plant in the southern Indian state of Tamil Nadu.
The rapid growth in renewable energy continues to put a dent in the demand for coal.
Coal India, the world's biggest coal mining company and producer of 82 percent of the country's coal, announced the closure of 37 mines that are financially "unviable."
Keep reading...
Show less
Jun. 23, 2017 06:42PM EST
www.youtube.com
By Katie O'Reilly
Two years ago—long before coal became one of the most dominant and controversial symbols of the 2016 presidential election—Bloomberg Philanthropies approached production company RadicalMedia with the idea of creating a documentary exploring the U.S. coal mining industry. Last spring, they brought on Emmy-nominated director Michael Bonfiglio, tasked with forging a compelling story out of the multitudes of facts, statistics and narratives underlying the declining industry.
Keep reading...
Show less


Get EcoWatch in your inbox