This website uses cookies to ensure you get the best experience while browsing it. By clicking 'Got It' you're accepting these terms.
We Have Already Consumed a Year's Supply of the Planet's Resources in Less Than 8 Months
Aug. 16, 2015 09:20AM EST
Climate
In less than eight months, humanity has used up nature's budget for the entire year, with carbon sequestration making up more than half of the demand on nature, according to data from Global Footprint Network, an international sustainability think tank with offices in North America, Europe and Asia.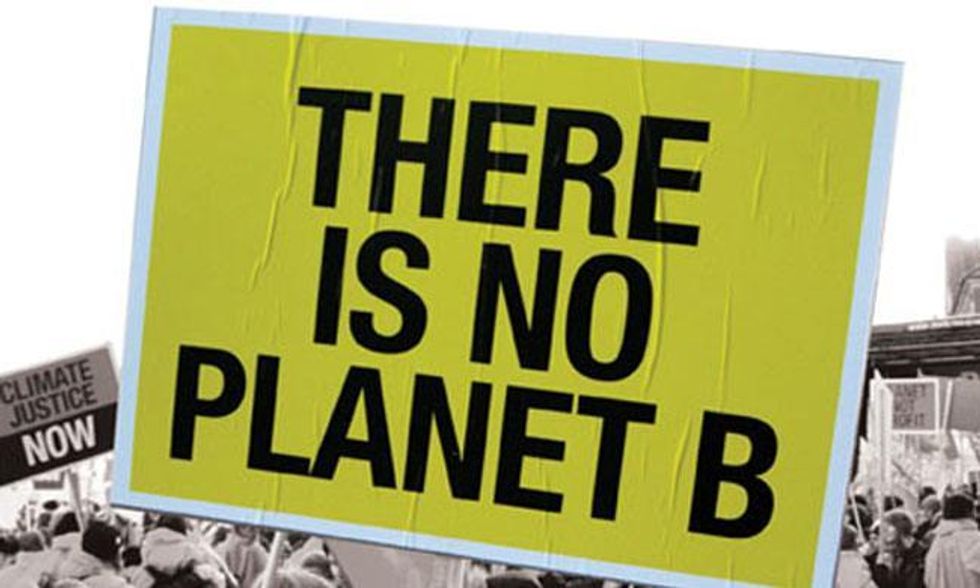 Global Footprint Network tracks humanity's demand on the planet (Ecological Footprint) against nature's ability to provide for this demand (biocapacity). Earth Overshoot Day marks the date when humanity's annual demand on nature exceeds what Earth can regenerate in that year. Earth Overshoot Day has moved from early October in 2000 to Aug. 13 this year.
The costs of this ecological overspending are becoming more evident by the day, in the form of deforestation, drought, fresh-water scarcity, soil erosion, biodiversity loss and the buildup of carbon dioxide in the atmosphere. The latter will significantly amplify the former, if current climate models are correct. Consequently, government decision-makers who factor these growing constraints in their policy making will stand a significantly better chance to set their nation's long-term economic performance on a favorable track.
"Humanity's carbon footprint alone more than doubled since the early 1970s, when the world went into ecological overshoot. It remains the fastest growing component of the widening gap between the Ecological Footprint and the planet's biocapacity," said Mathis Wackernagel, president of Global Footprint Network and the co-creator of the Ecological Footprint resource accounting metric.
"The global agreement to phase out fossil fuels that is being discussed around the world ahead of the Climate Summit in Paris would significantly help curb the Ecological Footprint's consistent growth and eventually shrink the Footprint."
The carbon footprint is inextricably linked to the other components of the Ecological Footprint—cropland, grazing land, forests and productive land built over with buildings and roads. All these demands compete for space. As more is being demanded for food and timber products, fewer productive areas are available to absorb carbon from fossil fuel. This means carbon emissions accumulate in the atmosphere rather than being fully absorbed.
A Second Chance
The climate agreement expected at the United Nations Conference of Parties (COP) 21 this December will focus on maintaining global warming within the 2-degrees-Celsius range over pre-Industrial Revolution levels. This shared goal will require nations to implement policies to completely phase out fossil fuels by 2070, per the recommendations of the U.N.'s Intergovernmental Panel on Climate Change (IPCC), directly impacting the Ecological Footprints of nations. .
Assuming global carbon emissions are reduced by at least 30 percent below today's levels by 2030, in keeping with the IPCC's suggested scenario, Earth Overshoot Day could be moved back on the calendar to September 16, 2030 (assuming the rest of the Footprint would continue to expand at the current rate), according to Global Footprint Network.
This is not impossible. In fact, Denmark has cut its emissions over the last two decades at this rate: Since the 1990s, it reduced its carbon emissions by 33 percent. Had the world done the same (while not changing the rest of the Footprint), Earth Overshoot Day would be on Oct. 3 this year.
This is not to say that Denmark has already reached a sustainable Ecological Footprint. Humanity would require the resources of nearly 3 planets if everyone lived like the Danes, which would move Earth Overshoot Day to May 8.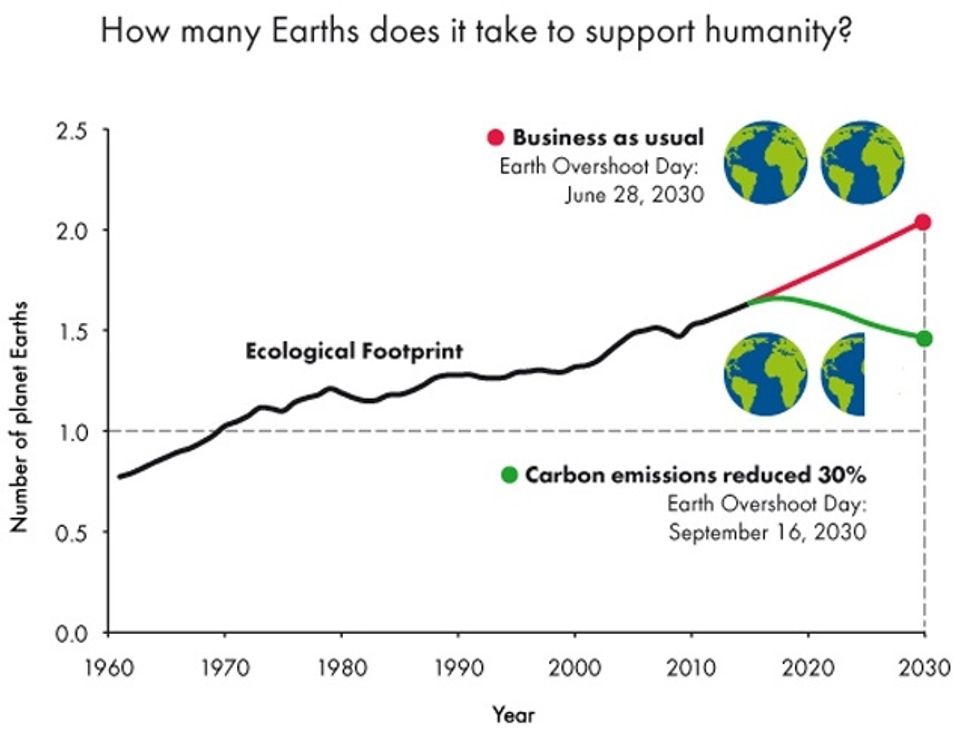 Business as usual 
By contrast, business as usual would mean using the resources equivalent to two planets by 2030, with Earth Overshoot Day moving up on the calendar to the end of June.
This projection assumes that biocapacity, population growth and consumption trends remain on their current trajectories. However, it is not clear whether a sustained level of overuse is possible without significantly damaging long-term biocapacity, with consequent impacts on consumption and population growth.
Tipping Point
"We are encouraged by the recent developments on the front line of renewable energy, which have been accelerating worldwide, and by the increasing awareness of the finance industry that a low-carbon economy is the way of the future," said Wackernagel. "Going forward, we cannot stress enough the vital importance of reducing the carbon footprint, as nations are slated to commit to in Paris. It is not just good for the world, but increasingly becoming an economic necessity for each nation. We all know that the climate depends on it, but that is not the full story: Sustainability requires that everyone live well, within the means of one planet. This can only be achieved by keeping our Ecological Footprint within our planet's resource budget."
Additional Resources
To calculate your own personal Ecological Footprint, and learn what you can do to reduce it, click here.
For free public data package (Ecological Footprint Data on 182 countries), click here.
YOU MIGHT ALSO LIKE
21 Youths File Landmark Climate Lawsuit Against Federal Government
6 Reasons Why the Nurses Union Endorsed Bernie Sanders Over Hillary Clinton
EcoWatch Daily Newsletter
Protesters holding signs in solidarity with the Wet'suwet'en Nation outside the Canadian Consulate in NYC. The Indigenous Peoples Day NYC Committee (IPDNYC), a coalition of 13 Indigenous Peoples and indigenous-led organizations gathered outside the Canadian Consulate and Permanent Mission to the UN to support the Wet'suwet'en Nation in their opposition to a Coastal GasLink pipeline scheduled to enter their traditional territory in British Columbia, Canada. Erik McGregor / LightRocket / Getty Images
Tensions are continuing to rise in Canada over a controversial pipeline project as protesters enter their 12th day blockading railways, demonstrating on streets and highways, and paralyzing the nation's rail system
Horseshoe Bend (seen above) is a horseshoe-shaped meander of the Colorado River in Page, Arizona.
didier.camus
/ Flickr /
public domain
Millions of people rely on the Colorado River, but the climate crisis is causing the river to dry up, putting many at risk of "severe water shortages," according to new research, as The Guardian reported.
An alarming sign of an impending drought is the decreased snowpack in the Sierra Nevada Mountain range, as seen here in Christmas Valley, South Lake Tahoe, California on Feb. 15, 2020.
jcookfisher
/
CC BY 2.0
California is headed toward drought conditions as February, typically the state's wettest month, passes without a drop of rain. The lack of rainfall could lead to early fire conditions. With no rain predicted for the next week, it looks as if this month will be only the second time in 170 years that San Francisco has not had a drop of rain in February, according to The Weather Channel.
New and recent books explore how we can effectively respond to climate change while enhancing our health and happiness. Kei Uesugi / DigitalVision / Getty Images
A warm day in winter used to be a rare and uplifting relief.

Now such days are routine reminders of climate change – all the more foreboding when they coincide with news stories about unprecedented wildfires, record-breaking "rain bombs," or the accelerated melting of polar ice sheets.
Where, then, can one turn for hope in these dark months of the year?