Watch Greenpeace 'Frack' UK Prime Minister's Home Before He Announces Pro-Drilling Policy
Jun. 04, 2014 10:12AM EST
Energy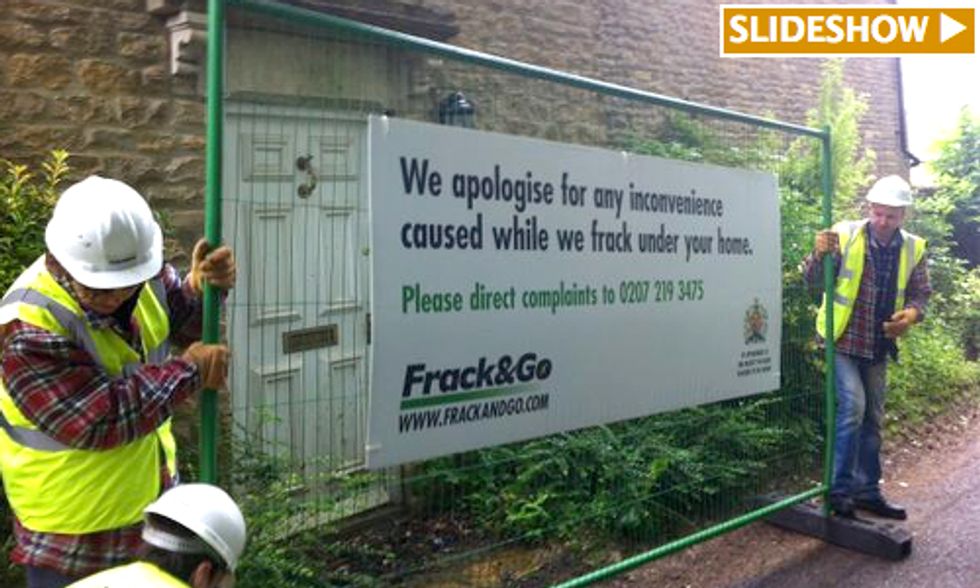 Greenpeace UK volunteers visited Prime Minister David Cameron's home Wednesday morning to deliver some medicine—his own.
They set off to make Cameron's home a fracking site on the day that he announced plans for legislation that would make it easier to frack under residents' property, despite 74 percent of the British public stating they are against changes to trespass laws that would allow companies to drill under homes without permission.
Cameron, of course, wasn't around and police quickly ordered the group to remove the materials from his property, but he now understands what it's like to have his home invaded for trapped gas and/or oil.
"Ahh, what a perfect day for fracking," one of the volunteers says in the video.
With their smiles and iPhone selfies, the Greenpeace volunteers tried to duplicate the joviality companies will feel when they embark on a fracking mission knowing they'll reap the benefits of fossil fuels without regulation. Under current law, companies need permission to frack on private property.
Now that Cameron officially announced the intention change the trespass law, Greenpeace UK says it will shift its attention to members of Parliament in hopes of triggering a backlash. According to The Telegraph, the policy will undergo a governmental consultation before it is officially on the books.
Though they had to take down the equipment they had set up outside Cameron's home, the activists were anything but bitter.
"We have to say the police have a point, you shouldn't be allowed to just turn up outside someone's home and start fracking under their garden without their permission," Greenpeace UK energy campaigner Simon Clydesdale said in a statement. "But following today's announcement, we're one big step closer to a law that will compel police to side with the frackers over homeowners."
In conjunction with the mission, Greenpeace UK launched an online hub to allow people to find out if their home could be fracked. For Cameron's home, they used Frack&Go, the organization's pioneer shale gas firm that erected mock rigs outside the office of Chancellor George Osborne a year ago.
"The prime minister is robbing millions of their right to say no to fracking under their homes for the benefit of a few energy companies," Clydesdale said. "He should stop chasing this shale pipe dream to focus on the real-world solutions that can boost our energy and climate security, like slashing energy waste and backing clean technologies."
——–
YOU ALSO MIGHT LIKE
New Study Shows Proximity to Fracking Sites Increases Risk of Birth Defects
1,000 March at Largest Fracking Protest in UK History
Sir Paul McCartney Leads Celebrity Call for Fracking Ban in the UK
——–
EcoWatch Daily Newsletter
Related Articles from EcoWatch