This website uses cookies to ensure you get the best experience while browsing it. By clicking 'Got It' you're accepting these terms.
Visiting Pennsylvania's Destructive Fracking Footprint
Feb. 03, 2013 10:39AM EST
Energy
By Yoko Ono
[Editor's note: On Jan. 17, Artists Against Fracking co-founders Yoko Ono and Sean Lennon were joined by actor Susan Sarandon, peace leader Arun Gandhi, filmmaker Josh Fox and activists to lead members of the press on a bus tour of fracking sites in Susquehanna County, Pennsylvania. Here's a video featuring the visit and Yoko Ono's reflection on the visit.]
After being invited to visit Pennsylvania by residents who have experienced the impacts of fracking, my son Sean and I decided to go see the harms of fracking up close. Our friend Susan Sarandon came with us, and we had the incredible honor of being joined by Mahatma Ghandi's grandson, Arun Ghandi, as well. We also invited members of the media.
Driving into the quaint town of Montrose, PA, I could hardly have anticipated how upsetting the next stops on our tour would be: a gas pad of four drills and a hissing pressure release, a giant compressor station under construction, large trucks full of sand and toxic chemicals rumbling down narrow dirt roads, and a drilling rig reaching to the sky.
To see such a beautiful landscape ruined was disturbing enough, but not nearly as bad as the heart-break of meeting those whose health, homes and lives have been forever changed because of fracking: Vera Scroggins, Craig Stevens, Rebecca Roter, Frank Finan, Ray Kemble and the Manning family. They welcomed us into their homes with complete hospitality, and Tammy Manning even baked us delicious muffins.
And they told us their stories. How they can no longer drink the water from their own wells because they have been poisoned by fracking pollution. These American families are suffering from suddenly not having clean water for the essentials of healthy living. They are not able to use their well water to drink, cook with, wash dishes, bathe or do laundry. They are buying water every day. Can you believe it?
They cannot move to a healthier place to raise their families because the value of their house plummeted when the water went bad and they cannot afford to relocate. They have to open their windows when they run the water to prevent methane gas from building up and risk explosion. It is a terrible fate, and there is no way to reverse what has happened to them. And it is outrageous that the gas companies accuse these honorable, defenseless people of lying we saw the brown smelly water ourselves in homes right next to fracking sites. The fact that the water was nasty brown around their houses really scared me.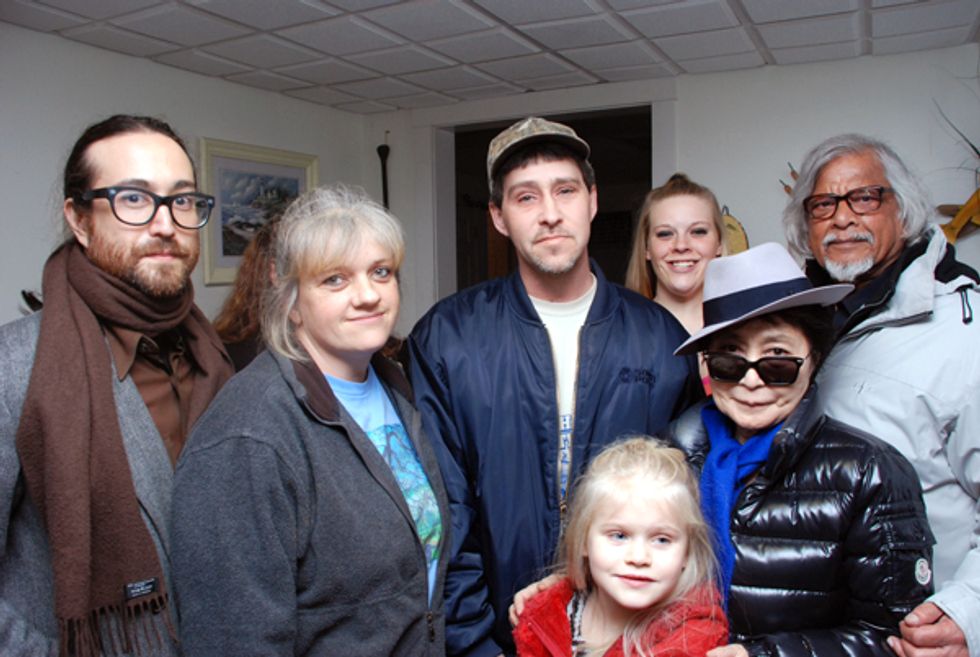 As we toured fracking sites in this once beautiful rural area and visited homes throughout the day, I reflected on the frightening reality that this dirty practice could soon destroy other families and homes in New York if Gov. Cuomo lifts the ban on fracking.
After that tour, I have never felt more compelled to prevent others from facing the harm I saw in Pennsylvania last week. And after being followed around all day by industry representatives who yelled threats at us, I have also come to realize how much is at stake. We cannot allow people, clean water and the health of our climate and planet to be sacrificed for the gas industry.
I hope that Gov. Cuomo will take the same tour that I did before he makes any decisions about whether to allow fracking in New York. And though it is too late to stop the harm that has already come to Susquehanna County, Pennsylvania, I hope that Gov. Corbett of Pennsylvania will visit the same families and sites that I did, and stop the industry from running rough-shod over that beautiful state.
I urge President Obama to make that trip too and put aside any notion of depending on fracking instead of truly clean energy. As industry documents prove, these wells crack and leak, more and more over time. It cannot be prevented and once it happens, it cannot be fixed thousands of feet under the ground. Please, go see for yourselves.
It was a staggering realization that this is now happening in the USA … the country of power and wealth. Why is this national tragedy being kept quiet? Why aren't any politicians doing anything about it? These families, on top of their terrible fate, are subjected to nasty rumors that they are not people to be believed. It is not only destroying their lives but their spirits as well. I was there. I saw it. It made me cry.
Visit EcoWatch's FRACKING page for more related news on this topic.
——–
Sign the petition today, telling President Obama to enact an immediate fracking moratorium:

EcoWatch Daily Newsletter
Deserted view of NH24 near Akshardham Temple on day nine of the 21-day nationwide lockdown to curb the spread of coronavirus on April 2, 2020 in New Delhi, India. Raj K Raj / Hindustan Times via Getty Images
A Unicef social mobilizer uses a speaker as she carries out public health awareness to prevent the spread and detect the symptoms of the COVID-19 coronavirus by UNICEF at Mangateen IDP camp in Juba, South Sudan on April 2. ALEX MCBRIDE / AFP / Getty Images
By Eddie Ndopu
South Africa is ground zero for the coronavirus pandemic in Africa.
Its townships are typical of high-density neighbourhoods across the continent where self-isolation will be extremely challenging.
The failure to eradicate extreme poverty is a threat beyond the countries in question.
The outside of the Food and Drug Administration headquarters in White Oak, Md. on Nov. 9, 2015. Al Drago / CQ Roll Call
The U.S. Food and Drug Administration has approved the use of two malarial drugs to treat and prevent COVID-19, the respiratory infection caused by the SARS-CoV-2 coronavirus, despite only anecdotal evidence that either is proven effective in treating or slowing the progression of the disease in seriously ill patients.

Some
speculate
that the dissemination of the Antarctic beeches or Nothofagus moorei (seen above in Australia) dates to the time when
Antarctica
, Australia and
South America
were connected. Auscape / Universal Images Group / Getty Images
A team of scientists drilled into the ground near the South Pole to discover forest and fossils from the Cretaceous nearly 90 million years ago, which is the time when dinosaurs roamed the Earth, as the BBC reported.
The recovery of elephant seals is one of the "signs of hope" that scientists say show the oceans can recover swiftly if we let them. NOAA /
CC BY 2.0