This website uses cookies to ensure you get the best experience while browsing it. By clicking 'Got It' you're accepting these terms.
Victory in the Senate—No Revival of the Rejected Keystone XL Pipeline
Mar. 08, 2012 04:44PM EST
Climate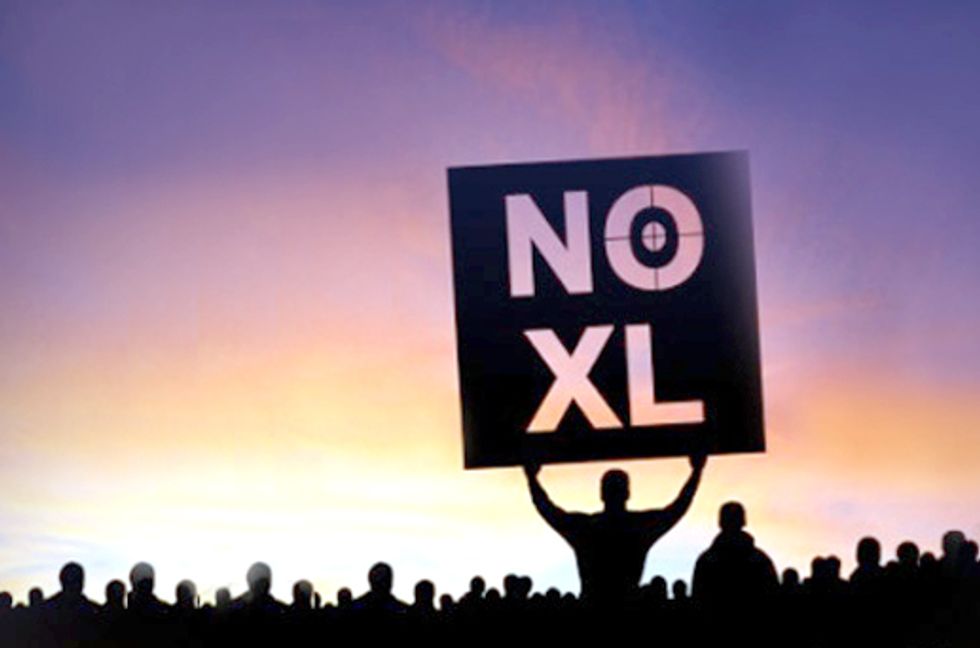 Used with permission of NRDC – Switchboard
In a victory for people across the U.S., the Senate defeated an attempt to approve the already rejected Keystone XL tar sands pipeline. Backers of the Keystone XL tar sands pipeline just do not seem to learn—the country does not want a rush to judgment when it comes to building a massive dirty energy project through our heartlands that would be so damaging to our climate, water, land and health. The amendment proposed by Sen. Hoeven (R-ND) to the Transportation bill would have required the approval of this dirty energy project without necessary environmental review or a process to determine if the project is in the national interest. The Hoeven amendment to approve the already rejected Keystone XL tar sands pipeline would have undercut processes designed to protect the public's safety, health, and economic well being. This dirty energy project would worsen climate change, have a high chance of oil spills, and raise oil prices—all so that tar sands companies can export tar sands from the Gulf. The Senate made the right decision in rejecting any attempt to revive the already dead Keystone XL tar sands pipeline.
The Senate also defeated an amendment by Sen. Wyden (D-OR) to ban any exports from the Keystone XL tar sands pipeline in the case where TransCanada reapplies and the project is approved in the future. The Wyden amendment and its lack of support from many Republicans exposes how the oil industry is misleading the American public by claiming that the Keystone XL tar sands pipeline is for U.S. energy security when it is really meant to give tar sands a deep water port from which it can be exported overseas.
TransCanada and the oil industry have spent a lot of money trying to convince Americans to support the Keystone XL tar sands pipeline. Just in the last year, lobbying records showed that TransCanada spent $1.3 million in Washingon, D.C. and another $500,000 just in the state of Nebraska. Today's vote shows that Americans can see the Keystone XL tar sands pipeline for what it is—a project in the interest of the oil industry and not in the interest of the American people.
President Obama rejected the Keystone XL tar sands pipeline in January after a Republican amendment to the tax relief extension bill forced a decision in 60 days. With the full route not yet determined and insufficient time to complete the environmental review and national interest determination, the president rejected the pipeline permit. TransCanada has said that it would reapply for a permit. Yet, many Republicans in Congress have taken it upon themselves to push for approval of the Keystone XL tar sands pipeline ignoring the process set out for international energy projects by President Bush in 2004.
But the Senate is listening to the many people from across the U.S. who say "no" to this dirty energy project. Recently, in just 24 hours, more than 800,000 people sent messages to members of Congress in a public outpouring of opposition to the Keystone XL tar sands pipeline. Landowners and ranchers have been voicing their concerns along the pipeline route from Texas to Nebraska. And people in Michigan are letting their concerns be known as the Kalamazoo River tar sands oil spill is still being cleaned up 18 months later. And with grave concerns for how climate change is affecting homes, health and security around the world and here in America, Military leaders, religious leaders, scientists, college students, mayors, Nobel laureates and many others are making it clear that a new tar sands pipeline is not in anyone's interest except that of the oil industry. People across the U.S. will be applauding the vote rejecting this dirty energy project.
For more information, click here.
EcoWatch Daily Newsletter
A pangolin at a rescue center in Cambodia. Rhett A. Butler / Mongabay
A man carries plastic shopping bags in Times Square on May 5, 2018 in New York City. Kena Betancur / VIEWpress / Corbis / Getty Images
White gold man-made diamond solitaire engagement ring. Clean Origin
While keeping track of the new trends in the diamond industry can be hard, it is still an essential task of any savvy consumer or industry observer. Whether you are looking to catch a deal on your next diamond purchase or researching the pros and cons of an investment within the diamond industry, keeping up with the trends is imperative.
Rep. Alexandria Ocasio-Cortez (D-NY) (C) chants with housing and environmental advocates before a news conference to introduce legislation to transform public housing as part of her Green New Deal outside the U.S. Capitol Nov. 14, 2019 in Washington, DC. Chip Somodevilla / Getty Images
Rep. Alexandria Ocasio-Cortez (D-N.Y.) took to the floor of the House of Representatives yesterday to chide Republicans for not reading the Green New Deal, which she introduced over one year ago, as The Hill reported. She then read the entire 14-page document into the congressional record.
Anti Ivan Duque's demonstrator is seen holding a placard with the photos of social leader Alirio Sánchez Sánchez and the indigenous Hector Janer Latín, both killed in Cauca, Colombia during a protest against Ivan Duque visit in London which included a meeting about fracking, environmental issues, the peace process implementation, and questioning the risk that social leaders in Colombia face. Andres Pantoja / SOPA Images / LightRocket / Getty Images
Colombia was the most dangerous nation in 2019 to be an environmental activist and experts suspect that conditions will only get worse.