This website uses cookies to ensure you get the best experience while browsing it. By clicking 'Got It' you're accepting these terms.
Vandana Shiva: Agri-Corporations Attempt to Hijack COP21
Nov. 11, 2015 12:35PM EST
Climate
In 2008, before the climate summit in Copenhagen, I wrote the book Soil Not Oil. It was a time when the intimate connections between climate and agriculture, air and soil were not being recognized in any forum, neither in the negotiations on climate change nor in the climate movement. As we head into the Conference of the Parties (COP21) in Paris, agri-corporations are attempting to hijack climate talks once again.
Today we are faced with two crises on a planetary scale—climate change and species extinction. Our current modes of production and consumption are contributing to what climate change scientists term anthropogenic emissions—originating from human activity. If no action is taken to reduce greenhouse gases, we could experience a catastrophic 4C increase in temperature by the end of the century.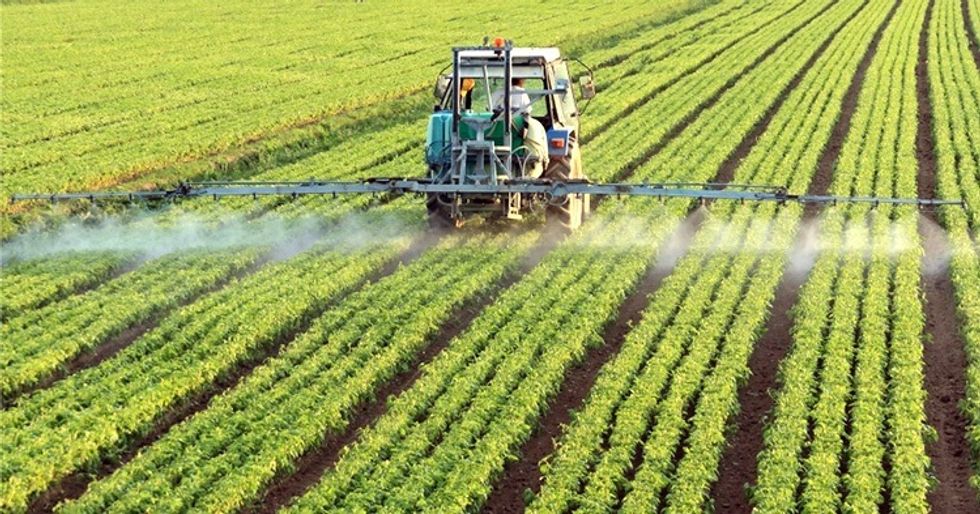 Our current modes of production and consumption are contributing to what climate change scientists term anthropogenic emissions—originating from human activity. Photo credit: The Corvallis Advocate
In addition to global warming, climate change is leading to the intensification of droughts, floods, cyclones and other extreme weather events that are costing lives. What can we do to mitigate this? Like the problem, the solution must be anthropogenic.
Three years after Rio (1992), the United Nations Leipzig Conference on Plant Genetic Resources assessed that 75 percent of the world's biodiversity had disappeared in agriculture because of the Green Revolution and industrial farming. The Food and Agriculture Organization (FAO) of the United Nations estimates that 70-90 percent of global deforestation is due to industrial agriculture pushing its monocultures further and further into forests to grow commodities for export—not for food.
As I wrote in Soil Not Oil, chemical agriculture and a globalized food system are responsible for 40 percent of all greenhouse gas emissions. A grain.org report concluded that "the current global food system, propelled by an increasingly powerful transnational food industry, is responsible for about half of all human produced greenhouse gas emissions: anywhere between a low of 44 percent to a high of 57 percent."
This is also where the Gates Foundation, along with the other biotech evangelists of our times, has it completely wrong. Climate-smart agriculture and "One Agriculture," packaged in a PR bubble, will starve the world and worsen the refugee crisis. The Gates Foundation, pretending to feed the world, is propagating the very source of half the climate problem.
"One Agriculture," for the profit of one company, is hardly a mitigation strategy. The Gates Foundation is pushing industrial agriculture, instead of agroecology which is already helping check climate change by converting fossilized carbon to green carbon. The accurate word for Bill Gates' faux philanthropy would be "fail anthropy."
As country after country bans the use of genetically modified organisms (GMOs), India has turned into the last battleground for GMO patent profits. Bt technology, the star of Monsanto's multi-million dollar R&D (fully paid for by Indian cotton farmers), has been known to be a failure in terms of yield and pest control since its beginning in India, illegally, in 1999. In addition to the historic failure of Bt cotton at raising farmers' incomes or producing more yield, the ancillary chemicals required by GMO varieties are also, quite clearly, failing. Bayer CropSciences' oberon, a pesticide that supposedly targets whitefly, has failed at its one purpose, causing a 60 percent crop failure in Punjab's cotton crop this year. The chemicals have failed the GMO. The GMO has failed in itself. Our government has failed our farmers by backing failed technologies that have only been successful in driving India's farmers to suicide.
Biodiverse systems are more resilient to climate change and are more productive in terms of nutrition per acre. Feeding the world is more about providing nourishment than about harvesting commodities to be traded and shipped globally, adding to emissions. Decentralized, diverse systems have more flexibility to respond to uncertainty as well.
Science and democracy are the forces that will protect the planet and our lives. Since 1992, the big polluters—the fossil fuel industry and the agrochemical industry (now also the biotechnology industry)—have done everything to subvert the legally binding, science-based, international environmental treaties on climate change and biodiversity.
What needs to be done is clear. In the case of climate change, the key strategy should be reduction of emissions and strategies for adaptation. We must move away from industrial, chemical-intensive agriculture, away from a centralized, global commodity-based food system that exacerbates emissions. Biodiversity conservation will be central to adaptation. In place of the biodiversity-destroying industrial monocultures, including those based on GMO seeds, we need a shift to agroecological practices that conserve biodiversity and ensure biosafety.
This transition will address both, the climate and biodiversity crisis simultaneously, as well as the food crisis. Even though industrial agriculture is a major contributor to climate change and more vulnerable to it, there is an attempt by the biotechnology industry to use the climate crisis as an opportunity to further push GMOs and to deepen their monopoly on global seed supply through biopiracy-based patents on climate resilient seeds, that were bred by farmers over generations. Climate resilient traits will become increasingly important in times of climate instability and, in the current system, will allow corporations to exploit farmers and consumers by owning the rights to these plants.
As Einstein said, "We cannot solve our problems with the same thinking we used when we created them." Centralized, monoculture-based, fossil fuel intensive systems, including GMO agriculture, are not flexible. They cannot adapt and evolve. We need flexibility, resilience and the ability to adapt to a changed reality. This resilience comes from diversity. This diversity of knowledge, economics and politics is what I call earth democracy.
As we head into the COP21 negotiations, not only do we have to beat our fossil fuel addiction, but also our addiction to failure. Failure is no longer an option. We cannot fail the Earth or each other.
YOU MIGHT ALSO LIKE
Monsanto Slammed With Yet Another PCB Contamination Lawsuit as Company Profits Slump
4 Ways to Stop the 'Biggest Environmental Crime of the 21st Century'
Monsanto Handed 'Double Whammy' by Mexican Courts Over Planting GMOs
TPP Text Reveals Broad New Powers for Corporations to Attack Food Labeling Laws
EcoWatch Daily Newsletter
Pope Francis celebrates an opening Mass for the Amazon synod, in St. Peter's Basilica, at the Vatican, Sunday, Oct. 6, 2019. Massimo Valicchia / NurPhoto / Getty Images
Pope Francis, in an effort to reignite his influence as a global environmental leader, released an impassioned document Feb. 12 entitled Dear Amazon — a response to the historic Vatican meeting last autumn regarding the fate of the Amazon biome and its indigenous people.

A flooded motorhome dealership is seen following Storm Dennis on Feb. 18 at Symonds Yat, Herefordshire, England. Storm Dennis is the second named storm to bring extreme weather in a week and follows in the aftermath of Storm Ciara. Although water is residing in many places flood warnings are still in place.
Christopher Furlong
/ Getty Images
Britain has been battered by back-to-back major storms in consecutive weekends, which flooded streets, submerged rail lines, and canceled flights. The most recent storm, Dennis, forced a group of young climate activists to cancel their first ever national conference, as CBS News reported.
A group of Fulani women and their daughters walk towards their houses in Hapandu village, Zinder Region, Niger on July 31, 2019. In the African Sahel the climate has long been inhospitable. But now rising temperatures have caused prolonged drought and unpredictable weather patterns, exacerbating food shortages, prompting migration and contributing to instability in countries already beset by crisis. LUIS TATO / AFP / Getty Images
At the 56th Munich Security Conference in Germany, world powers turned to international defense issues with a focus on "Westlessness" — the idea that Western countries are uncertain of their values and their strategic orientation. Officials also discussed the implications of the coronavirus outbreak, the Middle East and the Libya crisis.
Polar bears on Barter Island on the north slope of Alaska wait for the winter sea ice to arrive so they can leave to hunt seals, on Sept. 28, 2015.
cheryl strahl / Flickr
The climate crisis wreaks havoc on animals and plants that have trouble adapting to global heating and extreme weather. Some of the most obvious examples are at the far reaches of the planet, as bees disappear from Canada, penguin populations plummet in the Antarctic, and now polar bears in the Arctic are struggling from sea ice loss, according to a new study, as CNN reported.
By Petros Kusmu, George Patrick Richard Benson
We can all take steps to reduce the environmental impact of our work-related travels.
Individual actions — like the six described here — can cumulatively help prompt more collective changes, but it helps to prioritize by impact.
As the saying goes: be the change you want to see in the world.