UK Fracking Protests Intensify As Officials Push Exploratory Drilling
Aug. 08, 2013 09:46AM EST
Energy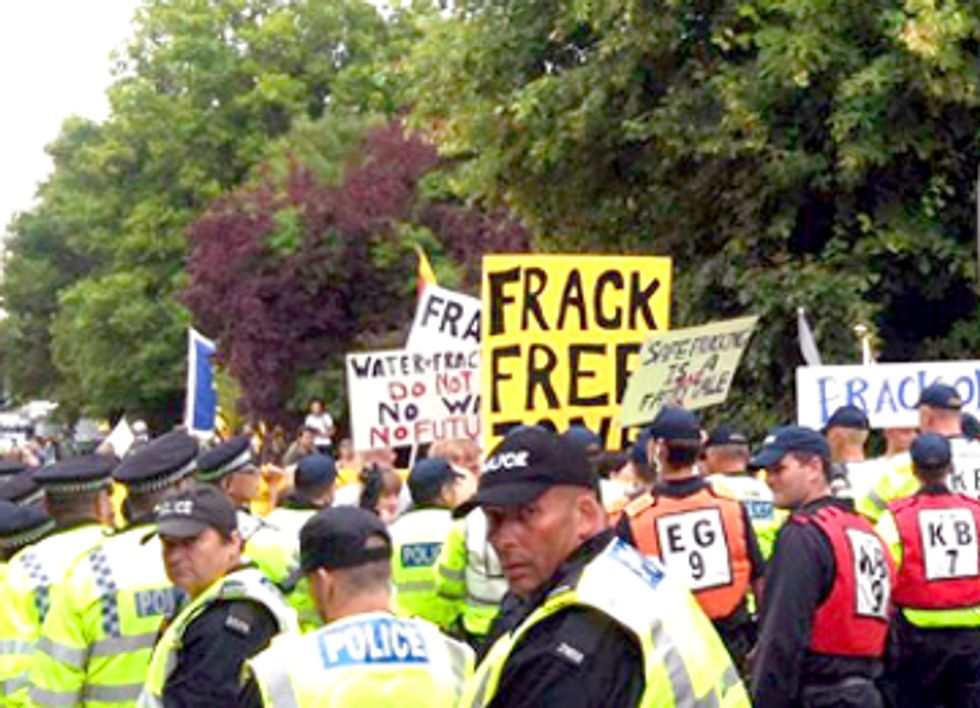 As protests over shale gas continue to grow in the UK, it has been revealed that half of Britain's cabinet ministers could see fracking in their constituencies, a revelation expected to deepen the political row over the process.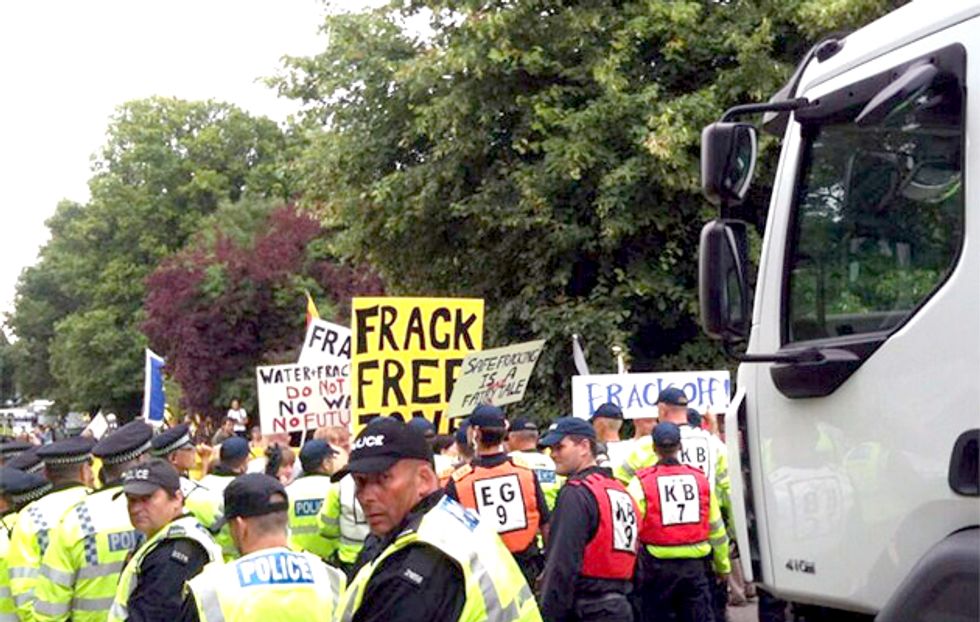 Analysis of the 176 onshore oil and gas drilling licenses issued by the Department for Energy and Climate Change—put together by Greenpeace—has shown that up to 13 members of the cabinet could see exploratory drilling in their seats over coming years.
This includes those held by Energy Secretary Ed Davey, Chancellor George Osborne and Foreign Secretary William Hague.
Earmarked for "petroleum exploration development," many of the licenses refer to shale sites, although others could generate conventional oil and gas.
The analysis follows comments from Osborne calling on fellow Conservative Members of Parliament (MPs) to support shale gas—even in their own constituencies.
But ahead of the 2015 election, some politicians are worried about the potential for further protests to spring up, like those taking place in Balcombe, West Sussex.
Lawrence Carter of Greenpeace said the government should expect more protests like these in the future:
MPs should brace themselves for a significant voter backlash if they allow fracking to be forced on their constituents. People won't take the disruption of their communities and countryside lying down.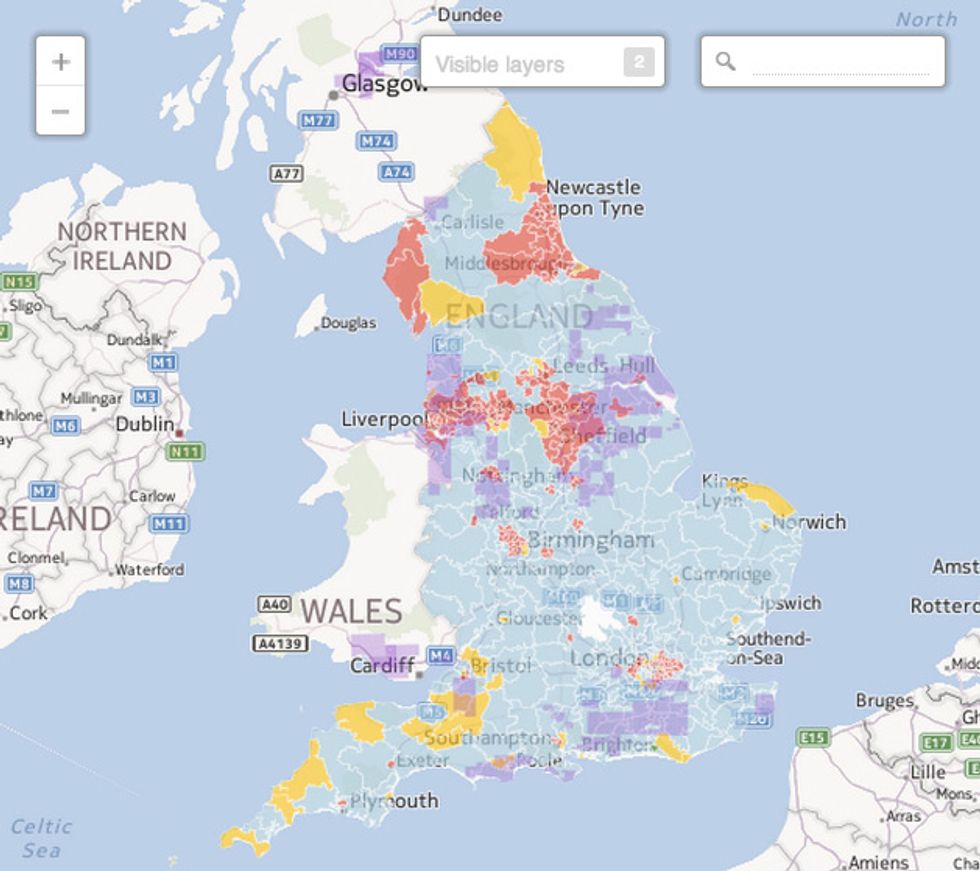 Some politicians including Osborne have been openly enthusiastic about the process and the Treasury has recently offered generous tax breaks to encourage the industry—which could see an even larger round of licensing next year.
Energy Minister Michael Fallon has also spoken out in favor of shale gas exploration, and has publicly commented that "claims exploration involves ruining the countryside are nonsense." Other coalition members have, however, been less excited.
In the first major, public attack on fracking, Tim Farron, the Liberal Democrat's president spoke out over the weekend warning that it risks "damaging the countryside" for decades.
And in private Fallon has also raised concerns that fracking might face fierce resistance, particularly as exploration moves to the south of England.
Such comments may seem unsurprising as the protests in Balcombe look set to intensify.
As Caudrilla began test drilling on the site, this week, the residents made a fresh vow to oppose the company's activities in the region, fearing possible side-effects such as groundwater contamination, subsidence and earth tremors, as well as the more immediate threat of noisy trucks rumbling through the village.
Next week, thousands more protesters could descend on the leafy, West Sussex village, as local protestors are set to be joined by UK campaign group No Dash for Gas—as they hold a five-day action camp at the site.
The Reclaim Your Power camp was intended to take place in Nottinghamshire, but has been moved to Balcombe as a sign of solidarity with the local campaigners.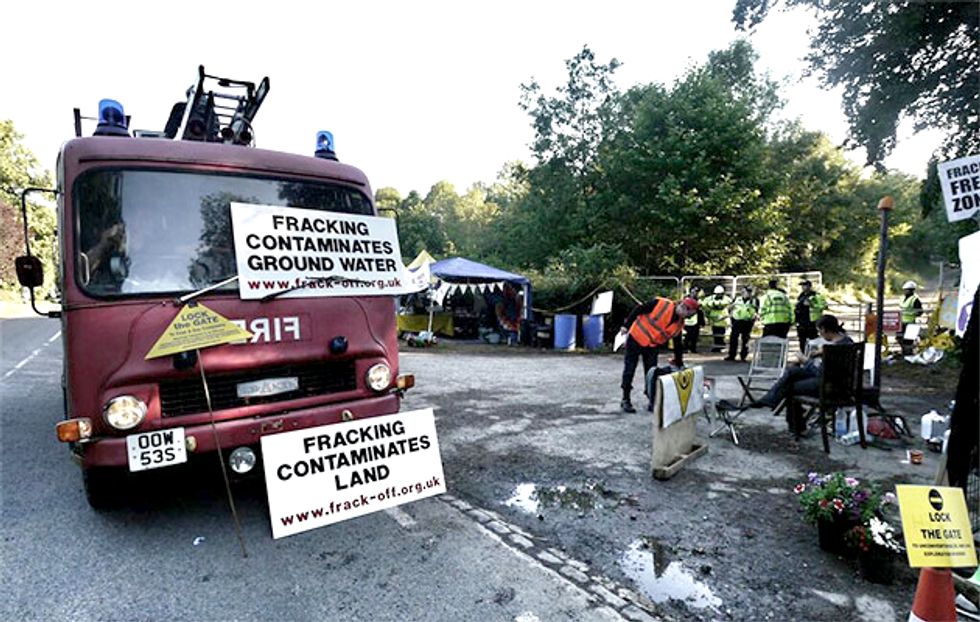 The group protests against the government's "dash for gas" and gained widespread attention last August when they shut down a power station in West Burton for seven days. As the two groups link, they say over a thousand people could join the camp.
Ewa Jasiewicz from the No Dash for Gas campaign told Responding To Climate Change:
Fracking is an integral part of the wide No Dash for Gas protest. Fracking is about extraction, the big gas power stations are about processing and at the moment most of our gas is coming from Egypt, Qatar, Nigeria. In the future, the government plan would be to have more gas locally produced.
Our argument is that we can't have any gas, because it's a dirty fossil fuel that's going to crash our climate change targets and increase fuel poverty, so it's part of the same fight.
Government planning documents have stressed that local authorities should ignore these growing fracking protests and instead recognize mineral extraction as "essential to local and national economies," banning then from considering whether renewable energy plants would be a better fit for their communities when receiving fracking applications.
But as the government aims to ignore the wave of protests against shale gas in the UK, protests are only set to get louder.
This weekend anti-fracking groups even plan to take their concerns to the government's doorstep, with plans to picket Downing Street.
Visit EcoWatch's FRACKING page for more related news on this topic.
——–
A recent study focused on regions in Ethiopia, Africa's largest coffee-producing nation. Edwin Remsberg / Getty Images
Climate change could make it harder to find a good cup of coffee, new research finds. A changing climate might shrink suitable areas for specialty coffee production without adaptation, making coffee taste blander and impacting the livelihoods of small farms in the Global South.
EcoWatch Daily Newsletter
In "Weather," Jenny Offill tells the story of a librarian named Lizzie who prepares for a climate apocalypse. Andrew Merry / Getty Images
By Suzanne Cords
One day Lizzie, the first-person narrator of the novel, receives an old book as a gift, with a dedication wishing the reader to be among the survivors. Like the preppers who build bunkers and stockpile supplies in remote areas to be ready for the end of the world, Lizzie is convinced that the end of the world is definitely near in times of a threatening climate disaster.
Lizzie, who lives in New York with her husband and son, is a university campus librarian. She worries about almost everything: her brother, an ex-junkie, or her dental insurance and the future in the face of the apocalypse. She is obsessed with reading reference books and articles about climate change.
She also devours words of wisdom, including about Buddhist spirituality: "A visitor once asked the old monks on Mount Athos what they did all day, and was told: We have died and we are in love with everything." But nothing can lift her spirits.
'Lizzie Is Just Like Us'
Lizzie observes rich New Yorkers plan their move to regions that are less threatened by climate change, something she simply cannot afford. Sometimes she watches disaster movies, which lead her to worry even more.
Above all, she is a gifted observer of her fellow human beings. "Young person worry: What if nothing I do matters? Old person worry: What if everything I do, does?"
Lizzie, the U.S. author told DW, is a bit like the rest of us — well aware of the climate crisis, but because she cares and worries about so many other things, that awareness falls by the wayside. That's how she felt herself, Jenny Offill said, but the more she looked into the issue, the more she saw a need for action on her part, too.

"I also was trying to see if there was a way to make it funny, because, you know, so much of the world of prepping and imagining disaster is actually sort of strangely funny."
The novel was shortlisted for the 2020 UK's Women's Prize for Fiction and has now been released in German translation.
Climate Activist With a Vision
But then, there is also this serious, scientifically based concern about what climate change means. In the past, says Offill, artists were the ones who would predict disasters; today it's the experts, as well as the students she teaches. In the end, their fears and their justified anger motivated her to take a closer look at the issue. Today, she is a climate activist herself, and is involved in initiatives along with many other artists.
Lizzie, the heroine of Weather, hasn't gotten that far. But she voices her fears, and that's a start. "Of course, the world continues to end," says Sylvia, a mentor of Lizzie's, at one point — and commences to water her garden. There is hope after all.
Reposted with permission from Deutsche Welle.
A Shell oil drilling rig off the coast of Alaska in the Chukchi Sea on May 21, 2015. Orjan F. Ellingvag / Corbis via Getty Images
By Jake Johnson
A federal appeals court on Tuesday dealt the final blow to former President Donald Trump's attempt to open nearly 130 million acres of territory in the Arctic and Atlantic Oceans to oil and gas drilling.
Electric vehicles are the cars of the future. sl-f / Getty Images
By 2035, every new car and truck sold in the U.S. could be an EV, a new report says.
Accelerations in technology and especially battery affordability, paired with new policy, mean the dramatic transition would save American drivers $2.7 trillion by 2050, an average savings of $1,000 per household per year.
The ramp up in EV production would also create 2 million new jobs by 2035. Battery prices have fallen 74% since 2014, and their unexpectedly rapid fall is a key driver of the cost savings.
EVs are far simpler mechanically, and more efficient, than internal combustion engine (ICE) vehicles, which translates to reduced climate pollution and lower costs for consumers.
Strengthened vehicle efficiency standards and investment in fast charging infrastructure are needed to accelerate the transition, which would prevent 150,000 premature deaths and save $1.3 trillion in health environmental costs by 2050.
For a deeper dive:

The Guardian, Fast Company, E&E, Morning Consult, Canary Media

For more climate change and clean energy news, you can follow Climate Nexus on Twitter and Facebook, sign up for daily Hot News, and visit their news site, Nexus Media News.
The Gowanus Canal in Brooklyn, New York, a polluted nearly 2 mile-long waterway that is an EPA Superfund site. Jonathan Macagba / Moment / Getty Images
Thousands of Superfund sites exist around the U.S., with toxic substances left open, mismanaged and dumped. Despite the high levels of toxicity at these sites, nearly 21 million people live within a mile of one of them, according to the U.S. Environmental Protection Agency (EPA).