This website uses cookies to ensure you get the best experience while browsing it. By clicking 'Got It' you're accepting these terms.
Towns Fight to Cement Court Victory on Fracking Ban
Jun. 14, 2013 07:56AM EST
Fracking
Two towns seeking to keep their local fracking ban on the books are fighting to cement their court victories over the oil and gas industry. The Town of Dryden submitted court papers yesterday arguing that the Court of Appeals—New York's highest court—should reject the industry's request for permission to appeal the closely watched case.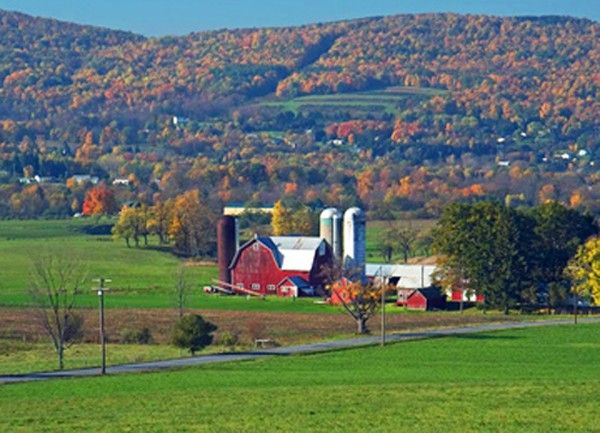 On May 2, a state intermediate appeals court ruled in favor of the towns of Dryden and Middlefield, affirming lower court decisions upholding the towns' right to ban oil and gas development activities—including the controversial technique of fracking—within town limits. On May 31, oil and gas industry lawyers filed papers asking the Court of Appeals to review the decision.
"At this point, we don't think there's anything left to resolve. Our town clearly has the right, enshrined in our state constitution and upheld by the courts, to decide how land is used within our town borders," said Dryden Town Supervisor Mary Ann Sumner. "Still, the oil and gas industry is dissatisfied and stubbornly insists on dragging out this court case. Clearly, they're not used to not getting their own way."
If the high court does decide to take the case, the Town of Dryden has suggested that the court should not prolong its decision and should promptly affirm the unanimous decision of the mid-level appellate court.
"Every justice of New York's trial and appellate courts to consider the issue—eight in all—has upheld the local power to limit the use of land for oil and gas development. But the oil and gas industry is hoping that the Court of Appeals will reverse those decisions," said Earthjustice Managing Attorney Deborah Goldberg. "Our client, the Town of Dryden, is fighting to preserve its way of life from the consequences of oil and gas development. And we'll fight alongside them until this matter is resolved once and for all."
The Dryden case has taken on special significance. More than 20,000 people from across the country and globe sent messages to Sumner and her colleagues on the town board, expressing support for Dryden in its legal fight.
Dryden's story began in 2009, after residents pressured by oil and gas company representatives to lease their land for gas development learned more about fracking, the technique companies planned to use to extract the gas. During fracking—short for hydraulic fracturing—companies inject millions of gallons of chemically treated water into the ground to break up rock deposits and force out the gas. Residents organized and educated their neighbors for more than two years under the banner of the Dryden Resource Awareness Coalition, ultimately convincing the town board to amend its zoning ordinance in August 2011 to clarify that oil and gas development activities, including fracking, were prohibited.
More than 170 municipalities in New York have passed bans or moratoriums on fracking, prompting a nationwide groundswell. Some 350 communities across the country have voted to take official action—from non-binding resolutions to improved protections to outright bans.
Just six weeks after Dryden prohibited fracking in 2011, Anschutz Exploration Corp. (a privately held company owned by a Forbes-ranked billionaire) sued Dryden over the zoning provision, claiming that localities did not have the right to ban industrial activity. Dryden successfully argued that their right to make local land use decisions, enshrined in the home rule provision of the New York State Constitution, applies to oil and gas development. In February 2012, a state trial court judge agreed.
Following that ruling, Anschutz pulled out, and Norse Energy Corp. USA, a U.S. subsidiary of a foreign-owned oil and gas company, filed an appeal. Shortly after filing its appeal, the company entered bankruptcy proceedings. If the Court of Appeals decides to review the case, it's not clear whether Norse will continue with the lawsuit or if yet another oil and gas company will step in.
Visit EcoWatch's FRACKING page for more related news on this topic.
——–

Sign the petition today, telling President Obama to enact an immediate fracking moratorium:

EcoWatch Daily Newsletter
A. Battenburg / Technical University of Munich
By Sarah Kennedy
Algae in a pond may look flimsy. But scientists are using algae to develop industrial-strength material that's as hard as steel but only a fraction of the weight.
Variety of fermented food korean traditional kimchi cabbage and radish salad. white and red sauerkraut in ceramic plates over grey spotted background. Natasha Breen / REDA&CO / Universal Images Group / Getty Image
Even if you've never taken probiotics, you've probably heard of them.
These supplements provide numerous benefits because they contain live microorganisms, such as bacteria or yeast, which support the healthy bacteria in your gut (1, 2, 3, 4).
Pexels
Singapore will become the first country in the world to place a ban on advertisements for carbonated drinks and juices with high sugar contents, its health ministry announced last week. The law is intended to curb sugar consumption since the country has some of the world's highest diabetes rates per capita, as Reuters reported.
A typical adult takes around 20,000 breaths per day. If you live in a megacity like Beijing, with many of those lungfuls you're likely to inhale a noxious mixture of chemicals and pollutants.
Fred Stone holds his brown swiss cow Lida Rose at his Arundel dairy farm on March 18 after a press conference where he spoke about PFAS chemical contamination in his fields. Gregory Rec / Portland Portland Press Herald via Getty Images
By Susan Cosier
First there was Fred Stone, the third-generation dairy farmer in Maine who discovered that the milk from his cows contained harmful chemicals. Then came Art Schaap, a second-generation dairy farmer in New Mexico, who had to dump 15,000 gallons of contaminated milk a day.
Protesters attend the 32nd annual Fur-Free Friday demonstration on Nov. 23, 2018 in Beverly Hills, California. Ella DeGea / Getty Images
California Governor Gavin Newsom signed into law a bill that that bans the sale and manufacture of fur products in the state. The fur ban, which he signed into law on Saturday, prohibits Californians from selling or making clothing, shoes or handbags with fur starting in 2023, according to the AP.
By Simon Evans
During the three months of July, August and September, renewables generated an estimated total of 29.5 terawatt hours (TWh), compared with just 29.1TWh from fossil fuels, the analysis shows.
A demonstrator waves an Ecuadorian flag during protests against the end of subsidies to gasoline and diesel on Oct. 9 in Quito, Ecuador. Jorge Ivan Castaneira Jaramillo / Getty Images