Town Board Gives Residents Cold Shoulder Over Anti-Fracking Petition
On Monday night at the town board meeting, Concerned Citizens of Covert released the results of a six month town-wide petition campaign for a ban on fracking. The group knocked on every door in Covert—a town in Seneca County, northwest of Ithaca, New York—garnering signatures for a ban on fracking from 68 percent of contacted residents. Signatories crossed party lines—50 percent of Republicans signed—age, sex and geographic area. Residents delivered the 840 petition signatures and gave an abbreviated summary of the results after being denied the requested opportunity to make a formal presentation.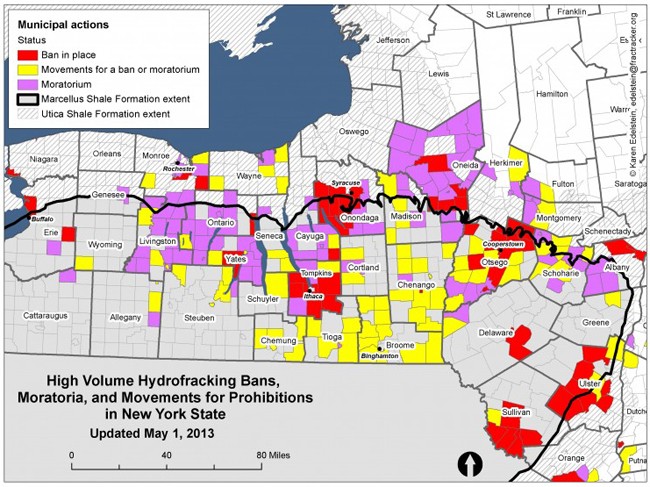 At least 44 percent of the land in Covert is leased by approximately three percent of the town's population. Residents overwhelmingly oppose fracking because it threatens their drinking water, air quality, health and the economic engines of the town and region including tourism, agriculture and wineries.
The board declined to officially respond to the petition, though they did comment on how much work and energy went into it. When pressed, they would not commit to responding to it at the next town board meeting, or the one after that.
Sean Dembrosky, a farmer in Covert, said "I am member of the Concerned Citizens of Covert because I believe very strongly in keeping our water drinkable, our air breathable and the quality of our lives healthy and rewarding."
"I'm just a small business owner working to make a living in a community I love. Fracking would put my business at risk and my family in harm's way," said Barry Ford, another concerned citizen.
"We're calling on the town board to protect our families and our way of life from fracking. In addition to our health, our livelihood and the region's economy depends on it," said Mary Ott, RN.
"The town of Covert board must act on this mandate," said Judy Kugelmass. "It's an incredible thing to have half the residents of a town sign a petition, a strong 68 percent majority of contacted residents in support of a ban on fracking. There is overwhelming support for a ban across party and demographic lines and now the board needs to act. We are not a fringe group. We are concerned about maintaining the life that we have. It is legal for the board to ban fracking. This is an issue that goes beyond our little town. There are no borders to these issues. There are no borders in our water, in our air."
Organizers of the petition effort believe that they can get many more signatures, noting that the petitioning was carried out by a relatively small group in the cold winter months.
"I did an awful lot of walking around with petitions, the majority of them said 'give me the pen,' 'thank you for doing this,' 'this is so important,'" said Noelle Dembrosky.
"We could probably get more signatures now that the lake people are beginning to trickle back, but we're calling this good enough," said Michael Dineen. "We need to get to the next phase, getting the town board to swiftly pass a ban or otherwise finding new candidates and campaigning."
After already having received the cold shoulder from the town board, some residents questioned whether the town board would adequately consider their concerns and the mandate from the town for a ban on fracking. It was not a surprise when the board refused to respond or to commit to respond to the petition.
"The question here is who counts more? We have a bipartisan majority that is being ignored in favor of a handful of landowners. It's disgraceful. We are all neighbors; we will all be victims. This is not a political issue; it is a community one," said Mariah Plumlee.
Residents also noted that while a town ban would be their first line of defense against the dangers of fracking, they are looking to Gov. Cuomo to say no to fracking statewide. As their effort shows, a majority of residents oppose fracking, and their fates should not rest in the hands of five town board members. Noting the cold shoulder they already received, they are looking to the governor to protect all residents from fracking. Additionally, the impacts of fracking cannot be constrained by municipal boundaries, so even fracking in a nearby town would put them at risk.
"Ultimately we know that fracking cannot be done safely, and fracking anywhere puts our health and economy at risk," said Barry Ford. "Gov. Cuomo needs to act on the science and best interests of all New Yorkers and say no to fracking."
Visit EcoWatch's FRACKING page for more related news on this topic.
——–
Sign the petition today, telling President Obama to enact an immediate fracking moratorium:

A coalition of conservation groups and others announced Thursday that a historic number of comments and petitions of support have been submitted to the U.S. Department of the Interior in support of Bears Ears National Monument. Despite the entirely inadequate 15-day comment period ending on May 26, more than 685,000 comments in support of Bears Ears National Monument have been collected.
Keep reading...
Show less
Rink Glacier in western Greenland, with a meltwater lake visible center. NASA/OIB
Scientists have had their eyes on Greenland as its iconic glaciers have begun disappearing due to a warming climate. But, what they didn't expect to see was a whole new type of melting.
Keep reading...
Show less
Mountain View Fire
By Lena Moffitt
An oil tanker in Mead, Colorado exploded, killing one and injuring three on Thursday. Authorities are continuing to investigate the cause of the explosion.
Keep reading...
Show less
Banner created by Alliance for Climate Education
Keep reading...
Show less
Twenty-two GOP senators sent a letter Thursday urging Donald Trump to pull out of the Paris agreement. They argued remaining in the deal could "upend" the administration's ability "to fulfill its goal of rescinding the Clean Power Plan."
Keep reading...
Show less
By Cheryl Johncox
The Federal Energy Regulatory Commission (FERC) rejected on Thursday Energy Transfer Partners' request to resume horizontal directional drilling at two sites for its Rover fracked gas pipeline. This rejection comes after numerous leaks into Ohio's wetlands, and Clean Air and Clean Water act violations. FERC has halted the process at only eight locations of the 32 where drilling is taking place under Ohio's wetlands and streams.
Keep reading...
Show less
By Nadia Prupis
A majority of people in eight countries say they are ready to change their lifestyles if it would prevent climate catastrophe, a survey on global threats released Wednesday found.
Keep reading...
Show less
May. 25, 2017 01:55PM EST
Bill Maher is sick of billionaires' obsession with Mars, more like "Mars-a-Lago," he said.
In a new animation produced by ATTN:, the popular talk show host of Real Time, discusses the perils of our planet, including how "climate change is killing us."
Keep reading...
Show less