This website uses cookies to ensure you get the best experience while browsing it. By clicking 'Got It' you're accepting these terms.
Three Arrested while Protesting Ohio Fracking Wastewater Wells
Mar. 14, 2012 01:00PM EST
Energy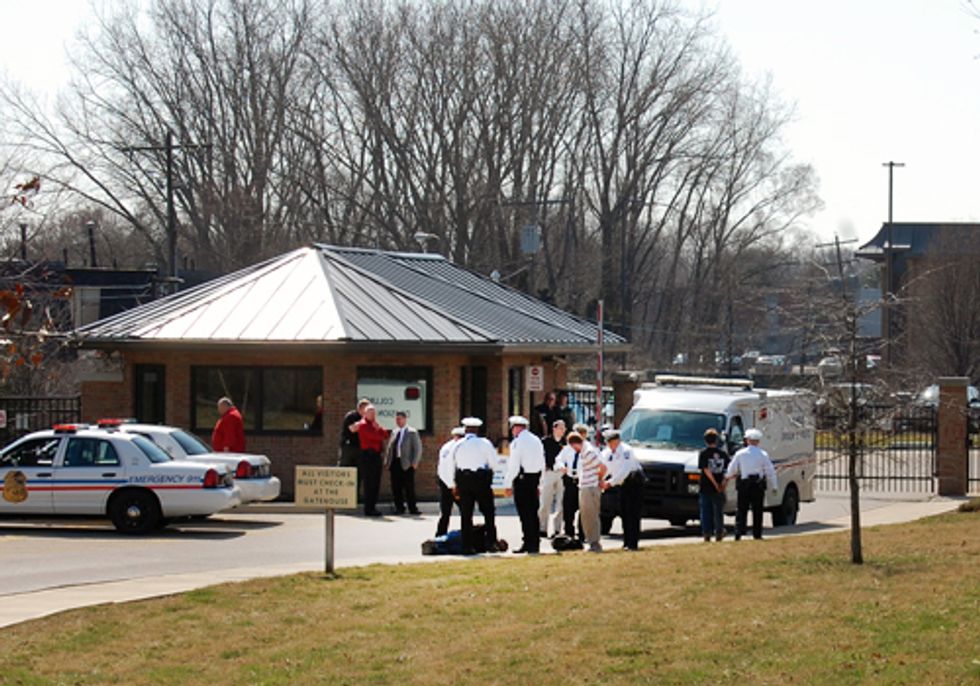 After the Ohio Department of Natural Resources (ODNR) announced last week they would lift a voluntary suspension on construction of new injection wells in Ohio for toxic wastewater from hydraulic fracturing, Ohioans attempted to enter the ODNR office demanding an immediate moratorium on underground injection fracking wastewater, a meeting between key ODNR officials and directly impacted community members, mandatory testing of wastewater, and the provision of written public records policy in response to a history of withholding public documents.
However, officials locked the gates outside the ODNR offices and set up a barricade to prevent citizens from presenting their requests. Although the compound of buildings is public property, nobody was allowed to pass.
Three citizens were arrested for crossing the barricade in an attempt to deliver their requests to ODNR offices. To read their statements, click here.
Protesters are demanding, "Tear down this line" and "Test this water."
"If this is how ODNR, and public officials treat citizens we ask—Who are you working for?" said Ben Shapiro of Ohiofracktion. "Today, officials are traveling to the Hilton to meet with top industry executives but won't even open their doors to citizens being poisoned by their irresponsible decisions."
"If Ohio's regulations are as protective as the ODNR claims, why are drilling companies in surrounding states paying additional transportation and brine hauling fees to bring it all the way to Ohio?" said John Williams, a 55-year-old resident of Youngstown. "We are here today to send a message to the gas industry and our so-called regulators that we are not expendable and we will not be sold out!"
Williams, along with Matthew Wengerd, a 21-year-old resident of Warren, and Jonathan Sidney, a 22-year-old resident of Cleveland, held a banner reading "BAN TOXIC INJECTION WELLS NOW."
Fracking has polluted drinking water supplies in communities all across the country. ProPublica has identified more than 1,000 cases of water contamination near drilling sites documented by courts, states, and local governments.1 The process requires hundreds of millions of gallons of fresh water that is combined with nearly 700 chemicals, many of them known human carcinogens. There are currently more than 190 injection wells in this state, with plans pending to construct more. The ODNR recently concluded that a series of 12 earthquakes in the Youngstown area were likely caused by injection wells.2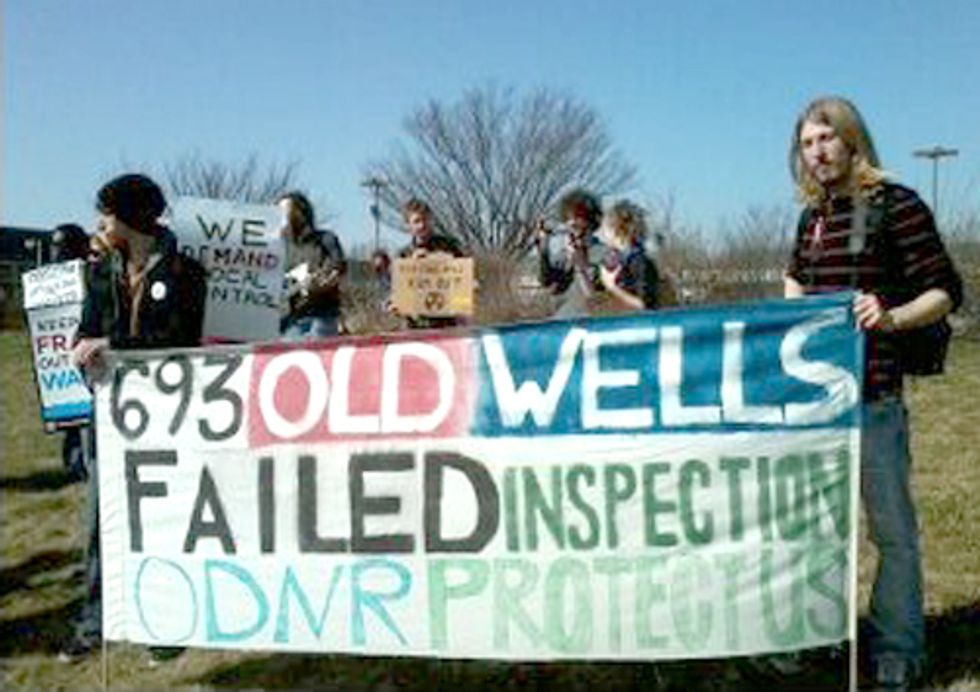 To date, the ODNR has ignored multiple Ohio residents' requests to test toxic injection materials, and has no written policy guaranteeing that Ohioans can access public records relevant to the health and safety of their communities. They frequently refuse to provide these records upon request.
"The ODNR is supposed to protect the health and safety of Ohio residents, but when they refuse to test fracking fluid, won't grant records requests in a reasonable amount of time, and don't allow directly affected communities to speak at hearings, are they really working for us? Banning injection wells until these questions are answered is the only option to protect our safe drinking water" said Wengerd.
Protestors are asking ODNR to:
1) Initiate a statewide program of testing for injection material samples from every company that injects brine into Ohio injection wells and that these results be immediately released. Chief Simmers has the authority to order this testing under Section 1509.06 of the Ohio Revised Code, and nevertheless has ignored repeated requests to test injection materials. ODNR must begin this testing program and release initial results within one week.
2) Hold a public meeting to address resident concerns regarding injection wells presented in the attached document. We demand written responses to the attached questions prior to the beginning of this meeting, and an open forum for expression of resident concerns at the meeting. Director James Zehringer, Deputy Director Andy Ware, Chief Rick Simmers, Deputy Chief Tom Tugend, and Geologist Tom Tomastik must all be present at this meeting. This meeting must take place within one week.
3) Publish a written records request policy that guarantees resident access to public records within five business days. All relevant records must be made available prior to any public notice. This policy must be published within one week.
To watch a live stream of the event, click here.
For more information, click here.
—————
1. Lutsgarten, Abraham. "Buried secrets: Is natural gas drilling endangering U.S. water supplies?" ProPublica. Nov. 13, 2008. As cited by Food and Water Watch.
2. Click here.
EcoWatch Daily Newsletter
A new report spotlights a U.N. estimate that at least 275 million people rely on healthy coral reefs. A sea turtle near the Heron Island in the Great Barrier Reef is seen above. THE OCEAN AGENCY / XL CATLIN SEAVIEW SURVEY
In a new report about how the world's coral reefs face "the combined threats of climate change, pollution, and overfishing" — endangering the future of marine biodiversity — a London-based nonprofit calls for greater global efforts to end the climate crisis and ensure the survival of these vital underwater ecosystems.
Half of the extracted resources used were sand, clay, gravel and cement, seen above, for building, along with the other minerals that produce fertilizer. Cavan Images / Cavan / Getty Images
The world is using up more and more resources and global recycling is falling. That's the grim takeaway from a new report by the Circle Economy think tank, which found that the world used up more than 110 billion tons, or 100.6 billion metric tons, of natural resources, as Agence France-Presse (AFP) reported.
By Gero Rueter
Heating with coal, oil and natural gas accounts for around a quarter of global greenhouse gas emissions. But that's something we can change, says Wolfgang Feist, founder of the Passive House Institute in the western German city of Darmstadt.

By George Citroner
Recent research finds that official government figures may be underestimating drug deaths by half.
Researchers estimate that 142,000 people died due to drug use in 2016.
Drug use decreases life expectancy after age 15 by 1.4 years for men and by just under 1 year for women, on average.
Government records may be severely underreporting how many Americans die from drug use, according to a new study by researchers from the University of Pennsylvania and Georgetown University.
Water coolers in front of shut-off water fountains at Center School in Stow, MA on Sept. 4, 2019 after elevated levels of PFAS were found in the water. David L. Ryan / The Boston Globe via Getty Images
In a new nationwide assessment of drinking water systems, the Environmental Working Group found that toxic fluorinated chemicals known as PFAS are far more prevalent than previously thought.