This website uses cookies to ensure you get the best experience while browsing it. By clicking 'Got It' you're accepting these terms.
This U.S. Town Plans to Disconnect From the Grid and Go 100 Percent Renewables
Dec. 15, 2015 01:56PM EST
Business
Nassau, New York, a town of 5,000 people just outside of Albany, New York, plans to disconnect from the electrical grid. Last week, the town board voted to get 100 percent of its power from renewables by 2020. The town is making the move both as a way to "increase its reliance on renewable sources of energy and to gain some energy independence," Politico New York reported.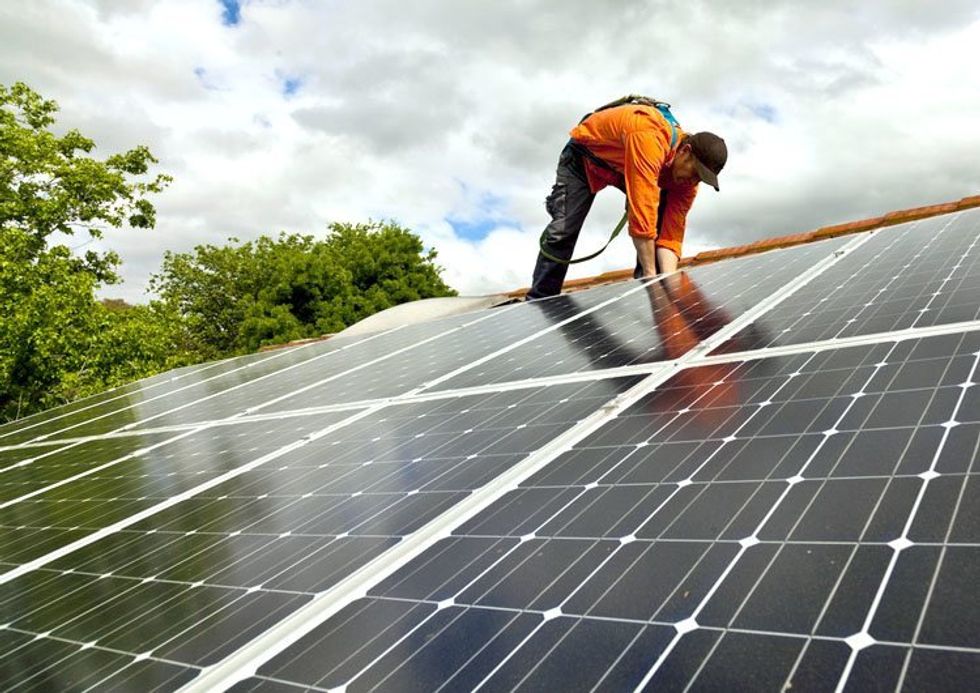 Photo credit: Shutterstock
"If all goes as planned, within the next four years, all six of the town buildings will be disconnected from the grid," said Nassau Supervisor Dave Fleming. The rest of the town is developing a plan to get all of its power from renewable sources in the next four years.
"It's not the be-all to end-all for what we should be doing as a state and a nation, but it's a good first step," he said. "From a practical perspective, it's possible," he added. "We have a lot of 'people resources' in our community."
The town plans to use a combination of rooftop and ground-mounted solar, wind turbines and methane-capture from the landfill to generate its energy.
Though the tiny town's transition to renewables may not have the impact of, say, New York City going fossil-fuel-free (Mayor Bill de Blasio has pledged for municipal operations to run on 100 percent renewable energy before 2050), it's just one of many cities and towns around the world making the transition.
New York State even has a program to help municipalities make that transition. Spokesman Jon Sorensen told Politico:
"The state Department of Public Services wants more towns to follow Nassau's lead. Through its Reforming Energy Vision (REV) initiative, the Cuomo administration is actively working to help municipalities—especially towns and schools—move toward getting a significant portion of their power from renewable resources. REV is designed to make the energy grid more efficient and increase its reliance on renewables, and it is intended to give consumers more choices than they have now. This is exactly the kind of thing REV is hoping to encourage. Smaller, cleaner power systems are less costly and cleaner alternatives to the bigger power stations that have made up the power grid."
And it's not just New York. More than 350 U.S. state and local elected officials from nearly every state signed a letter during the Paris climate conference calling for 50 percent clean energy by 2030 and 100 percent clean energy by 2050.
Today, San Diego, California's city council is voting on a proposed plan to get 100 percent of its energy from renewable sources by 2035. It's expected to pass. Vancouver, Las Vegas and other major cities around the world want to go 100 percent renewable, too. Hawaii pledged to go 100 percent renewable by 2045—the most ambitious standard set by a U.S. state thus far. Several other islands, including Aruba, Belize, St. Lucia, Grenada, the British Virgin Islands, the Bahamas, Turks and Caicos, and San Andres and Providencia have pledged to go 100 percent renewable, as well, through the Ten Island Challenge, created by Richard Branson's climate group the Carbon War Room.
Several countries around the world have hit impressive benchmarks for renewables in just a few short years. And many places have already made the transition to fossil-fuel-free electricity. Samso in Denmark became the world's first island to go all in on renewables several years ago. Most recently, Uruguay, three U.S. cities—Burlington, Vermont; Aspen, Colorado; and Greensburg, Kansas—along with Kodiak Island, Alaska, have all made the transition.
Greenpeace and researchers at Stanford and UC Berkeley have laid out plans for every state in the U.S. to adopt 100 percent renewables and a Greenpeace report published in September posits the world can achieve 100 percent renewable energy by 2050. Mark Jacobson, one of the researchers from Stanford, said the barriers to 100 percent clean energy are social and political, not technical or economic.
The International Energy Agency released a report in October that found a quarter of the world will be powered by renewables by 2020. And a report from the International Renewable Energy Agency found that the transition to a sustainable energy future by 2030 is "technically feasible and economically viable."
YOU MIGHT ALSO LIKE
Town Rejects Solar Farm Amid Fears it Would 'Suck Up All the Energy From the Sun'
Solar Powered 'Farm from a Box': Everything You Need to Run an Off-Grid Farm
Leonardo DiCaprio: Ready for 100%
EcoWatch Daily Newsletter
A Starbucks barista prepares a drink at a Starbucks Coffee Shop location in New York. Ramin Talaie / Corbis via Getty Images
By Cathy Cassata
Are you getting your fill of Starbucks' new Almondmilk Honey Flat White, Oatmilk Honey Latte, and Coconutmilk Latte, but wondering just how healthy they are?
By Sharon Kelly
Back in April last year, the Trump administration's Environmental Protection Agency decided it was "not necessary" to update the rules for toxic waste from oil and gas wells. Torrents of wastewater flow daily from the nation's 1.5 million active oil and gas wells and the agency's own research has warned it may pose risks to the country's drinking water supplies.
Swedish climate activist Greta Thunberg takes part in a "Friday for Future" youth demonstration in a street of Davos on Jan. 24, 2020 on the sideline of the World Economic Forum annual meeting. FABRICE COFFRINI / AFP via Getty Images
Treasury Secretary Steven Mnuchin pretended not to know who Greta Thunberg is, and then he told her to get a degree in economics before giving world leaders advice, as The Guardian reported.
The Visible Infrared Imaging Radiometer Suite on the Suomi NPP satellite acquired this image of forest fire smoke hovering over North America on Aug. 15, 2018. NASA Earth Observatory
New York City isn't known for having the cleanest air, but researchers traced recent air pollution spikes there to two surprising sources — fires hundreds of miles away in Canada and the southeastern U.S.
If temperatures continue to rise, the world is at risk from global
sea-level rise
, which will flood many coastal cities as seen above in Bangladesh. NurPhoto / Contributor / Getty Images
The mounting climate emergency may spur the next global financial crisis and the world's central banks are woefully ill equipped to handle the consequences, according to a new book-length report by the Bank for International Settlements (BIS), as S&P Global reported. Located in Basel, Switzerland, the BIS is an umbrella organization for the world's central banks.