This website uses cookies to ensure you get the best experience while browsing it. By clicking 'Got It' you're accepting these terms.
This School District Could Save Millions by Switching to 100% Solar
Feb. 03, 2016 12:36PM EST
Business
Schools all across the country have been switching to solar to save money and reduce their environmental impact, and North Carolina may be the next state to benefit.
Two reports, released today by the North Carolina Clean Energy Technology Center and commissioned by the Repower Our Schools coalition, found that two North Carolina school districts can go 100 percent renewable.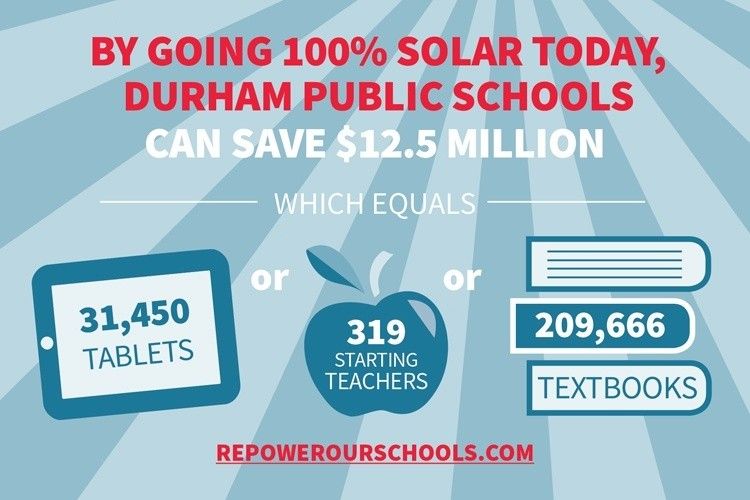 The North Carolina Clean Energy Technology Center, based at NC State University, found that Charlotte-Mecklenburg Schools and Durham Public Schools can meet 100 percent of their electricity needs and save millions over the next 25 years by installing solar panels to power their schools immediately.
Reducing energy costs is a smart way to direct more money into the classroom, where it's needed most. Utility bills are the second largest expense for school districts after personnel costs, according to the U.S. EPA.
With more solar-friendly policies in the state, including third party energy sales and improved net metering, the school districts' savings would  jump 14 times compared to the current benefits of going solar. North Carolina is one of only a handful of states with a legal gray area that effectively blocks purchasing electricity from anyone but the utility.
Solar policy improvements could save $54.6 million for Charlotte-Mecklenburg Schools and $16.3 million for Durham Public Schools over 25 years, an 11 percent savings over what they pay for electricity now, with minimal upfront costs. The savings over 25 years would be equivalent to 1,357 annual starting teacher salaries for Charlotte-Mecklenburg Schools and 414 for Durham Public Schools, which is a substantially smaller school district.
Here's an infographic that explains the benefits of third party energy sales and net metering: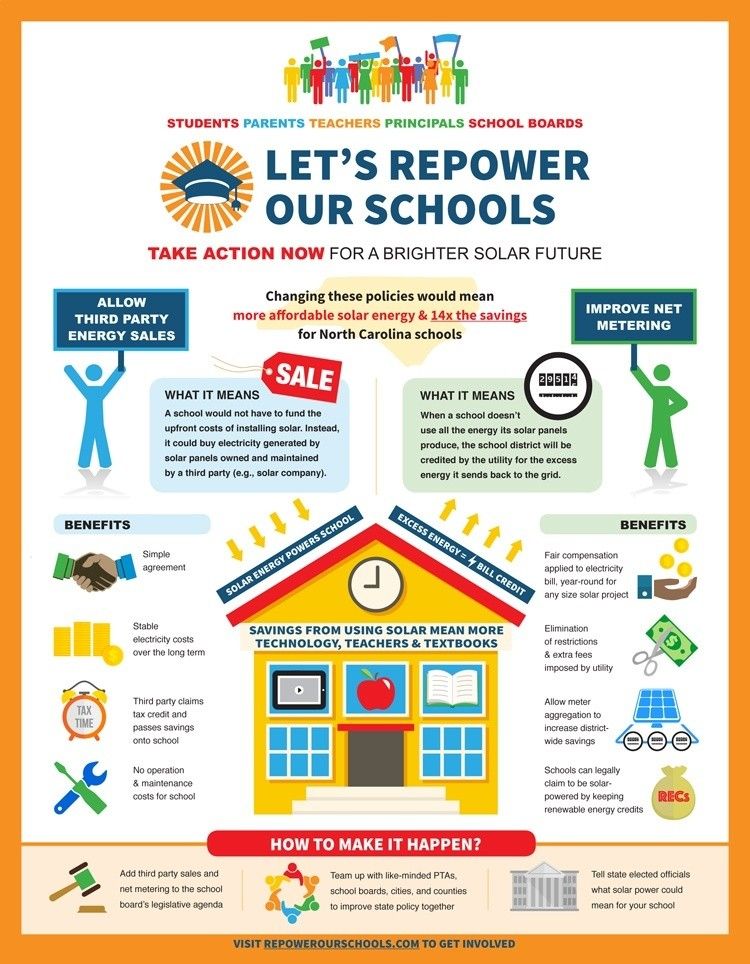 Not only does solar save money, it can also be a teaching tool for science, technology, engineering, and math.  
"Solar installations at North Carolina schools would bring the jobs of tomorrow into the classroom today," Dr. Wafa Khalil, a retired science and energy teacher of 23 years based in Durham, said. "Teachers could incorporate solar into the curriculum and let students witness its advantages firsthand."
The reports recommend that both North Carolina school districts develop plans to move schools toward 100 percent renewable electricity long-term while continuing to make energy efficiency improvements and piloting solar projects today.
Parents, teachers and students who want to see their school districts go solar for the health, environmental and economic benefits can take action by calling on their school boards to transition to 100 percent renewable electricity.
Hanna Mitchell is North Carolina field organizer for Greenpeace.
YOU MIGHT ALSO LIKE
This Solar Road Will Provide Power to 5 Million People
Gov. Kasich Admits Renewables Are the Future, So Why Did He Freeze Ohio's Clean Energy Mandate
NATO: Renewable Energy Can Save Soldiers' Lives
Want to Get Off the Grid and Live in Harmony With Nature? Build an Earthship
EcoWatch Daily Newsletter
Fabian Krause / EyeEm / Getty Images
Water protectors of all persuasions gathered in talking circles at Borderland Ranch in Pe'Sla, the heart of the sacred Black Hills, during the first Sovereign Sisters Gathering. At the center are Cheryl Angel in red and white and on her left, Lyla June. Tracy Barnett
By Tracy L. Barnett
Sources reviewed this article for accuracy.
For Sicangu Lakota water protector Cheryl Angel, Standing Rock helped her define what she stands against: an economy rooted in extraction of resources and exploitation of people and planet. It wasn't until she'd had some distance that the vision of what she stands for came into focus.
Hedges, 2019 © Hugh Hayden. All photos courtesy of Lisson Gallery
By Patrick Rogers
"I'm really into trees," said the sculptor Hugh Hayden. "I'm drawn to plants."
BruceBlock / iStock / Getty Images
Thanks to their high concentration of powerful plant compounds, foods with a natural purple hue offer a wide array of health benefits.
Environmental Investigation Agency
Last week, the Peruvian Palm Oil Producers' Association (JUNPALMA) promised to enter into an agreement for sustainable and deforestation-free palm oil production. The promise was secured by the U.S. based National Wildlife Federation (NWF) in collaboration with the local government, growers and the independent conservation organization Sociedad Peruana de Ecodesarrollo.
Pixabay
Leaked documents show that Jair Bolsonaro's government intends to use the Brazilian president's hate speech to isolate minorities living in the Amazon region. The PowerPoint slides, which democraciaAbierta has seen, also reveal plans to implement predatory projects that could have a devastating environmental impact.
XL CATLIN SEAVIEW SURVEY / THE OCEAN AGENCY
Hope may be on the horizon for the world's depleted coral reefs thanks to scientists who successfully reproduced endangered corals in a laboratory setting for the first time, according to Reuters.