The Future of Hydropower Looks Dim as Heat and Drought Intensify
Climate change could threaten the electricity supply around the world, according to new calculations. That is because the power generation depends on a sure supply of water.
But climate change also promises greater frequencies and intensities of heat and drought. So more than half of the world's hydropower and thermoelectric generating plants could find their capacity reduced.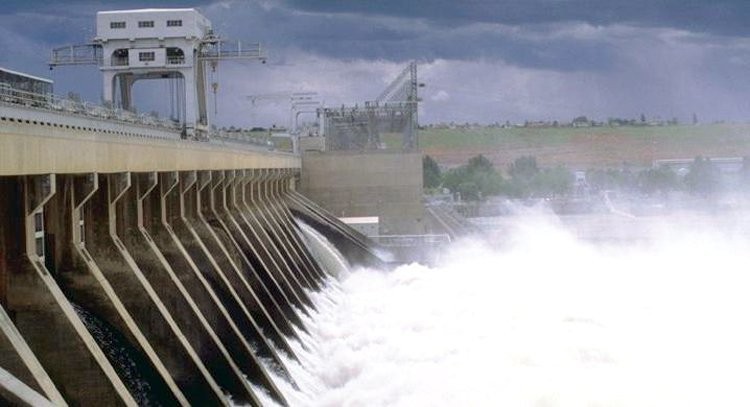 Michelle van Vliet, an environmental scientist at Wageningen University in the Netherlands, and colleagues from the International Institute of Applied Systems Analysis in Austria report in Nature Climate Change that they modeled the potential performance in the decades ahead of 24,515 hydropower plants and 1,427 nuclear, fossil-fueled, biomass-fueled and geothermal power stations.
Global Consumption
Thermoelectric turbines—which generate power directly from heat, and rely on water as a coolant—and hydropower plants currently generate 98 percent of the planet's electricity. But global water consumption for power generation is expected to double in the next 40 years as economies develop and the population continues to grow.
The scientists found that reductions in stream and river flow and the rise in levels of water temperature could reduce the generating capacity of up to 86 percent of the thermoelectric plants and up to 74% of the hydropower plants in their study.
This means that power from hydro stations could fall by 3.6 percent in the 2050s and 6.1 percent in the 2080s, because of reduced stream flow. And by the 2050s, the monthly capacity of most of the thermoelectric power plants could drop by 50 percent.
Dr van Vliet said: "In particular, the United States, southern South America, southern Africa, central and southern Europe, Southeast Asia and southern Australia are vulnerable regions, because declines in mean annual stream flow are projected, combined with strong increases in water temperature under changing climate.
"This reduces the potential for both hydropower and thermoelectric power generation in these regions."
Constrained Supply
Forewarned is forearmed: there are steps that the energy industry could take to make generation more efficient and to adapt to a world in which water supply might be constrained, at least for part of the year.
But the report suggests that the planning for a different tomorrow should start now. "In order to sustain water and energy security in the next decades, the electricity industry will need to increase their focus on climate change adaptation, in addition to mitigation," Dr van Vliet said.
Keywan Riahi, energy programme director at IIASA and a co-author of the report, said: "This is the first study of its kind to examine the linkages between climate change, water resources and electricity production on a global scale.
"We clearly show that power plants are not only causing climate change, but they might also be affected in major ways by climate."
YOU MIGHT ALSO LIKE
Mark Jacobson to James Hansen: Nukes Are Not Needed to Solve World's Climate Crisis
Paris Fails to Revive the Nuclear Dream
Scientists Warn Climate Change Affecting Greenland Ice Sheet More Than Previously Thought
10 Extreme Weather Events in 2015 That Sound the Alarm on Climate Chaos
Bill Maher is sick of billionaires' obsession with Mars, more like "Mars-a-Lago," he said.
In a new animation produced by ATTN:, the popular talk show host of Real Time, discusses the perils of our planet, including how "climate change is killing us."
Keep reading...
Show less
Dr. Benjamin D. Santer, research scientist
A group of prominent climate scientists have written a study explicitly refuting statements made by the U.S. Environmental Protection Agency Administrator Scott Pruitt on climate data. During his Senate confirmation hearing, Pruitt claimed in a written response that satellite data shows a "leveling off" of warming over the past two decades.
Keep reading...
Show less
By David Pomerantz
The Nevada Assembly passed a bill Wednesday that would dramatically increase the growth of renewable energy in the state, but Sheldon Adelson, the casino magnate and major donor to Donald Trump, is attempting to prevent the bill from becoming law.
Keep reading...
Show less
Matt Crossick
By Yosola Olorunshola
Whether it's through fashion or protest, Vivienne Westwood is not a woman afraid of making a statement.
On May 23, she rocked up to the residence of the Archbishop of Canterbury in London with a special guest—the Grim Reaper—to issue a strong statement on the Church of England's position on fracking.
Keep reading...
Show less
By Paul Brown
The food industry and big agricultural concerns are driving climate change and at the same time threatening to undermine efforts to feed the world's growing population, according to GRAIN, an organization that supports small farmers.
Particularly singled out for criticism are the large chemical fertilizer producers that have gained access to the United Nations talks on climate change. GRAIN accuses them of behaving like the fossil fuel companies did in the 1990s, pushing false information in the hope of delaying real action on climate change.
Keep reading...
Show less
By Sydney Robinson
President Trump has no doubt been given a long list of extravagant, elaborate gifts in his lifetime, but the gift given to him today by Pope Francis may not make it on his most favorite list.
Keep reading...
Show less
By John Rogers
Maybe it's because I first started working on clean energy while serving in the Peace Corps he founded, or maybe it's my years of working on these issues from his home state. But I can't help thinking about the 100th anniversary of John F. Kennedy's birth, and connecting his stirring rhetoric to the energy challenges of our times.
Here's what our 35th president might have said about the challenges of energy transition and the opportunities in clean energy:
"Change is the law of life. And those who look only to the past or present are certain to miss the future."
Keep reading...
Show less
May. 24, 2017 01:47PM EST
Keep reading...
Show less


Get EcoWatch in your inbox