This website uses cookies to ensure you get the best experience while browsing it. By clicking 'Got It' you're accepting these terms.
The 9 Best Hot Springs on Earth
May. 25, 2016 11:17AM EST
Adventure
There's nothing better than soaking in warm water. Well, other than doing it with an awesome view. Hot springs provide both. Here's a list of nine incredible hot springs around the world.
1. Hot Water Beach: Coromandel Peninsula, New Zealand
This beach got its name from the naturally heated mineral water that emerges through its sand at low tide. The best time to visit this beach is two hours on either side of low tide. You can still enjoy the beach itself at other times, but you won't be able to build your own hot springs. Simply bring a shovel and dig the hot spring that's just right for you. If you get too hot, the ocean will help you cool down.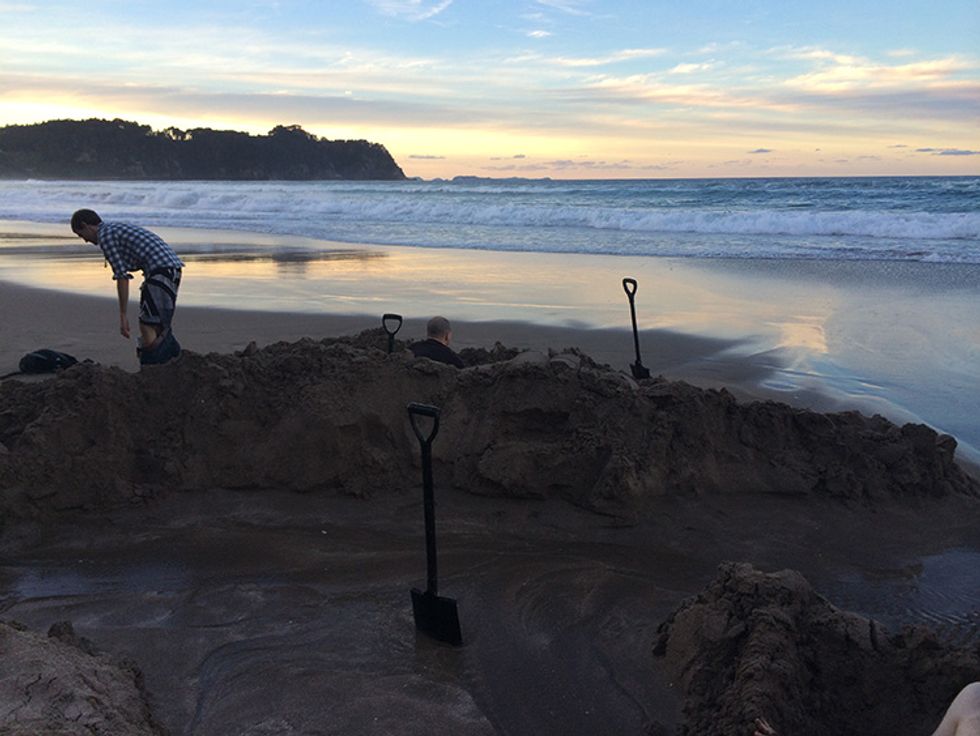 Photo credit: David Lynch, Flickr
2. Chena Hot Springs: Fairbanks, Alaska
Originally discovered by gold miners in 1905, Chena Hot Springs was the place to go for residents of the growing town of Fairbanks. Now, the Chena Hot Springs are part of a privately owned 440-acre year-round resort in the Alaskan town, according to Travel Alaska's website. The springs are at the center of a 40-square-mile geothermal area and produce water at 165 degrees Fahrenheit. The water is cooled before people are allowed to sit in it. The resort also has a boulder-ringed lake that gives visitors premium seating for the northern lights in the winter.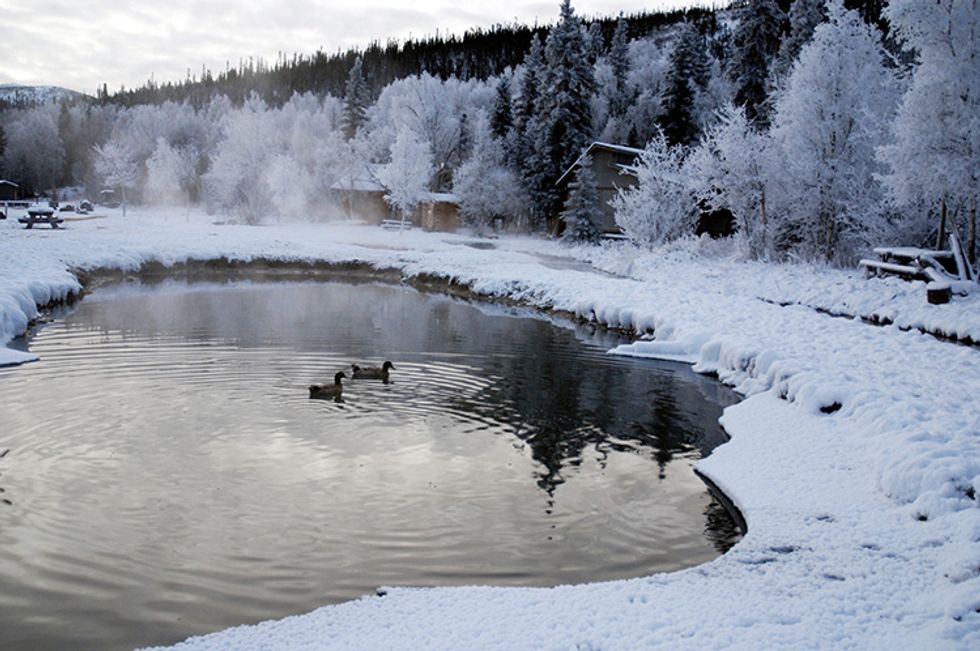 Photo credit: Arkansas ShutterBug, Flickr
3. Thermae Bath Spa: Bath, England
Thermae Bath Spa is home to Britain's only natural thermal waters, according to the spa's website. The spa is "where past, present and future" come together. The Celts and Romans used to enjoy these same hot springs more than 2,000 years ago. Thermae Bath Spa also offers a range of spa treatments for customers.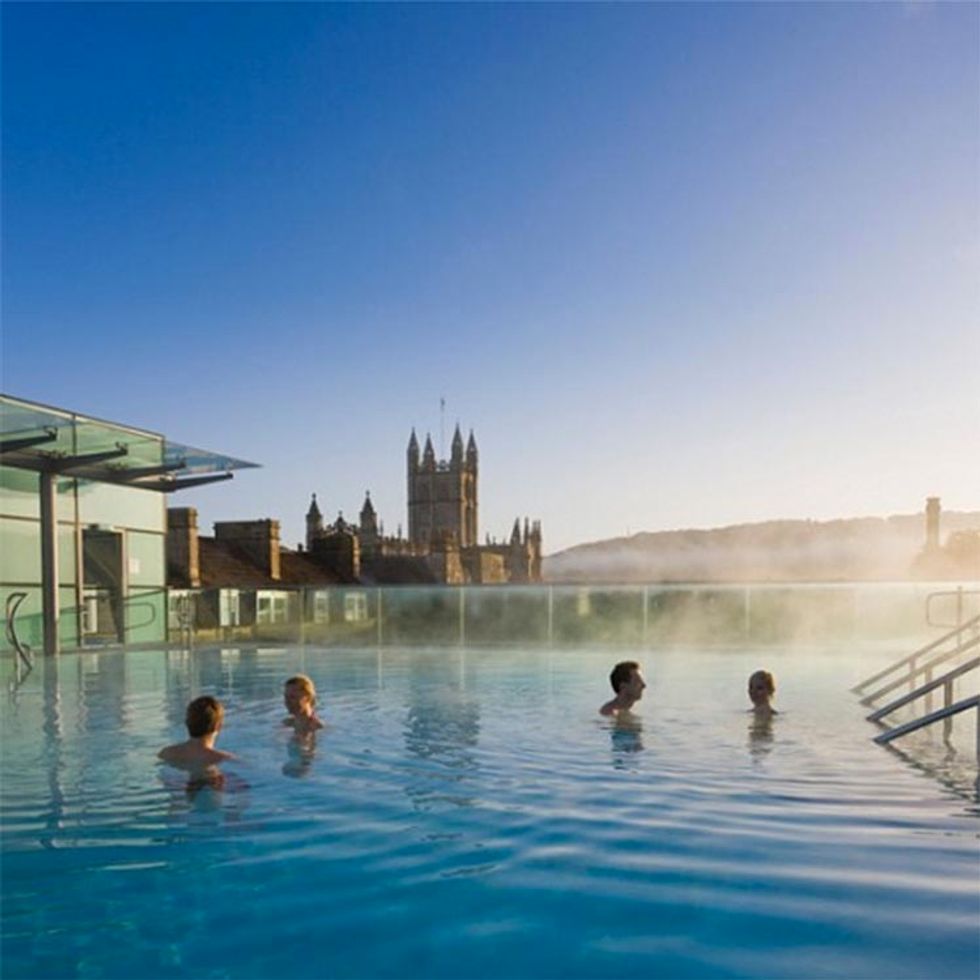 Photo credit: thermaebathspa.com
4. Banff Upper Hot Springs: Canada
Located in Banff National Park, these hot springs have been used by humans since the early 1800s, according the hot springs' website. The hot springs are the highest in Canada with an elevation of 1,585 meters (5,200 feet). The pools are stocked with 100 percent natural flowing water. Pools' temperatures are kept between 37 degrees Celsius (98 degrees Fahrenheit) and 40 degrees Celsius (104 degrees Fahrenheit).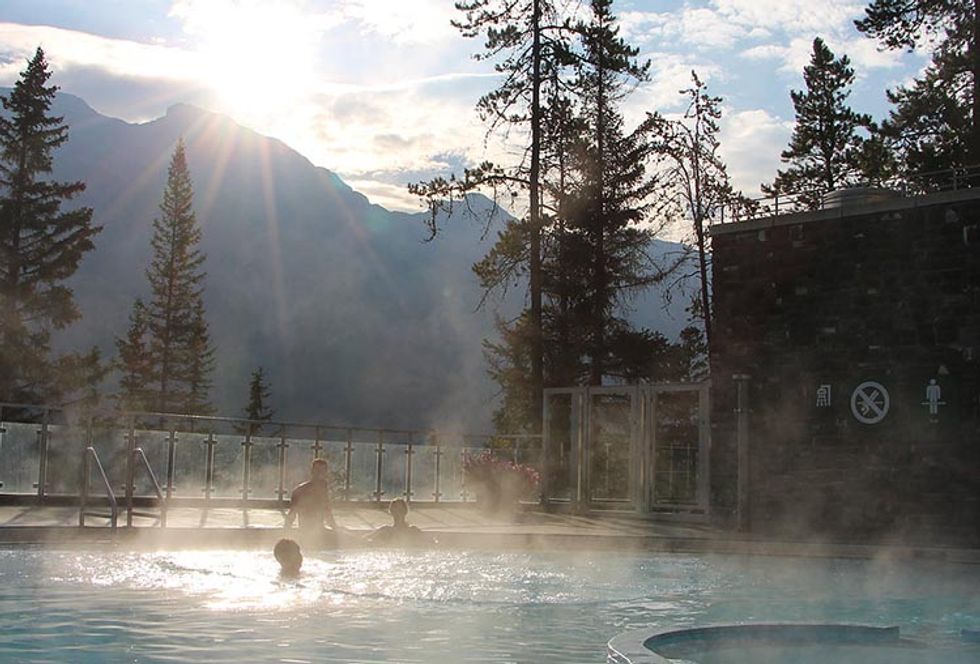 Photo credit: hotsprings.ca
5. Blue Lagoon: Grindavík, Iceland
The seawater lagoon, filled with 9 liters of self-replenishing water, was formed in 1976 during the operation of a nearby geothermal power plant. Soon afterward, people started bathing in the hot spring and applying the silica mud they found there to their bodies. The silica mud became famous for helping people with psoriasis gain some relief. The mud is used in spa treatments today. Water temperatures range from 37 degrees Celsius (98 degrees Fahrenheit) to 40 degrees Celsius (104 degrees Fahrenheit) year-round.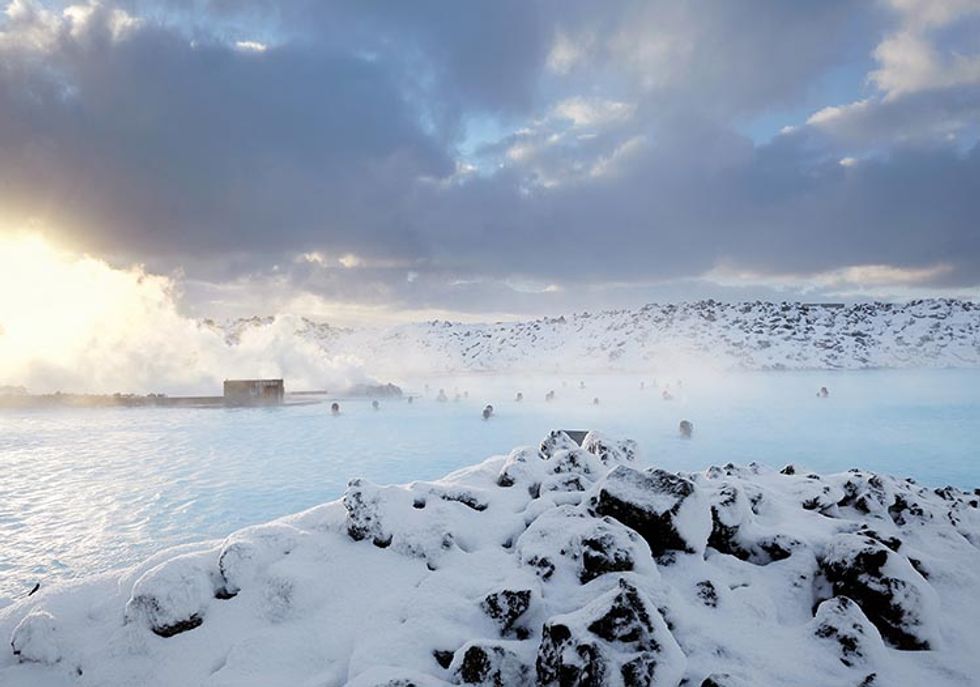 Photo credit: bluelagoon.com
6. Termi di Saturnia: Tuscany, Italy
The town of Saturnia is home to thermal baths feed by several natural hot springs—as if Italy needed another beautiful attraction. The thermal baths were once used by the Etruscans and Romans, according to Discover Tuscany's website. There is a legend that hot springs are born "in the exact point where Jupiter's thunderbolt fell in a battle against Saturn," the website says. The thermal baths maintain a temperature of 37.5 degrees Celsius (99.5 degree Fahrenheit). There are also two waterfalls feed by the baths, the Cascate del Mulino and Cascate del Gorello, which are open to the public year-round.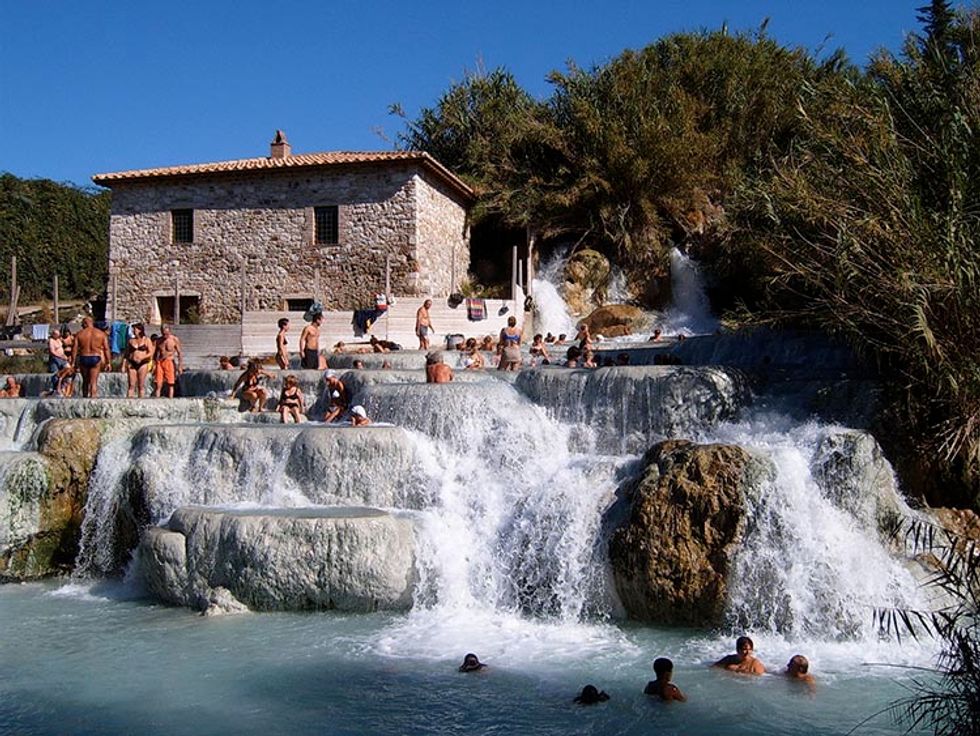 Photo credit: Markus Bernet, Wikimedia Commons
7. Deception Island: Antarctica
While Antarctica isn't a big vacation location, a natural hot spring on a rather cold continent could change your mind. Deception Island is an active volcano with steaming beaches, glaciers and a flooded caldera in the South Shetland Islands. More than 57 percent of the island is covered in permanent glaciers. Springs flow into the center of the horse-shoe shaped island to create lakes, including Kroner Lake, the only geothermal lake in Antarctica.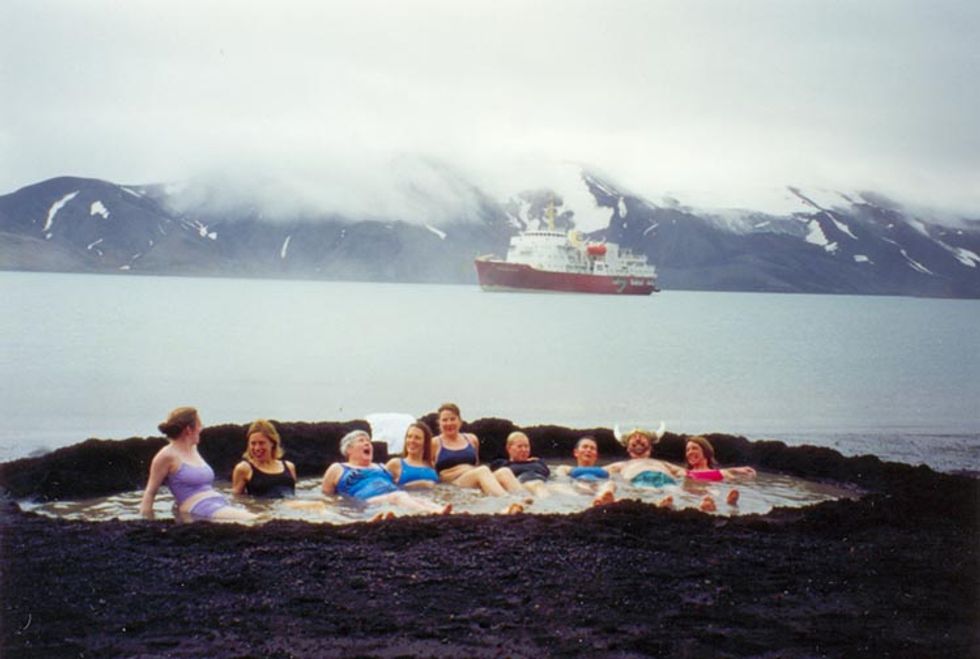 Photo credit: Wikimedia Commons
8. Yangpachen Hot Springs: Tibet
The Yangpachen geothermal fields cover an area of more than 7,000-square meters (75,347-square-feet) containing boiling hot springs, geysers and high-temperature and common hot springs. The hot springs in this area are thought to cure many chronic diseases, according to Tibet Vista's website. The water is cooled before people can bathe in it. The hot springs can also create energy. Every year, according to Tibet Vista, the hot springs emit heat equal to that of 4.7 million tons of coal.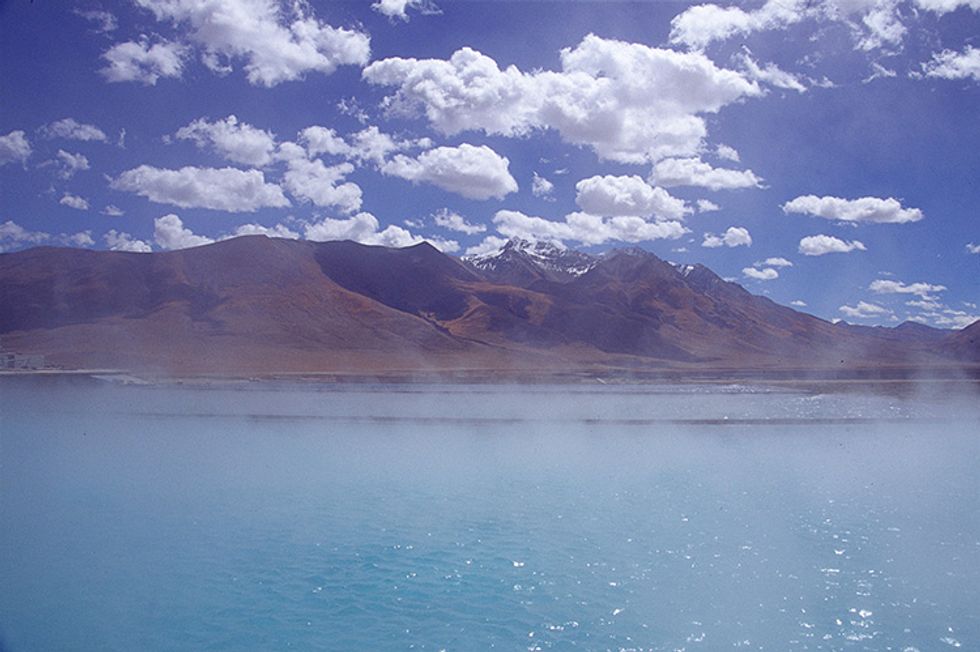 Photo credit: Huai-Chun Hsu, Flickr
9. Dunton Hot Springs: Dunton, Colorado
Dunton Hot Springs is set in a restored ghost town in an alpine valley across the mountain from Telluride, according to the hot springs' website. The hot springs cover an area of 0.3-square miles. After miners found the original spring, they dynamited the springs and directed them to the bathhouse. The land is also home to Colorado's only geyser, which erupts every 45 minutes.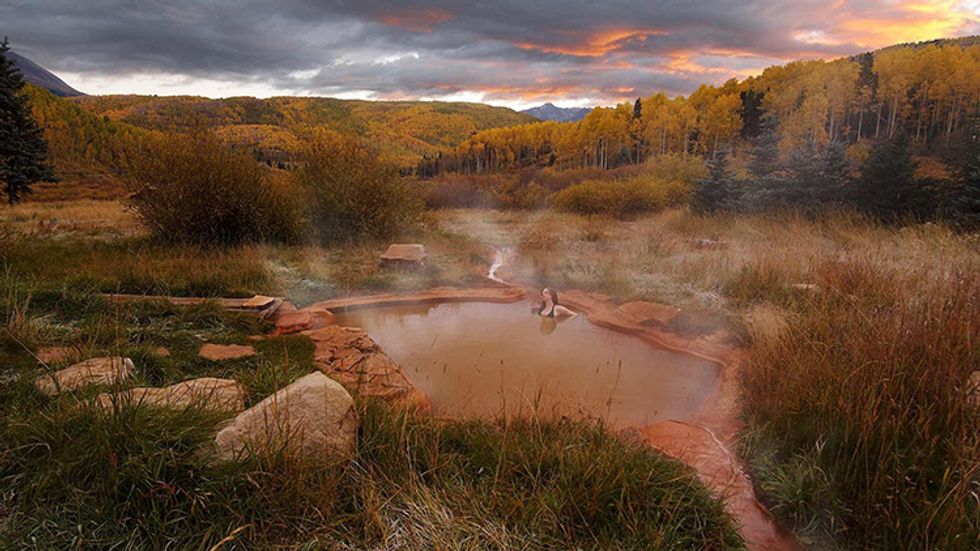 Photo credit: duntonhotsprings.com
YOU MIGHT ALSO LIKE
10 Eco-Destinations in North America to Add to Your Bucket List
10 Extraordinary Places Saved by the Endangered Species Act
12 Kid-Friendly National Parks
5 Reasons to Explore the Untamed Beauty of Denali National Park
EcoWatch Daily Newsletter
Pixabay
Spinach is a true nutritional powerhouse, as it's rich in vitamins, minerals, and antioxidants.
Pexels
By Jeff Turrentine
From day to day, our public health infrastructure — the people and systems we've put in place to keep populations, as opposed to individuals, healthy — largely goes unnoticed. That's because when it's working well, its success takes the form of utter normalcy.
By Eoin Higgins
A viral video showing cell phone data collected by location accuracy company X-Mode from spring break partiers potentially spreading the coronavirus around the U.S. has brought up questions of digital privacy even as it shows convincingly the importance of staying home to defeat the disease.
Aerial shot top view Garbage trucks unload garbage to a recycle in the vicinity of the city of Bangkok, Thailand. bugto / Moment / Getty Images
German researchers have identified a strain of bacterium that not only breaks down toxic plastic, but also uses it as food to fuel the process, according to The Guardian.
The Environmental Protection Agency (EPA) issued a policy memo yesterday that is an expansive relaxation of legally mandated regulations on polluting industries, saying that industries may have trouble adhering to the regulations while they are short-staffed during the coronavirus global pandemic, according to the AP.