This website uses cookies to ensure you get the best experience while browsing it. By clicking 'Got It' you're accepting these terms.
Texas Supreme Court Favors Landowner Over TransCanada in Keystone XL Eminent Domain Case
Jan. 09, 2014 09:33AM EST
The Texas Supreme Court ruled in favor of landowner Julia Trigg Crawford, ordering TransCanada to submit information by Feb. 6 as the justices weigh arguments to hear the case regarding eminent domain abuse.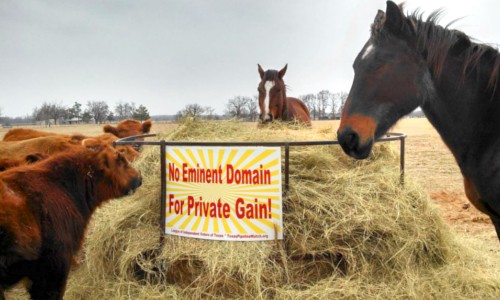 Texas's highest court delivered a clear victory for pipeline opponents and landowners fighting TransCanada's overreach on property rights. At the heart of Crawford's case is the ability of TransCanada, a foreign corporation, to use eminent domain under the state's "common carrier" clause since their pipeline transports 90 percent Canadian tar sands and 10 percent North Dakota oil. There is no on ramp for Texas oil therefore violating the definition of a common carrier under Texas law.
Crawford said she looks forward to her family's day in court, "As a landowner, property rights are key to my livelihood and family legacy. A foreign corporation pumping foreign oil simply does not qualify as a common carrier under Texas law. TransCanada does not get to write their own rules. I look forward to the Supreme Court hearing our case and our plea to protect the fundamental rights of property owners."
The ruling on Wednesday from the Texas Supreme Court means that Crawford will be able to take the next step in the appeals process against TransCanada. The southern segment of the Keystone XL pipeline, also known as Gulf Coast Segment, stretches from Cushing, OK, to Beaumont, TX, and carries tar sands or dilbit which is a combination of tar sands and chemicals that react very differently when spills occur than traditional Texas oil.
"We're thrilled, because the Supreme Court has finally ruled in favor of us—the little guys—and against a foreign oil giant," Julia Trigg Crawford continued. "Basically, TransCanada said that it wanted a waiver from responding to our petition, and the Supreme Court said, 'No, you must respond'."
Crawford says her case has broad implications, because if she wins, TransCanada and other foreign oil companies will no longer be able to use eminent domain to seize land for their private profit without direct proof their pipeline is carrying Texan oil.
Visit EcoWatch's KEYSTONE XL and TAR SANDS  pages for more related news on this topic.

PeopleImages / E+ / Getty Images
By Daniel Ross
Hurricane Florence, which battered the U.S. East Coast last September, left a trail of ruin and destruction estimated to cost between $17 billion and $22 billion. Some of the damage was all too visible—smashed homes and livelihoods. But other damage was less so, like the long-term environmental impacts in North Carolina from hog waste that spilled out over large open-air lagoons saturated in the rains.
Hog waste can contain potentially dangerous pathogens, pharmaceuticals and chemicals. According to the state's Department of Environmental Quality, as of early October nearly 100 such lagoons were damaged, breached or were very close to being so, the effluent from which can seep into waterways and drinking water supplies.
This picture taken on May 21, 2018 shows discarded climbing equipment and rubbish scattered around Camp 4 of Mount Everest. Decades of commercial mountaineering have turned Mount Everest into the world's highest rubbish dump as an increasing number of big-spending climbers pay little attention to the ugly footprint they leave behind. DOMA SHERPA / AFP / Getty Images
China has closed its Everest base camp to tourists because of a buildup of trash on the world's tallest mountain.
Researchers tested the eggs of Arctic northern fulmers like these in Nunavut, Canada.
Fiona Paton / Flickr
By Madison Dapcevich
Plastics have been recorded in every corner of the world, from the remote icy waters of Antarctica to the bellies of deep-sea fishes. Now, preliminary findings presented at this year's American Association for the Advancement of Science (AAAS) annual meeting in Washington, DC suggest that bird eggs from the high Arctic—one of the most remote wildernesses on the planet—show evidence of contamination from chemicals used in plastics.

A small Australian rat that lived on a 12 acre island in the Great Barrier Reef has become the first mammal to go extinct primarily because of human-caused climate change, the Australian Government confirmed Monday.
The Bramble Cay melomys was first declared extinct after a 2014 search on Bramble Cay, its native island in the Torres Strait, between Queensland, Australia and Papua New Guinea, according to a 2016 report by the University of Queensland and the Queensland government.